With free agency approaching (March 14), we're analyzing each position on the New York Jets' roster and examining possible upgrades:
Position: Quarterback
2018 cap hits of top returnees:
Pending free agents: Josh McCown
Key stat: In three seasons under coach Todd Bowles, the Jets are ranked 29th in passer rating (80.6) and their touchdown-interception ratio (68-53) is 28th. That's a big reason why he's 20-28.
Money matters: Since 2014, the Jets have paid $32.9 million in salary to their quarterbacks, a relatively low figure. If they sign Kirk Cousins, they could be paying close to that amount in average per year.
Big picture: General manager Mike Maccagnan is 0-for-2 when drafting quarterbacks and his veteran acquisitions have produced two good years and one bad year. In other words, he has a checkered track record. Now is the time to change that.
With more than $70 million in cap room and the sixth pick in the draft, Maccagnan has no excuse. He must resolve the issue that has plagued the Jets for decades. And, for a change, a quality backup would be nice. Petty is on thin ice and Hackenberg could be shopped in trade talks, although it's hard to imagine any team showing interest. The one exception could be the Houston Texans, coached by Bill O'Brien, Hackenberg's first coach at Penn State. By the time the regular season starts, the Jets could have an entirely new look at quarterback.
Free-agent market watch: Cousins, Drew Brees, Case Keenum, Sam Bradford, Teddy Bridgewater, A.J. McCarron, Jay Cutler, Ryan Fitzpatrick and Geno Smith.
Also could become available: Tyrod Taylor, Blake Bortles and Mike Glennon.
The game plan: It's simple: Get Cousins. The Jets want him badly, and sources say they're willing to pay whatever it takes — unless the Washington Redskins decide to tag him for a third time (unlikely). Money aside, the Jets hope to convince him he'll have a chance to win in New York. Because of obvious deficiencies on the current roster, they must sell him a championship vision. Their recruiting pitch also will stress his familiarity with the offensive system. In addition to making Cousins wildly rich, the Jets want to let him know he'll be comfortable with the scheme and coaches.
If they miss on Cousins, the only thing close to a franchise quarterback on the market, the Jets have to lower their sights to a stop-gap option. There's always a chance the Jets re-sign McCown, who has expressed interest in returning. If he does, it would make quarterback a top priority in the draft. Other fallback options are Keenum and Taylor, who should have some scheme familiarity because his former offensive coordinator with the Buffalo Bills — Rick Dennison — is the Jets' line coach/run-game coordinator.
Minnesota Vikings coach Mike Zimmer vents on team's vaccination situation, expects players to miss games during season
EAGAN, Minn. — As the Minnesota Vikings began their second week of training camp down three of four quarterbacks due to a COVID-19 interruption, coach Mike Zimmer doubled down on his frustrations aimed at unvaccinated players and the likelihood that the situation his team currently faces could become a reality during the regular season.
"I just feel like we're going to have guys miss games," Zimmer said. "There are so many cases going on right now. We're going to have guys miss some games and we have to be prepared for it."
The Vikings placed quarterbacks Kirk Cousins, Kellen Mond and Nate Stanley on the COVID-19 reserve list on Sunday one day after Jake Browning was the only QB available for Minnesota's Saturday evening practice. Minnesota rookie receiver Myron Mitchell was also placed onto the COVID-19 reserve list on Monday.
Earlier Saturday, Mond returned a positive test for COVID-19. As a result, Cousins and Stanley, who are deemed high-risk close contacts because they are unvaccinated, according to a league source, have to isolate for five days before they're eligible to come off the reserve list and return to practice.
Zimmer didn't mask his frustrations at his players and "everybody" who has not received the COVID-19 vaccine. "Going through all the things you had to do last year with masks, protocol, traveling, can't leave for a day, can't go out and see your family and all the things — can't go out to dinner on the road, have to wear masks on the plane, all that stuff. It was just difficult," Zimmer said. "I just don't understand. I just don't understand, I think we could put this thing to bed if we all do this. But it is what it is."
The Vikings coach said he spoke again with his team regarding his stance on vaccinations and the negative consequences of being unvaccinated following Saturday's disruption.
"I talked to the team, and like I said before, there are quite a few guys that are just against it," Zimmer said. "I'm not going to be able to change their mind, so, it's like half the country, I guess."
Zimmer said the Vikings are looking into a plan where they would keep one quarterback quarantined away from the rest of the position room during the season in the event another COVID-19 interruption arises during a game week. That, however, would depend on how many quarterbacks the Vikings have vaccinated. Browning is currently the only one.
The reality that the situation the Vikings are currently dealing with could happen again during a game week had Zimmer ponder the question: How would he react if the Vikings lost a game because their starting quarterback or a star player was unavailable due to COVID-19 protocols?
"Probably won't be happy we lost the game, first, and I probably won't be happy we could've prevented this," the Vikings coach said. "Like I said, these guys, some of them just won't do it. I shouldn't say it, but some of the things they read is just, whew, out there."
"It's their beliefs, so. I don't know if it's misinformation. It's their belief, so whatever they've heard or read or been told. Not from — maybe they don't believe what (NFL chief medical officer) Dr. (Allen) Sills and the NFL is telling them either, so."
The Vikings signed quarterback Case Cookus on Monday following a workout and he later joined Browning at practice. Minnesota also claimed QB Danny Etling off waivers.
Browning, who spent the last two years on Minnesota's practice squad after a four-year career as a starter at Washington (his 39 wins are the most by any quarterback in Pac-12 history), furthered his chances in the race to become the Vikings' No. 2 quarterback with a strong performance during the Vikings' fourth practice. Zimmer said Browning told him not to cut any reps in spite of being the only quarterback available on Saturday evening.
"I think someone in my situation, as an undrafted guy that's been on the practice squad, those reps are really valuable," Browning said. "I didn't want anyone to think that I didn't want to take every single one of those reps and I didn't want to be in a situation where they were cutting practice and taking valuable reps away from other guys but also myself. I just thought with the situation the way that it is, I want to get as many reps out of it as I can. When you're a back-up quarterback, those reps are really valuable so I wanted to take every single one."
Trevor Lawrence struggles, Bucs watch Olympics, fans attend practices and more
On the first Monday of 2021 NFL training camps, the Indianapolis Colts received bad news regarding a foot injury to quarterback Carson Wentz, who will miss anywhere from a month to three months after surgery.
Meanwhile, another quarterback, the top pick in the draft, got a big dose of NFL reality as the defense was allowed more freedom.
The news was less grim around the rest of the league as many teams held open practices for fans to attend, including in Green Bay, Houston, New York and Pittsburgh.
But it would be hard to beat the watch party in Tampa, as the Bucs players all gathered to see cornerback Ross Cockrell's sister Anna make the Olympic finals in the 400-meter hurdles.
News should be brisk on Tuesday with several teams slated for their first padded practices.
Here's what you need to know from camps across the league:
Jump to the best of the day:
Photos | Videos | Quotes

What our NFL Nation reporters saw today
Rough start for rookie Trevor Lawrence on the first day the Jaguars' defense was allowed to play press coverage and go after throws. Lawrence went 1 for 6 with two interceptions and had a pass batted down at the line of scrimmage in the first 11-on-11 session. On one of the interceptions seemed to be a miscommunication because Lawrence threw deep and there was no receiver close to the ball. He rebounded in 7 on 7 and another 11-on-11 session and completed 12-of-14. "As a football player you're not going to always have your best day." said running back Travis Etienne Jr., Lawrence's teammate at Clemson. "That's why we come out here and work each and every day. It's better to have those days now than have them later in the season." — Michael DiRocco

Rookie cornerback Jaycee Horn continued to show why he was the eighth overall pick. He had two interceptions, giving him three in the last two practices. Horn also is, as coach Matt Rhule noted, "grabbing and holding way too much." But Rhule's focus Monday was more on the "really disappointing" performance of his offense in terms of interceptions, wrong routes, false starts, fumbles and missed assignments. Starting quarterback Sam Darnold had two picks. Top receiver DJ Moore had a fumble. A handful of linemen had to run laps after false starts, including two on consecutive plays. — David Newton
First-round pick Caleb Farley made his practice debut. He looked quick and out of his backpedal. Farley spent a lot of time with veteran CB Jackrabbit Jenkins during the special teams portion of practice. They worked on defending at the catch point, disrupting WR releases and more. He was posted next to DB coach Anthony Midget during team periods. Mike Vrabel joked that Farley wrote two rap songs that he and the players liked. Vrabel says his progression is coming along well. — Turron Davenport
Patriots rookie skits took place and Mac Jones' impersonation of Cam Newton had some veterans in stitches. Jones used a suitcase as a prop and arrived dressed as Cam. "This is my fifth year in the league; that's probably the best rookie impersonation I've ever seen," LB Raekwon McMillan said. — Mike Reiss
Coordinator Eric Bieniemy was not happy with offensive execution in Monday's practice, the first after a day off at training camp. Patrick Mahomes, who threw just one interception in the first four days at camp, threw three on Monday, all by linebackers. "Sometimes you have good days, sometimes the guys on the other side have good days," Bieniemy said. "We did not have a very good day. … We'll coach it up on tape and just clean it up." — Adam Teicher

With DeVonta Smith sidelined for multiple weeks with a knee sprain, there's opportunity for receivers lower on the depth chart to make their mark. Second-year wideout Quez Watkins took advantage Monday by hauling in a long touchdown pass from Jalen Hurts, showing off that 4.35-second 40-yard dash speed. He added another TD later in the session. Watkins, a sixth-round pick out of Southern Miss, has a chance to not only make the team but work his way into the rotation if he keeps it up. — Tim McManus
Defensive end Carl Lawson continued his torrid training camp, generating considerable pressure from the edge. The entire defensive line won the day, with John Franklin-Myers and Ronnie Blair recording "sacks" on rookie quarterback Zach Wilson. The Jets believe their defensive line could be a force once Quinnen Williams returns in a couple of weeks from his broken foot. "I expect it to be damn good," said defensive tackle Sheldon Rankins, a former first-round pick of the Saints. — Rich Cimini
It's way too early to overhype Jameis Winston's performance in camp. But he had his most impressive practice session yet Monday, on a day where there was a much heavier volume of passing plays in full-team drills than the three previous practices. The highlight was a deep completion to WR Marquez Callaway, who made a great extension to snag the ball with his fingertips. But Winston was also good on a variety of throws, including two strikes to RB Alvin Kamara in team drills and 7-on-7 work. — Mike Triplett
---
Top NFL news of the day
Colts' Wentz to have surgery, out 5-12 weeks
Indianapolis Colts quarterback Carson Wentz will undergo surgery Monday on his injured foot and be sidelined approximately 5 to 12 weeks, coach Frank Reich announced. Reich said it's an old injury, possibly from high school, and a broken bone came loose in Wentz's foot. Wentz felt a "twinge in his foot" when he rolled out and planted to throw late in last Thursday's practice, offensive coordinator Marcus Brady said Friday. Reich said Jacob Eason will continue to receive first-ream reps in practice with Wentz sidelined.

Sources: Eagles WR Smith set to miss 2-3 weeks
Eagles rookie wide receiver DeVonta Smith is expected to miss two to three weeks with a sprained MCL, sources told ESPN's Adam Schefter on Monday. Smith underwent an MRI on Sunday that revealed the knee injury. The Eagles are not expressing much concern about Smith, who is listed as week to week on the team's injury report, painting his absence from practice as precautionary.
Bucs CB pairs sister's Games run with 3-INT day
Just before practice Monday morning, the Buccaneers gathered in a large auditorium beneath a giant screen to watch the third 400-meter hurdles semifinal. In rain-soaked heat, Anna Cockrell emerged to overtake Viktorija Tkachuk and finish in second place with a time of 54.17 seconds, clinching a spot in the final in her first Olympic Games. "She gutted it out at the end," said Bucs cornerback Ross Cockrell, Annas brother. "My heart was pounding through my chest." It was the same come-from-behind magic she had at the Olympic trials, where she went from fifth to third in the final turn for a personal-best 53.70. Not to be outdone, Ross Cockrell, who has bounced between cornerback and safety due to injuries to the Buccaneers' safeties, followed with a strong practice in which he posted three interceptions.
More:
---
Best NFL videos
CB Ross Cockrell watching his sister, Anna, advance to the Olympic finals with his teammates & coaches 👏 pic.twitter.com/pReaPhj4pB

— Tampa Bay Buccaneers (@Buccaneers) August 2, 2021
Rolling into Week 2 at #PackersCamp! 🚴‍♂️@amfam | #DreamDrive pic.twitter.com/PBPSv00OKE

— Green Bay Packers (@packers) August 2, 2021
Not ☝️

But ✌️ pic.twitter.com/Nr0LhjR3lE

— Carolina Panthers (@Panthers) August 2, 2021
Blessing your timeline with more Ice Cube content. 🧊😂 pic.twitter.com/3qiy2jKNbQ

— Atlanta Falcons (@AtlantaFalcons) August 2, 2021
The sophomore special. 🎯@skinnyqb10 ➡️ @MikePitt_Jr pic.twitter.com/PgHDi1Dj6Q

— Indianapolis Colts (@Colts) August 2, 2021
Skip the coffee, @e_moore03 got you 🔥 pic.twitter.com/3vuBi4t81p

— New York Jets (@nyjets) August 2, 2021
Bears QB Nick Foles praises Colts coach Frank Reich but stresses he has yet to have been approached about a trade.
---
Best NFL photos
After practice work with the legend pic.twitter.com/gbmBWj3gJF

— Washington Football Team (@WashingtonNFL) August 2, 2021
Out here grinding 😤 pic.twitter.com/8P9g8KlBxY

— Pittsburgh Steelers (@steelers) August 2, 2021
#SteelersNation is in the house 🙌 pic.twitter.com/6nF2TzEJQs

— SteelersNationUnite (@SteelersUnite) August 2, 2021
The vibes are immaculate 😎 pic.twitter.com/lody2QPER6

— Cincinnati Bengals (@Bengals) August 2, 2021
Thanks for stopping by, guys!@DetroitPistons #LionsCamp | @RocketMortgage pic.twitter.com/vY9n8IdS1q

— Detroit Lions (@Lions) August 2, 2021
Look who stopped by 👀@JustinTuck, @OsiUmenyiora & @MKiwanuka_94 pic.twitter.com/V9ExVzNHcG

— New York Giants (@Giants) August 2, 2021
Smile it's Monday 😁 pic.twitter.com/EWjajUdtWI

— Ogbo Okoronkwo (@OgboOkoronkwo) August 2, 2021
Mustache Monday: Who wore it best? pic.twitter.com/EKsj2oqLiJ

— Kansas City Chiefs (@Chiefs) August 2, 2021
---
NFL quotes of the day
"The job is Jacob's right now. He has to prove it, he knows that. Jacob's in the driver's seat."

Colts coach Frank Reich on Jacob Eason
"Y'all got me crying in the village dining hall!"

Olympic hurdler Anna Cockrell after watching the Bucs watch her semifinal
"I just feel like we're going to have guys miss games. There are so many cases going on right now. We're going to have guys miss some games and we have to be prepared for it."

Vikings coach Mike Zimmer on COVID
---
Buffalo Bills, QB Josh Allen to table contract talks if no deal by next week, GM Brandon Beane says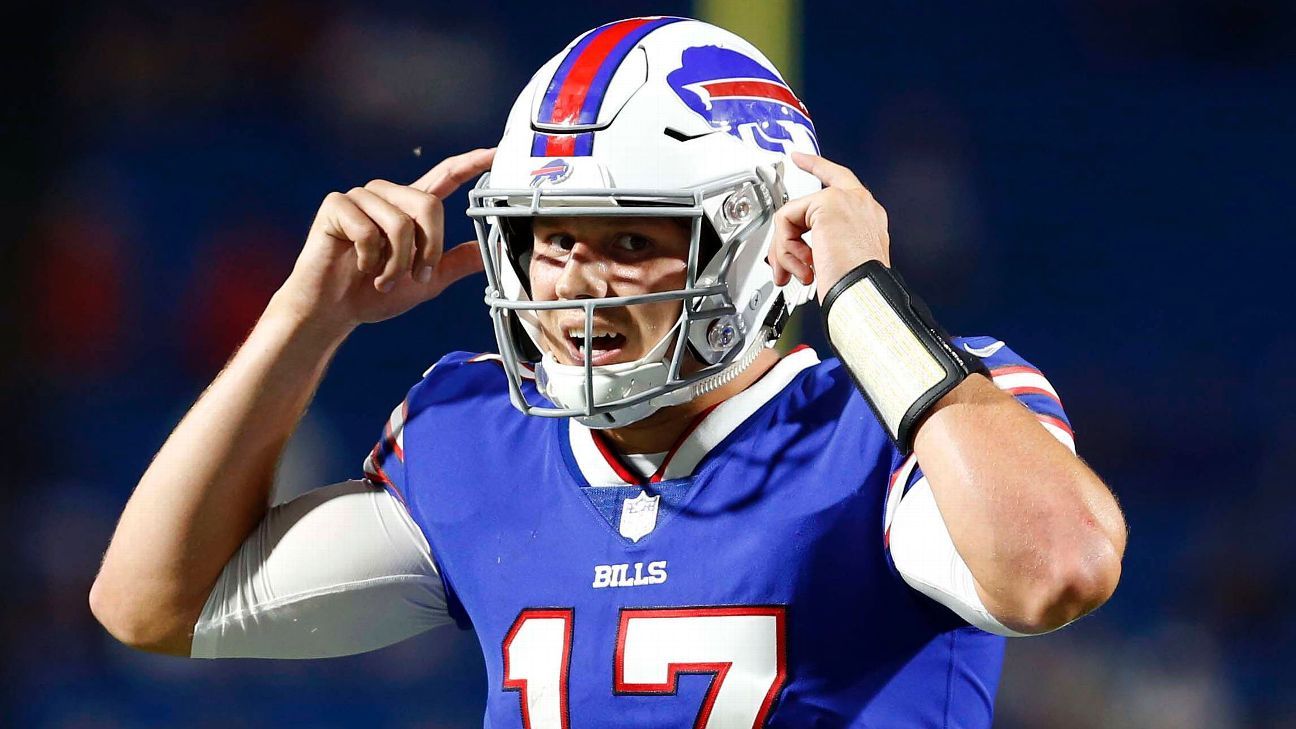 ORCHARD PARK, N.Y. — Bills general manager Brandon Beane told The Associated Press on Monday he is giving himself until the start of Buffalo's preseason schedule next week to negotiate a long-term extension with quarterback Josh Allen before putting off discussions until next year.
Beane said the two sides have agreed to suspend talks once games begin so as not to serve as a distraction for the fourth-year starter, whose rookie contract runs through the end of the 2022 season.
"Josh and I are in lockstep on that," Beane said during a brief interview after practice. "There will be no negotiating in-season. At some point we will press the pause button."
The Bills are into their second week of practice and open their three-game preseason schedule at Detroit on Aug. 13.
Beane first hinted at a deadline during an appearance on the Bills' flagship radio station, Buffalo's WGR-550, earlier in the day.
"We'll see here soon. We're in August, so I'd say we're down to a few weeks to either get this done or delay it, and try it again in 2022," he said. "Hopefully, we can get something done this year. But if not, we'll be excited. Josh knows. He and I have had great conversations this spring and summer about it."
The Bills bought themselves time on negotiations in May when they picked up the fifth-year option — worth nearly $23 million — of Allen's contact. The fifth year of the contract is guaranteed, though the Bills can renegotiate the deal as part of a contract extension.
Allen has earned a significant raise following a breakthrough season in which he set numerous franchise passing and scoring records in leading Buffalo to its first AFC East title since 1995 and its deepest playoff run in 27 years. Buffalo's season ended with a loss to Kansas City in the AFC Championship Game.
In doing so, the 25-year-old Allen solidified a position which had been unsettled in Buffalo since Hall of Famer Jim Kelly retired after the 1996 season.
Allen opened training camp by saying he's not concerned about contract talks.
"Whether it happens or it doesn't happen, it's not going to change my approach to be the best teammate, the best leader I can be for this team and this organization," Allen said. "My focus is completely on the field."