CLEARWATER, Fla. — Philadelphia Eagles center Jason Kelce got plenty of attention for his salty language during the Super Bowl celebration parade. The All-Pro says he tried to tone it down when he spoke inside the Phillies clubhouse on Monday.
But once Kelce started his speech, he found that old habits die hard.
"I probably cursed a little more, actually," Kelce said. "At least through the start of the speech I made an effort to not curse, and then that quickly faded."
Wearing a red No. 62 Phillies spring training jersey, Kelce was the main guest during the first official day of team workouts.
"I played baseball all the way up until high school," Kelce said. "I threw my elbow out when I was like 12 years old, tore the plate off my bone. I didn't play baseball after that."
Kelce spent a lot of time watching pitchers throw their side sessions and said there was plenty he could take away from watching them interact with catchers.
"Baseball is an awesome sport," Kelce said. "I've just been picking up some of what goes on between the pitcher and catcher because I think there are a lot of similarities between the mental chess game going on there as there is with me and Carson [Wentz] kind of assessing defenses and stuff like that."
New Phillies manager Gabe Kapler said that he spoke with Kelce separately and discussed the rapport Eagles players had with head coach Doug Pederson and the coaching staff.
"Jason and I discussed that and talked about how that communication was the two-way street," Kapler said. "He shared what a good communicator Coach Pederson was and how that communication was critical in establishing and maintaining trust throughout the season."
Kapler said he felt the message Kelce gave his players was one that will inspire them and one they needed to hear as they begin the season.
"I think there were 8 to 10 [things] to take away, but the No. 1 was it is OK to fall down, be fearless, get back up, be bold and do it all over again," Kapler said. "Champions have stories to share and they're effective for a reason.
"Because they've been through the ups and downs, they've displayed courage, they've come together as units, they know what it feels like to have people count them out and then to prove people wrong."
Kapler said the Phillies' video production staff put together a piece for the team over the weekend that included some highlights from the other sports teams in the city, as well as some footage from the movie "Rocky" spliced in and some highlights of their own players.
The relationship with the city is something Kapler wants the Phillies to embrace.
"We feel like we're in a partnership with the city of Philadelphia, the fans of Philadelphia and certainly the sports teams of Philadelphia," he said. "You saw it today with Jason. He felt like he was a part of the Phillies family. He wore that 'Be Bold' T-shirt proudly, then he put on a Phillies jersey and a Phillies cap.
"This is an All-Pro center on the best offensive line in football from a Super Bowl championship team. And here he was in our clubhouse today sort of backing the Phillies. I thought that was pretty remarkable."
Houston Texans release running back Duke Johnson, source says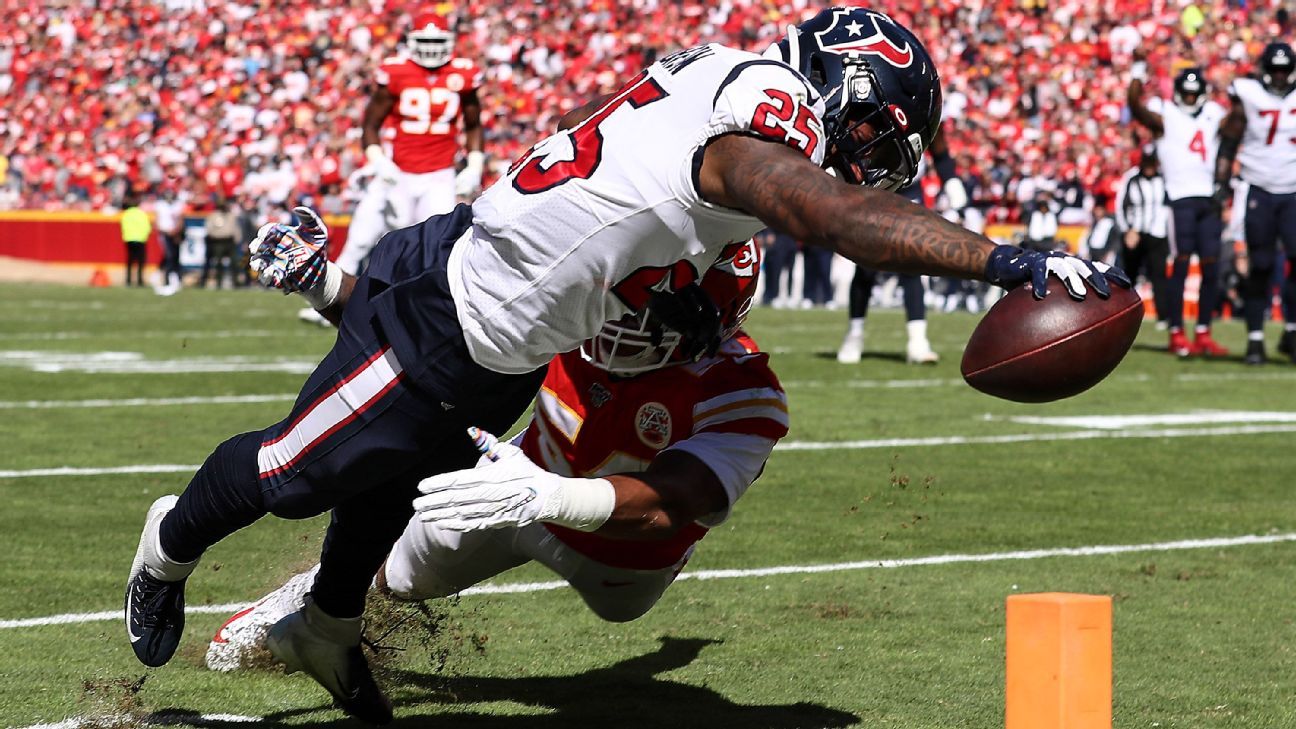 The Houston Texans have released running back Duke Johnson, a source told ESPN's Adam Schefter on Friday.
The Texans acquired Johnson from the Cleveland Browns during training camp in 2019 for a third-round pick.
In 11 games for the Texans last season, Johnson rushed for 235 yards and a touchdown on 77 carries. The pass-catching running back had a career-low 28 receptions for 249 yards and a touchdown.
Johnson backed up Carlos Hyde in 2019 and David Johnson in 2020. During the 2020 season, he started in place of David Johnson when the starter missed time due to a concussion and spending a week on the COVID-19 list.
NFL's minority hiring rate for open jobs nearly doubled
The number of minority hires for open positions in the NFL nearly doubled to 34.6% in 2021.
According to the league's demographics study obtained Friday by The Associated Press, the minority hirings included: three general managers, two head coaches, three offensive coordinators, six defensive coordinators, four special teams coordinators, three quarterbacks coaches.
The minority hiring rate was 18.8% in 2020. Interview requests for minority candidates increased to 47% from 22% in 2020.
Twelve of the 28 candidates interviewed for head coaching positions were minorities. David Culley (Texans) and Robert Saleh (Jets) were hired. Kansas City Chiefs offensive coordinator Eric Bieniemy was passed over despite receiving an interview request from each of the seven teams looking for a new head coach.
The data shows minority head coaches have been given second opportunities at a higher rate than white coaches. From 2000 to present, eight of 21 fired minority coaches (38.1%) got another head coaching job. Of the 115 fired white coaches, 22 (19.1%) got a second chance.
New York Giants' Nate Solder intends to play in 2021 after opting out last season
EAST RUTHERFORD, N.J. — New York Giants offensive tackle Nate Solder intends to play in 2021 as long as the situation is right, he told ESPN in a phone conversation this week.
Solder, who opted out this past season because of concerns for his family with COVID-19, has yet to have that conversation with the team about his future. He was considered a high-risk opt-out and his contract tolled.
He is scheduled to make $10 million in 2021 while costing $16.5 million against the salary cap this upcoming season.
The Giants haven't been in a rush to make any moves with the new league year still almost three weeks away. Like everybody else, they're waiting to see the official salary cap number for the 2021 season. Then they're expected to meet with the veteran tackle.
Solder, 32, was the Giants' starting left tackle in 2018 and '19 after signing a lucrative free-agent contract. He had spent the previous seven years of his career with the New England Patriots, where he won a pair of Super Bowls.
The decision to opt out last season centered around Solder's family. His oldest son Hudson has battled cancer. So has Nate. Solder and his wife Lexi also had a newborn.
Solder had said late last year on the Sports Spectrum podcast with former NFL quarterback Brock Huard that if he had another opportunity to play, he would probably take it. He also noted that he was still working out, but hadn't prioritized his conditioning and weight lifting like he would during a normal football season.
The Giants now have a decision to make if they are going to move forward with Solder. They would save $6 million this season against the salary cap if he's released, and $10 million if they made it a post-June 1 cut.
New York drafted a pair of tackles in last year's draft, including Andrew Thomas with the No. 4 overall pick out of Georgia. Thomas started at left tackle and, despite early struggles, got better as the season progressed.
Third-round pick Matt Peart is expected to compete for the starting right tackle spot this year. Cameron Fleming, who started last season, is a free agent.