Evan Longoria dislikes Tampa Bay Rays' treatment of Corey Dickerson
SCOTTSDALE, Ariz. — Evan Longoria is in his first season as a San Francisco Giant after 10 years in a Tampa Bay Rays uniform, but he still follows his old organization from a new league and the opposite coast. He's giving a thumbs-down to one particular roster move this spring.
The Rays made a surprising decision Saturday when they designated outfielder Corey Dickerson for assignment during a flurry of transactions. Longoria, who took his spring training physical on Sunday at Scottsdale Stadium, pronounced himself baffled by the decision.
"It's kind of a shame," Longoria said. "I don't understand it. The guy was an All-Star last year. He's in his early prime. He's still controllable. It just doesn't make sense to me. It doesn't make sense to a lot of people. Corey will end up somewhere and continue to be the player that he is. But I kind of just feel bad for the Rays' fan base.
"And I feel bad for the guys this year who were probably counting on Corey to put up numbers to help the team win. I'm not going to take too many shots. But I think it's pretty obvious that the guy is a valuable player and didn't deserve to be DFA'd."
The Rays saved about $10 million from their projected 2018 million payroll with three transactions Saturday. They traded starter Jake Odorizzi, who will make $6.3 million this year and is eligible for free agency after the 2019 season, to the Minnesota Twins for minor league shortstop Jermaine Palacios, and they realized additional savings by acquiring first baseman/DH C.J. Cron from the Los Angeles Angels for a player to be named and designating Dickerson.
The Rays have seven days to trade or release Dickerson. By making the move now, they're obligated to pay about $1 million of his $5.95 million salary for 2018.
"It's obviously not a common move to do something like this, but we've had enough conversations that we felt this was the best way to get things resolved for him and for us," Rays general manager Erik Neander told the Tampa-St. Petersburg media on Saturday. "With the conversations that are ongoing with Dickerson, we felt this was the best way to go."
Cron will make only $2.3 million this season and isn't eligible for free agency until 2021. Dickerson, in contrast, will be a free agent in 2020. Cron brings some right-handed balance to a Tampa Bay lineup that had a surplus of left-handed bats.
Dickerson, 28, tailed off in the second half last season after making his first All-Star team. He has a .280/.325/.504 slash line in 2,102 MLB plate appearances, and he ranked fourth on the Tampa Bay roster with 2.6 WAR in 2017.
The Rays acquired Dickerson from the Colorado Rockies as part of a four-player trade in January 2016.
Longoria, who left Tampa Bay for San Francisco in a five-player trade in December, wondered about the message the Rays' decision to part with Dickerson might have on the team's players as well as the fan base.
"It's really hard to come into a clubhouse and expect to win when you give away your best players," Longoria said. "Corey was our best player last year. He was better than me. Logan Morrison hit 38 home runs, but overall, Corey was our best player.
"He has two or three years of MLB service time, and his numbers have been great. I don't know how you just let the guy go. He can only continue to improve, in my opinion."
Los Angeles Dodgers clinch NL's top seed, 8th straight division title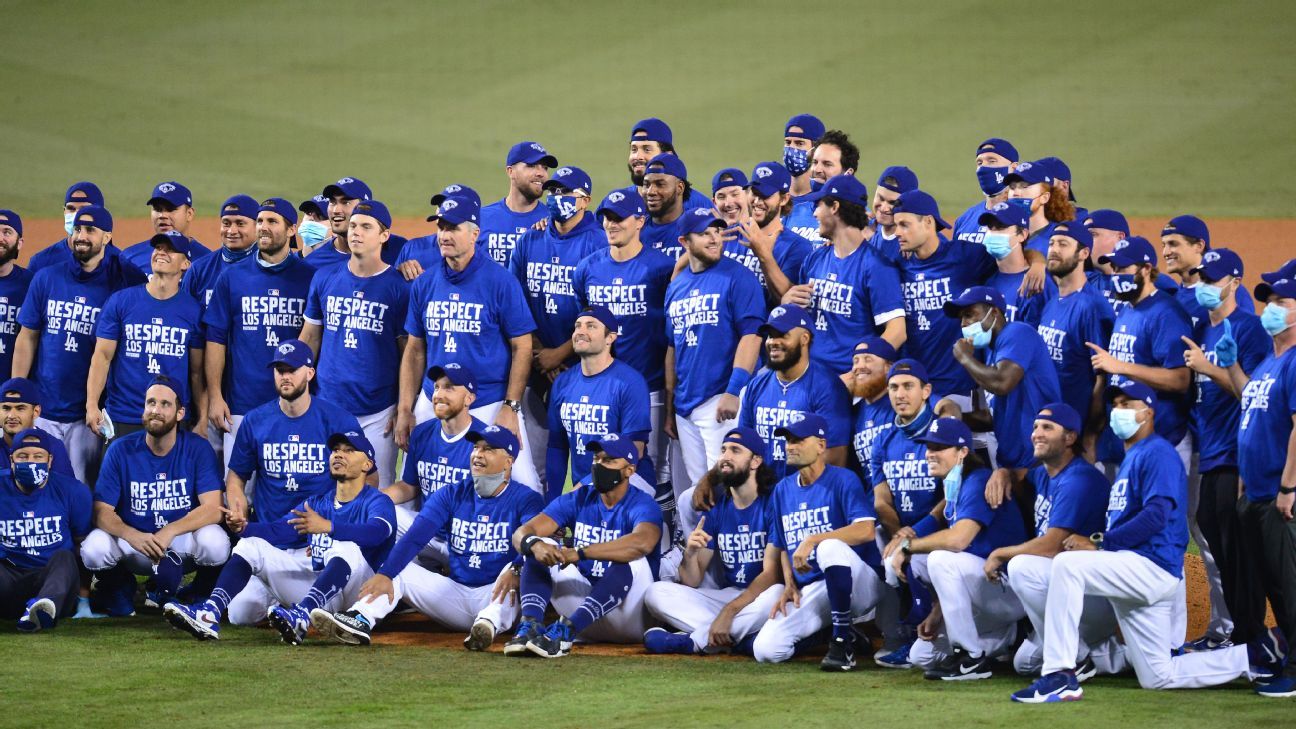 LOS ANGELES — Corey Seager had three hits, including one of Los Angeles' four home runs, as the Dodgers clinched the National League's top postseason seed and eighth straight West title Tuesday night with a 7-2 victory over the Oakland Athletics.
The Dodgers, who own the best record in the majors at 39-16, were the first team in the majors to clinch a playoff berth on Sept. 16. They will open postseason play on Sept. 30 by hosting every game in a best-of-three series against the No. 8 seed.
Los Angeles came into the day with a magic number of two and got help with the Angels' 4-2 victory over the San Diego Padres.
Max Muncy, Chris Taylor and A.J. Pollock also went deep for Los Angeles, which leads the majors with 104 home runs.
Dustin May went five innings and allowed two runs on three hits. The 22-year-old red-headed righty set a team record by not allowing more than three earned runs in his first 13 career starts, which include 10 this season.
Seager tied it at 1 in the first with an RBI single and then led off the fifth with a drive to center off T.J. McFarland to extend LA's lead to 6-2.
Muncy gave the Dodgers a 3-2 lead in the third inning with a two-run homer. Taylor and Pollock extended it with solo shots in the fourth off Oakland starter Frankie Montas.
Cody Bellinger added two hits for the Dodgers, including an RBI single with the bases loaded in the seventh.
Dodgers third baseman Justin Turner was scratched from the lineup less than an hour before first pitch due to left hamstring discomfort.He came off the injured list on Sept. 15 and has not played in the field since Aug. 28.
Joc Pederson was in the lineup at DH after missing five games while on the family emergency medical list. Manager Dave Roberts said before the game that he wasn't sure if Pederson will remain with the team during the entire postseason.
The Associated Press contributed to this report.
Marcell Ozuna, Braves beat Miami, clinch 3rd straight NL East title
Bryse Wilson pitched five scoreless innings, Marcell Ozuna drove in five runs with four hits that included two homers and the Atlanta Braves clinched their third straight NL East title by beating the Miami Marlins 11-1 on Tuesday night.
Atlanta hit five homers, including drive by Dansby Swanson and Freddie Freeman off Nick Vincent in a five-run seventh. Freeman drove in two runs with three hits.
After Jorge Alfaro lined out to Freeman to end the game, Braves players hugged on the field and exchanged high-fives in the dugout.
Wilson (1-0) allowed three hits and one walk, striking out a career-high seven. It was an unexpected showing by the 22-year-old right-hander, who had a 7.04 ERA in four relief outings and had been at the team's alternate training site until Monday. He had not started since July 16 last year at Milwaukee.
Atlanta clinched its record 20th division title, one more than the New York Yankees. The Braves won 14 straight in completed seasons from 1991-2005 but have not won a postseason series since 2001 and have not won a championship since 1995.
Miami remained in position to earn its first playoff berth since winning the 2003 World Series.
Ozuna hit a first-inning homer off Jose Urena (0-3), who allowed four runs in six innings. Ozzie Albies homered in the second, and Ozuna added a two-run double in the fifth and drove in Freeman with a 450-foot homer to center field in the eighth.
Manager Brian Snitker said the Braves were prepared for a low-key celebration, due to social distancing rules in the pandemic. He said Major League Baseball "pretty much restricted all that" due to space constraints in the clubhouse.
"I think we go in and air high-five to everybody," Snitker said.
The Associated Press contributed to this report.
Chicago Cubs lose 3-2 to Pittsburgh Pirates but still clinch playoff berth
The Chicago Cubs are in the postseason for the fifth time in six years, clinching a spot on Tuesday night despite losing 3-2 to the Pittsburgh Pirates.
It's David Ross' first trip to the postseason in his first season as the Cubs' manager.
"It's nice," Ross said after the game. "Super proud. Thankful for the group I have. It's very rewarding for that group in there that's put in the hard work in a unique atmosphere."
The Cubs got off to a fast start, winning 13 of their first 16 games to take command in the National League Central, where they've been in first place since the season opener. Their success has been tied to their pitching staff, which ranks third in ERA in the National League.
But Chicago's offense has slumped since the quick beginning to the season. The Cubs rank 22nd in OPS and are hitting under .200 against left-handed pitching.
"It's a lot of credit to us for not being in sync the whole year and grinding through and getting wins," first baseman Anthony Rizzo said. "It's a full team effort and that's what it's going to take to be the last team standing."
The Cubs have a history of making the postseason after changing managers. In 2003, Dusty Baker led the Cubs to a division title in his first season; Lou Piniella did the same in 2007. Joe Maddon also made it to the playoffs in 2015, his first season at the helm. Ross was a player on that 2015 team.
"There is so much to be proud of and thankful for from my seat," Ross said. "They came in ready to summer camp and it showed."
In the coming days, the Cubs are in good position to clinch their third division title since 2016 and host the first round of the playoffs at Wrigley Field, where they produced the lowest batting average in history there this season (.210). But Chicago features several October tested starters, including Yu Darvish, Kyle Hendricks and Jon Lester. And many of the core players are still there from when the team won the World Series in 2016.
"To be one of the playoff teams is very exciting," Rizzo said. "It's something that we're going to not take for granted because this is not easy.
"It's [the playoffs] a whole different beast. It's a different game. It's a different vibe."