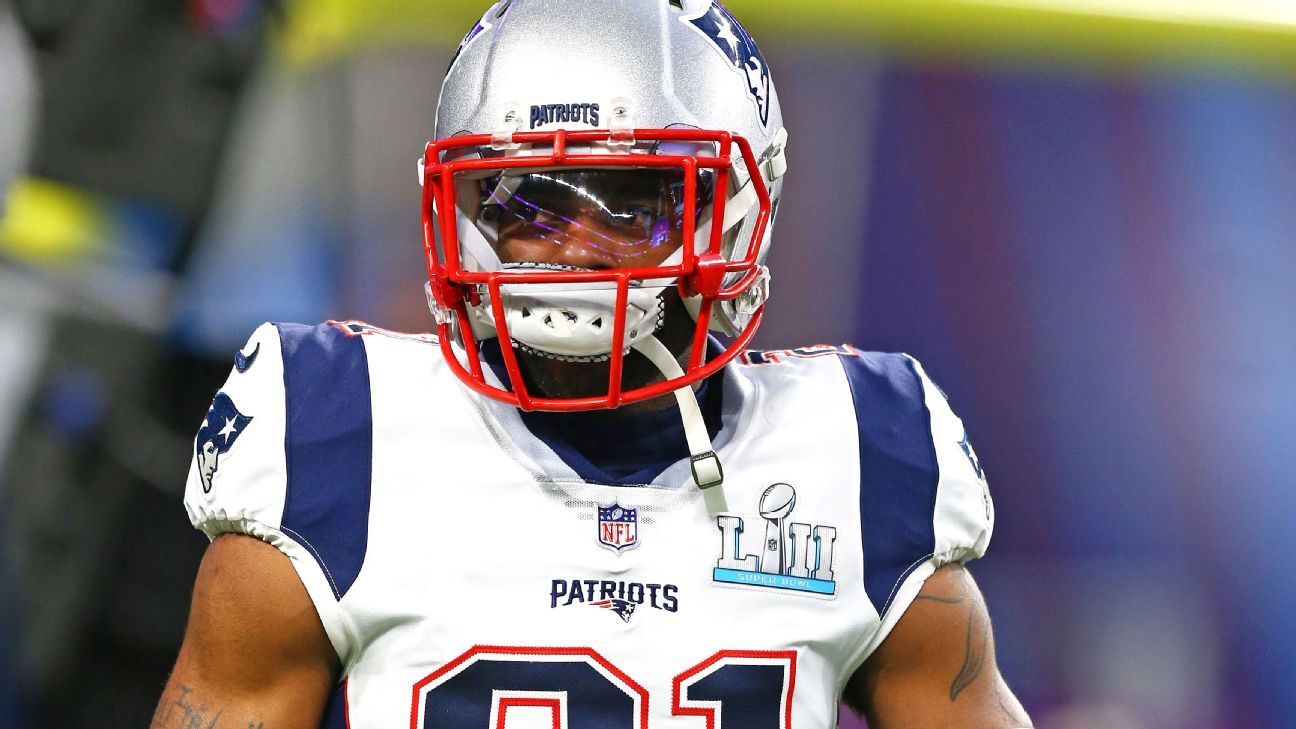 Exploring some hot topics around the New England Patriots in mailbag form:
Mike, team needs/roster move projections coming soon? With Butler (probably) leaving, do you expect team to address (jnterior and/or outside) pass rush before anything else?

— Ed Negroni (@ednegroni) February 14, 2018
Ed, I wouldn't narrow it down to solely pass rush. As the Super Bowl showed, the Patriots have several needs on defense and the best approach is to maximize opportunities to fill them, which come in different forms: free agency, draft, trades, waiver wire. So it doesn't have to come in any specific order. I think Bill Belichick would agree that the Patriots need to be better in maximizing those opportunities than they were last year, as several of their moves didn't produce the desired results (e.g. David Harris, Dwayne Allen, Cassius Marsh, Kony Ealy, etc.). If I had to pick one spot to put atop the list in 2018, I'd go with an off-the-line linebacker who can run well and play on all three downs, like an early-career Jerod Mayo. The biggest problem with that is those players are hard to find; it's especially not easy when you're picking No. 31 to find that type of talent (Mayo was No. 10 overall in 2008). While some might point out that the Patriots had one in Jamie Collins, I believe the reason he was traded was because he was no longer buying into the program. That highlights a whole different issue: Identifying and securing the talent is one thing, but those players also need to be program fits.
@MikeReiss In the week after a SB (whether a win or loss) do the Pats coaches and/or players review the tape together? Or is it "class dismissed" until training camp?

— Andy M (@SillyLongLeg) February 13, 2018
Andy, most coaches were in the office in the days upon their return from Minnesota and my understanding is that they broke down the game as they usually would. That's an important part of their personnel/scheme/self-scouting analysis as they move forward. It's different for players, as there is not the standard meeting the morning after a game like there normally would be during the season because there isn't the same urgency to make those corrections without another game coming up. Coaches are currently off until later next week, although some have been in and out of Gillette Stadium because they are coaches who live the game and there's no such thing as going cold turkey for them.
@MikeReiss , for your Q&A: at the snap count you said you believe Butler would've been called if Gilmore or Rowe got injured. So why Bademosi and not Butler got the call as the CB3 at some points during the game? I get starting the taller Rowe over Butler, but it stops there…

— Obina Neles (@obina_neles) February 14, 2018
That's a fair point Obina, as it easily could have been Johnson Bademosi over Malcolm Butler in Super Bowl LII if either Stephon Gilmore (excellent performance) or Eric Rowe (settled down after a rocky start) had sustained an injury. But when I went through film review and matched it up with notes I took during the game, it's important to note that the insertion of Bademosi into the game in the third quarter was in place of safety Jordan Richards in the dime package. That was a halftime adjustment in which the Patriots altered their dime to go from a 2-corner/4-safety grouping to a 3-corner/3-safety grouping. Why Butler wouldn't be part of that 3-corner grouping — when he was dressed for the game and part of the special-teams plan — remains a puzzler and something that is still being pursued from a reporting standpoint for more clarity. Bademosi's first defensive play in the game came when he was aligned across from receiver Nelson Agholor in the slot and could have tackled him short of the first down but didn't wrap up. Does Butler make that tackle? I like the odds that he does.
@MikeReiss Any possibility that there will be a transition of power in the near future with McDaniels taking the HC position and Belichik retaining the GM role rather than retiring fully?

— Original Jamoke (@Original_Jamoke) February 14, 2018
While that is always possible, I'm of the belief that Josh McDaniels' return to the Patriots — which was a result of the team making a last-minute push to retain him with an offer that wasn't previously on the table for him — will actually prolong Belichick's stay on the sideline. This would have been a challenging year for Belichick had McDaniels departed, as there was no obvious successor for McDaniels, and it likely would have led to a trickle-down effect of several other departures. So this eases the burden on Belichick, which I could see extending his coaching window to at least 20 years with the club (this year will be No. 19).
@MikeReiss @jeffphowe @DougKyed What are the chances the Patriots keep Martellus Bennett? Huge fan, hope we retain him

— Joseph Martinez (@JMartinezBKN) February 14, 2018
Joseph, I'd be surprised if they pick up Martellus Bennett's $2 million roster bonus on the first day of the 2018 league year, which would mean they would be prepared to pay his base salary of $3.6 million in 2018, as well as $2.6 million in roster bonuses. While those numbers aren't off the charts, given where Bennett is at this stage of his career and his prior talk of retirement, I don't see the team going there.
@MikeReiss Am I crazy to think if we lose Dion Lewis in Free agency that we should make a Push at Demarco Murray if he is cut? Think about him in back field with James white.

— Kip Hackman (@Jester8426) February 15, 2018
Kip, there are no crazy thoughts in free agency, as it's worth exploring any avenue that could improve the team. The one question the Patriots would want to answer is whether Murray's declining numbers (he averaged a career low 3.6 yards per carry in 15 games) are a sign that he is slowing down. He just turned 30 this week. One other thought: When the Patriots entered 2017, Belichick noted the versatility of the backs (Dion Lewis, Mike Gillislee, Rex Burkhead, James White) and how he liked how it created flexibility on a play-by-play basis so the team didn't telegraph its intentions as much as in 2016 with the LeGarrette Blount-led approach. I see bringing in Murray as more of a return to the 2016 approach.
Browns banking on dominant Jadeveon Clowney, Myles Garrett pairing – Cleveland Browns Blog
BEREA, Ohio – Next season, the Cleveland Browns' defense will feature two former No. 1 overall picks off the edge. And they're banking the All-Pro they drafted four years ago will help unlock the vast potential of the one they just signed.
Wednesday, Cleveland further bolstered its budding defense in free agency, inking Jadeveon Clowney to a one-year deal worth up to $10 million.
Unlike Myles Garrett, Clowney has yet to live up to the billing of being the No. 1 pick. But now healthy again, he sees playing in Cleveland alongside Garrett as an opportunity to finally do so in his eighth season in the league.
"I just want to show that I'm still an elite player," Clowney said Wednesday. "And prove to other people that I'm still out here and can dominate."
• Why Colts still need to draft a WR
• Lance, Jones, Fields? Who is best QB for 49ers
• Is Kerry Hyder Jr. Seahawks' new Michael Bennett?
• Why Eagles may have another trade up their sleeve
• Dolphins' ideal two-round draft: Playmakers, pass-rushers, center
Clowney is coming off a season with Tennessee during which he did anything but dominate. He played eight games with the Titans without notching a single sack, before missing the rest of the season with a torn meniscus in his left knee.
Since becoming the first pick in the 2014 draft, injuries have continually hampered Clowney, beginning with his first career game, which ultimately led to a microfracture in his right knee. Clowney passed a physical in Cleveland on Wednesday on both knees, clearing the way for the Browns to finally sign him.
"I don't think everybody (has gotten) to see the person they drafted yet," said Clowney, who has still made three Pro Bowls. "I think I'm working back towards that – I'm well on my way now.
"With my potential and the way I play the game – if I can stay healthy – I shouldn't be far away from being Defensive Player of the Year. I think I have that potential, and I can do it."
The Browns already boast a player who was in the Defensive Player of the Year conversation just last season in Garrett. Before contracting COVID-19 in late November, Garrett was leading the NFL with 9.5 sacks and four forced fumbles. Despite missing two games with the virus and laboring with his breathing after returning, Garrett still was named a first-team All-Pro.
Clowney, himself, has commanded plenty of attention from opposing offenses in the past, even with his injury history and inconsistent production. In fact, since 2018, according to ESPN Stats & Info, only Michael Bennett and Za'Darius Smith have been doubled-team more often.
"It's definitely frustrating," said Clowney, who, despite the constant double teams, still owns one of the five-best pass-rush win rates since 2018. "You game plan all week to go against one person, watch him all week to get pass-rush reps — and then you go into the game, and all of a sudden, it's two people in front of you or somebody there to chip you the whole game."
In Cleveland, however, Clowney could see the fewest double teams of his career, lining up opposite Garrett, who faced the third-highest rate of double teams last season.
"I'm looking forward to playing with somebody who is dominant on the opposite side like a Myles Garrett, who can draw a double team," Clowney said. "Maybe I can go one-on-one more."
Without a doubt, Clowney will see more one-on-one opportunities. And having already landed edge rusher Takkarist McKinley in free agency this offseason, Cleveland could deploy Clowney in the pass rush in a variety of creative ways.
"We love his relentless style of play," general manager Andrew Berry said in a statement. "He's one of the more disruptive players in the game and we think he's going to add an element of ruggedness along our defensive line.
"The other thing we love about Jadeveon is his versatility, his ability to play all across the front and impact the game regardless of his alignment."
Berry has been busy this offseason upgrading every level of a defense that ranked just 19th in efficiency in 2020 but for a team that still won 12 games and advanced to the second round of the playoffs. Last month, the Browns landed arguably the top safety available in free agency in John Johnson III from the Rams. Berry also added three other potential defensive starters in linebacker Anthony Walker, nickelback Troy Hill and defensive tackle Malik Jackson.
Clowney, however, has enough talent to elevate the Browns' defense to yet another level. Especially if he, in his own words, proves that he can be a dominant player once again.
"That is all I am here to prove this year," he said. "We're going to see this season."
Seattle Seahawks extend team president Chuck Arnold through 2027
SEATTLE — The Seahawks have extended team president Chuck Arnold through 2027, they announced Wednesday.
Arnold is entering his 28th season with the Seahawks and his fourth in his current role. As president of the Seahawks and First & Goal Inc., which operates Lumen Field, he oversees the organization's business and financial operations, sales, marketing and administration.
"Chuck continues to do an exceptional job working with and supporting the football operation while assuring that the entire Seahawks organization remains an engaged and invested community leader unafraid to tackle tough challenges in our region," Jody Allen, chair of the Seahawks, said in the team's release. "Stability, quality, and consistency of leadership is a key ingredient to our continued success and winning culture. I remain excited for the future of this organization both on and off the field."
Arnold's extension means more stability at the top of the organization. In January, the Seahawks gave general manager John Schneider an extension through the 2027 draft. Coach Pete Carroll was previously extended through the 2025 season.
A native of Tacoma, Washington, and a graduate of Washington State University, Arnold began his career with the Seahawks as an intern in 1994. He was their COO from 2013 to 2018 before replacing Peter McLoughlin as team president.
Women amend lawsuits vs. Houston Texans' Deshaun Watson to disclose names; 1 plaintiff withdraws suit 'for now'
HOUSTON — Twenty women who had filed lawsuits alleging inappropriate behavior and sexual assault against Houston Texans quarterback Deshaun Watson have amended their petitions to disclose their names.
Another lawsuit is expected to be refiled by Thursday after an emergency hearing was canceled on Wednesday.
One of the original 22 lawsuits was dropped by a plaintiff "for now," according to court documents.
"In light of privacy and security concerns, Plaintiff has decided not to pursue her case, for now," the document said. "Plaintiff reserves the right to refile this case once such concerns are addressed."
On Friday, two judges ruled that most of the plaintiffs suing Watson must identify themselves. The rulings from two hearings Friday covered 13 of the 22 lawsuits filed against Watson, while the attorneys also agreed to release a 14th name later in the day. Before Friday, only two women had been publicly identified. Another emergency hearing to determine whether the remaining lawsuits should be amended had been scheduled for Wednesday but was called off shortly before it was scheduled to begin.
The plaintiffs' attorney, Tony Buzbee, said in a statement Tuesday that his law firm "previously attempted to make available to Defense Counsel the names of the plaintiffs suing Deshaun Watson, and intended to do so in due course."
"We were concerned about the safety of these plaintiffs, and asked the Watson team to agree to a protective order where the identities could be used in litigation, but not broadcast to the world," Buzbee's statement continued.
In a statement last week, Watson's lawyer, Rusty Hardin, said that when his law firm asked Buzbee "to identify his clients weeks ago, he refused and told us to file a motion."
"While I understand that anonymity often is used as a shield for victims, Mr. Buzbee is using it as a sword," Hardin said in a statement on Thursday. "While shielding his clients from public scrutiny, Mr. Buzbee continues to use their anonymous allegations to destroy Mr. Watson. This is simply not right. And we look forward to resolving these matters in court."