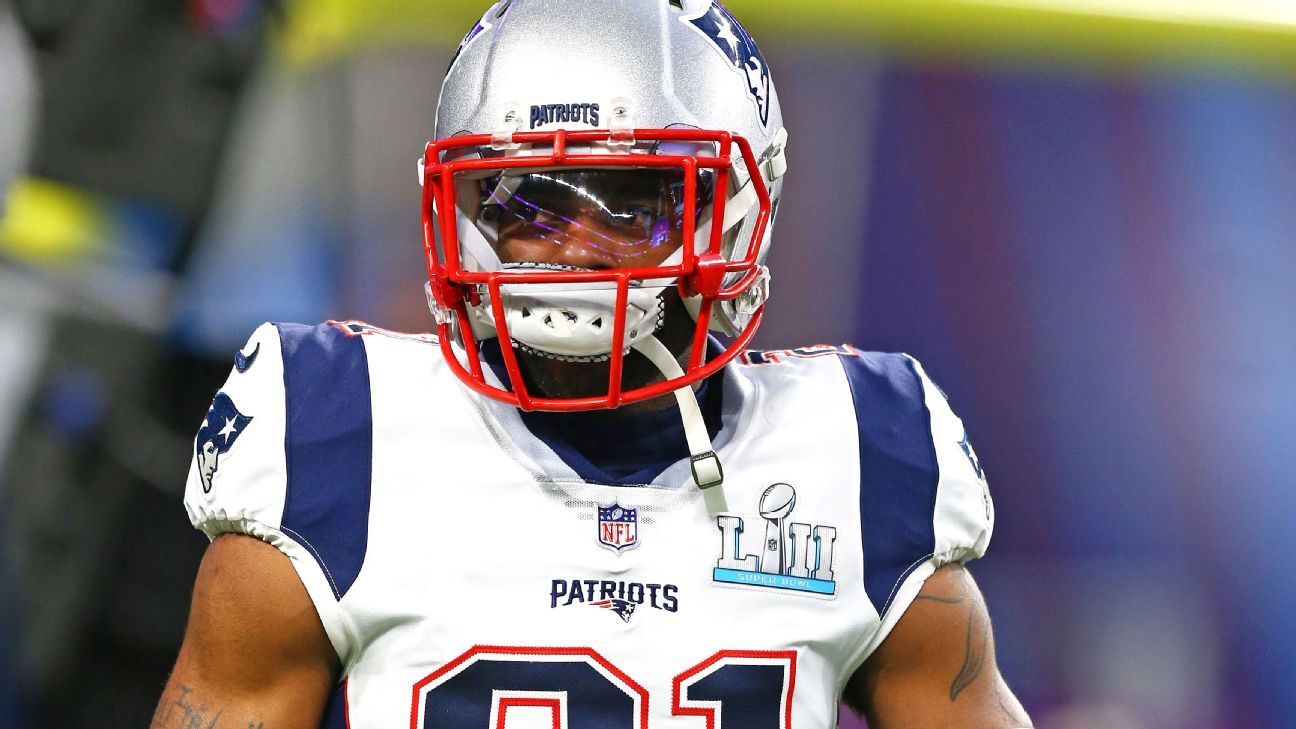 Exploring some hot topics around the New England Patriots in mailbag form:
Mike, team needs/roster move projections coming soon? With Butler (probably) leaving, do you expect team to address (jnterior and/or outside) pass rush before anything else?

— Ed Negroni (@ednegroni) February 14, 2018
Ed, I wouldn't narrow it down to solely pass rush. As the Super Bowl showed, the Patriots have several needs on defense and the best approach is to maximize opportunities to fill them, which come in different forms: free agency, draft, trades, waiver wire. So it doesn't have to come in any specific order. I think Bill Belichick would agree that the Patriots need to be better in maximizing those opportunities than they were last year, as several of their moves didn't produce the desired results (e.g. David Harris, Dwayne Allen, Cassius Marsh, Kony Ealy, etc.). If I had to pick one spot to put atop the list in 2018, I'd go with an off-the-line linebacker who can run well and play on all three downs, like an early-career Jerod Mayo. The biggest problem with that is those players are hard to find; it's especially not easy when you're picking No. 31 to find that type of talent (Mayo was No. 10 overall in 2008). While some might point out that the Patriots had one in Jamie Collins, I believe the reason he was traded was because he was no longer buying into the program. That highlights a whole different issue: Identifying and securing the talent is one thing, but those players also need to be program fits.
@MikeReiss In the week after a SB (whether a win or loss) do the Pats coaches and/or players review the tape together? Or is it "class dismissed" until training camp?

— Andy M (@SillyLongLeg) February 13, 2018
Andy, most coaches were in the office in the days upon their return from Minnesota and my understanding is that they broke down the game as they usually would. That's an important part of their personnel/scheme/self-scouting analysis as they move forward. It's different for players, as there is not the standard meeting the morning after a game like there normally would be during the season because there isn't the same urgency to make those corrections without another game coming up. Coaches are currently off until later next week, although some have been in and out of Gillette Stadium because they are coaches who live the game and there's no such thing as going cold turkey for them.
@MikeReiss , for your Q&A: at the snap count you said you believe Butler would've been called if Gilmore or Rowe got injured. So why Bademosi and not Butler got the call as the CB3 at some points during the game? I get starting the taller Rowe over Butler, but it stops there…

— Obina Neles (@obina_neles) February 14, 2018
That's a fair point Obina, as it easily could have been Johnson Bademosi over Malcolm Butler in Super Bowl LII if either Stephon Gilmore (excellent performance) or Eric Rowe (settled down after a rocky start) had sustained an injury. But when I went through film review and matched it up with notes I took during the game, it's important to note that the insertion of Bademosi into the game in the third quarter was in place of safety Jordan Richards in the dime package. That was a halftime adjustment in which the Patriots altered their dime to go from a 2-corner/4-safety grouping to a 3-corner/3-safety grouping. Why Butler wouldn't be part of that 3-corner grouping — when he was dressed for the game and part of the special-teams plan — remains a puzzler and something that is still being pursued from a reporting standpoint for more clarity. Bademosi's first defensive play in the game came when he was aligned across from receiver Nelson Agholor in the slot and could have tackled him short of the first down but didn't wrap up. Does Butler make that tackle? I like the odds that he does.
@MikeReiss Any possibility that there will be a transition of power in the near future with McDaniels taking the HC position and Belichik retaining the GM role rather than retiring fully?

— Original Jamoke (@Original_Jamoke) February 14, 2018
While that is always possible, I'm of the belief that Josh McDaniels' return to the Patriots — which was a result of the team making a last-minute push to retain him with an offer that wasn't previously on the table for him — will actually prolong Belichick's stay on the sideline. This would have been a challenging year for Belichick had McDaniels departed, as there was no obvious successor for McDaniels, and it likely would have led to a trickle-down effect of several other departures. So this eases the burden on Belichick, which I could see extending his coaching window to at least 20 years with the club (this year will be No. 19).
@MikeReiss @jeffphowe @DougKyed What are the chances the Patriots keep Martellus Bennett? Huge fan, hope we retain him

— Joseph Martinez (@JMartinezBKN) February 14, 2018
Joseph, I'd be surprised if they pick up Martellus Bennett's $2 million roster bonus on the first day of the 2018 league year, which would mean they would be prepared to pay his base salary of $3.6 million in 2018, as well as $2.6 million in roster bonuses. While those numbers aren't off the charts, given where Bennett is at this stage of his career and his prior talk of retirement, I don't see the team going there.
@MikeReiss Am I crazy to think if we lose Dion Lewis in Free agency that we should make a Push at Demarco Murray if he is cut? Think about him in back field with James white.

— Kip Hackman (@Jester8426) February 15, 2018
Kip, there are no crazy thoughts in free agency, as it's worth exploring any avenue that could improve the team. The one question the Patriots would want to answer is whether Murray's declining numbers (he averaged a career low 3.6 yards per carry in 15 games) are a sign that he is slowing down. He just turned 30 this week. One other thought: When the Patriots entered 2017, Belichick noted the versatility of the backs (Dion Lewis, Mike Gillislee, Rex Burkhead, James White) and how he liked how it created flexibility on a play-by-play basis so the team didn't telegraph its intentions as much as in 2016 with the LeGarrette Blount-led approach. I see bringing in Murray as more of a return to the 2016 approach.
Minnesota Vikings TE Kyle Rudolph not pleased with usage, won't accept pay cut
MINNEAPOLIS — Minnesota Vikings tight end Kyle Rudolph knows his worth and he won't be granting any discounts ahead of his 11th season in the NFL.
In an appearance on the "Unrestricted with Ben Leber" podcast, Rudolph expressed displeasure with his role in the Vikings offense over the last two seasons, having gone from Minnesota's second or third leading receiver from 2015-18 to being an afterthought in the passing game in 2020.
Minnesota is projected to be $12.8 million over the cap ahead of the new league year and would gain $5.1 million in cap space if they were to release Rudolph this offseason (which comes with $4.35 million in dead money). The Vikings could also restructure Rudolph's current deal, with three years remaining, to lower his 2021 cap number from $9.45 million to nearly half.
It wouldn't be the first time the Vikings approached the two-time Pro Bowl tight end with a proposal to restructure. In June 2019, Rudolph reworked his contract into a four-year extension two months after Minnesota used a second-round pick to draft TE Irv Smith Jr. out of Alabama. Last season, Smith finished third on the Vikings in receiving and touchdowns (365 yards, 5 TDs).
Rudolph said he isn't sure how Minnesota's front office will approach his situation ahead of free agency, but he stood firm with his belief that he should be paid the entirety of what his contract entails.
"Obviously, I'm realistic. I see both sides," Rudolph said. "If I were [team owners] the Wilf's, if I were [general manager] Rick [Spielman], I'm looking at this situation like, 'hey, we're paying this guy a lot of money and you're not using him, so why are we continuing to pay him a lot of money?'
"With that being said, I think I'm worth every dime of my contract. That doesn't mean that I'm used to my potential and I'm used to do what I do well, so it will be interesting over the next few months. Like I said, I have three years left on my contract. I don't want to go anywhere else. I've somehow become a pretty decent blocker because I've been forced to. It certainly wasn't something that I ever did well at any point of my career. Maybe in high school because I was bigger than everyone else, but even then, I just wanted to run around and catch balls.
"Early on last season, the writing was on the wall. I saw where our offense was going. I had like seven or eight catches in the first six games. It was just absurd. I was literally blocking all the time."
Rudolph caught 28 passes on 35 targets in 2020, his lowest output since the 2014 season. He churned of 334 receiving yards and one touchdown, the latter of which was a career-low for the former second-round pick.
Rudolph was asked to pass block on 43 snaps last season, down from the 68 pass-blocking snaps he played in 2019. The veteran tight end revealed on the podcast the reason for his late-season injured reserve designation that forced him to miss Weeks 13-17: A lisfranc sprain in his foot.
Asked what he would do if the Vikings came to him with a restructure proposal that would keep him in the same role he played on offense, Rudolph made it clear he would not agree to a reduced salary for 2021. He's scheduled to make a base salary of $7.65 million this season.
"It wouldn't happen," he said. "You only get to play this game for so many years and I feel like I have a lot of good football left. Now we fast forward, I've played these three years on my contract and I'm now 33, 34 and they're like 'hey, we want to keep you around for a couple years at a much lower number but we want you to do X, Y and Z help these young guys out' — sign me up.
"But like I said, at 31, with how I feel physically, with knowing what I can still do … It's simply a lack of opportunities. In the past, I was the one getting red zone targets. I can't sign up for that again."
Former Alabama football teammates DeVonta Smith, Tua Tagovailoa have discussed possible reunion with Miami Dolphins
MOBILE, Ala. — Heisman Trophy winner DeVonta Smith has already pictured himself in a Miami Dolphins uniform reuniting with former college teammate Tua Tagovailoa, and the thought could be mutual.
"We just talked about it would be nice to run it back again," Smith told NFL Network after Tuesday's practice at the Senior Bowl about the possibility of teaming up again with the Dolphins' starting quarterback. "Not too much, but somewhat talked about it."
The Dolphins hold the No. 3 pick in the 2021 NFL draft, and the team has a big need for more explosive playmakers for Tagovailoa. Smith, who became the first wide receiver to win the Heisman Trophy since Desmond Howard in 1991 and only the second since 1940, would certainly fit that criterion.
Smith is participating in meetings and watching practices along with Dolphins coaches at the Senior Bowl, but he is not participating on the field because of a dislocated finger suffered in Alabama's national championship victory over Ohio State. He had 12 catches for 215 yards and three touchdowns in that game before the injury.
He was wearing a black wrap on his right hand Tuesday.
The biggest question about Smith leading up to the draft is whether his size will hinder his becoming a top-five pick. Alabama listed Smith as 6-foot-1, 175 pounds, and he declined to weigh in at the Senior Bowl on Tuesday. He said he'd wait until Alabama's pro day to do full measurements.
Dolphins coach Brian Flores doesn't seem too worried about Smith's size affecting their evaluation of him.
"This guy is a very, very good player. You can nitpick all you want about a guy's size, but good players are good players are good players. We all can see that," Flores said Tuesday. "This guy is a very good player. He made a lot of plays in college. He made a lot of plays in the biggest games of the year. You can nitpick all day on things on people. He's a very good player, and it's been good getting to know him. He's a good kid, too."
Smith played bigger than his size in college, as he regularly found a way to separate from press coverage, broke tackles in the open field and proved to be durable throughout his four-year career at Alabama.
If the Dolphins want Smith, they might have some competition. ESPN's Mel Kiper Jr. projects Smith going No. 2 to the New York Jets in his first mock draft, with the Dolphins taking LSU's Ja'Marr Chase at No. 3.
Running back Najee Harris, Smith's teammate at Alabama, is also participating under the tutelage of Dolphins coaches at the Senior Bowl and also could be on the team's radar to reunite with Tagovailoa in Miami. The Dolphins have four picks in the top 50 of the NFL draft (Nos. 3, 18, 35 and 50).
Sources — Teams start to reach out to Detroit Lions about potential Matthew Stafford trade
NFL teams have started reaching out to the Detroit Lions to gauge what it would take to trade for quarterback Matthew Stafford, sources told ESPN's Adam Schefter on Tuesday.
This had been the expectation after Saturday, when the Lions and Stafford mutually agreed to a separation between the longtime Detroit quarterback and the only franchise for which he's ever played. A source familiar with the situation said Saturday night that the Lions would be looking for "fair market value" for Stafford, who is the franchise leader in every major passing category.
Stafford will leave Detroit, whenever he is traded, having thrown for 45,109 yards, 282 touchdowns and 144 interceptions. The Lions made three playoff appearances with Stafford, losing in the wild-card round all three times.
He was the team's pick at No. 1 overall in 2009 — the first pick of then-general manager Martin Mayhew. Mayhew is now the general manager in Washington, one of many NFL teams in need of a quarterback this offseason.
While Stafford has not spoken publicly since news broke about his pending departure, his wife, Kelly, posted on Instagram on Monday, thanking Detroit's fans and the city itself for embracing her and her family and what it has meant to them over the past 12 years.
"Random tears come very often when I think about not being here," Kelly Stafford wrote. "This place supported me during the toughest time of my life and during the happiest times and I want to thank y'all in the right way.
"Whenever I figure out what the future holds, you'll be hearing from me again with a thank you that hopefully shows how much gratitude and love I have for this place.. but until then we are going to enjoy our time left in Michigan to the fullest because there really is no other place like it."
Fans responded to the announcement of a likely trade by donating $9 — Stafford's jersey number — to the Acoustic Neuroma Association, which is a charity important to the Staffords after Kelly dealt with an acoustic neuroma in 2019.
As of Tuesday afternoon, Melissa Baumbick, the manager of outreach and development for the ANA, said they've received 1,575 donations equaling almost $22,000 in honor of the Staffords.
"This kind of awareness is huge for us. It really is huge for us," Baumbick told ESPN on Monday. "So just being able to get the word out there so that doctors are aware of it and can diagnose it correctly and we don't have misdiagnoses and also so patients are aware of it and even so far as Kelly has talked about sort of the things that she's dealt with following her surgery because there are sometimes things that become chronic conditions and go on following surgery that become sort of life-changing issues for people moving forward.
"Most patients lose some hearing; some patients lose all hearing in one ear. So that becomes something that they have to deal with moving forward, so having that sort of awareness is huge."
The Staffords have also been making preparations to leave. They put their suburban Detroit mansion on the market — listing price $6.5 million — this week. They initially put the house on the market in May, but pulled it off the market when the season started in September.