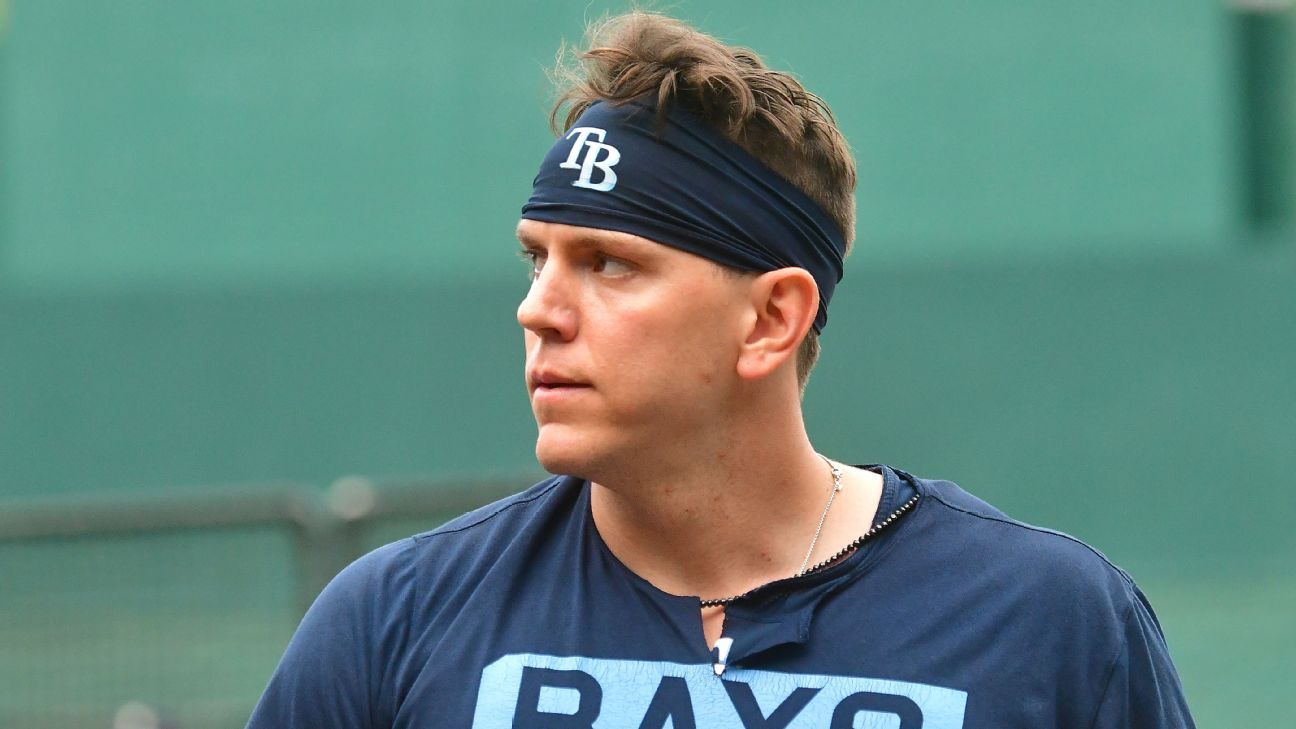 FT. MYERS, Fla. — An agent paused to consider the list of the many unsigned major leaguers. "Some of these guys are going to get absolutely destroyed," he said.
What he meant is that solid, established players are eventually going to be forced to accept deals for ugly terms, for much less than what they expected to get when they moved into free agency last fall — maybe for half of what they anticipated, maybe even less. Logan Morrison had the best season of his career last year, with 38 homers, a .353 OBP and an Adjusted OPS+ of 135, and as of last month, friends say Morrison had no offers in hand. That could change now that Eric Hosmer has reportedly picked his next employer and perhaps that opens an opportunity in Kansas City or elsewhere for Morrison.
It could be that Morrison and many other players wind up settling. But that is probably preferable to an alternative available to all of those unsigned: to simply wait it out, perhaps until after the start of the season, to see if injuries or performance problems motivate teams to bid aggressively. If Morrison carried his free agency into April, it's conceivable that a contending team might lose a first baseman to a broken hand or wrist and turn to Morrison with heightened desperation, giving him more leverage with which to negotiate.
But recent history suggests that players who follow this strategy of waiting and waiting and waiting to sign often struggle after they get back on the field. This is especially so for position players. "They fall behind, and they don't ever really catch up," another agent said.
• Kendrys Morales and Stephen Drew, 2014. Both turned down $14.1 million qualifying offers in the previous fall, from the Mariners and Red Sox, respectively, and when acceptable deals didn't materialize the next spring, they remained unsigned through the start of the 2014 season, freeing them from draft-pick compensation.
But after they signed, about one-third of the way through the season, both really struggled. Morales hit one home run in 162 plate appearances for the Twins while batting .234 before he was dealt back to the Mariners. He then batted .207 for Seattle in 59 games. Morales signed a two-year deal with the Royals before the 2015 season for $15.5 million.
Drew returned to the Red Sox for $10.1 million, floundered offensively, and was swapped to the Yankees. Drew batted .162 in 300 plate appearances in 2014, and he has made a total of $11.5 million in the three seasons since.
• Tim Lincecum, 2016. He signed in May 2016, for minimal dollars, and allowed 68 hits in 38⅓ innings for the Angels, posting a 9.16 ERA.
• Johnny Damon, 2012. He signed with the Indians on April 17, played his first game in the big leagues on May 2 and never really drove the ball. A hit on July 24 pushed his batting average to a season-high .236, and Damon was released a couple of weeks later.
• Roy Oswalt, 2012. The longtime Astros right-hander followed the Pedro Martinez/Roger Clemens plan of waiting until after the start of the season to sign. He agreed to a deal with the Rangers on May 29 before making his Texas debut on June 22. He had a 6.49 ERA after six starts and was dropped from the rotation.
There are more examples of players who took an imperfect deal in February or March, played well and parlayed that performance into a good contract the next fall. In the spring of 2014, the same time Morales and Drew opted to wait, Nelson Cruz, who also turned down a qualifying offer of $14.1 million, signed a one-year, $8 million deal with the Orioles on Feb. 22. He had the benefit of a full spring training and complete preparation, and when the season began, Cruz flourished. After leading the league with 40 homers, Cruz returned to the market and landed a four-year, $57 million deal with the Mariners.
As some unsigned players consider their options, they're probably better off signing even an ugly deal and getting into camp than falling behind and risking their 2019 standing as well.
News from around the majors
Because of the presence of Shohei Ohtani, the Angels' shift to a six-man rotation has generated a lot of attention. But the change is in keeping with the evolution in pitching — and in thought — throughout Major League Baseball. For a lot of teams, rotation choices are no longer being determined by an artificial schedule or the predetermined pecking order of a group of starting pitchers. Rather, decisions are based on what's best for each of the individual pitchers. "It's definitely personnel-driven," one evaluator said.
Instead of penciling a starter every fifth day into the baseball calendar with the expectation that four or five guys could make 30-plus starts, teams are assessing and evaluating the physical well-being of each guy and making the necessary adjustments. Because a one-size-fits-all system doesn't fit all. Madison Bumgarner might be OK taking the ball every fifth day through the six months of the season, but not every pitcher is like Bumgarner. A 22-year-old Clayton Kershaw might have easily handled a 200-inning workload, but at age 29, he might be better through rest. A few years ago, when the Oakland Athletics discussed the idea of innings limits, Billy Beane challenged his staff and asked, in so many words: What evidence do we have that the same limits should apply to every pitcher?
As teams have dug into the questions around why some pitchers break down and some pitchers don't, they have focused on structuring the rotation around who is best-suited for a given day, rather than where they fall on the calendar. The Dodgers have been the most prominent example of this shift in recent seasons. Ten pitchers made starts in 2017, but none made more than 27 starts; Kershaw was the only Dodgers pitcher to throw enough innings to qualify for the ERA title. The high payroll helped to give the Dodgers more depth and more flexibility, but they also worked to rest their starters. The Dodgers' rotation generated only 45 starts on four days of rest, far fewer than most teams.
30. Dodgers 45
29. Yankees 53
27t. Astros 64
27t. Padres 64
26. Nationals 67
So yes, the Angels are adapting to Ohtani, who worked on a six-day schedule in Japan. But they will also adapt to Garrett Richards, Matt Shoemaker and the others, working to schedule them when they'll be in the best possible physical condition within the context of the long season.
• Nobody knows better than David Wright that the odds of him returning to be a big league-caliber player — even the odds of him returning at all — are stacked against him. He's 35 years old, his condition is regressive, and 632 days have passed since the last time he played.
But he's trying. He gets paid the same either way, under the terms of a guaranteed deal that carries through the 2020 season.
If he can't play, Wright will go on the disabled list for the remainder of his career, just as Prince Fielder did. He's trying to work through his rehabilitation program and has been for many months, even though Wright is well aware that a return to the big leagues might be for only a few days or a few plate appearances. He's trying because he loves to play and because of his integrity.
• Dustin Pedroia is well-attuned to the Boston media and fully aware that the team was criticized last year for lacking leadership. In speaking with reporters Saturday, it was evident that Pedroia has spent time mulling over that theory. Pedroia said he thought back to when the renaissance of the Red Sox began, around 2002-2003, leading into the championship season of 2004. That team, Pedroia said, had Jason Varitek, along with Pedro Martinez, David Ortiz and others. It had a lot of leaders.
The same was true for the 2007 and 2013 championship teams, Pedroia said, ticking off names of teammates from those times. "I've got to do a better job of making everybody realize it's not one guy," Pedroia said. "It's everybody."
He related a day from last season, when he was fighting through injuries and was sitting with Xander Bogaerts, the team's young shortstop. Pedroia told Bogaerts that he would play, but he was banged up and going through a tough time.
"You're going to be fine," Bogaerts said to Pedroia, who told Bogaerts that's what all of them needed from time to time — a pickup from teammates. Not just the veteran guys and not just one or two core players. The team needs leadership.
Pedroia, by the way, is recovering from knee surgery and says he feels much better — free of discomfort in a way he hasn't felt since he got hurt early last season. The Red Sox don't know when Pedroia will be back, but new manager Alex Cora intends to rest the 34-year-old second baseman regularly. "Rest is not DHing," Cora said. "Rest is getting off his feet."
And today will be better than yesterday.
Max Scherzer tosses complete game for Washington Nationals, then hurries to join wife for birth of third child
WASHINGTON — Max Scherzer delivered in a hurry, tossing a five-hitter to lead the Washington Nationals over the Miami Marlins 3-1.
Then it was on to more important matters.
Scherzer hustled out of Nationals Park after a game that took only 2 hours, 37 minutes, hurrying to be with wife Erica for the birth of their third child on Sunday night.
"We knew going into it. That's why we tried to make it a quick game," catcher Yan Gomes kidded.
Scherzer (2-2) carried a shutout into the ninth inning before Isan Diaz led off with a home run.
The right-hander, who bounced back from a subpar outing against the Blue Jays, struck out nine without a walk and hit a batter while throwing 106 pitches.
"He had 23 of 31 first-pitch strikes," said manager Dave Martinez before announcing Scherzer's other news. "As a starting pitcher, that's what you've got to do."
It was the 12th career complete game for Scherzer, who got loud applause from the approximately 8,500 fans at Nationals Park when he came out to start the ninth, unaware how special a day it was for Scherzer.
Ryan Zimmerman backed Scherzer with a three-run homer.
"Typical of him to do something cool on obviously on an interesting day for him," Zimmerman said. "For him to go complete game and pitch the way he did today and then go over and have a baby with his wife. Pretty cool day for him. We're happy for him. He never ceases to amaze I guess is the best way to put it."
The Associated Press contributed to this report.
A.J. Pollock, Matt Beaty combine for 15 RBIs as slumping Los Angeles Dodgers break out
MILWAUKEE — A.J. Pollock drove in eight runs and Matt Beaty drove in seven, with both players hitting early grand slams in a startling power show that sent the Los Angeles Dodgers over the Milwaukee Brewers 16-4 on Sunday.
Pollock homered twice and doubled while Beaty went 4 of 6 and scored three times. Their slams came against Alec Bettinger, who gave up 11 runs in his big league debut after never pitching above Double-A.
"I think it was just a good day for the offense," Pollock said on the postgame telecast. "I was at seven (in the order), so that means for me to get up in that first inning, we had a lot of good at-bats. There was a couple of walks, a couple of hits, and then we had a couple of big ones.
"So, it was really good to have a team win and have the offense explode like that."
This was the first time in franchise history that the Dodgers had two players with at least seven RBIs in the same game. The last time it happened for any MLB team was on Aug. 22, 2007, when Jarrod Saltalamacchia and Ramon Vazquez each had seven RBIs for the Texas Rangers in a 30-3 blowout of the Baltimore Orioles.
"It's a weird game," Pollock said. "We've had a few days where maybe one or two balls drop in, instead of lining out, and maybe things start rolling. But we know we have a really, really good offense. We just have to stick with it, and keep showing up at the ballpark."
The last time two Dodgers hit grand slams in the same game came when Adrian Beltre and Shawn Green did it in a 12-3 victory over the Florida Marlins on May 21, 2000.
"It's just confidence. As at-bats start to build up, you start to have more success and you get more confident," Beaty said. "You feel good in the box, you feel comfortable."
They certainly felt that on Sunday, as they salvaged the series finale after dropping the first three games.
"That was a lot of fun," Beaty said. "We started pretty early today. Really good at-bats, getting people on base, and getting them over. It was a lot of fun."
Pollock's eight RBIs matched the highest single-game total by any player in the history of American Family Field, which opened in April 2001 as Miller Park. He shares the record with Josh Willingham (2009) and Yasmani Grandal (2015). All three did it as visiting players.
"It's been a process. Every day, showing up I feel like I have a good plan, and I'm in a good spot, good positions to hit," Pollock said. "Sometimes, it works, and other times, you're feeling good but it's just not there. You have to trust it, and keep putting yourself in positions to do some damage at the plate."
Chris Taylor scored five runs, going 3 for 3 for the Dodgers.
"A day like this is always welcome," Dodgers manager Dave Roberts said. "Even starting before the game, the mojo, the energy, guys were having a good time, and it certainly carried over."
Jacob Nottingham hit two homers for the Brewers, who reacquired him from Seattle earlier in the day. The Mariners had claimed Nottingham off waivers from the Brewers last week.
Julio Urias (4-0), who allowed one run and four hits in seven innings. He struck out 10 and walked none.
The Brewers were seeking to sweep a four-game series from the Dodgers for only the second time. Milwaukee recorded a four-game sweep at Dodger Stadium in May 2012.
But in a matchup featuring two decimated rosters — these two teams have a combined 27 players on the injured list — the Brewers ran out of healthy proven pitchers.
"Things snowballed," Milwaukee manager Craig Counsell said. "It didn't go well, but we move on to the next day."
Pollock hit a slam in the first inning, a three-run homer off Jordan Zimmermann in the sixth and an RBI double in the eighth. Beaty had an RBI infield hit in the first, a slam in the second and a two-run single in the fourth.
Bettinger (0-1) allowed 11 runs on 11 hits and two walks in four innings. He hit a batter and struck out none _ he did, however, retire Dodgers star Mookie Betts in all three at-bats.
The 25-year-old righty nearly escaped with a scoreless first. But with two on and two outs, he hit Taylor with a pitch to load the bases and Beatty followed with an infield hit that scored a run and Pollock's grand slam over the center-field wall put the Dodgers ahead 5-0.
Bettinger again and two on and two outs in the second when Taylor reached on an infield hit and Beaty produced the Dodgers' second grand slam by sending a drive over the outstretched arm of a leaping Avisail Garcia in right field.
"We played a good series here," Counsell said. "You take three out of four from the Dodgers, that's a good series."
One bit of positive news for the Brewers on a bad day at the ballpark was on the injury front. Outfielders Christian Yelich and Lorenzo Cain are expected to return to action during the upcoming series in Philadelphia. President of baseball operations David Stearns said it's possible they could be ready Monday. Yelich hasn't played since April 11 due to a lower back strain. Cain is recovering from a left quad strain and last played on April 13.
The Associated Press contributed to this report.
Oakland Athletics' Jesus Luzardo suffers broken pinkie while playing video game
Oakland Athletics left-hander Jesus Luzardo will be off the mound for a while — and maybe off video games too.
Luzardo is out indefinitely after breaking the pinkie on his pitching hand when he thumped a table while playing a video game before his start Saturday.
An X-ray after an 8-4 loss to the Baltimore Orioles showed a hairline fracture, and Luzardo was put on the 10-day injured list Sunday.
Oakland manager Bob Melvin said he didn't know how much time Luzardo would miss or whether he would require a cast or splint on the finger. Melvin was hopeful the pitcher could still keep his arm in shape given the location of the break.
"Before the game he was playing a video game and accidentally bumped his hand on the desk as he was playing the game," Melvin said. "He came in, was a little bit sore, training staff checked him out. We threw him in the cage before he went out there, watched him warm up. He was comfortable pitching, the training staff was comfortable with him pitching. After the game, we got an X-ray and there was a hairline in the pinkie finger."
Oakland is getting first baseman Matt Olson back in the lineup Sunday. Olson had missed three straight games after being hit in the left eye by a ball that ricocheted off the L-screen during batting practice Thursday.
Luzardo pitched three innings and took the loss against the Orioles, allowing six runs — three earned — on five hits.
He is 1-3 with a 5.79 ERA over six starts this season.
"It just depends on how it heals and how it responds," Melvin said. "As you would expect, it was a little bit worse today, a little bit puffier today, but really have no idea on a timetable yet."
The A's also placed right-hander J.B. Wendelken on the injured list with a strained left oblique, recalling right-hander Jordan Weems from their alternate training site to take his roster spot.
Left-hander Adam Kolarek was called up from the alternate site to take Luzardo's place.
The Associated Press contributed to this report.