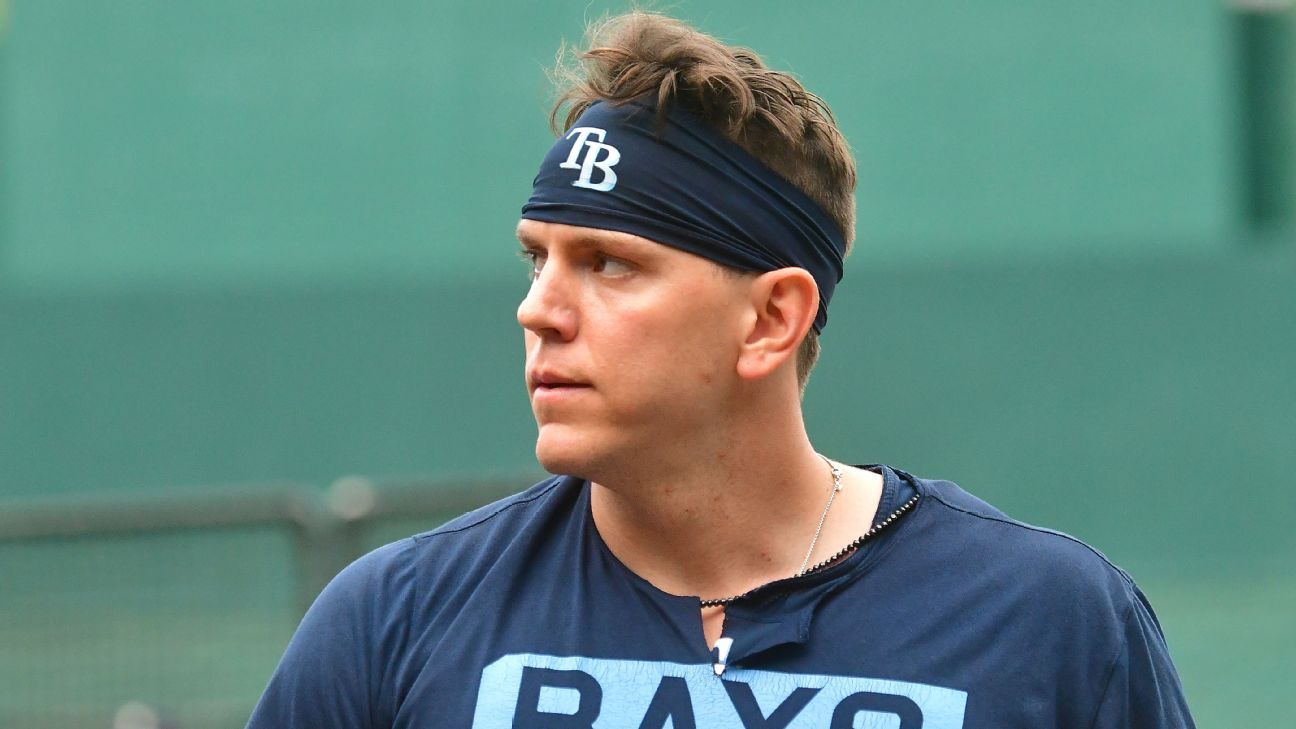 FT. MYERS, Fla. — An agent paused to consider the list of the many unsigned major leaguers. "Some of these guys are going to get absolutely destroyed," he said.
What he meant is that solid, established players are eventually going to be forced to accept deals for ugly terms, for much less than what they expected to get when they moved into free agency last fall — maybe for half of what they anticipated, maybe even less. Logan Morrison had the best season of his career last year, with 38 homers, a .353 OBP and an Adjusted OPS+ of 135, and as of last month, friends say Morrison had no offers in hand. That could change now that Eric Hosmer has reportedly picked his next employer and perhaps that opens an opportunity in Kansas City or elsewhere for Morrison.
It could be that Morrison and many other players wind up settling. But that is probably preferable to an alternative available to all of those unsigned: to simply wait it out, perhaps until after the start of the season, to see if injuries or performance problems motivate teams to bid aggressively. If Morrison carried his free agency into April, it's conceivable that a contending team might lose a first baseman to a broken hand or wrist and turn to Morrison with heightened desperation, giving him more leverage with which to negotiate.
But recent history suggests that players who follow this strategy of waiting and waiting and waiting to sign often struggle after they get back on the field. This is especially so for position players. "They fall behind, and they don't ever really catch up," another agent said.
• Kendrys Morales and Stephen Drew, 2014. Both turned down $14.1 million qualifying offers in the previous fall, from the Mariners and Red Sox, respectively, and when acceptable deals didn't materialize the next spring, they remained unsigned through the start of the 2014 season, freeing them from draft-pick compensation.
But after they signed, about one-third of the way through the season, both really struggled. Morales hit one home run in 162 plate appearances for the Twins while batting .234 before he was dealt back to the Mariners. He then batted .207 for Seattle in 59 games. Morales signed a two-year deal with the Royals before the 2015 season for $15.5 million.
Drew returned to the Red Sox for $10.1 million, floundered offensively, and was swapped to the Yankees. Drew batted .162 in 300 plate appearances in 2014, and he has made a total of $11.5 million in the three seasons since.
• Tim Lincecum, 2016. He signed in May 2016, for minimal dollars, and allowed 68 hits in 38⅓ innings for the Angels, posting a 9.16 ERA.
• Johnny Damon, 2012. He signed with the Indians on April 17, played his first game in the big leagues on May 2 and never really drove the ball. A hit on July 24 pushed his batting average to a season-high .236, and Damon was released a couple of weeks later.
• Roy Oswalt, 2012. The longtime Astros right-hander followed the Pedro Martinez/Roger Clemens plan of waiting until after the start of the season to sign. He agreed to a deal with the Rangers on May 29 before making his Texas debut on June 22. He had a 6.49 ERA after six starts and was dropped from the rotation.
There are more examples of players who took an imperfect deal in February or March, played well and parlayed that performance into a good contract the next fall. In the spring of 2014, the same time Morales and Drew opted to wait, Nelson Cruz, who also turned down a qualifying offer of $14.1 million, signed a one-year, $8 million deal with the Orioles on Feb. 22. He had the benefit of a full spring training and complete preparation, and when the season began, Cruz flourished. After leading the league with 40 homers, Cruz returned to the market and landed a four-year, $57 million deal with the Mariners.
As some unsigned players consider their options, they're probably better off signing even an ugly deal and getting into camp than falling behind and risking their 2019 standing as well.
News from around the majors
Because of the presence of Shohei Ohtani, the Angels' shift to a six-man rotation has generated a lot of attention. But the change is in keeping with the evolution in pitching — and in thought — throughout Major League Baseball. For a lot of teams, rotation choices are no longer being determined by an artificial schedule or the predetermined pecking order of a group of starting pitchers. Rather, decisions are based on what's best for each of the individual pitchers. "It's definitely personnel-driven," one evaluator said.
Instead of penciling a starter every fifth day into the baseball calendar with the expectation that four or five guys could make 30-plus starts, teams are assessing and evaluating the physical well-being of each guy and making the necessary adjustments. Because a one-size-fits-all system doesn't fit all. Madison Bumgarner might be OK taking the ball every fifth day through the six months of the season, but not every pitcher is like Bumgarner. A 22-year-old Clayton Kershaw might have easily handled a 200-inning workload, but at age 29, he might be better through rest. A few years ago, when the Oakland Athletics discussed the idea of innings limits, Billy Beane challenged his staff and asked, in so many words: What evidence do we have that the same limits should apply to every pitcher?
As teams have dug into the questions around why some pitchers break down and some pitchers don't, they have focused on structuring the rotation around who is best-suited for a given day, rather than where they fall on the calendar. The Dodgers have been the most prominent example of this shift in recent seasons. Ten pitchers made starts in 2017, but none made more than 27 starts; Kershaw was the only Dodgers pitcher to throw enough innings to qualify for the ERA title. The high payroll helped to give the Dodgers more depth and more flexibility, but they also worked to rest their starters. The Dodgers' rotation generated only 45 starts on four days of rest, far fewer than most teams.
30. Dodgers 45
29. Yankees 53
27t. Astros 64
27t. Padres 64
26. Nationals 67
So yes, the Angels are adapting to Ohtani, who worked on a six-day schedule in Japan. But they will also adapt to Garrett Richards, Matt Shoemaker and the others, working to schedule them when they'll be in the best possible physical condition within the context of the long season.
• Nobody knows better than David Wright that the odds of him returning to be a big league-caliber player — even the odds of him returning at all — are stacked against him. He's 35 years old, his condition is regressive, and 632 days have passed since the last time he played.
But he's trying. He gets paid the same either way, under the terms of a guaranteed deal that carries through the 2020 season.
If he can't play, Wright will go on the disabled list for the remainder of his career, just as Prince Fielder did. He's trying to work through his rehabilitation program and has been for many months, even though Wright is well aware that a return to the big leagues might be for only a few days or a few plate appearances. He's trying because he loves to play and because of his integrity.
• Dustin Pedroia is well-attuned to the Boston media and fully aware that the team was criticized last year for lacking leadership. In speaking with reporters Saturday, it was evident that Pedroia has spent time mulling over that theory. Pedroia said he thought back to when the renaissance of the Red Sox began, around 2002-2003, leading into the championship season of 2004. That team, Pedroia said, had Jason Varitek, along with Pedro Martinez, David Ortiz and others. It had a lot of leaders.
The same was true for the 2007 and 2013 championship teams, Pedroia said, ticking off names of teammates from those times. "I've got to do a better job of making everybody realize it's not one guy," Pedroia said. "It's everybody."
He related a day from last season, when he was fighting through injuries and was sitting with Xander Bogaerts, the team's young shortstop. Pedroia told Bogaerts that he would play, but he was banged up and going through a tough time.
"You're going to be fine," Bogaerts said to Pedroia, who told Bogaerts that's what all of them needed from time to time — a pickup from teammates. Not just the veteran guys and not just one or two core players. The team needs leadership.
Pedroia, by the way, is recovering from knee surgery and says he feels much better — free of discomfort in a way he hasn't felt since he got hurt early last season. The Red Sox don't know when Pedroia will be back, but new manager Alex Cora intends to rest the 34-year-old second baseman regularly. "Rest is not DHing," Cora said. "Rest is getting off his feet."
And today will be better than yesterday.
San Diego Padres acquire All-Star second baseman Adam Frazier from Pittsburgh Pirates, sources say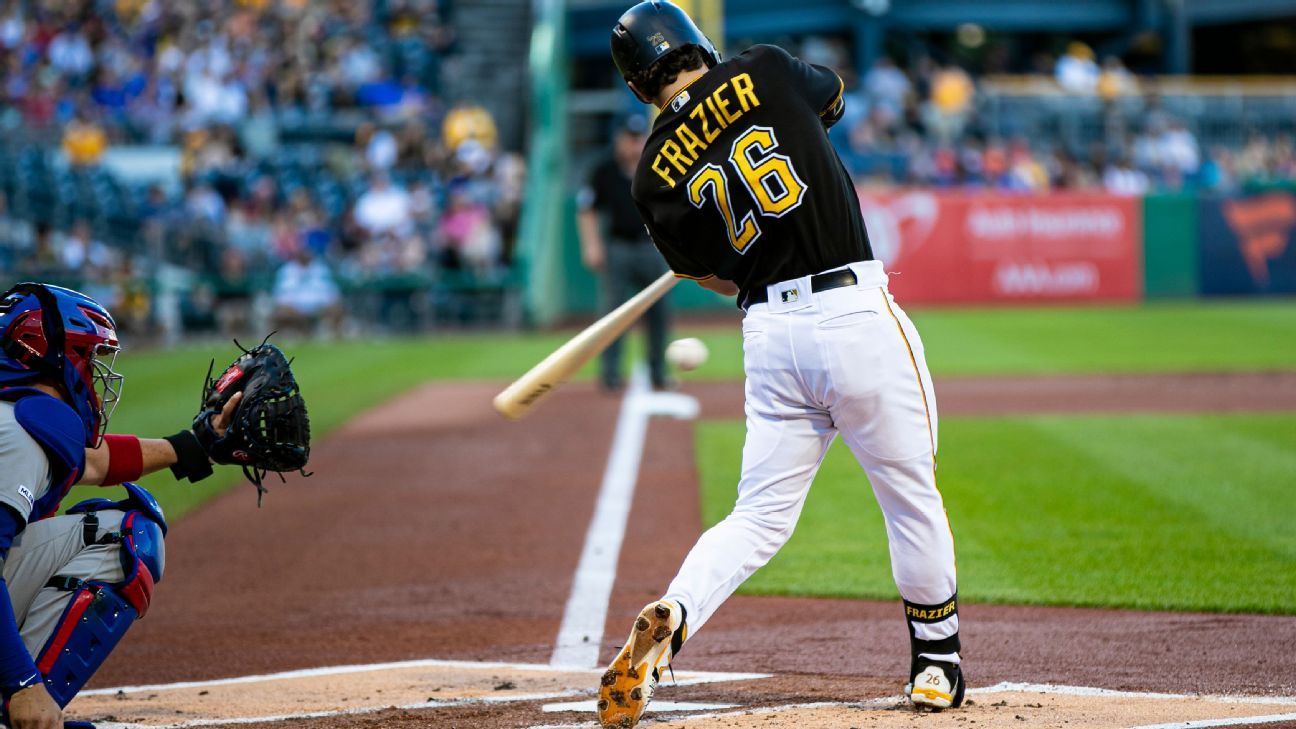 The San Diego Padres are acquiring second baseman Adam Frazier from the Pittsburgh Pirates, sources told ESPN's Jeff Passan.
Frazier, 29, who leads baseball in hits this year, is not a free agent until after the 2022 season.
In exchange, the Pirates are acquiring right-hander Michell Miliano, shortstop Tucupita Marcano and outfielder Jack Suwinski, a source told ESPN's Kiley McDaniel.
Pittsburgh is also sending approximately $1.4 million to the Padres in the deal, according to The Associated Press.
Frazier entered Sunday hitting .327 — the second-best average in Major League Baseball — with four home runs and 32 RBIs.
A 2020 Gold Glove finalist and an All-Star this season, Frazier was the Pirates' second-longest tenured player, behind right fielder Gregory Polanco.
When asked about possibly being traded a week ago, Frazier said he wasn't letting it distract him.
"It's pretty cool to be recognized like that and have teams want you," Frazier said. "It means a lot. It tells you you're playing well, but I still have to worry about playing baseball."
With his wife preparing to play for Olympic gold, Jake Reed claimed off waivers by Tampa Bay Rays
ST. PETERSBURG, Fla. — Jake Reed switched teams while his wife was with the U.S. softball team at the Tokyo Olympics.
The 28-year-old reliever was claimed off waivers by the Tampa Bay Rays from the Los Angeles Dodgers on Sunday and optioned to Triple-A Durham.
Reed, a right-hander with a submarine delivery, made his major league debut on July 6 and had a 3.38 ERA in five relief appearances and one start. He was designated for assignment on Wednesday by the Dodgers.
Janie Reed is the starting left fielder and No. 2 hitter on the U.S. team, which plays Japan for the softball gold medal on Tuesday.
Boston Red Sox end Domingo German's no-hit bid in 8th inning, storm back to beat New York Yankees
BOSTON — Domingo German was simply dominating the Boston Red Sox. Never more so than in the seventh inning, when the New York Yankees right-hander struck out stars J.D. Martinez, Rafael Devers, Xander Bogaerts and rookie Jarren Duran.
As German walked off the mound then with a no-hitter intact and a solid lead, there was no way to envision what was on deck.
Held hitless into the eighth by German and looking feeble, Alex Verdugo and the Red Sox suddenly erupted for five runs to shake Fenway Park and storm past New York 5-4 on Sunday.
The old ballpark was almost silent all afternoon, until Verdugo opened the eighth with a long double for Boston's first hit, and he raised his arms in celebration at second base.
By the time Kike Hernandez slid home headfirst on Xander Bogaerts' sacrifice fly with the go-ahead run to cap the rally, fans were fired up.
"I felt like just getting that hit out of the way had everybody just take that big deep breath, didn't have to worry about getting no-hit anymore," Verdugo said. "That inning was crazy. From going no-hit to seven innings to putting five up in the eighth, that's one of the craziest comebacks I've ever been a part of."
With their major league-leading 32nd come-from-behind victory, the Red Sox reclaimed first place in the American League East, a game ahead of the Tampa Bay Rays. It was the Red Sox's 10th win in 13 games this year against their rivals, and it erased a tough 4-3 loss on Saturday, when New York scored four times in the eighth.
What a difference a few hits made. Before those, it was pretty glum in the Boston dugout, according to Red Sox manager Alex Cora.
"Not great, to be honest with you," Cora said. "Whoever says, 'We're a hit away or a baserunner away from getting this going' … I didn't sense that. I sensed a lot of frustrated people. [German] was amazing."
The Yankees, meanwhile, absorbed another brutal loss in a season full of them. They dropped three of four in the series and fell nine games behind Boston. The Yankees now have three losses this season when they've led by four or more runs in the eighth inning or later. That ties the most such defeats in a single season in franchise history, and it's the first time they've had three such losses since 1993, according to ESPN Stats & Information research.
"Really tough one, obviously. Domingo was terrific," Yankees manager Aaron Boone said. "It's a tough one we've got to get past. Another extremely tough one."
Boston trailed 4-0 when Verdugo doubled to deep right, and German was lifted after the hit by Boone.
"You know to pitch a no-hitter is one of the hardest things to do in baseball," German said through an interpreter. "I knew I had a no-hitter going. I was executing pitches to try and be as careful as possible. Verdugo was able to connect there. I thought it was a good pitch."
Jonathan Loaisiga (7-4) relieved, and Boston broke loose with four straight hits. Hunter Renfroe had an RBI double, Christian Vazquez singled home a run and Hernandez followed with an RBI double, cutting it to 4-3.
Zack Britton relieved, and pinch hitter Kevin Plawecki's groundout plated the tying run. Hernandez hustled hard and beat right fielder Greg Allen's throw home on Bogaerts' sacrifice fly.
"It's a bad day for me. It's tough," Loaisiga said through an interpreter. "It hurts because you had the starter pitching strong. You come into the game hoping to do your job and it doesn't work out."
German was trying for the first no-hitter by an opponent at Fenway since the Detroit Tigers' Jim Bunning in 1958, when he retired fellow future Hall of Famer Ted Williams on a fly for the final out.
Mixing his well-spotted fastball in the mid-90 mph range with a changeup and curveball, the 28-year-old German struck out 10 and walked just one.
With a 3-0 lead, he began the seventh by fanning Duran. Bogaerts also struck out, swinging at a passed ball that prolonged the inning. German struck out Devers and Martinez, with all four strikeouts coming on third-strike swings.
There have been seven no-hitters in the majors this year, one short of the big league record set in 1884, the first season that overhand pitching was allowed.
There were two near misses on Saturday night: Patrick Sandoval of the Los Angeles Angels got his bid broken up with one out in the ninth at the Minnesota Twins; and Framber Valdez and the Houston Astros' bullpen took a try into the eighth.
Brandon Workman (1-2) earned the win for Boston on Sunday, and Matt Barnes got the final three outs for his 21st save.
"It was a pretty special comeback," Hernandez said.
Rougned Odor had a solo homer and an RBI single for New York. He popped up with a runner on second to end it.
Yankees infielder Gio Urshela, activated from the COVID-19 injured list before the game, had an RBI single to make it 2-0 in the fourth after Gleyber Torres doubled and advanced on a sacrifice.
Odor's bloop, run-scoring single had made it 1-0 in the third.
Boston starter Martin Perez gave up three runs over six innings, striking out six and walking two.
The Associated Press contributed to this report.