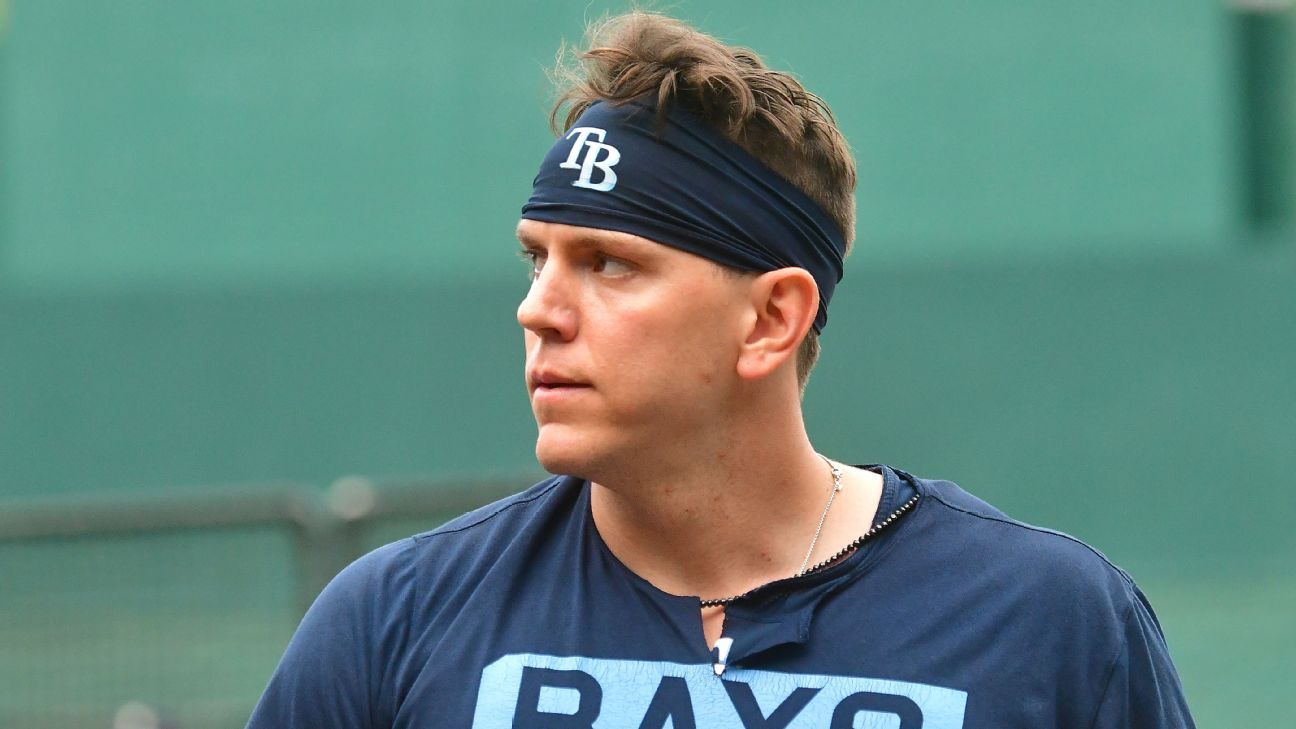 FT. MYERS, Fla. — An agent paused to consider the list of the many unsigned major leaguers. "Some of these guys are going to get absolutely destroyed," he said.
What he meant is that solid, established players are eventually going to be forced to accept deals for ugly terms, for much less than what they expected to get when they moved into free agency last fall — maybe for half of what they anticipated, maybe even less. Logan Morrison had the best season of his career last year, with 38 homers, a .353 OBP and an Adjusted OPS+ of 135, and as of last month, friends say Morrison had no offers in hand. That could change now that Eric Hosmer has reportedly picked his next employer and perhaps that opens an opportunity in Kansas City or elsewhere for Morrison.
It could be that Morrison and many other players wind up settling. But that is probably preferable to an alternative available to all of those unsigned: to simply wait it out, perhaps until after the start of the season, to see if injuries or performance problems motivate teams to bid aggressively. If Morrison carried his free agency into April, it's conceivable that a contending team might lose a first baseman to a broken hand or wrist and turn to Morrison with heightened desperation, giving him more leverage with which to negotiate.
But recent history suggests that players who follow this strategy of waiting and waiting and waiting to sign often struggle after they get back on the field. This is especially so for position players. "They fall behind, and they don't ever really catch up," another agent said.
• Kendrys Morales and Stephen Drew, 2014. Both turned down $14.1 million qualifying offers in the previous fall, from the Mariners and Red Sox, respectively, and when acceptable deals didn't materialize the next spring, they remained unsigned through the start of the 2014 season, freeing them from draft-pick compensation.
But after they signed, about one-third of the way through the season, both really struggled. Morales hit one home run in 162 plate appearances for the Twins while batting .234 before he was dealt back to the Mariners. He then batted .207 for Seattle in 59 games. Morales signed a two-year deal with the Royals before the 2015 season for $15.5 million.
Drew returned to the Red Sox for $10.1 million, floundered offensively, and was swapped to the Yankees. Drew batted .162 in 300 plate appearances in 2014, and he has made a total of $11.5 million in the three seasons since.
• Tim Lincecum, 2016. He signed in May 2016, for minimal dollars, and allowed 68 hits in 38⅓ innings for the Angels, posting a 9.16 ERA.
• Johnny Damon, 2012. He signed with the Indians on April 17, played his first game in the big leagues on May 2 and never really drove the ball. A hit on July 24 pushed his batting average to a season-high .236, and Damon was released a couple of weeks later.
• Roy Oswalt, 2012. The longtime Astros right-hander followed the Pedro Martinez/Roger Clemens plan of waiting until after the start of the season to sign. He agreed to a deal with the Rangers on May 29 before making his Texas debut on June 22. He had a 6.49 ERA after six starts and was dropped from the rotation.
There are more examples of players who took an imperfect deal in February or March, played well and parlayed that performance into a good contract the next fall. In the spring of 2014, the same time Morales and Drew opted to wait, Nelson Cruz, who also turned down a qualifying offer of $14.1 million, signed a one-year, $8 million deal with the Orioles on Feb. 22. He had the benefit of a full spring training and complete preparation, and when the season began, Cruz flourished. After leading the league with 40 homers, Cruz returned to the market and landed a four-year, $57 million deal with the Mariners.
As some unsigned players consider their options, they're probably better off signing even an ugly deal and getting into camp than falling behind and risking their 2019 standing as well.
News from around the majors
Because of the presence of Shohei Ohtani, the Angels' shift to a six-man rotation has generated a lot of attention. But the change is in keeping with the evolution in pitching — and in thought — throughout Major League Baseball. For a lot of teams, rotation choices are no longer being determined by an artificial schedule or the predetermined pecking order of a group of starting pitchers. Rather, decisions are based on what's best for each of the individual pitchers. "It's definitely personnel-driven," one evaluator said.
Instead of penciling a starter every fifth day into the baseball calendar with the expectation that four or five guys could make 30-plus starts, teams are assessing and evaluating the physical well-being of each guy and making the necessary adjustments. Because a one-size-fits-all system doesn't fit all. Madison Bumgarner might be OK taking the ball every fifth day through the six months of the season, but not every pitcher is like Bumgarner. A 22-year-old Clayton Kershaw might have easily handled a 200-inning workload, but at age 29, he might be better through rest. A few years ago, when the Oakland Athletics discussed the idea of innings limits, Billy Beane challenged his staff and asked, in so many words: What evidence do we have that the same limits should apply to every pitcher?
As teams have dug into the questions around why some pitchers break down and some pitchers don't, they have focused on structuring the rotation around who is best-suited for a given day, rather than where they fall on the calendar. The Dodgers have been the most prominent example of this shift in recent seasons. Ten pitchers made starts in 2017, but none made more than 27 starts; Kershaw was the only Dodgers pitcher to throw enough innings to qualify for the ERA title. The high payroll helped to give the Dodgers more depth and more flexibility, but they also worked to rest their starters. The Dodgers' rotation generated only 45 starts on four days of rest, far fewer than most teams.
30. Dodgers 45
29. Yankees 53
27t. Astros 64
27t. Padres 64
26. Nationals 67
So yes, the Angels are adapting to Ohtani, who worked on a six-day schedule in Japan. But they will also adapt to Garrett Richards, Matt Shoemaker and the others, working to schedule them when they'll be in the best possible physical condition within the context of the long season.
• Nobody knows better than David Wright that the odds of him returning to be a big league-caliber player — even the odds of him returning at all — are stacked against him. He's 35 years old, his condition is regressive, and 632 days have passed since the last time he played.
But he's trying. He gets paid the same either way, under the terms of a guaranteed deal that carries through the 2020 season.
If he can't play, Wright will go on the disabled list for the remainder of his career, just as Prince Fielder did. He's trying to work through his rehabilitation program and has been for many months, even though Wright is well aware that a return to the big leagues might be for only a few days or a few plate appearances. He's trying because he loves to play and because of his integrity.
• Dustin Pedroia is well-attuned to the Boston media and fully aware that the team was criticized last year for lacking leadership. In speaking with reporters Saturday, it was evident that Pedroia has spent time mulling over that theory. Pedroia said he thought back to when the renaissance of the Red Sox began, around 2002-2003, leading into the championship season of 2004. That team, Pedroia said, had Jason Varitek, along with Pedro Martinez, David Ortiz and others. It had a lot of leaders.
The same was true for the 2007 and 2013 championship teams, Pedroia said, ticking off names of teammates from those times. "I've got to do a better job of making everybody realize it's not one guy," Pedroia said. "It's everybody."
He related a day from last season, when he was fighting through injuries and was sitting with Xander Bogaerts, the team's young shortstop. Pedroia told Bogaerts that he would play, but he was banged up and going through a tough time.
"You're going to be fine," Bogaerts said to Pedroia, who told Bogaerts that's what all of them needed from time to time — a pickup from teammates. Not just the veteran guys and not just one or two core players. The team needs leadership.
Pedroia, by the way, is recovering from knee surgery and says he feels much better — free of discomfort in a way he hasn't felt since he got hurt early last season. The Red Sox don't know when Pedroia will be back, but new manager Alex Cora intends to rest the 34-year-old second baseman regularly. "Rest is not DHing," Cora said. "Rest is getting off his feet."
And today will be better than yesterday.
Judge dismisses former Los Angeles Angels employee Brian Harkins' defamation lawsuit vs. team, MLB
A defamation lawsuit filed against Major League Baseball and the Los Angeles Angels by Brian Harkins, the longtime clubhouse attendant who was fired for supplying illegal ball-doctoring substances to pitchers, has been struck down in Orange County Superior Court.
Judge Geoffrey T. Glass granted the defendants' motion to dismiss Harkins' complaint, stating there was not enough evidence to prove Harkins had been defamed in the wake of his firing.
A hearing was held on Jan. 21 to determine whether the case would move forward, and the judge's ruling was released Monday. Dan Rasmussen, an attorney for Harkins, said he plans to appeal.
Harkins was fired last March, ending a nearly four-decade run with the Angels, after the organization was informed by MLB that he was providing pitchers with an illegal blend of rosin and pine tar.
Harkins' original complaint, alleging defamation and false light, outlined the reasons applying rosin and pine tar on baseballs has been a long-held, accepted practice done largely for safety reasons and stated that the publicity surrounding his firing unfairly cast him in a negative light that impacted his ability to find employment.
MLB and the Angels filed a motion to dismiss Harkins' complaint in early November. In an opposition to that motion, Harkins' lawyers aimed to capture the widespread use of Harkins' concoction and show that others had not been punished for similar, if not more serious, transgressions. It included a January 2019 text message from Gerrit Cole in which he clearly asked Harkins for his blend, as well as notes from a phone conversation in which Justin Verlander allegedly told Harkins that MLB began to crack down on pitchers' use of ball-doctoring substances when it learned teams were conducting studies to concoct more advanced blends in order to maximize pitchers' spin rates.
The opposition also included declarations from longtime major league players Wally Joyner and Mike Sweeney defending Harkins and named several pitchers — including Corey Kluber, Max Scherzer, Felix Hernandez and Adam Wainwright, as well as several current and former Angels — who previously asked Harkins for his blend.
In its decision, the court weighed three central issues — whether Harkins was truly fired because of his concoction of rosin and pine tar, whether he provided it to pitchers and whether doing so was illegal. The fact Harkins didn't dispute the first two issues and that the third is supported by Rule 6.02(c) hurt the plaintiff's side.
Another factor was that comments from MLB and the Angels toward Harkins were made in private, and that subsequent reports about the reason for his firing were attributed to unnamed sources.
"This is not to say that the termination was justified under the circumstances," the judge's ruling read, "only that the plaintiff cannot show that these statements were false and defamatory."
We'll be ready to host spring training, delay or no delay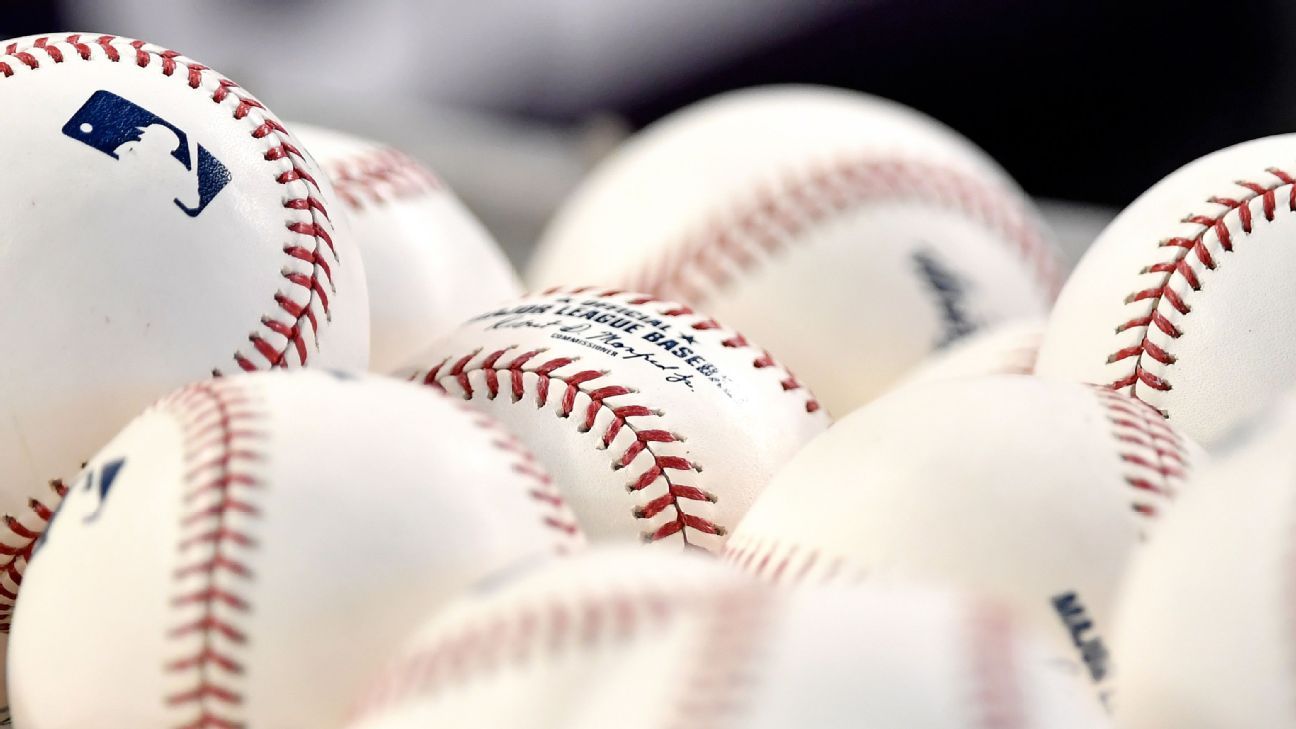 After sending a letter to Major League Baseball commissioner Rob Manfred that suggested delaying spring training "to allow for the COVID-19 situation to improve here," Cactus League executive director Bridget Binsbacher told ESPN on Monday that the 10 Phoenix-area facilities that host teams will be ready to open if games start as scheduled.
"If it is determined that spring training is going to start on Feb. 27, we're prepared for that," Binsbacher told ESPN in an interview. "Our focus is having a safe, secure experience for all involved. We believe we can do that on the 27th. We believe we can do that a month from the 27th."
Binsbacher's letter, which was co-signed by six mayors, two city managers and a president of a tribal community, cited the Phoenix area's high COVID-19 infection rate and a model that "projects a sharp decline in infections in Arizona by mid-March." Fifteen teams are scheduled to arrive in Arizona around mid-February, with games slated to begin Feb. 27. The Cactus League has no authority to change the schedule.
The letter comes as MLB and the MLB Players Association attempt to juggle a series of issues, including the viability of starting games on time, in a continuation of their strained relationship that manifested itself last season with Manfred's implementation of a 60-game schedule. The union is insistent on playing a full 162-game season this year and continues to chafe at the notion of anything less.
In a statement, the MLBPA said: "While we, of course, share the goals of a safe spring training and regular season, MLB has repeatedly assured us that it has instructed its teams to be prepared for an on-time start to spring training and the regular season."
The league, in a statement, said: "As we have previously said publicly, we will continue to consult with public health authorities, medical experts and the players association whether any schedule modifications to the announced start of spring training and the championship season should be made in light of the current COVID-19 environment to ensure the safety of the players, coaches, umpires, MLB employees and other gameday personnel in a sport that plays every day."
Binsbacher said the Cactus League had worked with spring-training facilities, other local sports and MLB since September — and that MLB did not specifically request the letter. The concern from officials expressed in it goes against the actions taken by sports franchises and others in the Phoenix area. The Arizona Coyotes and San Jose Sharks are playing regular-season NHL games in Glendale, the Phoenix Suns are having regular-season NBA games downtown, and high schools across the area are participating in all sports.
One issue with baseball, Binsbacher said, is the influx of tourists — six in 10 who attend spring-training games are from out of state, she said — and the packed schedule teams play. "The big difference here," she said, "is we've got 32 to 36 days straight of spring training."
Further, Binsbacher said, the likelihood of the COVID spike in Arizona abating is greater with every day delayed. Arizona leads the United States in COVID case rate and death rate, a position it has held for most of January. The state is averaging nearly twice as many cases per 100,000 people than the average in the United States.
"We know that there's a vaccine and that it's going to have been administered," Binsbacher said. "The projections say that the cases will plummet by mid-March. That makes it absolutely more manageable to do this with every additional day."
A December executive order by Arizona Gov. Doug Ducey limited the number of people at a public event to 50 "unless the city, town or county in unincorporated areas has determined that adequate safety precautions which are consistent with the guidance issued by both the CDC and ADHS for mitigating the spread of COVID-19 are documented as part of the request." If the mayors or other leaders insist spring training will not come to Phoenix, it could scuttle the Cactus League — though sources doubt they have the political will to do so, particularly as other sports are held in the area.
The Grapefruit League in Florida, meanwhile, saw its first ballpark, Roger Dean Stadium, start ticket sales Monday for St. Louis Cardinals and Miami Marlins games in February and March.
Any spring training delay could theoretically have an effect on the regular season — something the MLBPA is treating as a nonstarter and MLB understands would cause regular-season games to move into October and postseason games to November. Already the discussions between the union and league about potential playoff expansion and the implementation of the universal designated hitter have gone nowhere. The MLBPA, sources said, rejected and didn't counter an MLB proposal to expand the playoffs this year to 14 teams, fearful that a diluted playoff system would disincentivize teams from spending in free agency.
With the current collective-bargaining agreement set to expire in December, the relationship between the sides has remained frosty. Whether the letter is simply much ado about nothing or the first salvo in the latest fight between the two remains to be seen.
MLB to hold first pre-draft combine from June 20-28 in Cary, North Carolina
Major League Baseball will hold its first-ever pre-draft combine June 20-28 in Cary, North Carolina, at the USA Baseball National Training Complex.
The group of invited players will be chosen in consultation with MLB scouts, and the event will include a tournament involving 88 of those players through the 26th, to give scouts in-game looks of the players in addition to combine testing. There will also be medical, educational and various performance assessments happening at the event.
It will be a unique information-collecting opportunity for teams, timed in the leadup to the 2021 MLB draft, which is July 11-13 in Atlanta around the All-Star Game festivities. The draft will be at least 20 rounds.
This year will also see the return of MLB's PDP (prospect development pipeline) event for 2022-eligible draft prospects on July 22 through Aug. 1, also to be held in Cary. The event was skipped in 2020 due to the coronavirus pandemic and will return to being one of the key early-summer events for 2022 prospects, taking place just after the 2021 draft has concluded.
Both the pre-draft combine and PDP events are voluntary and free of charge for participants.