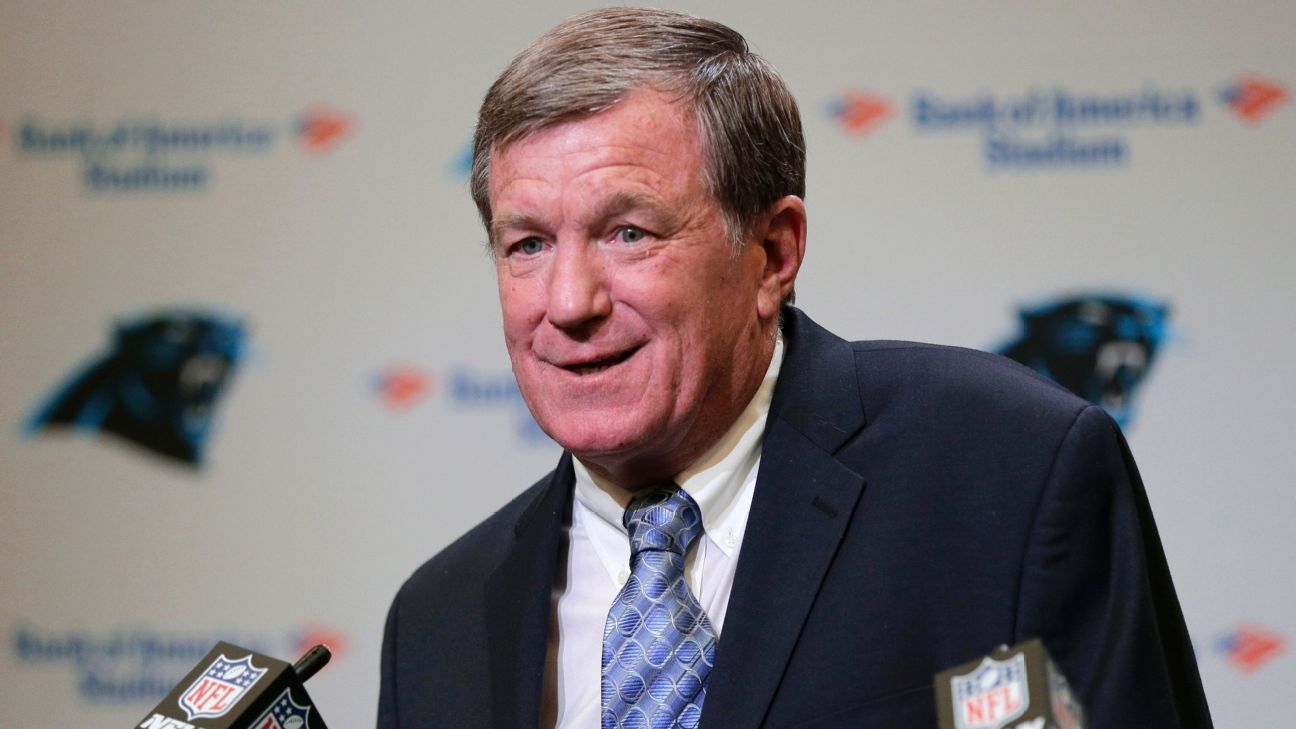 CHARLOTTE, N.C. – Marty Hurney on Friday was reinstated as the interim general manager of the Carolina Panthers after the NFL informed the team that a two-week investigation revealed no evidence that Hurney harassed his ex-wife.
He remains the front-runner to be named the full-time GM, according to a league source. An announcement could come Monday, if not sooner.
Hurney was placed on paid administrative leave three days after Jeanne Hurney filed the complaint in a Charlotte court on Feb. 2. The complaint was withdrawn four days later, but the NFL followed through with its own investigation under the personal conduct policy.
Former New York City sex crime prosecutor Lisa Friel headed the investigation.
NFL spokesperson Brian McCarthy said the league reviewed all available law enforcement and court records and sworn testimony in prior proceedings in addition to interviewing Hurney and members of the Panthers.
"We also requested an interview with Mr. Hurney's former wife, which was declined through her attorney," McCarthy said. "Our investigation identified no evidence to support an allegation of domestic violence or similar conduct that would constitute a violation of the personal conduct policy."
Kathleen Lucchesi, Hurney's attorney, said it's "been a very long two weeks for Marty and his family."
Hurney has since remarried.
"In this digital age, it's nearly impossible to overcome suspicion, defend yourself and clear your name once the court of public opinion gets ahold of a false narrative," Lucchesi said. "The public scrutiny can be devastating and unrelenting. In this case, it was also unnecessary."
The Panthers also interviewed Buffalo assistant director of scouting Lake Dawson, Houston Texans assistant general manager Jimmy Raye III and Martin Mayhew, senior personnel executive with San Francisco, for the full-time general manager job.
All three are minority candidates, fulfilling the league's rule that teams have to interview at least one minority candidate for general manager and head-coaching positions.
Dawson was brought in for a second interview.
But Hurney, who was named the interim GM the week before training camp after Dave Gettleman was fired, has been the front-runner throughout the process, according to sources.
The team had tentative plans to announce the new general manager two weeks ago before the allegations were made against Hurney but put them on hold while the NFL investigated.
Hurney's ex-wife withdrew the complaint after the judge denied a temporary restraining order during an ex parte hearing in which only Jeanne and her attorney appeared.
Hurney informed the team of the complaint two days later, and the team informed the league office.
This all came about two months after the NFL opened an investigation into allegations of workplace misconduct by team owner Jerry Richardson. A December article in Sports Illustrated said at least four former employees were paid to keep quiet about allegations of sexual harassment and the use of a racial slur directed at a former team scout.
Lucchesi told ESPN.com at the time that the allegations against her client were "absolute fiction" and part of a continued trend of allegations since the Hurneys began divorce proceedings in 2013.
The divorce became official in January 2014.
On Friday, Lucchesi said how thankful her client was that the NFL conducted a "thorough investigation" and gave Hurney a chance to clear himself.
"He is also grateful for the continued confidence and support of the Panthers organization," Lucchesi said. "Marty is looking forward to getting back to the work of building a strong and successful Panthers team for the 2018 season."
Troubled receiver Josh Gordon joins Johnny Manziel on team in Atlanta-based startup league, owner says
Former NFL wide receiver Josh Gordon will return to the sport in the startup Fan Controlled Football league, as a member of the Zappers, team owner Bob Menery told ESPN's Adam Schefter on Saturday.
Gordon will join former NFL quarterback Johnny Manziel on that team's roster.
The league, which began play this month, features 7-on-7 games where fans set rosters, call plays and interact in a blend of traditional and esports environments.
Gordon's on-again, off-again NFL career ran into another roadblock last month as a member of the Seattle Seahawks, when he was suspended indefinitely after the league rescinded his conditional reinstatement.
An NFL spokesperson told ESPN at the time that the decision stemmed from Gordon, 29, violating terms of his conditional reinstatement under the league's substance-abuse policy. No other details were provided from the league.
The league suspended Gordon indefinitely in December 2019 for violations of its policies on substances of abuse and performance-enhancing substances. That was Gordon's sixth suspension since the 2013 season and his fifth for some form of substance abuse, according to ESPN Stats & Information research.
Gordon was conditionally reinstated by the NFL in December and was set to practice with the Seahawks in the final two weeks of the regular season. Coach Pete Carroll said at the time that he had a chance to play Week 16 against the Los Angeles Rams. But that same week, the NFL placed him on the commissioner's exempt list.
Gordon signed a one-year deal with the Seahawks before last season began. In 63 NFL games, he has 247 receptions, 4.252 yards and 20 touchdowns. He was drafted by the Cleveland Browns in the second round of the 2012 NFL supplemental draft, after playing at Utah and Baylor.
FCF teams are playing a six-week schedule, with games live-streamed on Twitch from a league-leased facility in Atlanta. The games last about an hour, and the field is 50-by-35 yards with 10-yard end zones.
Players have backgrounds from the FBS and FCS college levels, along with the CFL, XFL and the Indoor Football League, Manziel among them.
Before FCF, Manziel, 28, last played football in April 2019 for the Alliance of American Football and also has played in The Spring League and the CFL since the Browns released him in 2015. Manziel and Gordon were teammates in Cleveland.
Jake Fromm, Matt Barkley or both? Bills have decision to make at backup QB – Buffalo Bills Blog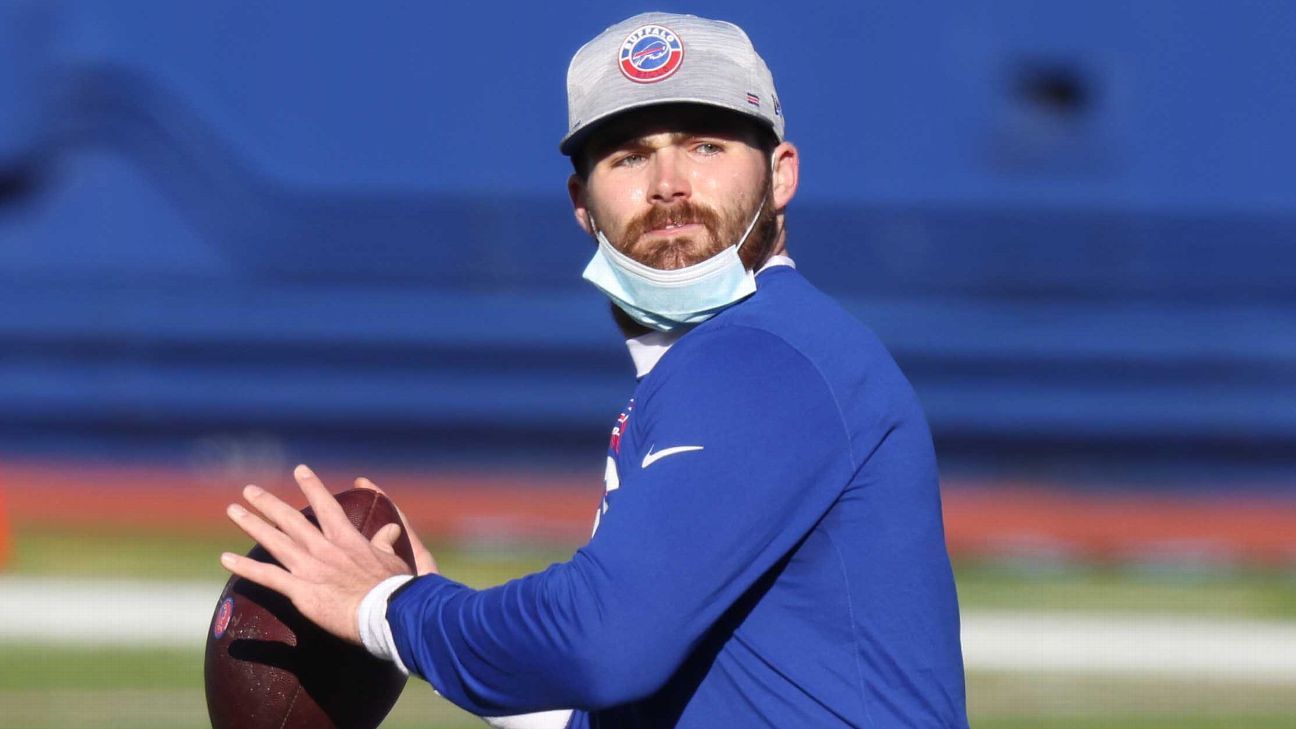 BUFFALO, N.Y. — Among myriad difficult decisions the Buffalo Bills must make this offseason, their situation at quarterback flies under the radar.
Backup quarterback, that is.
Since arriving in Buffalo as a free agent in October 2018, veteran Matt Barkley has served as Josh Allen's backup. In those three seasons, Barkley has completed 53 of 97 passes for 788 yards, three touchdowns and four interceptions, making one spot start in 2018. He is a free agent once again in 2021, and the decision to bring him back is complicated, thanks to the presence of 2020 fifth-round pick Jake Fromm.
The Georgia product, like every other rookie in last year's class, did not have a normal offseason because of the coronavirus pandemic. Fromm's year was even more unique, considering he dealt with an offseason controversy and the Bills made him the team's emergency quarterback, which involved him practicing separately from the rest of the team throughout the week and remaining socially distant inside the Bills' facility.
"Jake Fromm had the most un-normal year a player could ever have, to have to come in here and be the COVID quarantine quarterback," Bills general manager Brandon Beane said. "I thought he handled it greatly. In his exit meeting we just praised him for staying true. He would literally be back there hearing the call in his helmet, and while Josh [Allen] or Barkley are going back [in the pocket], he's going back just like he's making the throw from 20 yards back. He stays after and throws with the practice squad.
"Really tough year for him, but … it will help him going into next offseason. He'll be excited to be able to sit in the quarterback room within six or seven feet of the other guys."
Based on Beane's explanation, Fromm will return to the team in 2021, which is obvious for a player at a prime position in the second year of a rookie contract. The real question is whether Buffalo believes Fromm is ready to be Allen's primary backup, or if he needs another year learning alongside Barkley.
Without any game action — even in the preseason — to evaluate, it's difficult to gauge Fromm's progress. His coaches and teammates have praised his work ethic in practice, particularly Allen, who was asked about the rookie late in the 2020 season.
"It's not an easy ask, to put a guy who's played his entire career and just kind of say, 'Go over there and stay away from everybody,'" Allen said. "He's handled it with a lot of pride. He takes pride in his work, and it's good to see a guy like that go in there and do his job. He's been a pleasure to be around, he's grown a lot since he first got here, and he's been awesome in the quarterback room."
• Ranking top 50 free agents »
• Biggest looming free-agent decisions »
• Top offseason needs for all 32 teams »
• See more on free agency »
Buffalo kept only two quarterbacks on its roster in 2019, Allen and Barkley, before drafting Fromm. The Bills will have to clear some salary-cap space to improve their roster this offseason, but will need a stabilizing presence behind Allen.
On Jan. 26, the Bills signed journeyman Davis Webb, who has spent time on their practice squad, to a futures contract, but it might be worth it to bring Barkley back on a one-year deal. It would provide insurance as they evaluate Fromm throughout training camp. Assuming there's a normal preseason, if Fromm plays well enough to instill confidence in him, the Bills could cut Barkley before the season.
If not, Barkley would spend his fourth straight season with the Bills; or, Buffalo can go in a different direction.
Fromm will obviously return, but Beane can opt for a "high-end two," as ESPN analyst Matt Bowen puts it — a player like A.J. McCarron, C.J. Beathard or Nick Mullens.
"Knowing where they are right now, as one of the top Super Bowl contenders … do you need to bring in a veteran quarterback to be a high-end two until you believe Jake Fromm is ready?" Bowen said. "If you don't think he is right now, then you're going to have to go out and get someone, in my opinion."
Either way, any decision that involves not bringing Barkley back will weigh heavily on Beane; Barkley and his wife are beloved within the organization.
"What a selfless guy. Some guys are the backup and they're itching to play," Beane said. "Matt's a competitor, he wants to play, but his first thing every day he walks in this door is to help Josh Allen be the best version of himself. And that's why it's been so great to have him.
"Without getting into contracts, we'll see, but very appreciative of Matt, even his wife, Brittany, does a great job of helping wives connect. It's big for our team culture. So the Barkleys have been a big blessing to the Buffalo Bills. We'll see [on] the business side where that ends up."
From jumbo New York Jet to Andre the Giant
Matthew Willig first met Dwayne Johnson about a decade ago at an Equinox gym outside Los Angeles. Willig was a fledgling actor, a few years removed from a 14-year career in the NFL trenches. Johnson was … well, The Rock.
The Rock wore a hoodie that day, Willig recalled, surmising the Hollywood megastar wanted to keep a low profile during his workout. They shared a couple of Nautilus machines, and later in the lobby, Willig pulled him aside and requested career advice, the former offensive lineman asking the former defensive lineman about how he could advance his career in show business.
Willig didn't get a bum's rush — or a bull rush, for that matter. Johnson was gracious.
More than 50 movie and TV credits later, Willig finally has a place on The Rock's team. He plays wrestling icon Andre the Giant in the new NBC series "Young Rock," a biographical comedy that captures Johnson's life through his formative years. Johnson's father was a professional wrestler, so the young Rock grew up with some of the sport's most colorful characters, including Andre René Roussimoff — aka the Eighth Wonder of the World.
"His persona was one thing, [but] he was such a gentle giant, which doesn't surprise me," Willig, 52, said in an interview with ESPN. "I've been living that life for a long time."
PODCAST: Matthew Willig talks about his bond with The Rock
During his NFL career, which started with the New York Jets in 1992 and included five other teams, Willig was listed at 6-foot-8, 315 pounds — one of the biggest men in a big-man sport. He came up the hard way, an undrafted free agent from USC who hung around long enough to win a Super Bowl ring with the 1999 St. Louis Rams (even though he didn't play a single down).
In a sense, he has spent the past three decades auditioning, first in the NFL and now in the cutthroat business of Hollywood — forever a role player.
"I've been really fortunate," Willig said. "I've worked hard and I haven't taken no for an answer, so to speak. I always said, 'Why not me? Why can't I be the guy that does it?' It has worked out pretty well for me. To have just as long a career in this as I did in football, I'm pretty proud of that."
Often cast as an intimidating muscle guy, Willig is perfect as Andre the Giant, who reportedly was 7-foot-4 and 500-plus pounds during his heyday in the 1970s and 1980s.
It took a lot of research and a lot of eating for Willig. As large as he is, Willig gained 35 pounds in an effort to recreate Andre's prodigious midsection. (A production secret: He also wore boots with 3-inch lifts.)
To master Andre's French accent, he worked with a dialect coach. To understand the bond between Andre and The Rock, Willig probed Johnson, asking the star to describe his kinship with the wrestling legend, who died of congestive heart failure in 1993.
"He gave me a really nice, detailed and sweet version of his relationship," Willig said. "He idolized him in a way and got a lot of advice from him, which we explore in the show and will continue to explore."
Johnson is a co-creator of the show, which premiered Feb. 16 and explores his upbringing in three different stages — as a 10-year-old known as Dewey (Adrian Groulx), a 15-year-old (Bradley Constant) and a freshman at the University of Miami (Uli Latukefu). The Rock stars as himself in a future setting, 2032, when he's interviewed by Randall Park upon announcing his candidacy for president of the United States. The interview sets the stage for flashbacks to his childhood.
Willig has a big part in Episode 6, titled "My Day With Andre." In its review of the show, Rolling Stone says this particular episode is a "warm, bittersweet tale about the lessons that Dewey and Andre the Giant have to teach one another." Willig, who gets a chance to show off his acting chops, said it includes "some soulful moments, some soft, tender moments" between Andre and the young Rock.
This was a passion project for Johnson, who became choked up during some of the table reads, according to Willig. (Because of the coronavirus pandemic, they rehearsed the script via Zoom, with Johnson in Atlanta and most of the cast and crew shooting in Australia.) Because it's the story of his life, Johnson took a hands-on approach with the actors.
"Every single one," Johnson said in an interview with The New York Times. "And I was able to spend some time with them prior to shooting and let them know what I was like during that time, what I thought my priorities were, the times … that I fell on my ass and had to get back up. That was surreal, in and of itself."
In Episode 1, Dewey, surrounded by his dad, Rocky Johnson (Joseph Lee Anderson) and a bunch of his wrestling friends, drops the F-word: fake. The room goes silent. Andre hoists the horrified boy to eye level and declares, "Does this feel fake?"
Willig stayed in Australia from September to December last year. By the end of the shoot, Willig's knees were aching because of the weight he gained for the role, and it reminded him of how he felt near the end of his playing career. The role was physically demanding, especially the wrestling scenes. He got a bruise on his rear end because he bounced off the ropes the wrong way. One scene, a Battle Royal with 25 wrestlers in the ring, took more than a week to choreograph.
"A guy his size, with his look, he definitely has a role in Hollywood," said former Jets quarterback Boomer Esiason, Willig's teammate for three seasons. "I'm so happy for him. It's always great when you hear an ex-teammate doing well. [He was] a great teammate, a guy who worked his ass off."
Willig, who also played for the Atlanta Falcons, Green Bay Packers, Carolina Panthers and San Francisco 49ers, didn't know what to do with his life when he retired from football in 2005. As he said, "I was in that tweener time. I played 14 years in the NFL, but I didn't make enough money to where I could just retire. What's a guy like me going to do?"
He had done some radio shows during his playing days and always felt comfortable in front of a camera, so he decided to pursue acting.
"He always had that funny personality and joking nature," said ex-linebacker Marvin Jones, a former Jets teammate. "I could 100 percent see him as an actor. Kudos to him."
Willig has performed in several comedies, including "We're the Millers" (2013), starring Jennifer Aniston and Jason Sudeikis. Willig plays a Mexican drug lord named One Eye. In the movie, Aniston performs a striptease. In the original script, she's supposed to dance specifically for Willig's character. About 20 minutes before shooting the scene, he received a knock at the door of his trailer and was told that part of her dance routine had been eliminated.
Willig was bummed, but he still has fond memories.
"Jennifer couldn't have been sweeter to me," he said.
Willig played a small part in "Birds of Prey" (2020), starring Margot Robbie. He also played Lash in the "Agents of S.H.I.E.L.D" TV series (2015-16). While keeping his acting skills fresh by appearing in commercials, Willig says his future plans consist of more projects in a producing role.
Of all his screen credits, the one with the strongest emotional connection is "Concussion" (2015), which starred Will Smith. Willig plays the late Justin Strzelczyk, a former Pittsburgh Steelers lineman who battles brain trauma and eventually dies in a fiery car wreck.
It hit home for Willig, who played college ball with Junior Seau and Scott Ross — neither of whom reached their 46th birthday. Seau shot himself in the chest; Ross, part of the concussion lawsuit against the NFL, was found dead in a car. Autopsies later discovered they suffered from chronic traumatic encephalopathy (CTE).
When Willig went for the part in "Concussion," he cried during the audition. He forged a friendship with Strzelczyk's family, which strengthened his attachment to the role.
"It was really an emotional shoot, and I was proud to be a part of it," Willig said.
His first NFL quarterback remembers watching "Concussion" for the first time.
"When I went to see the movie by myself," Esiason said, "I said, 'Damn, that's Matt Willig.'"