Anthony Rizzo of Chicago Cubs speaks at candlelight vigil for victims of Parkland, Florida, high school shooting
PARKLAND, Fla. — A day after the tragic mass shooting at Marjory Stoneman Douglas High School, Chicago Cubs star Anthony Rizzo called for change.
"While I don't have all the answers, I know that something has to change, before this is visited on another community, and another community, and another community," Rizzo, a 2007 graduate of the school, said Thursday night at a candlelight vigil for the victims of Wednesday's massacre.
Seventeen people, including students and school workers, were killed when a gunman opened fire with a semiautomatic rifle at the school in South Florida.
Rizzo left Cubs training camp in Arizona on Wednesday and was one of about two dozen speakers who addressed a crowd of thousands who came out to show their support at the Parkland Amphitheater.
"I come home to Parkland to what should be everybody's first concern, and that's showing our kids out there — the students at Stoneman Douglas and of Broward County and from all over the country — that we care about their lives and about their future," Rizzo said. "I've been very impressed with talking to the students and how they're taking care of each other and how they're coming together. I'm so grateful to the teachers, the coaches, the administration and all the first responders that tried to protect them."
Wearing a black polo shirt with a red ribbon pinned above his right chest, Rizzo was seated on the amphitheater stage along with spiritual leaders, government officials and family members of the deceased.
Rizzo took part in a moving candle-lighting ceremony as the names of the 17 victims were read aloud. Shortly after that, he took the podium and spoke for four minutes, pledging his support to an emotional crowd that included his mother, father and fiancée.
"I am only who I am because of this community," Rizzo said. "And I just want all of you to know how proud I am to be a part of this community. I want you to know that you're not alone in your grief. We're all grieving with you. The entire country is grieving with you. So whatever comfort I can give, I will give. Whatever support I can offer to our students, teachers, coaches and families and first responders, you'll have it."
Rizzo showed his support during Thursday's hourlong ceremony by rising to his feet several times to join thunderous ovations as Broward County Sheriff Scott Israel and others made impassioned pleas for "common sense gun laws."
"I promise you we're going to be mourning, grieving and a bit broken for a while," Rizzo said during his speech. "We're human. But I promise the cameras are going to move on. The demands of everyday life will intrude again. Classes will start again. The seasons are gonna change, and the sun is going to rise. And all we'll have left is each other.
"We don't know who's hiding their sadness or feelings of guilt and loneliness, or who needs help and is too proud or afraid to ask. So we have to be there for each other, we have to cope with our pain, and we have to live each other's pain. We have to be the best possible versions of ourselves."
After the vigil concluded, Rizzo declined to speak with reporters. It's unknown how long he'll remain in Parkland before rejoining the Cubs in Arizona.
Manager Joe Maddon exchanged text messages Wednesday night with Rizzo in the aftermath of the nation's deadliest school attack in five years. He said the team was "all for" Rizzo leaving spring training to offer support in Parkland.
"Told him to get back to us if there's anything that we can do to help," Maddon said earlier Thursday. "I definitely want him to go back there and become involved, as he should. It's just horrible. … What are the proper words right now? I don't even know what the proper words are except that 'we're there for you.'"
Cubs outfielder Albert Almora Jr., who is from outside Miami, recalled Rizzo hitting at his old high school a couple of times last season, noting, "I'm sure he still has a lot of connections there."
Before starting drills, the Cubs huddled together on the grass under cloudy skies following more morning rain.
"It's an awful situation," Almora said. "The only thing we can do is come together. Obviously we're all here for Anthony and for that school and all those families."
Maddon called Rizzo "the rock on the field" for the Cubs.
"Please go. Please take your time," was the manager's message to Rizzo. "Please do what you think you need to do and let us know is there some way that we can become involved and help."
The Associated Press contributed to this report.
Follow live: Kershaw, Dodgers face Rays in pivotal Game 5 with series tied
Cody Bellinger back in center field for Los Angeles Dodgers in World Series Game 5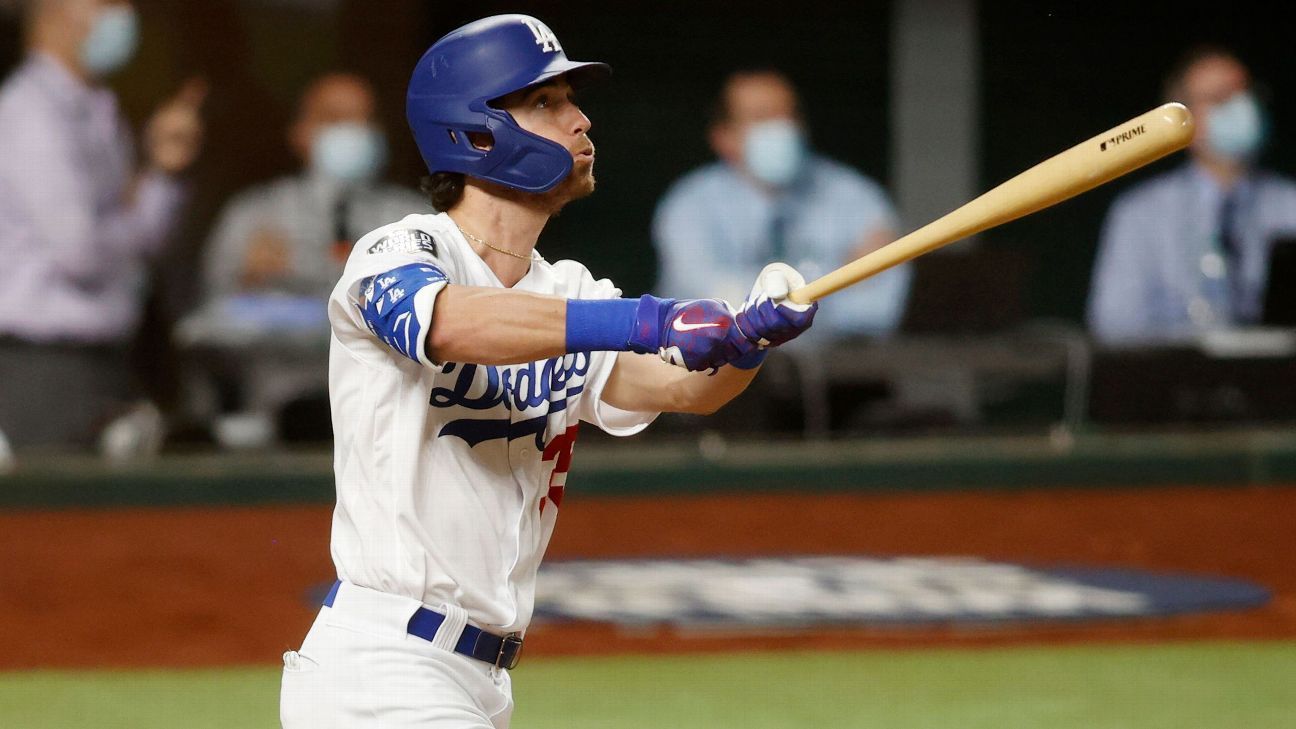 ARLINGTON, Texas — Cody Bellinger was set to return to center field for the Los Angeles Dodgers in Game 5 of the World Series on Sunday, and second baseman Brandon Lowe moved up a couple of spots in Tampa Bay's batting order.
The roof will be closed Sunday night because of dreary conditions and an increasing chance of rain into the night.
Bellinger, a National League Gold Glove finalist, was listed in center field for Game 5 after he was a late switch to designated hitter a night earlier because of back stiffness.
The wild game-ending play Saturday night, on which the Rays scored two runs to win 8-7, began on Brett Phillips' softly hit ball that was misplayed by Chris Taylor in right-center. Taylor had started the game in left, but finished in center after Joc Pederson entered as a pinch-hitter for A.J. Pollock, who had started in center instead of DH as planned.
Against Rays right-hander Tyler Glasnow in Game 5, Pederson was slated to start in left and Taylor at second base. Will Smith, the catcher Saturday night, was listed as the Dodgers' DH, while Austin Barnes would catch lefty ace Clayton Kershaw.
The top six in the Dodgers' batting order where unchanged: right fielder Mookie Betts, shortstop Corey Seager, third baseman Justin Turner, first baseman Max Muncy, Smith and Bellinger, followed by Taylor, Pederson and Barnes.
Tampa Bay, despite facing a left-hander for the second game in a row, moved Lowe up from fifth to third in the batting order after he hit his third opposite-field homer in the Series on Saturday night. The only position change was Joey Wendle at third base instead of Mike Brosseau.
As for Tampa Bay's batting order, leadoff hitter Yandy Diaz, DH Randy Arozarena were again in the top two spots, with left fielder Manuel Margot still in the cleanup spot. The rest was changed from Game 4, with left fielder Hunter Renfroe batting fifth, ahead of Wendle, shortstop Willy Adames, center fielder Kevin Kiermaier and catcher Mike Zunino.
Brett Phillips needed IV after Tampa Bay Rays' dramatic Game 4 World Series win
ARLINGTON, Texas — A night Tampa Bay Rays hero Brett Phillips won't soon forget ended with him getting an IV solution not long after winning Game 4 of the World Series with a bottom-of-the-ninth base hit to right field. Phillips was dehydrated and had a migraine after celebrating with his teammates.
"Almost passed out," Phillips said Sunday afternoon. "I didn't realize I was dehydrated. I had to get an IV. My resting heart rate was over 140 [beats per minute] just lying there."
Phillips was mobbed by his teammates in the outfield after rookie Randy Arozarena crossed home plate with the winning run in a wild, 8-7, win. The excitement got the best of him when he returned to the clubhouse.
"They had to cover my eyes with a towel because I had a pounding migraine," Phillips stated. "I wasn't looking at the light and had to slow down the breathing. Was just relaxing and hanging out."
Teammate Joey Wendle was asked if he had ever seen the guy that wins the game go get an IV afterwards.
"We were celebrating after the game and we were at the part where we were going to give him a shoutout and someone said he's not here," Wendle said. "He went to the trainer's room. That's a first time for me."
After Phillips began to feel better, he eventually checked his phone only to find many, many messages from friends, family and former teammates.
"I had a little over 500 text messages," he said. "I went to bed at 4 a.m. after replying to every single one of those text messages."
Players from around the league like Ryan Braun, Adam Wainwright, Liam Hendriks and Whit Merrifield all reached out to congratulate Phillips.
"It was really special for me just to see people say, 'There was no one better that deserves it. You were a good teammate,'" Phillips said. "Stuff like that means the most to me."
Many in Phillips' family, including his wife, left the game early but he didn't take it personally.
"I told them I'm glad that they left," Phillips explained. "I'm a firm believer that everything happens for a reason and who knows, if they would have stayed, if that would have happened."