The Jacksonville Jaguars have indefinitely banned two fans they have positively identified among the four people the team says threw debris at Seattle Seahawks defensive lineman Quinton Jefferson during a Dec. 10 game at EverBank Field. Jefferson was restrained after attempting to climb into the stands to confront the fans.
The Jaguars conducted what they called a "thorough examination of the incident" in conjunction with the Jacksonville Sherriff's Office, NFL Security, the team's stadium management company and the stadium's security service. The team shared the report's conclusions with The Florida Times-Union.
"It was concluded that four individuals threw objects onto the field," the report stated. "Based on available video evidence, we were able to positively identify two of these individuals. All four individuals had relocated to a seat near the field wall toward the end of the game."
The Times-Union reports that neither of the banned fans was an existing season-ticket holder.
"These two individuals have since received notice that due to the severity of the violation of the Fan Code of Conduct, they are banned indefinitely," the team said in its statement.
Jefferson attempted to climb into the stands after fans had thrown drinks at him as he was leaving the field following his ejection in the closing seconds of Seattle's 30-24 loss to the Jaguars.
The sideline incident occurred during an ugly ending to the game as Seahawks defensive linemen continued to fire off the ball as Jacksonville was in a victory formation, leading to scuffles on consecutive plays.
Sheldon Richardson was ejected after the first scuffle, which was precipitated by Michael Bennett attempting to swipe at the snap and falling into the legs of Jaguars center Brandon Linder. Jefferson was ejected after the next scuffle.
Jefferson was heading toward the tunnel after the ejection when the first drink was thrown at him from the stands. He stopped and made his way back toward where the drink was thrown from and exchanged words with a fan as Seahawks sideline personnel held him back. When another drink nearly hit Jefferson's head, he broke free and bolted toward the stands, attempting to climb the railing before he was pulled down and escorted away.
While Jefferson was fined $9,115 for the unnecessary roughness penalty that got him ejected, he was not punished by the league for attempting to enter the stands. According to a report by ESPN's Kevin Seifert, the NFL does not have a rule that explicitly prohibits players from entering the stands before, during or after a game. Any penalty would have fallen under the league's rules regarding sportsmanship and unsportsmanlike conduct.
Seahawks coach Pete Carroll said Jefferson should have handled the situation differently and said it could serve as a learning experience for Jefferson and other young players.
"It was just one of them things. It's unfortunate," said Jefferson, who added he felt bad afterward that his wife and kids had to see the incident. "I wish it didn't get that far, wish it didn't happen, but it's one of them things that happened."
Information from ESPN's Brady Henderson was used in this report.
Lions releasing running back Kerryon Johnson, per reports
The Detroit Lions are releasing running back Kerryon Johnson, according to multiple reports.
Detroit drafted the former Auburn standout in the second round in 2018. Johnson became expendable after the team drafted D'Andre Swift No. 35 overall in 2020, signed free agent running back Jamaal Williams in March and drafted Oregon State's Jermar Jefferson last week.
Johnson ran for 1,225 yards and eight touchdowns over three seasons. He also has 61 career receptions for 527 yards and three scores.
Last year, he had 181 yards rushing and two scores on 52 carries. and had 19 receptions for 187 yards receiving and a touchdown.
NFL Network first reported that Johnson would be waived.
The Lions also added a player in free agency, signing tight end Darren Fells on Wednesday. The move gives the team a veteran at the position it can put on the field with Pro Bowl tight end T.J. Hockenson.
The 35-year-old Fells has 123 career catches with 1,483 yards receiving and 21 touchdowns. The previous two years in Houston, he had a combined 55 catches for 653 yards and 11 touchdowns.
Fells has started 76 games — including 13 with the Lions in 2017 — and played in 102 games with Arizona, Detroit, Cleveland and the Texans. He was a rebounding standout at UC Irvine and played basketball in Argentina, Mexico, Belgium, Finland and France before playing in the NFL.
The Associated Press contributed to this report.
QB Blaine Gabbert re-signing with Tampa Bay Buccaneers on 1-year, $2.5 million deal, source says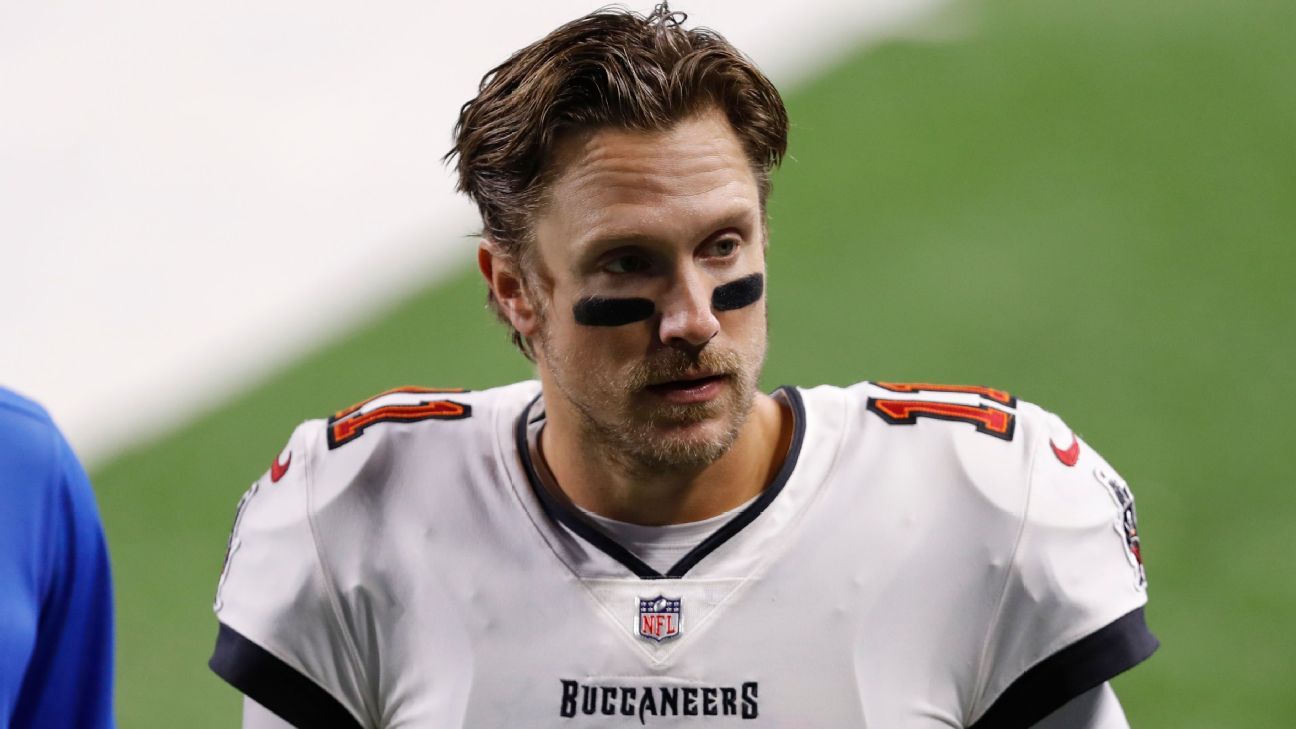 TAMPA, Fla. — Once again, Tampa Bay Buccaneers coach Bruce Arians has kept his word.
Days after saying the Bucs would work to re-sign Tom Brady's top backup, quarterback Blaine Gabbert, the team is indeed re-signing Gabbert to a one-year deal worth $2.5 million, a source told ESPN's Jeremy Fowler.
Gabbert, who has played in 60 career games with 48 starts, previously earned $1.187 million in 2020 and $1.6 million in 2019.
Last season, Gabbert, 31, completed 9 of 16 passes for 143 yards and two touchdowns with no interceptions, with all but one of those pass attempts coming in the second half against the Detroit Lions in Week 16, when Arians opted to rest Brady.
The Bucs selected quarterback Kyle Trask in the second round of the NFL draft last week, but Arians said that would not preclude them from re-signing Gabbert. The team also re-signed Ryan Griffin, who was last year's third-string backup, earlier this offseason.
Gabbert enters his third season with the Bucs, after spending 2018 with the Tennessee Titans, 2017 with Arians and the Arizona Cardinals, 2014-16 with the San Francisco 49ers and 2011-13 with the Jacksonville Jaguars.
Gabbert has had an eventful offseason. In addition to attending the Kentucky Derby with Brady and Griffin on Saturday, he married longtime sweetheart Bekah Mills in Paradise Valley, Arizona, in March.
NFL sends memo reminding clubs the league will not pay players who suffer injuries away from facilities
The NFL reminded teams Wednesday that they are not obligated to pay players who suffer an injury away from the team facility, an issue that moved this week to the center of an ongoing dispute between the NFL and NFL Players Association over in-person participation in offseason workouts.
The memo, obtained by ESPN, was prompted by several prominent players who were surprised by media reports about Denver Broncos offensive lineman Ja'Wuan James, who tore an Achilles tendon this week while working out on his own and could miss the 2021 season. NFL contracts have long classified such injuries as "non-football," because they happen away from the team environment, and they are not covered by typical injury guarantees. As a result, the Broncos could withhold James' salary for as long as he is sidelined. More than $10 million would have been guaranteed if the injury had occurred at the Broncos' facility.
The NFL has noted this contractual leverage multiple times during negotiations with the NFLPA, which has advised players to skip the voluntary portion of in-person offseason training unless they stand to lose workout bonuses.
Kansas City Chiefs quarterback Patrick Mahomes was among those who seemed unaware of the full implications of "non-football' injuries in comments this week on social media.
"According to the media coverage," the NFL wrote in its memo, "several players have expressed surprise that Mr. James' injury was not covered by his Injury Guarantee, although this point has been made frequently in our discussions with the NFLPA about the offseason program. Clubs are encouraged to remind players of the significant injury-related protection provided if they choose to work out at the club facility and the risks they undertake in choosing to train in non-NFL locations."