Johnny Manziel and Baker Mayfield are both from Texas and "have a really cool friendship," but the comparisons should stop there, Manziel said on Barstool Sports' "Pardon My Take" podcast.
"We're completely different people. We have a similar background. We're both from Texas. We both played Texas high school football, but he's not me, and I'm not him. The way my wires are in my head and the way that I'm built and my makeup is completely different than Baker," Manziel said, according to Ohio.com, which transcribed the quarterback's comments.
At the Reese's Senior Bowl last month, Mayfield acknowledged that people try to portray him "as a bad boy, the Johnny Manziel stuff" but told reporters, "I love the game of football, there's no doubt about that. I'm an emotional player. I'll do anything it takes to win. I love being around my teammates, leading and having responsibilities. It is what it is. If I paid too much attention to it, I'd be focusing on the wrong things."
Mayfield, who is expected to be one of the first four quarterbacks selected in the 2018 NFL draft, has had off-field trouble — he reached a plea deal after an arrest on public intoxication charges last February — and has been criticized for on-field antics — planting a flag on the field at Ohio State after a victory and making an obscene gesture toward Kansas players during a Sooners rout.
"Baker is fiery as hell. He gets a little amped up on the sidelines. Once you're on the football field and you do some things that are a little outlandish, like guys do that all the time. Was it maybe a little bit too much? Sure. But at the end of the day, the guy made a mistake, he paid his dues and I think he'll be better off because of it and he'll learn from that," Manziel said on the podcast.
Manziel says he has "all the faith in the world in" Mayfield.
"I think he's going to be a really good player, and if anything, people can compare him to me, but he can learn from what I did wrong. He can try and take something that I did and make it a positive for him."
The Barstool Sports podcast was released Monday, as was Manziel's interview with ABC's "Good Morning America" in which the former Heisman Trophy winner said he has been diagnosed as bipolar and is taking medication for it and that his goal is to get back on the football field.
Trent Dilfer still bitter about split with Baltimore Ravens after winning Super Bowl XXXV
BALTIMORE — As the Baltimore Ravens celebrate the 20th anniversary of their Super Bowl XXXV triumph on Thursday, Trent Dilfer remains disappointed that he became the first quarterback not given the chance to defend his title.
On Jan. 28, 2001, Dilfer made a triumphant return to Tampa, Florida, where he left as a struggling first-round pick for the Buccaneers and came back to help the Ravens to a 34-7 win over the New York Giants. Two weeks later, Dilfer was informed that Baltimore intended to sign another starting quarterback in free agency.
"You know, I've been through a lot in my life and I try not to be bitter about anything," said Dilfer, who is now a high school head coach at Lipscomb Academy in Nashville, Tennessee. "I'd say that's one I'm still harboring a little bit of bitterness because of the why. It was so poorly evaluated on their behalf. They knew I was hurt."
Dilfer, 48, plans to participate in the Ravens' virtual reunion and speaks fondly of the camaraderie of that 2000 Ravens team. In going 11-1 as the starting quarterback — including 11 straight wins — he was considered the perfect complement to Baltimore's historic defense by producing few turnovers and timely big plays, which included a 38-yard touchdown pass to Brandon Stokley in the Super Bowl.
But Dilfer only completed 47.9% of his passes in the postseason and heard the criticism that he was the worst quarterback to play in a Super Bowl. He estimated that he played at 65% to 70% because he was coming off a shoulder injury from the previous season and was dealing with osteitis pubis, an inflammation around the pubic bone and hip flexor muscle.
"There's legendary stories of how bad I was in practice and they're all true," Dilfer said. "I had some of the worst practices in the history of football for a quarterback. If my high school quarterback practiced like I did sometimes that year, I wouldn't play him. But I was hurt. There was a reason for it. It wasn't that I was trying. I didn't suck. I sucked physically."
Dilfer, who had joined the Ravens on a one-year, $1 million deal, was a free agent after winning the Super Bowl and hoped he could return to Baltimore healthier than the previous year. As he waited in the airport with his wife to fly to the ESPYS, Dilfer received a call from offensive coordinator Matt Cavanaugh.
"He could barely talk. He could barely get it out of his mouth," Dilfer said. "You're their third choice in free agency. And I just went, 'What?' I was shell-shocked."
The Ravens eventually signed Elvis Grbac to replace Dilfer after Brad Johnson, their top choice, signed with Tampa Bay. Baltimore was enamored by the big arm of Grbac, who had just gone to the Pro Bowl after throwing for 4,000 yards.
Dilfer said neither general manager Ozzie Newsome nor Brian Billick ever called him to inform him of the team's decision to not re-sign him. Newsome and Billick didn't respond to messages seeking comment.
"That's one of the few things that Brian Billick did that I didn't agree with," Hall of Fame offensive lineman Jonathan Ogden said. "Just give the guy a chance to come back and win his job. But it didn't happen that way."
Ravens defensive tackle Sam Adams said Dilfer earned the right to compete for another championship.
"I felt betrayed by them letting Trent go," Adams said. "I was hurt by that. He was a great leader, he was a scrapper, and he was the consummate Baltimore Raven. If it wasn't for Trent Dilfer, I don't care what we did on defense — if it wasn't for him coming in doing what he did — we would have never won a Super Bowl."
Dilfer said he approached Newsome at the 10-year reunion of the Super Bowl team about not bringing him back.
"It didn't go very far," Dilfer said. "It doesn't matter at that point, but it was a tough one. Still is tough because I do think that 2001 team was better probably from a talent standpoint and I would have loved to have been able to captain that ship."
Grbac played only one season with the Ravens, losing to Pittsburgh in the divisional round. He retired after refusing to accept a $5 million pay cut.
"I'll take a shot at Elvis because it doesn't bother me at all," Dilfer said. "The core value of that team was toughness. And Brian didn't realize that. It wasn't their coaching. It wasn't their talent evaluation. It wasn't all the things that they think it was. The core value of that team was mental and physical toughness and that's who I am and that's the opposite of who Elvis is. They set their identity back light years by getting it wrong."
Dilfer remains the only Super Bowl-winning quarterback to immediately change teams.
After winning the Super Bowl with the Ravens, Dilfer played six more seasons, bouncing from the Seattle Seahawks to the Cleveland Browns to the San Francisco 49ers. He went 13-16 as a starter from 2001 to 2007 and never returned to the postseason.
Dilfer, who worked with ESPN as an analyst after his playing career, has kept his Super Bowl ring primarily in an underwear drawer over the years. He still hasn't watched the Super Bowl win over the Giants from start to finish.
"It's a period of my life that I'm so grateful for and sometimes I feel guilty I don't think about it more, but I just really don't," Dilfer said. "I don't identify with that. I identify with husband, father, coach. Now the one thing, I'm not stupid, is all that allowed for what's happened in my life since. You can never undervalue enough how being a part of greatness helps accelerate your ability to do other great things in life."
Houston Texans coach David Culley tasked with changing culture, but will he have Deshaun Watson?
HOUSTON — Before all of the trade talk, reports about his future and the hiring of coach David Culley, Houston Texans quarterback Deshaun Watson was asked what he was looking for in his next head coach.
"I mean, we just need a whole culture shift," Watson said earlier in the month. "We just need new energy. We need discipline, we need structure, we need a leader so we can follow that leader as players. That's what we need. We've got to have the love of not just the game of football, because that's what we do, but the love for people and the people in this organization."
"… We need someone that stands tall and [says] this is who we're following and this is the way it goes … and we're going to do it this way to win."
Baltimore Ravens coach John Harbaugh, who hired Culley in 2019 as assistant head coach, said he was respected "as a teacher, game-planner and motivator." Culley is the first Black head coach hired by the Texans and the first in the NFL hiring cycle.
Of course, Watson might not be with the Texans to play for Culley, as ESPN's Chris Mortensen reported Sunday the quarterback is expected to want out of Houston regardless of whom the team hires. Watson isn't the only one who feels there needs to be a culture change.
By hiring Culley, the Texans hope they've found that person to build the foundation for which Watson asked.
But, for most Texans fans, Culley's name isn't a familiar one. So who is he and why did Texans CEO Cal McNair and general manager Nick Caserio pick him to be the franchise's next coach?
Who is David Culley?
Culley, 65, has spent the past two seasons in Baltimore as the Ravens' assistant head coach, passing game coordinator and wide receivers coach. He just finished his 27th season as an NFL coach after 16 seasons in various college coaching roles. He'll be the oldest coach in NFL history at the time of his head-coaching debut.
Culley has never been an offensive coordinator at the NFL level, but he has been an assistant head coach before his stint in Baltimore, for the Kansas City Chiefs. The Ravens were a run-first offense in 2020, as they led the NFL in rushing yards and ranked last in passing yards.
What does he bring to Houston?
The Texans are serious about fixing the organization's culture and believe Culley is the person to do it.
After doing a second interview with the Texans — this time in person — the team was impressed by Culley's energy and believes he has the NFL experience to deliver that cultural shift within the building, even if he hasn't been a coordinator.
"The thing I would emphasize about Coach Culley, more than anything, is what an amazing teacher and communicator he is," Ravens coach John Harbaugh said in 2019. "He's probably the best — I would say he's the best straight-up teacher, communicator that I've seen coaching football one-on-one, not just because he coaches it so well, but because he's so relentless and he coaches the important things."
"You can be relentless, but if you're coaching things that don't matter, then that's just a lot of hot air. He's coaching the things that matter, and you see the guys getting better every day within his position group."
McNair knew he wanted his general manager to take the lead on the coaching search. That is Caserio, who said the characteristic he was looking for most in a head coach is an ability to "lead people."
"Because in the end, football is a sport but it's about people, right?" Caserio said. "You have to make an investment in people. You have to be able to lead people. … Those are some of the things that will be important relative to whether or not they're a good playcaller on their respective side of the ball. But whoever it is will have some competency in some area."
"… I would say in our situation, relative to Deshaun, trying to put something in place that's sustainable for him that can allow him and the rest of the team and the organization to go out there and perform to their maximum capacity on a week-to-week basis. That's the goal."
What does this mean for Deshaun Watson?
This is perhaps the most important question and only Watson can answer it. If Watson still wants out regardless of whom the Texans hired, as Mortensen reported, then hiring Chiefs offensive coordinator Eric Bieniemy wouldn't have made a difference.
Now that the Texans have hired their new coach, the question is whether Watson will be here to see the culture shift he asked for in Houston. The quarterback hasn't requested a trade, but he could decide to do so once the hire is officially announced.
While the Texans could agree to trade terms with another team before the start of the new league year on March 17, a trade cannot be executed until then. The key time frame to pay attention to is before the NFL draft in April, because if the Texans were to trade Watson, they would want to make sure they're getting 2021 draft capital, when the pick slots are locked in.
What's next in Houston?
Watson put up the best numbers of his young career in 2020, and the team won only four games. Houston's defense struggled, finishing 30th in Football Outsiders' weighted DVOA. Of course, there are still a lot of holes on a defense that lacked young difference-makers, so whomever Culley hires as defensive coordinator will have a tall task ahead.
Regardless of whether the Texans trade Watson, those holes on the roster will remain. The Texans' first pick in this draft is No. 67, so they won't be able to add impact talent at a team-friendly price, and are currently $18 million over the projected 2021 salary cap (although that matters less than the cash they've already committed, which gives them some flexibility).
If Houston trades Watson, it will be able to plug in pieces on the defense and upgrade that side of the ball significantly, but then questions will remain at quarterback.
Broncos at their best behind a strong running game, but questions linger – Denver Broncos Blog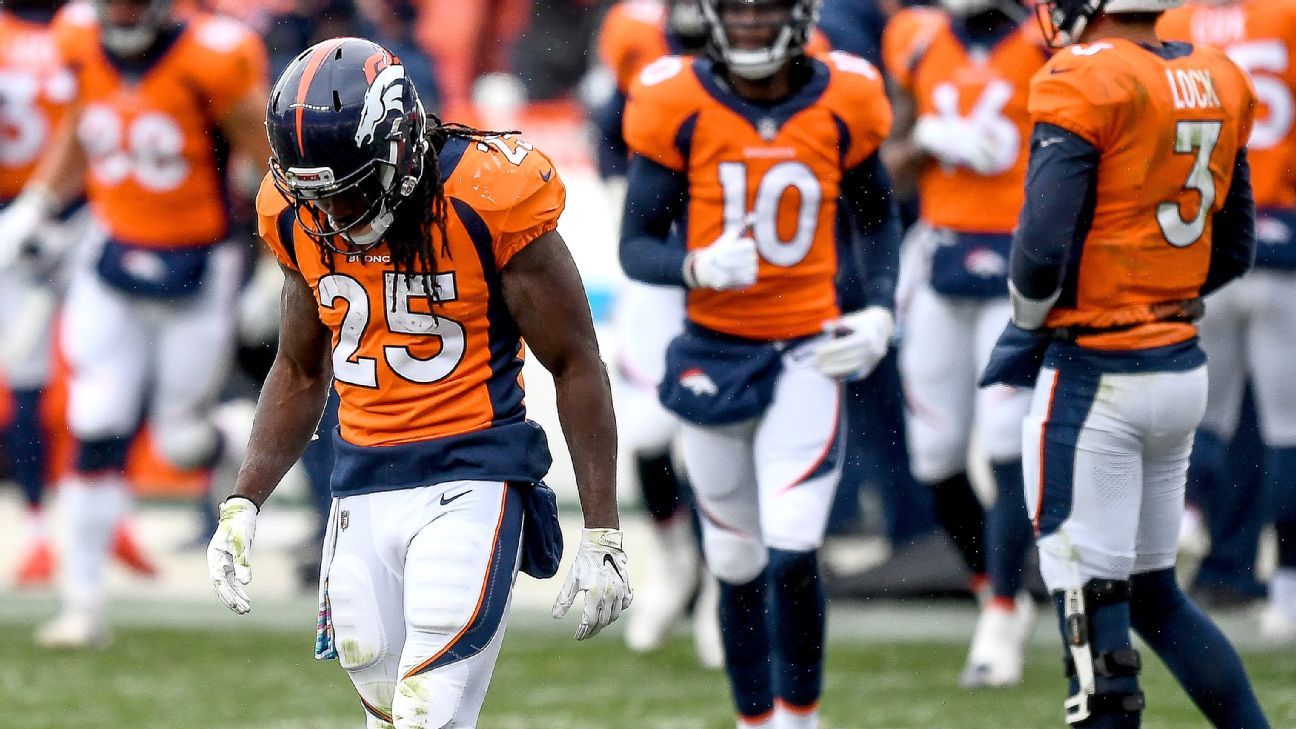 ENGLEWOOD, Colo. — When you evaluate where things stand for the Denver Broncos at running back this offseason, it looks more than a little shaky.
Leading rusher Melvin Gordon is facing a possible suspension to open the 2021 season and talked openly at season's end about hoping the Broncos keep him

Two-time 1,000-yard rusher Phillip Lindsay just finished the season on injured reserve for the second time in the past three years

The Broncos had one touchdown reception from a running back in 2020
Still, there were moments during the Broncos' 5-11 season when the running game had them looking their best, when the offensive line could show its physical side and the Broncos could use play-action.
• Ranking top 50 free agents »
• Biggest looming free-agent decisions »
• Top offseason needs for all 32 teams »
• See more on free agency »
"I think they're just really getting into a rhythm," Gordon said of the line. "… I'm super excited and stoked to see what we can do as a unit with them boys up front next year."
The Broncos know the deal. They reside in the AFC West where the Kansas City Chiefs rule the division and have scored at least 30 points in 58% of their regular-season games during Patrick Mahomes' three full years as the starting quarterback.
Grind it out isn't going to get it done. So, the suggestion, or even the feeling inside the Broncos' Dove Valley complex, isn't to put a ground-and-pound approach on the front burner. After all, five teams in the NFL threw at least 40 touchdown passes this past season and four of them played in this past weekend's conference championship games.
But quarterback Drew Lock and the Broncos were better when the running backs had an active piece of the production. The problem is that Gordon, Lindsay and the rest of the running backs are a rather large question mark.
Newly-hired general manager George Paton has said he believes the best way to succeed over the long haul is to draft and develop players. But he is also remaining open-minded: "Now when you go outside, will you be aggressive and dip into free agency or the trade market? Yeah, every now and then, but it takes that right type of player to do that. I think we all believe in drafting and developing and making them into your own. That's the best way to build a football team."
Gordon, who led the team in carries (215), rushing yards (986) and rushing touchdowns (nine), also had a DUI arrest in October and could face a three-game suspension from the NFL to begin the 2021 season. A suspension could also enable the Broncos, if they wish, to void the salary guarantees in Gordon's deal next season. It would also make it easier to release him if they wished.
His next hearing is scheduled for Feb. 24 with a potential jury trial April 8 if the case is not resolved before then.
"So, we'll see, hopefully it works out, and hopefully they like me enough to kind of put all that stuff to the side," Gordon said of his contract status. "I guess in a couple months or so we'll see what's up."
Lindsay had the Broncos' longest touchdown run of the season — 55 yards during the comeback win over the Chargers in November — and once again was consistently a spark when in the game. But he had surgery on his right wrist after both the 2018 and 2019 seasons, and he finished this year on injured reserve (knee, hip).
Lindsay is a restricted free agent — the Broncos could match any offers he receives from other teams — and after raising the idea of a new deal for Lindsay last offseason, there has been little movement from the Broncos' decision-makers on that front.
Royce Freeman, also a restricted free agent, had just 35 carries this season, and as a whole the running back group had little impact in the passing game. Gordon led the running backs with 32 of the group's 52 catches, but he averaged just 4.9 yards per catch, or just three-tenths of a yard more than he averaged per run.
It's all on the pile now as the Broncos move through the earliest stages of Paton's tenure during a week that includes Senior Bowl practices and the Chiefs preparing for their second consecutive Super Bowl.
"I just think we have to look from within and just build this thing the best we can," Paton said. "You start looking outside — obviously we're aware of how good this division is with Kansas City and some up-and-coming teams with the Raiders and the Chargers, but you need to build within first. We know what's out there."