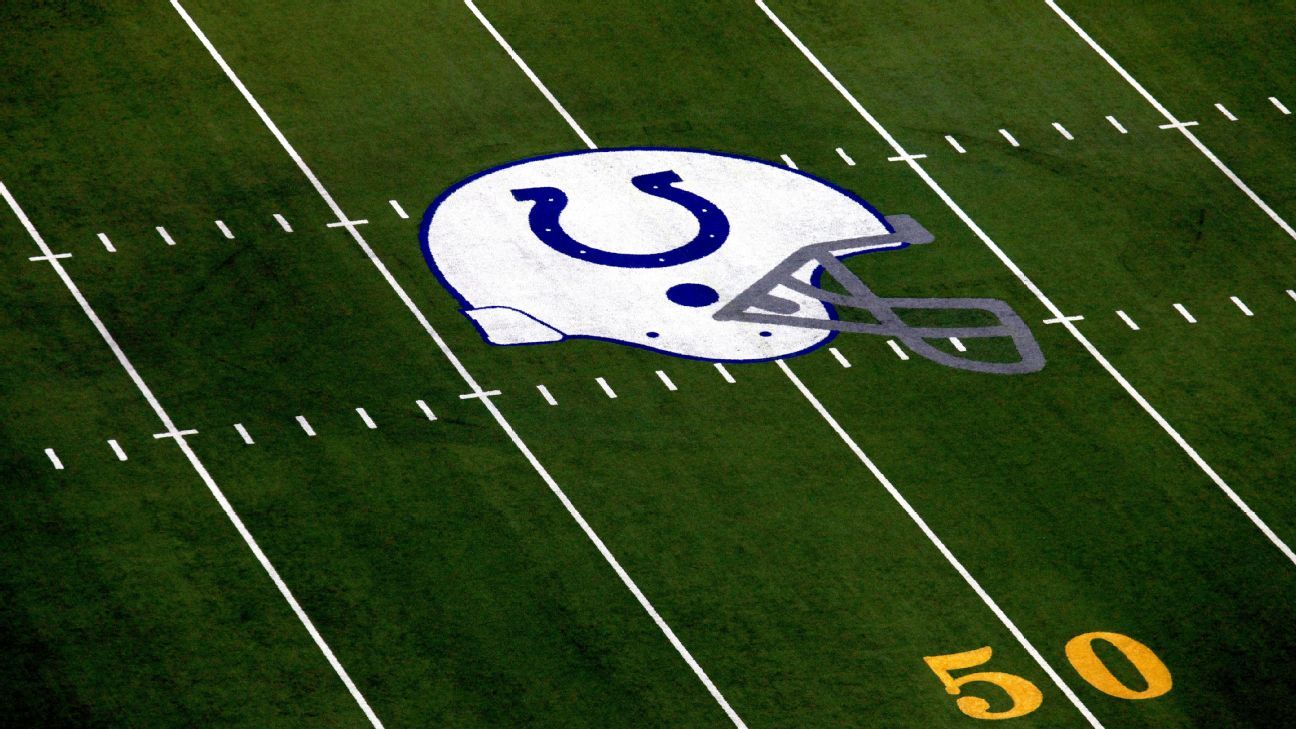 The Indianapolis Colts will name Los Angeles Chargers wide receivers coach Nick Sirianni as their new offensive coordinator, sources told ESPN's Adam Schefter and Field Yates.
Sirianni will work under new Colts head coach Frank Reich, continuing a partnership that existed when both were with the Chargers.
When the Chargers promoted Reich to offensive coordinator prior to the 2014 season, Sirianni took over Reich's role as the team's quarterbacks coach.
Since then, Reich has moved on first to the Philadelphia Eagles and now the top job in Indianapolis.
Sirianni transitioned from QBs coach to wide receivers coach, a position he has filled for the past two seasons.
The 36-year-old played collegiately at the University of Mount Union, where he won three Division III national championships (2000-02) as a wide receiver.
Panthers GM Scott Fitterer doesn't commit to Teddy Bridgewater – Carolina Panthers Blog
CHARLOTTE, N.C. — Scott Fitterer looked the part of general manager, dressed in the dark blue suit he bought 12 days ago in Charlotte because the clothes he brought from Seattle for his interview with the Carolina Panthers were tight after nearly a year in a pandemic.
He sounded like a GM, not discussing specific players or plans until he gets to meet, and learn more about, everybody in the organization.
• At last, Rodgers vs. Brady in the playoffs
• Ex-Bills eager to see Buffalo 'finally' win title
• Burning questions facing Browns' offseason
• Who stays and who goes for the Bears?
• Takeaways from Campbell's introduction
What kind of general manager Seattle's former vice president of football operations will be for Carolina remains to be seen.
Here's what we learned from Friday's made-for-Zoom introductory news conference:
Noncommittal on quarterback Teddy Bridgewater: Fitterer began by saying he wouldn't talk about specific players. He mentioned only two, linebacker/safety Jeremy Chinn and running back Christian McCaffrey. He mentioned Chinn because they have a mutual friend/agent. McCaffrey came up at the end when Fitterer said he wanted to talk to "Christian and other leaders on the team.'' Bridgewater never got a mention despite several questions referring to him. Make of that what you want.
However, when asked for his definition of a franchise quarterback, second on Fitterer's short list of criteria was "someone who can win when the game is on the line in the fourth quarter.'' Bridgewater was 0-8 this past season when he had a chance on his final possession to win or tie the game.
Deshaun Watson interest: The Panthers have been linked in multiple reports to interest in trading for the disgruntled Houston Texans quarterback if he becomes available. Fitterer didn't mention Watson by name. When reminded that Seattle lived by the mantra that it wanted to be in on every big deal in the NFL, even if it didn't realistically have a shot, Fitterer said, "We will be in on every deal.'' This was a big part of Seattle's culture, because it helped the organization learn about others. It also allowed officials to reduce second-guessing.
Roster philosophy: Fitterer made it clear it starts with the quarterback. A former college quarterback himself, Fitterer helped Seattle find a pretty good one in Russell Wilson. Again, read into his silence on Bridgewater as you please. After quarterback, Fitterer plans to build inside out with offensive and defensive linemen.
Draft philosophy: Fitterer called having the No. 8 pick in this year's draft a "new adventure,'' and with good reason. The last time he had a pick higher than 27th was 2012, when the Seahawks picked 15th. He has made a living hitting on second- to middle-round picks. Wilson was a third-rounder in 2012. Fitterer found in Seattle that the top-tier players usually stopped between 16 and 18, and that in general there wasn't a huge difference in players between 25 and 40. Seattle often traded down to acquire more picks. One instance was last year, when it gave Carolina the 64th pick (second round) for picks No. 69 and 148. The Panthers used that on Chinn, who became a strong candidate for NFL Defensive Rookie of the Year. Fitterer said the eighth pick was great because it gave him flexibility to trade up or down. So don't get comfortable at No. 8.
Who's in charge? You've read here for a while that coach Matt Rhule will have the final say over the roster. Rhule reinforced that by saying, "In terms of on the contract, a lot of those things probably rest with me.'' He also said that that's a formality and that he welcomes a GM who will argue with him. He ultimately wants this to be a collaborative effort the way it was in Seattle.
Source — Matt Patricia returning to New England Patriots to assist Bill Belichick's staff
FOXBOROUGH, Mass. — Matt Patricia, who was fired as Detroit Lions head coach in November before the completion of his third year on the job, is returning to the New England Patriots' coaching staff in 2021, a source confirmed.
Patricia had been an assistant on Bill Belichick's staff from 2004 to 2017 before landing the Lions job. In Detroit, he posted a 13-29-1 record, with one of those victories coming over Belichick's Patriots early in his first season.
It was a turbulent tenure in Detroit for Patricia, and a return to New England — where he is expected to assist Belichick's staff in a variety of roles — provides him a safe and familiar haven in which to continue his coaching career in the NFL.
Patricia, 46, had most recently served as the Patriots' defensive coordinator from 2012 to 2017, and in his absence, Belichick hasn't given that title to another coach. But Belichick referenced this past season that his son Steve, the outside linebackers coach, was calling the defense.
Also, inside linebackers coach Jerod Mayo has a significant role. Mayo, 34, is considered a coach on the rise, as evidenced by his recent interview with the Philadelphia Eagles for their head-coaching opening that went to Indianapolis Colts offensive coordinator Nick Sirianni.
Patricia's return mirrors, in part, what came in 2014, when Belichick hired Michael Lombardi — his former director of player personnel with the Cleveland Browns (1991-95) — as an assistant to the head coach.
The familiarity that Lombardi had with Belichick, and the team's overall system, made his transition into the organization rather seamless.
The Boston Globe first reported Patricia's return.
Houston Texans interview QB Josh McCown, Jim Caldwell for head coach opening
HOUSTON — The Houston Texans have interviewed quarterback Josh McCown and former Lions and Colts head coach Jim Caldwell for their head coach opening, the team announced on Friday.
Houston signed McCown to a two-year contract on Nov. 4 from the Philadelphia Eagles' practice squad, with him joining Deshaun Watson and AJ McCarron on the active roster.
The Texans also announced they have "continued discussions" about the vacancy with Caldwell.
Caldwell, 66, most recently was hired as an assistant head coach with the Miami Dolphins in 2019 but had to leave the team ahead of the season to address health issues and was not retained for the following season. He went 36-30, including playoffs, as head coach of the Lions (2014-17) and 28-24 as head coach of the Colts (2009-11).
McCown, 41, retired in 2019 after 17 years in the NFL and took a job as a high school quarterbacks coach in Charlotte, North Carolina, where his sons played. He continued to coach after coming out of retirement and signing with the Eagles later in 2019.
McCown played three games that season, including the wild-card loss to the Seattle Seahawks after Carson Wentz left in the first quarter with a concussion.
When McCown signed with the Texans, he was asked whether he hoped to coach in the future.
"I believe so," McCown said in November. "If you'd asked me that 10 years ago, I would've said no way, that's not what I want to do at this level. My dream coming out of college had I not been able to play in the NFL was to coach high school football here in Texas. I really thought that was going to be my path. But the longer I've been in this game and been around these guys, I see real value in being able to be a part of an organization and compete at the highest level. …
"Yeah, one of these days, whenever that happens, whenever I finally take the cleats off, I definitely see that in the future."
The team announced earlier in the week that it had interviewed Bills defensive coordinator Leslie Frazier, Chiefs offensive coordinator Eric Bieniemy, Colts defensive coordinator Matt Eberflus and Ravens assistant head coach David Culley.