I don't know about you all, but I will never be so happy to read "He's in the best shape of his life!" stories as players filter into spring training as I will be this year.
I will never be so happy to see that first video of players stretching and playing catch.
I'll be overjoyed the first time Aaron Judge and Giancarlo Stanton step into the batting cage to face live pitching.
This isn't the usual "winter bad, baseball good" attitude that creeps up this time of year, especially for those of us who live in areas of icy driveways and slush-filled sidewalks. This is about talking baseball and not the offseason mess of free agency. It's talking about great plays instead of place of play. It's talking about who is in camp instead of who isn't. It's about watching Judge and Stanton break car windshields and seeing if Ronald Acuna can make the Braves and how Andrew McCutchen and Evan Longoria look in their new duds.
The Yankees report to camp on Tuesday as pitchers and catchers get their physicals. Aaron Boone will have his first news conference since he was introduced as the team's manager, and one of the questions he'll be asked will be about his batting order. He can't go wrong no matter what he does, but it's fun to speculate about that Opening Day lineup. All I know is that once Judge and Stanton check in, I want to see the numbers — not just their projected home run totals but also their body-fat percentages.
Of course, the number that will come up time and time again is the number of free agents still out there; somewhere in the neighborhood of 100 remain unsigned. That list includes J.D. Martinez, who slugged .690 last season with 45 home runs; 2015 Cy Young winner Jake Arrieta; Eric Hosmer, who is coming off his best season; and Mike Moustakas and Logan Morrison, who both slammed 38 home runs.
Baseball has a way of doing this, of punching itself in the face, of drawing criticism instead of celebration. We had a remarkable 2017 season that included Stanton and Judge topping 50 home runs, Jose Altuve winning an MVP Award to further show baseball is for anyone of any size and an exciting postseason that culminated in the Astros' first championship in franchise history. The star power, especially all the young stars, means the game's future is in good hands.
Instead, we've spent the winter wondering why billionaires aren't sharing more of their money with millionaires. Whether some teams are "tanking" or just merely "rebuilding." About the sad state of the Marlins after Derek Jeter traded away an All-Star-caliber outfield in Stanton, Marcell Ozuna and Christian Yelich. About the economics of a sport that saw the Pirates and Rays trade away the long-time faces of their franchises.
To which I point out: The Yankees released Babe Ruth, the Giants dumped Willie Mays, the Mariners traded Ken Griffey Jr.
The fact is a lot of this stuff is inside baseball. It's interesting to the die-hards like us. The average fan just wants to go to the park, eat food that's bad for you and not feel guilty, soak in the sun and hopefully cheer for a winning team. In these days of social isolation and political division, the ballpark still brings everyone together.
Anyway, baseball is back, and given the way this winter unfolded, spring training will feel like less of a slog than ever. Here are some camps worth paying extra attention to:
New York Yankees. I think we'll have to get rid of the Baby Bombers nickname for 2018. Judge is now a wise old veteran who turns 26 in April. Gary Sanchez is an All-Star coming off a 33-homer season. Stanton is the reigning NL MVP and major league home run champ. The record for home runs by three teammates — 143, by the 1961 Yankees (Roger Maris 61, Mickey Mantle 54, Bill Skowron 28) — could be in play, along with the record for home runs by a team (264 by the 1997 Mariners).
Atlanta Braves. Acuna has been pegged as the game's next great star, the No. 1 overall prospect, after he hit .325 with 21 home runs and 44 steals across three levels of the minors. The most amazing part of his season: He hit .287 in Class A, .326 at Double-A and then .344 in 54 games at Triple-A. He didn't turn 20 until December. Along with Acuna, the Braves have a slew of pitching prospects to monitor — eight of them made it into Keith Law's list of 100 top prospects. Giant Brazilian lefty Luiz Gohara debuted last September, while others such as Mike Soroka, Kyle Wright, Kolby Allard, Ian Anderson and Max Fried will push for midseason call-ups.
Los Angeles Angels. Welcome to America, Shohei Ohtani. His attempt to play both ways begins in Tempe, and spring training is the perfect time to get him as many at-bats as possible. At the same time, Mike Scioscia's first priority is to get Ohtani on schedule to pitch in the rotation. If Ohtani doesn't hit well, will that doom his chances of getting some DH time in the regular season?
San Francisco Giants. The Giants collapsed to a 64-98 record — on the heels of a terrible second half in 2016 — and will have to prove that their roster isn't too old to compete in today's youth-centered game. They've added Longoria (32 years old) and McCutchen (31 years old) to help an offense that ranked next-to-last in the NL in runs scored, but the back of the rotation and bullpen have to improve as well.
New York Mets. The Mets hope to throw last year's soap opera of a season into the trash and start over, but all scrutiny will be on the health and production of Noah Syndergaard, Matt Harvey and Steven Matz. Besides the rotation, it will be interesting to see how youngsters Amed Rosario and Dominic Smith respond after their initial big league trials.
Chicago Cubs. It was already an interesting spring for Chicago. Kyle Schwarber is going to show up in really good shape. The World Series hangover year is over, but the Brewers and Cardinals should be better in the NL Central race. The Cubs already had a lot riding on 2018 — and now, Yu Darvish is headed to Chicago.
So, yes, it's time to talk some baseball.
P.S.: Heard anything new on J.D. Martinez?
Colorado Rockies minor leaguer Colton Welker gets 80-game drug suspension
NEW YORK — Highly touted Colorado Rockies minor league third baseman Colton Welker was suspended 80 games by the commissioner's office Thursday after testing positive for a performance-enhancing substance.
The 23-year-old Welker, drafted in 2016 out of Marjory Stoneman Douglas High School in Parkland, Florida, is currently on the roster for Triple-A Albuquerque. His suspension goes into immediate effect and will be without pay.
The substance he tested positive for was Dehydrochlormethyltestosterone (DHCMT), which is in violation of Major League Baseball's Joint Drug Prevention and Treatment Program.
In a statement, Welker said: "I want to make it very clear that I have never willingly nor intentionally ingested any substance to enhance my athletic performance. Given the information provided to me by the players' association and laboratory, the amount detected was so minimal that it would have no effect on enhancing my performance."
"I understand that a number of other players, like me, have tested positive for this metabolite at microscopic levels, and I intend to join them in seeking answers as to how this is happening in order to clear my name," he said.
The Rockies said in a statement the organization was "disappointed" to announce the suspension and believes that "Colton will learn from this experience."
Welker was in the running to take over at third for Nolan Arenado after the eight-time Gold Glove winner was traded to St. Louis in the offseason.
A fourth-round draft pick, Welker is a .313 career hitter at four minor league levels with 34 homers and 204 RBIs. He has played mostly third base but has some appearances at first.
This spring, Welker credited his success with a leaner look. He said he dropped about 10 pounds from the year before by cutting out carbs and mixing in more vegetables.
As a shortstop growing up, Welker helped lead Marjory Stoneman Douglas to the state title in 2016. It was a moment of immense pride for the community, which less than two years later was ravaged by the massacre of 17 students, teachers and staff at that same school. Welker routinely works out with Stoneman Douglas players in the offseason.
Jose Altuve's birthday home run answers Bronx boos, lifts Houston Astros past New York Yankees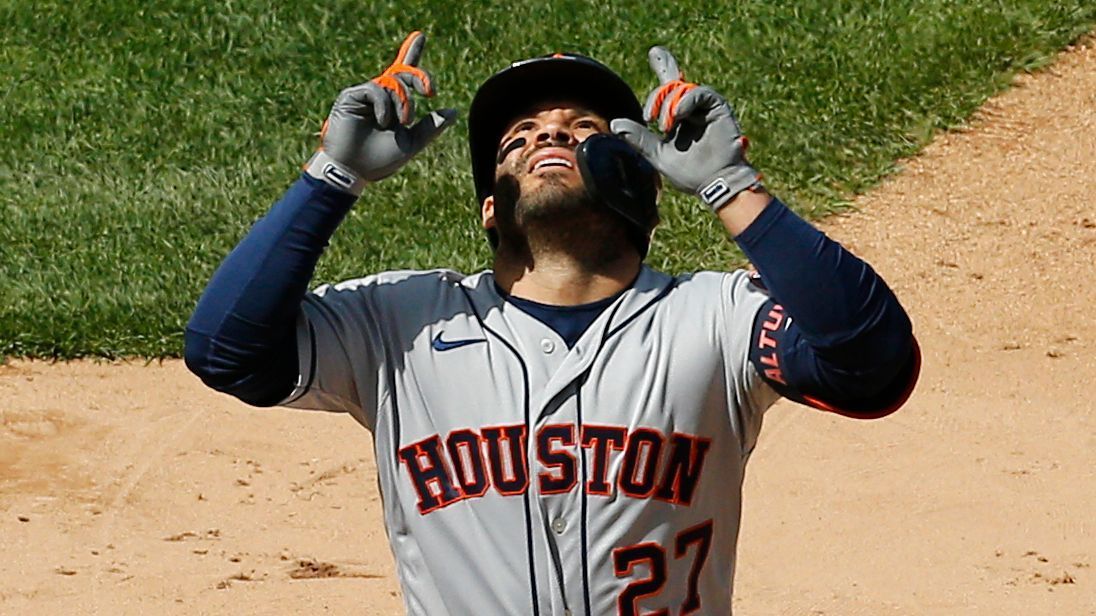 NEW YORK — Jose Altuve responded to jeering fans by marking his 31st birthday with a go-ahead, three-run homer off Chad Green in the eighth inning, and the Houston Astros beat the New York Yankees 7-4 Thursday to avoid a three-game sweep.
Gleyber Torres made an incredible, daring dash for the Yankees, scoring from first base on an infield single, but New York's five-game winning streak ended.
Yordan Alvarez hit a pair of solo homers off Gerrit Cole, who turned a 3-2 lead over to Green (0-3) starting the eighth. After Torres pulled the Yankees back within a run in the bottom half, Martin Maldonado hit a two-run homer off Justin Wilson in the ninth, ending a streak of of 75 plate appearances without an RBI.
Green started his own trouble by walking Kyle Tucker leading off. Pinch hitter Aledmys Diaz reached on a single to third baseman Gio Urshela, and Tucker took third when Urshela threw past first for an error
Maldonado struck out to bring up Altuve, booed loudly throughout the series by fans getting to express their anger directly at the Astros since their cheating scandal en route to the 2017 World Series title was exposed. He had been 1-for-11 with no RBIs in the series when he turned on a shoulder-high 96 mph 3-2 pitch and drove it over the left-field scoreboard for a 5-3 lead.
Torres' sprint came soon after that.
With the Astros shifted to the right side, shortstop Carlos Correa knocked down Aaron Hicks' grounder near second but had no play as the ball trickled a few feet onto the outfield grass.
Correa recovered quickly, but Torres saw third uncovered and kept on going. Maldonado left his catcher's spot and ran to cover third, while reliever Ryan Pressly stayed on the mound.
Correa then made a short toss to third baseman Alex Bregman, who was near second, and Torres raced home ahead of Maldonado and slid headfirst across the plate without a throw.
Andre Scrubb (1-0) pitched a perfect seventh, and Pressly got six outs for his fifth save. Houston climbed back above .500 at 16-15.
Yankees fans held critical signs and booed the Astros throughout the series, anger lingering from the sign-stealing scandal that revealed Houston stole signs with a video camera en route to the title — which include a seven-game win over the Yankees in the AL Championship Series.
Giancarlo Stanton crushed a 117.3 mph solo home run off an ad hanging above the Yankees bullpen in right-center in the third inning, and slumping Clint Frazier hit a tiebreaking, two-run homer in the fourth off Lance McCullers Jr. for a 3-1 lead.
After striking out 62 in his first six outings, Cole fanned just four in seven innings — his fewest since a rain-interrupted outing against Philadelphia last Aug. 3 in his Yankees home debut. He walked none for his fourth start in a row and he allowed five hits.
This was Cole's first time facing the Astros since leaving them after the 2019 World Series.
Alvarez's second homer of the game landed in the netting above Monument Park in center field and gave him six career multihomer games.
McCullers had pitched the final four innings of Houston's Game 7 win over the Yankees in 2017, combining with Charlie Morton on a three-hitter and memorably throwing breaking balls on his final 24 pitches. Now 1½ years removed from Tommy John surgery, McCullers gave up three run, six hits and four walks in six innings.
New York Mets pitcher Carlos Carrasco's return delayed until late May
ST. LOUIS — Carlos Carrasco was shifted to the 60-day injured list by the New York Mets on Thursday, a surprise move that pushes back his season debut until May 28 at the earliest.
The 34-year-old right-hander has been sidelined by an injured right hamstring since spring training and had been making progress. He threw a simulated game Tuesday at the Mets' spring training complex in Port St. Lucie, Florida, and the team said Wednesday that Carrasco was starting a minor league injury rehabilitation assignment this weekend.
Manager Luis Rojas did not mention Carrasco's status change when he spoke with reporters before Thursday's game against St. Louis, and the Mets sent a release later announcing the move to the 60-day IL.
Right-hander Jordan Yamamoto was optioned to Triple-A Syracuse, and the Mets selected the contract of right-hander Tommy Hunter from the Triple-A farm team.
Carrasco was acquired in January from Cleveland along with All-Star shortstop Francisco Lindor. He was put on the 10-day IL on April 1, a move retroactive to March 29.