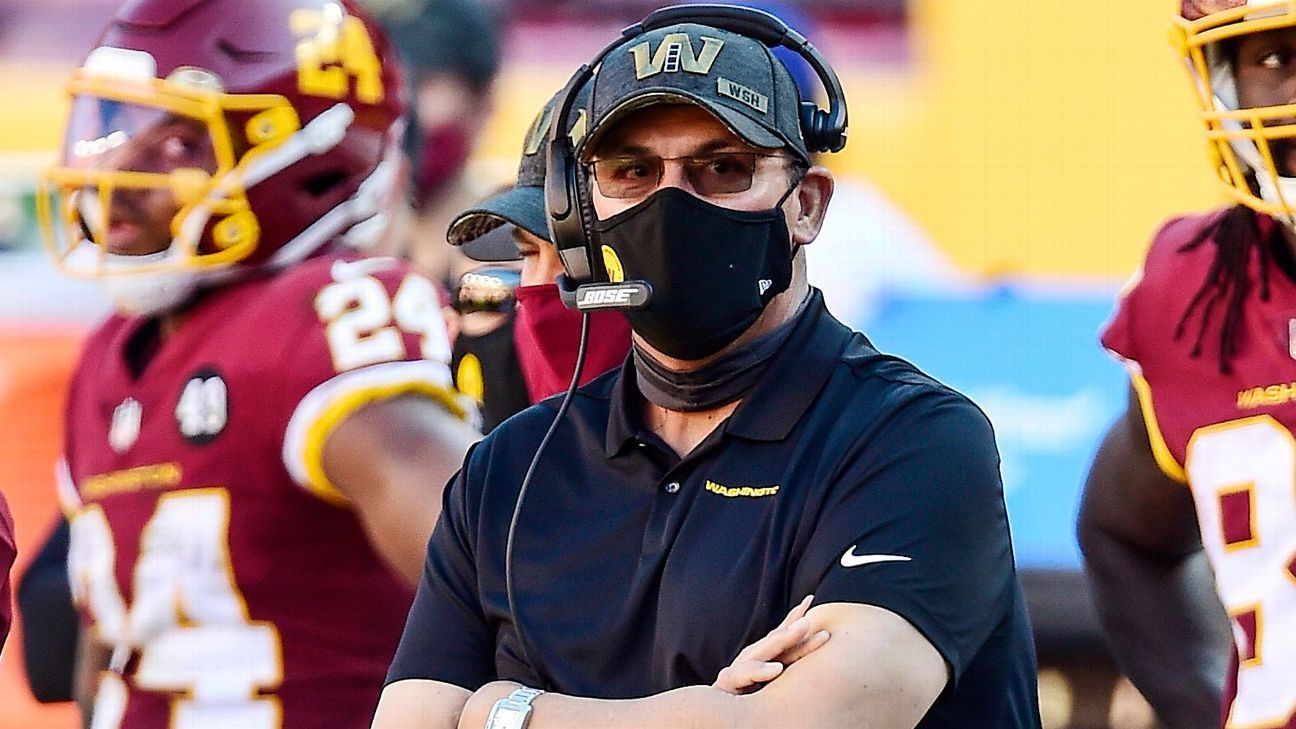 RICHMOND, Va. — Washington Football Team coach Ron Rivera said he's "beyond frustrated" with his players' lower vaccination rate and worries about the potential impact it will have on their team.
Rivera said more than 50% of Washington's players have been vaccinated against COVID-19 as they reported to training camp Tuesday.
"We're not where we want to be," he said.
But Rivera, who was diagnosed with a form of skin cancer last August and underwent treatments during the season, said he's immunodeficient.
"With the new variant, who knows?" Rivera said of the Delta variant. "When I'm in a group and the group's not vaccinated or there's a mixture, I put the mask on, and I do that for health reasons because nobody really knows. I have to do that. And I just wish and I hope that our guys can understand that."
As of Tuesday morning, the NFL said 85% of its players are vaccinated (at least one shot) and 14 clubs are over 90% vaccinated, sources told ESPN, confirming an NFL Network report.
On Tuesday, Washington placed offensive tackle Cornelius Lucas on the reserve/COVID-19 list.
Last season, Washington had only two players test positive for the virus during the season — and neither was on the 53-man roster. They fined quarterback Dwayne Haskins for inviting a guest to stay at the team hotel on the road, a violation of their protocol. They later fined Haskins for being at a party in a hotel without a mask on.
That's why Rivera considered Washington a leader in the battle against COVID-19 last season.
"Now, for whatever reason, we have some reluctance to do that, to get the vaccine," Rivera said. "These young men have to make the decision for themselves. Hopefully they can understand how impactful not getting the vaccine is, and you'd like to believe with all the news that's been out there in terms of the fact that people are being hospitalized, that are dying from COVID right now, are those that aren't vaccinated."
In the spring, Harvard immunologist Kizzmekia S. Corbett, considered a leading coronavirus researcher, spoke to Washington's players and answered questions. Rivera said he will continue to talk to players individually to assess their reluctance. He said they will not have unvaccinated players wear anything in practice that signifies their status.
"A lot of guys have a lot of questions, unfortunately," Rivera said. "They haven't gotten the answers that they should have by now. We need to make sure we can inform them and help them make an educated decision.
"I'm not going to tell anybody what to do; I'm going to try to understand them and give them some reasons why I think it'll be a good thing. We'll see how it goes. I hope we can get to these guys and get them to understand, really, it's not just for them, but it's for the people around them, and that's the thing, hopefully, that will get their attention."
Rivera said the potential disadvantage comes in preparation — if a player is going to miss two weeks during the season. Or if a player tests positive for COVID-19 on the day before a game, possibly infecting others at his position.
"That's going to shake your team up," Rivera said. "We saw what happened, unfortunately, to Denver last year. They had to start a wide receiver at quarterback. You don't want to be in that situation. We don't want to be in that situation, so it could be a huge, huge disadvantage. And the hard part, too, that they've got to think about is based on the rules — you're risking not just your paycheck but other people's paychecks, too, if there's no game played. I think that's something that we all have to think about."
NFL commissioner Roger Goodell warned teams that they could forfeit a game if there's an outbreak among unvaccinated players. Rivera said that sort of situation could lead to tension in the locker room.
Washington finished 7-9 last season but won five of its last seven games to win the NFC East. It enters training camp considered by many a favorite to repeat.
"It is everybody's choice, everybody's decision," Rivera said, "but you just hope that they all fall in line and understand what's at stake."
Rivera gave his first in-person news conference since the scouting combine in 2020, which gave the start of camp a bit of normalcy. However, the media was seated 12 feet away and needed to be masked as long as Rivera was in the room. It provided a reminder of the situation in which the NFL, and society, remains.
"But the thing that still looms over our head, unfortunately, is the whole COVID situation," Rivera said in general. "We have to figure that out and we have to understand that. We do — as a football team, as individuals, we have to understand what's truly at stake in terms of opportunities going forward and we'll see. We'll see how it all unfolds, and to some degree this tells us a little about us."
D'Andre Swift won't be limited in Detroit Lions' season opener vs. San Francisco 49ers
ALLEN PARK, Mich. — Detroit Lions running back D'Andre Swift, who had been slowed by a groin injury throughout the preseason, is expected to be ready to go with no limitations in Sunday's season opener against the San Francisco 49ers.
Lions coaches had expressed concerns during training camp Swift's status, as the groin injury limited his participation in practice and preseason games. But the second-year running back was a full participant in practice on Wednesday and Thursday.
"I'm very bad at counting reps," Lions running backs coach Duce Staley said. "If he's out there being productive … I don't know how to take him off.
"I get caught up in the game, he's gonna get caught up in the game and every good player — every good running back that I know anyway — once he starts feeling it, you don't want to pull him off. We can count the reps Monday."
Swift is expected to be the lead back for Detroit this season, with Jamaal Williams set to thrive in a strong complementary role. As a rookie, Swift had 114 carries for 521 rushing yards and eight touchdowns, joining former Lions star Billy Sims (1980) as the only rookies in franchise history to score eight rushing touchdowns and two receiving touchdowns.
Swift also had 46 catches for 357 receiving yards last season.
"When he is available, he's a weapon," Lions offensive coordinator Anthony Lynn said. "You can do a lot of things with that young man. So I'm looking forward to seeing him go Sunday."
Baltimore Ravens fear RB Gus Edwards, CB Marcus Peters have torn ACLs, sources say
OWINGS MILLS, Md. — The Baltimore Ravens fear they've lost running back Gus Edwards and cornerback Marcus Peters to season-ending knee injuries on Thursday, sources told ESPN's Adam Schefter.
The Ravens believe Edwards and Peters tore their ACLs during Thursday's practice, sources tell Schefter. Both players are undergoing testing to confirm the initial diagnosis.
This continues a horrid run of injuries for Baltimore and delivers a major blow to the Ravens' Super Bowl aspirations.
Edwards becomes the third running back to suffer a season-ending injury in a span of 12 days. J.K. Dobbins tore his ACL in the preseason finale on Aug. 28, and Justice Hill hurt his Achilles on Sept. 9.
Ty'Son Williams, a practice player from a year ago who doesn't have an NFL carry, becomes the Ravens' lead back. The other two running backs on the roster — Trenton Cannon and Le'Veon Bell (practice squad) — only started practicing with the Ravens on Wednesday.
The loss of Peters would represent the most significant injury to the defense this year. The Ravens have depth at cornerback, but it will be difficult to replace Peters' playmaking ability. His 31 interceptions lead the NFL since he entered the league in 2015.
Anthony Averett, a fourth-round pick in 2018, would be a candidate to replace Peters and start opposite Marlon Humphrey.
The Ravens open the season at the Las Vegas Raiders on Monday Night Football.
New Orleans Saints complete trade with Houston Texans for CB Bradley Roby, sources say
The New Orleans Saints have finalized their trade for cornerback Bradley Roby, sending a 2022 third-round draft pick and a 2023 conditional pick to the Houston Texans, sources told ESPN's Adam Schefter.
In order to facilitate a trade to the Saints, the Texans converted $7.6 million of Roby's base salary into a signing bonus, a source told ESPN's Field Yates. When Roby officially gets traded to New Orleans, his base salary for 2021 is now $1,862,645, which fits into the Saints' salary-cap space.
Roby was a first-round draft pick of the Denver Broncos in 2014. He spent the past two years in Houston and has started 49 career games with 10 interceptions.
The 29-year-old Roby is entering the second year of a three-year, $31.5 million extension that he signed with the Texans last year. He will miss the first game of the season, however, as part of a six-game suspension that began in 2020 for violating the NFL's policy on performance-enhancing substances.
The Saints have identified cornerback as a "must-fill" position ever since they released former starter Janoris Jenkins in March as part of a massive salary-cap purge and then lost one potential starting contender, Patrick Robinson, to a surprise retirement early in training camp. They even attempted to trade up nearly 20 spots in the NFL draft to land top prospects Jaycee Horn or Pat Surtain II.
New Orleans signed veteran Desmond Trufant on Monday to compete with Ken Crawley and rookie Paulson Adebo for the No. 2 starting cornerback job across from Pro Bowler Marshon Lattimore. However, Roby now becomes the front-runner to lock down that job following his suspension.
ESPN's Mike Triplett contributed to this report.