The Detroit Lions might be switching quarterbacks for 2021, going from Matthew Stafford to Jared Goff, but it won't necessarily preclude them from taking a signal-caller early in this year's draft.
General manager Brad Holmes, who is not yet allowed to discuss the Stafford-Goff trade until it can become official when the new league year begins on March 17, said Tuesday he likes what he sees from this quarterback draft class.
"The quarterback position in general, what's cool about this year is that they're in all different flavors," Holmes said. "You have a guy that can actually do it all, do it from the pocket, do it with his legs. You have another guy that probably a little bit more does it with his legs, a little bit more of being creative. There's another guy probably does it more from the pocket.
"So all the different flavors makes it very, very intriguing in terms of when you're looking across the whole scope of the class of these quarterbacks."
Holmes mentioned multiple times during his Tuesday press conference that he liked this draft class of quarterbacks, which is headlined by Clemson's Trevor Lawrence, Ohio State's Justin Fields and BYU's Zach Wilson.
And when you're picking in the top 10, he said, you can't overlook any position. That includes a spot undergoing major change for Detroit. Goff, will have a cap hit of $28.15 million in 2021 and $26.15 million for 2022, according to OverTheCap.com. Of course, the Lions can move this around and create more space if they restructure Goff's contract, which has a little over $25 million in base salary, once he officially becomes part of the franchise. But it's unknown if they will do that.
Plus Stafford will now count as $19 million in dead money on this year's cap for Detroit.
What does that have to do with drafting a quarterback at No. 7? It might depend on how the team views Goff in the long-term — something the team hasn't been allowed to publicly address yet — and what they think of the quarterbacks in this class.
"When you're picking in the Top 10, I don't think you can ignore and I think it's smart drafting business anyways, when you're picking in the Top 10 that you make sure you know that quarterback class very thoroughly," Holmes said.
Holmes was quick to say, though, he doesn't believe you can look past any position when drafting in the Top 10 and that when you pick that high, you have to know the top of every position because of the potential level of talent there.
Holmes did say he knows the team does need starters and depth at multiple positions, some of which could be addressed at No. 7.
"There are some pieces that we definitely need to add," Holmes said. "We can start with the defensive side of the ball. We definitely need some more depth. We will need starters at certain places, so those are things that we are going through."
On offense, Holmes said he likes what they have on the offensive line but need depth. And there's a receiver room — whether they use a franchise tag on Kenny Golladay or not — that needs to be overhauled. All of which does tie into a quarterback, leading to a multitude of decisions for Holmes and head coach Dan Campbell to make as they evaluate what they need to do in free agency and the draft, starting with the No. 7 pick.
Judge orders woman suing Deshaun Watson to disclose name
HOUSTON — At an emergency hearing Friday morning, a Harris County judge ruled that one of the plaintiffs suing Texans quarterback Deshaun Watson must identify herself by refiling her lawsuit with her name attached.
The original lawsuit, filed by Houston attorney Tony Buzbee, was filed on behalf of Jane Doe. Of the 22 lawsuits filed against Watson alleging sexual assault and inappropriate conduct, only two women had been publicly identified.
The ruling was made by Judge Dedra Davis in the 270th district court. A similar hearing regarding at least 12 other cases is set for noon ET Friday in the 113th district court, according to court records.
Hardin filed the emergency motion Thursday, saying, "Mr. Buzbee's use of anonymous lawsuits violates Texas law and the basic concept of fairness."
"While I understand that anonymity often is used as a shield for victims, Mr. Buzbee is using it as a sword," Hardin said in a statement. "While shielding his clients from public scrutiny, Mr. Buzbee continues to use their anonymous allegations to destroy Mr. Watson. This is simply not right. And we look forward to resolving these matters in court."
Watson has denied the allegations in the lawsuits.
In a statement Tuesday, NFL spokesperson Brian McCarthy called the allegations against Watson "deeply disturbing," noting, "We take these issues very seriously."
McCarthy said the league launched an investigation under its personal conduct policy last month after the first allegations and that the NFL is "continuing to closely monitor all developments in the matter."
How Malcolm Butler fits in with the Arizona Cardinals – Arizona Cardinals Blog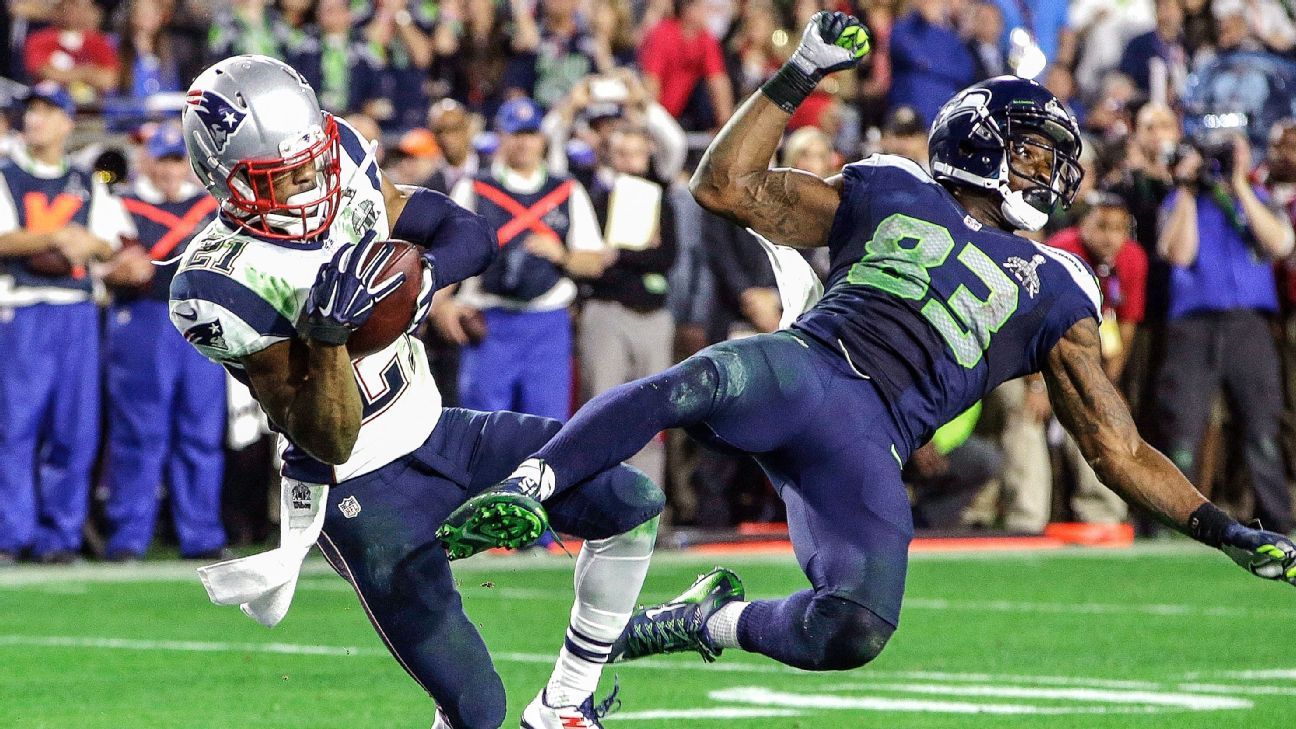 TEMPE, Ariz. — To Malcolm Butler, age — especially his age — is just a number.
Butler, the former New England Patriots and Tennessee Titans cornerback who signed a one-year deal with the Arizona Cardinals last month, doesn't see his age, 31, as a hinderance or a hurdle. It doesn't seem to matter to him that there's a widely-held belief that corners start to diminish after they hit 30.
In fact, Butler thinks he's in line to have another career season.
"I'll ball harder this year," he said.
And if Butler wants to show the younger Cardinals cornerbacks how success can come from hard work, all he has to do is walk them out to the goal line of the south end zone at State Farm Stadium. That's where he intercepted Seattle Seahawks quarterback Russell Wilson in the final seconds of Super Bowl XLIX, securing a title for the Patriots.
Butler will bring that Super Bowl experience to a franchise anxiously waiting to win its first.
"You got to play together to be a Super Bowl team," Butler said. "… The team got to be led by the players, those are the best teams. Everybody got to be committed. We got to put the hard work in and everyone has to be on the same page."
And that, Butler believes, can help the Cardinals make a push for the playoffs — and even a Super Bowl appearance.
"I most definitely think we can make a push," he said. "Guys get older and things like that, but if you're doing the right thing with your body, you're staying focused, you're committed to the game, you're committed to one goal and that's just winning, if everybody has the same mindset, that's what we're gonna do."
Butler comes to Arizona tasked with filling the successful shoes of Patrick Peterson, who signed with the Minnesota Vikings after 10 seasons with the Cardinals. During that decade, Peterson established himself as one of the top corners in the league with eight straight Pro Bowl nods, three All-Pro selections and a spot on the NFL's all-decade team for the 2010s.
Now it's Butler's turn to be the Cardinals' top corner, but Butler isn't trying to be Peterson — even if he takes over Peterson's No. 21 ("I'm not sure about the jersey number," he said), which Butler wore in New England and Tennessee.
"Not too many people can replace a Patrick Peterson," Butler said. "I got a lot of respect for him.
"I'm the type of leader that wants to lead physically and not verbally all the time. You can't lead a group or anybody if you're just always talking. You got to be about that action. You got to go out there and to work in. You got to do it on and off the field."
Butler will benefit from another one of the Cardinals' free-agent signings: J.J. Watt. Playing behind pass-rushers such as Watt and Chandler Jones, who Butler played with in New England, are what corners think about in their sleep.
"It's good to have those guys when you're playing cornerback on an island with those fast and athletic receivers," he said.
Butler's been married to the Super Bowl interception of Wilson since it happened, but when he was deciding on which team to join during free agency, the play didn't enter his mind.
"I actually wasn't really thinking about it like that," he said. "A lot of people just mentioned it to me over and over, but it's kind of crazy. … I'll be playing a lot of home games where I first became well known and made one of the best plays in Super Bowl history.
"Kind of amazing."
Why Washington's priority in 2021 NFL draft could be finding a left tackle – Washington Blog
ASHBURN, Va. — The Washington Football Team focused on quarterbacks during the offseason and still wants to add its signal-caller for the future. It signed a new starting wide receiver (Curtis Samuel) and added a potential solid player in the slot (Adam Humphries) during NFL free agency. It wants to add more talent at tight end.
But coach Ron Rivera has made it clear: He also wants to build the offensive line, giving the team potentially strong groups up front on both sides of the ball. It's one reason Rivera was reluctant to mortgage Washington's future with a bold trade for a quarterback.
"I don't want to see us get into a situation where we can't put playmakers around our guy, we can't protect our guy," he said. "That's something that we've got to make sure we can do."
What Washington would like most is a starting left tackle. It does have in-house options — Geron Christian and Cornelius Lucas started there last season and 2020 fourth-round pick Saahdiq Charles can play tackle or guard. However, Washington still wants to add a left tackle. The team could then keep Charles at guard and form a young tandem.
Here are the options at the position:
The draft
Washington has the No. 19 overall pick in the 2021 NFL draft (April 29-May 1 in Cleveland, on ESPN and ESPN the App). As ESPN draft analyst Todd McShay said on a conference call last week, "This is a deep class." That has been a consensus opinion throughout the draft process, and Washington believes it can land a potential starter at left tackle somewhere in the first three rounds. Considering Washington has four picks in those rounds, it should be able to fill that desire.
In the first round, Virginia Tech's Christian Darrisaw or Oklahoma State's Teven Jenkins could be available at No. 19. Washington wants a more consistent run game and Darrisaw would help the blocking in that area.
This offseason, ESPN draft analyst Mel Kiper Jr. said Jenkins has the "ability to adjust to secondary moves. He tests off the charts in terms of work ethic and character. His consistency and talent adds up to late first [round], at worst early second." Kiper also said a pick in the late teens would be a stretch for Jenkins.
Notre Dame's Liam Eichenberg is another tackle expected to be drafted in the first two rounds. Jim Nagy, the director of the Senior Bowl, said shortly after the event that North Dakota State's Dillon Radunz was "our overall practice player of the week. We thought he was the best guy down here hands down." He said Radunz's future is at left tackle, but he also could play guard.
Because of the depth at this position, if a player Washington really wants is gone at No. 19 and the team feels good about multiple players still available, it could trade back and accrue more picks — whether in this draft or in 2022. If the quarterback of the future can't be found this spring, a future pick could be used to move up next year. And keep in mind: If Washington improves this season, as it expects to, it would be picking lower next year and therefore need more picks to trade up.
The Baltimore Ravens starter wants to be traded so he can play left tackle, but landing him could be costly. Baltimore knows it can get a third-round compensatory pick for him if he leaves via free agency after this season. So it could cost a second-round pick plus another pick to pry him loose now. Then Brown would need to be signed to an extension. Otherwise, it's a wasted trade. He could end up manning the position for a long time in Washington, but the cost would be steeper than drafting a player.
Also, because Washington would be paying Brown, it could make it hard to then work out a long-term deal with right guard Brandon Scherff. That would be a lot of money to invest on the offensive line when considering future contracts that will be needed to keep the team's young defensive linemen as well as wide receiver Terry McLaurin.
Sign a veteran
There's one quality starter who is still available in free agency — Alejandro Villanueva. Washington would consider him, but not until after the draft. If the team doesn't land a quality tackle in the draft, then Villanueva becomes an option. He has started every game in Pittsburgh for the past five seasons and would give Washington a solid player as a two-time Pro Bowler. But signing him could mean having to find a future starter at the position in 2022. And, if Washington doesn't land a left tackle because it had to surrender draft picks in a trade to move up for a quarterback this year, for example, then finding a starter could be harder next year.
What's clear is that finding a left tackle will remain important for Washington. Rivera said he wants to build a sustainable winning culture; for him, that includes a strong offensive line.