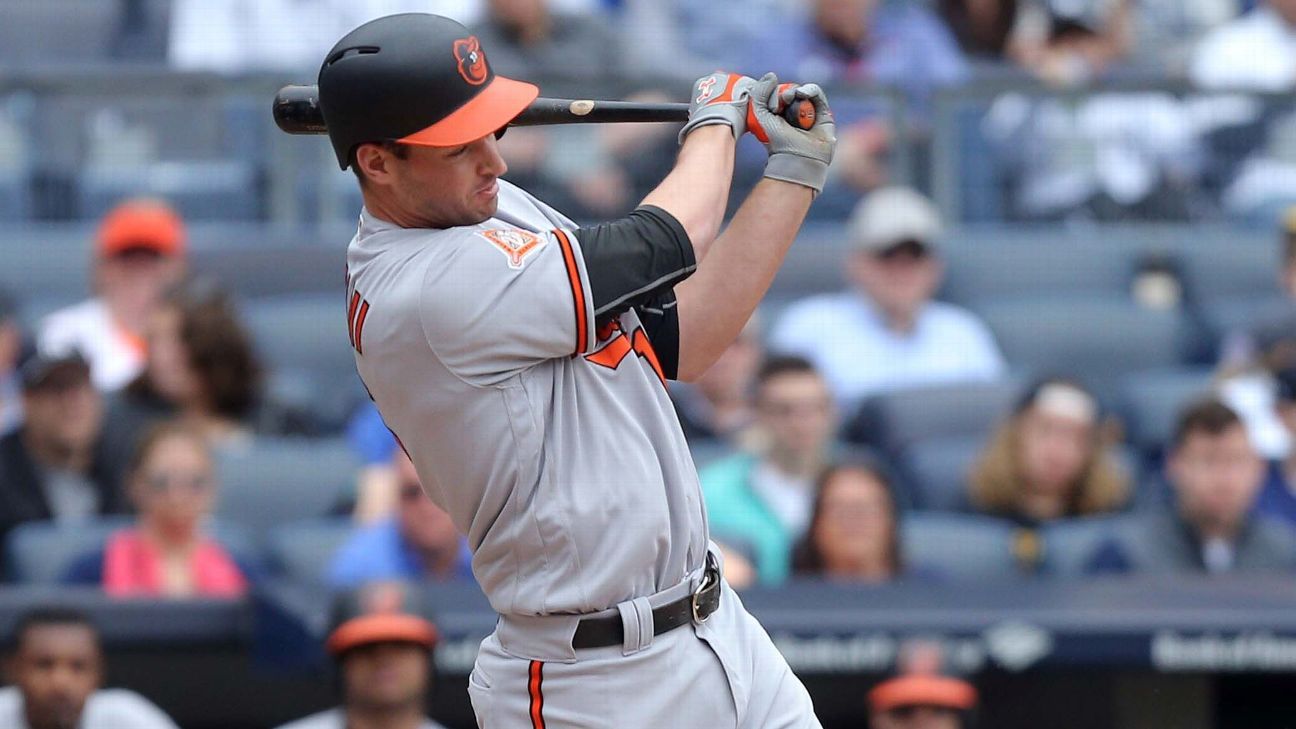 Trey Mancini received a standing ovation and applause from both dugouts Sunday during his first live at-bat after missing the 2020 season while recovering from State 3 colon cancer.
When the Baltimore Orioles first baseman came up in the first inning against the Pittsburgh Pirates, he drew a nice round of applause as he approached the batter's box and waved to the crowd. The cheers kept growing, with pitcher Chad Kuhl stepping off the mound and umpire Will Little cleaning the plate to prolong the salute.
After tipping his cap in acknowledgement of the applause, Mancini then punctuated his return with a single to center in his first spring training at-bat Sunday, against the Pittsburgh Pirates' Chad Kuhl.
"It was amazing," Mancini told reporters when asked about the ovation. "I almost teared up a little bit, I'm not going to lie, when I was up there and everybody gave me a standing ovation and I saw all the guys on the field clapping on the Pirates, clapping in the dugout, our team and all our fans.
"It meant the world to me. It was a really, really cool moment and one of the favorite moments of my baseball career. I think it was a huge day for me, personally, getting back in a game. Just another kind of milestone that I can check off here."
After producing 35 home runs and 97 RBIs for the Orioles in 2019, Mancini seemed primed for even bigger things. But after playing just five exhibitions last year, he needed to end his season to have surgery for colon cancer.
"It's almost a year to the day when I was last in a game, so it definitely felt like a moment where we came full circle a little bit," Mancini, who who turns 29 in a few weeks, said Sunday. "I thought more about everything that happened today than I have in a long time. I've mostly tried to in a lot of ways just move on and not think too much about last year. But today I ran through all the tough days that we had and really tried to appreciate and cherish today."
The Associated Press contributed to this report.
New York Mets-Washington Nationals series rescheduled after coronavirus postponements
WASHINGTON — The postponed season-opening series between the Nationals and Mets has been rescheduled, with two of the games moved to June and the other to September.
A coronavirus outbreak on the Nationals prompted Major League Baseball to scrap the games originally slated to be played in Washington on Thursday, Saturday and Sunday of last week.
Instead, MLB announced Wednesday, one game will be part of a split doubleheader at 1:05 p.m. and 6:05 p.m. on June 19; another will be at 7:05 p.m. on June 28, which had been an off day for both teams; and the last will be Sept. 4 as part of a doubleheader at 1:05 p.m. and 6:05 p.m.
New York Yankees slugger Aaron Judge ruled out with soreness in left side
NEW YORK — Yankees slugger Aaron Judge was held out of New York's lineup Wednesday night with soreness in his left side.
Judge had a homer, three hits and four RBI in a 7-2 win on Tuesday night but wasn't back in the lineup against the O's a day later. New York has a day off Thursday, giving the right fielder a chance to rest on consecutive days.
Manager Aaron Boone said he thought the soreness was from "general wear and tear" over the first few days of the season. He believes the discomfort might stem from when Judge took more swings than normal while serving as designated hitter on Sunday.
"Just don't want to push anything right now," Boone said.
Judge, the 2017 AL Rookie of the Year, missed 142 games spanning 2018-20, going on the injured list at different points for a right wrist fracture, a left oblique strain and twice for right calf strains.
Boone said Judge's current soreness didn't seem specific to the left oblique, instead calling it "general soreness" on that side.
The 28-year-old Judge planned to join the team for pregame stretching, and Boone didn't rule out using him as a pinch-hitter. He also said the right fielder wasn't expected to seek an MRI or other image testing, but he wouldn't rule it out as a possibility.
James Paxton heads to IL as Seattle Mariners await MRI results
SEATTLE — The Mariners placed left-handed starter James Paxton on the 10-day injured list Wednesday with a forearm strain in his pitching arm.
Seattle also put starting left fielder Jake Fraley on the 10-day IL with a left hamstring strain he suffered while making a diving catch in Tuesday's loss to the Chicago White Sox.
Manager Scott Servais said both players underwent MRIs on Wednesday morning and the team was still awaiting results. Paxton left in the second inning after just 24 pitches, grimacing after throwing a 92 mph fastball to Andrew Vaughn. It was the first start of his second stint with Seattle.
"Leaving last night he was a little bit more optimistic that it wasn't anything too serious. I know he woke up today and it's stiff as expected," Servais said of Paxton. "Really, it's hard to speculate until you know exactly what's going on there and the only way you're going to know is you get the reading on the MRI."
Seattle recalled outfielder Braden Bishop and right-hander Ljay Newsome from its alternate training site to take the roster spots of both players. Newsome will move into the bullpen and Nick Margevicius will take Paxton's spot in the starting rotation. Margevicius threw 3 2/3 innings of relief after Paxton was injured.
Fraley had just one hit in 10 at-bats to begin the season, but had reached base eight times via walk. There were fans clamoring for top prospect Jarred Kelenic to be called up to take Fraley's spot, but Servais said the team is remaining patient with the development of Seattle's younger players.
"You don't want to just all of a sudden derail everything and something you firmly believe in because now there's a roster spot open or you need to fill it or whatnot," Servais said. "I don't think that's good development strategy at all so we stick with the plan there."