The New York Yankees finally crossed off the top item on their to-do list, agreeing with second baseman DJ LeMahieu on a six-year, $90 million contract. The deal keeps the 2020 batting title winner in the Bronx through 2026, his age-32 though age-37 seasons.
Here are some thoughts on the signing and what might be next for the Yankees:
LeMahieu is kind of both overrated and underrated. Much of the discussion during the offseason has been how the Yankees have to sign LeMahieu, like he's one of the greatest Yankees of all time. I never bought into that as the Yankees had options in play, as they could have slid Gleyber Torres to second base and signed one of the shortstops on the free-agent market (Marcus Semien, Andrelton Simmons, Didi Gregorius). Even if that would have been one-year fix, all the other other shortstops that hit free agency next season (Francisco Lindor, Trevor Story, Carlos Correa, Corey Seager, Javier Baez) mean there are other ways they could have found the long-term solution.
Arizona Diamondbacks' Tim Locastro tests positive for COVID-19
SCOTTSDALE, Ariz. — – Arizona Diamondbacks outfielder Tim Locastro has tested positive for COVID-19.
Manager Torey Lovullo said on Wednesday that Locastro tested positive on Tuesday night and would be out for 10 days unless there had been a false positive. Lovullo added that Locastro feels good and currently has no symptoms.
The 28-year-old Locastro is expected to have a sizable role with the Diamondbacks this season, either as the starting center fielder or a versatile backup outfielder. He hit .290 last season with two homers and four stolen bases in 33 games.
"He's doing good," Lovullo said. "I got the information last night, spoke to him this morning and he's in the protocol and feeling fine."
Lovullo said he had "minimal concern" that Locastro's positive result would lead to widespread COVID-19 issues on the roster. Catcher Stephen Vogt missed a few days early in camp because of a positive COVID-19 test result but has since returned.
Can't comment on Mickey Callaway during MLB investigation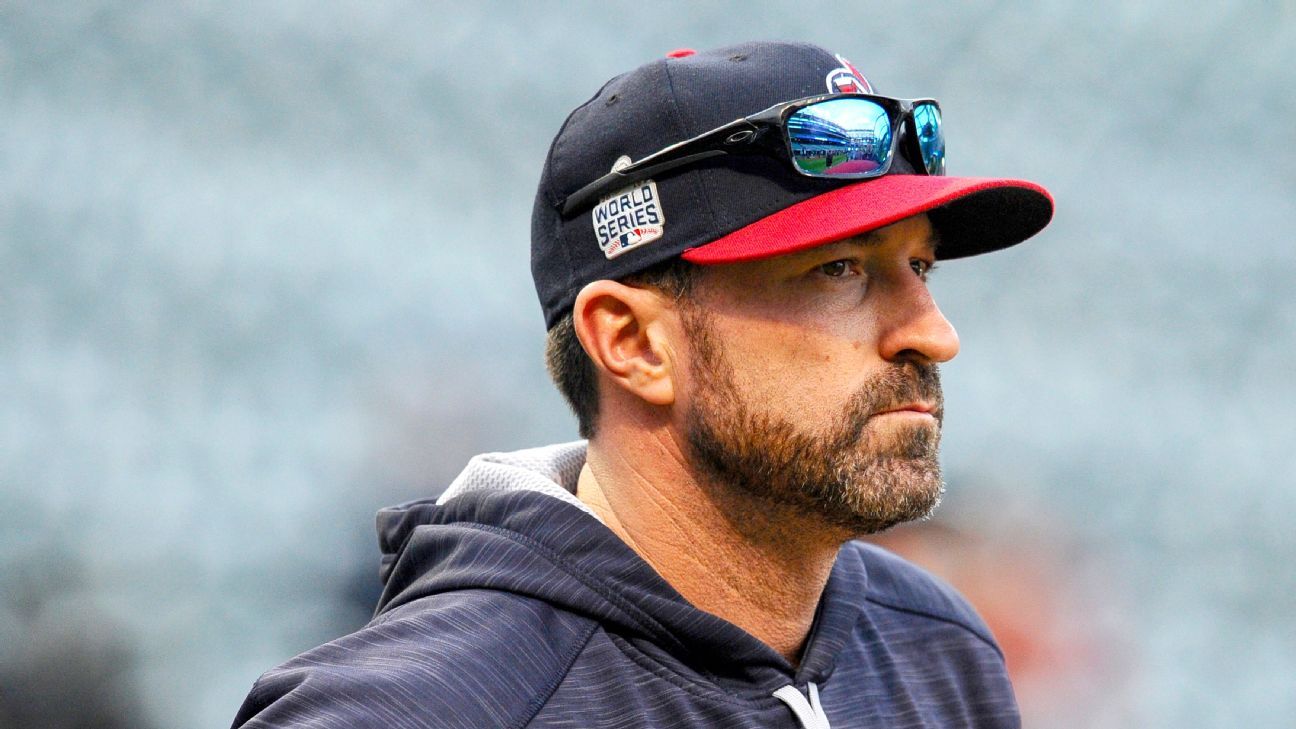 CLEVELAND — Indians president of baseball operations Chris Antonetti said Wednesday that he couldn't comment on his previous remarks about Mickey Callaway's conduct due to Major League Baseball's ongoing investigation into sexual harassment allegations against the team's former pitching coach.
Antonetti joined Terry Francona for the manager's Zoom availability from training camp in Arizona, a day after a story by The Athletic said several former Indians employees had come forward in the past month to say the team's front office was aware of Callaway's behavior.
The unidentified employees responded to Antonetti's public comments on Feb. 4 that he didn't know about Callaway's lewd actions until he read a previous Athletic story.
At the time, Antonetti said "there had never been any complaints against Mickey in his time with us, either to me or to our human resources department or other leaders."
Antonetti was asked Wednesday if he stood by his earlier comments.
"I very much want to answer that," he said. "At this point I'm not able to. The last time we talked, the investigation had not yet started, so I had more latitude with what I was able to share. With the ongoing investigation, the most important thing is that the investigation is able to maintain its integrity, its thoroughness, its impartiality.
"And I don't want to do anything that would jeopardize that investigation. As importantly, we look forward to learning what that investigation reveals so we can make sure that we address everything in totality and not in piecemeal."
On Tuesday, Francona said there was no deliberate attempt to cover up for Callaway, who was with the Cleveland team from 2010 to 2017 — serving as the pitching coach for five years — before he was hired as manager of the New York Mets.
Callaway has been suspended as the Los Angeles Angels pitching coach, pending the outcome of MLB's investigation.
Antonetti said he should have been the one to deliver the team's message Tuesday, not Francona. He reiterated that the team is "fully cooperating with the investigation."
In the most recent story, the husband of a woman who had an extramarital affair with Callaway contacted the Cleveland team multiple times to complain about his behavior in 2017. Callaway told The Athletic that "any relationship in which I was engaged has been consensual, and my conduct was in no way intended to be disrespectful to any women involved.″
One Cleveland employee told The Athletic that Callaway's behavior was "the worst-kept secret in the organization."
Antonetti, who has been with the Cleveland organization since 1999, said the team has already taken steps toward "building an inclusive culture."
Former Baltimore Orioles manager Joe Altobelli dies at 88
Former major league manager Joe Altobelli, who guided the 1983 Baltimore Orioles to a World Series title, has died at the age of 88, the team announced Wednesday. He was 88.
"The Orioles are saddened to learn of the passing of former manager Joe Altobelli, who led Baltimore to a World Championship in 1983, his first season at the helm," the team said in a statement posted to Twitter. "A tremendous leadder, Altobelli's compassion, skill, and baseball expertise contributed to the Hall of Fame careers of Eddie Murray, Jim Palmer, and Cal Ripken, Jr. We send our sympathies to Altobelli's family and many friends throughout the game."
In addition to the Orioles, Altobelli also managed the San Francisco Giants (1977-79) and the Chicago Cubs (1991). He had a career record of 437-407.
He reached the major leagues as a player with the Cleveland Indians and Minnesota Twins.