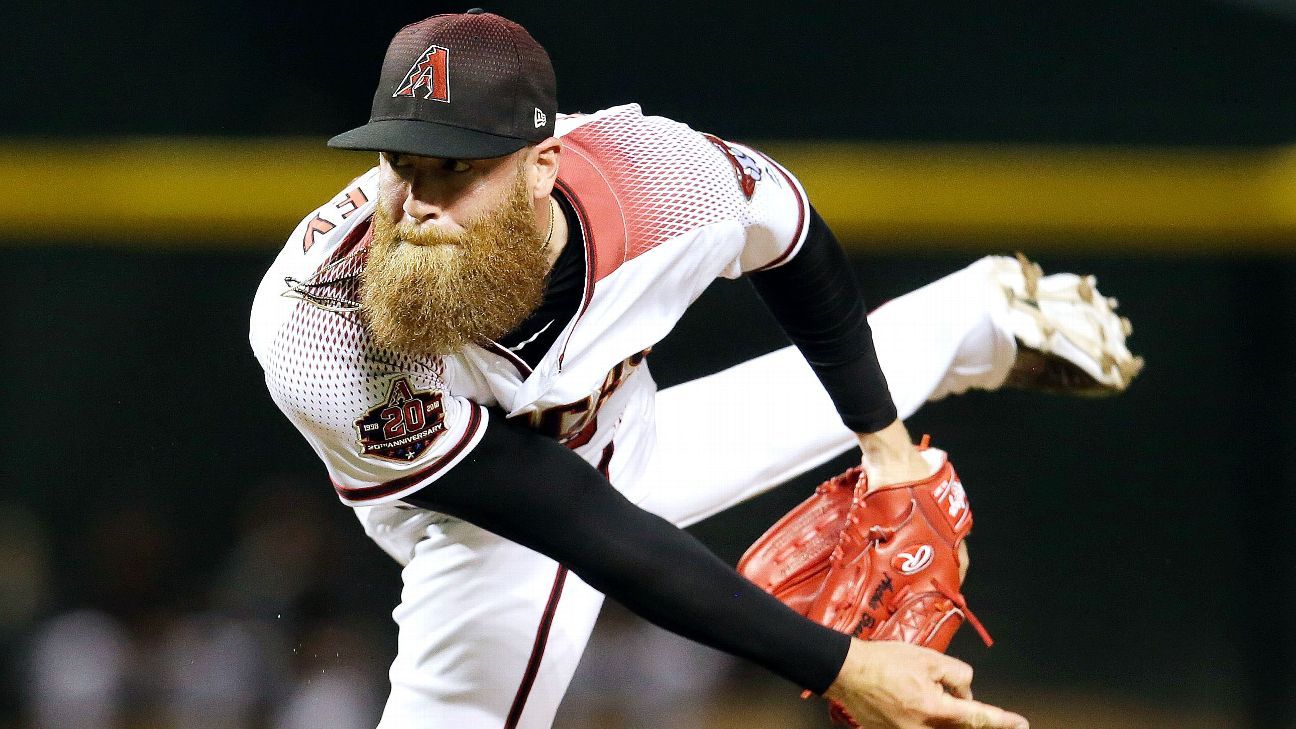 Relief pitcher Archie Bradley has reached a one-year, $6 million deal with the Philadelphia Phillies, sources confirmed to ESPN on Thursday.
Bradley was not re-signed by the Cincinnati Reds after he was acquired in a midseason trade with the Arizona Diamondbacks. The right-hander pitched well in his six regular-season appearances with Cincinnati, giving up just one run over 7⅔ innings. He allowed the deciding run in Game 1 of the team's National League wild-card series against the Braves, which Atlanta won 1-0 in 13 innings.
Overall, he was 2-0 with a 2.95 ERA with 18 strikeouts in 16 appearances between the two teams. He entered the majors as a starter with the Diamondbacks, starting 26 games in 2016, before moving to the bullpen the following seasons. He has 28 career saves and a 3.91 ERA in 255 appearances since entering the majors in 2015.
The agreement between the Phillies and Bradley was first reported by Sportsnet.
Vi Ripken, matriarch of famed Baltimore Orioles family, dies at 82
ABERDEEN, Md. — Vi Ripken, matriarch of the famed Orioles family that includes Hall of Fame son Cal Ripken Jr., has died. She was 82.
Family spokesman John Maroon said Sunday that she died on Friday, a day before her birthday, in Aberdeen, where a youth stadium carries the Ripken name.
Violet and Cal Ripken Sr. married in 1957, and he spent four decades in the Baltimore system as a player, minor league coach and manager. He managed the Orioles in 1987 and early 1988, when sons Cal Jr. and Billy played infield for him.
She also made headlines in 2012 after being the victim of a bizarre kidnapping. Police said she was kidnapped at gunpoint at her home in Aberdeen and driven around blindfolded by her abductor. She was found bound and unharmed about 24 hours later in her car near her home. The case was never solved.
Vi Ripken was involved for many years in local and charitable organizations in the Maryland area.
"We are deeply saddened to learn about the passing of Vi Ripken," the Baltimore Ravens said in a statement. "The Ripkens are engrained in the fabric of the greater Baltimore community, and Vi played a significant role in helping establish their family's strong legacy. We extend our heartfelt condolences to her children and grandchildren during this sorrowful time."
She is survived by sons Cal Jr., Billy and Fred and daughter Elly. Grandson Ryan Ripken, a minor leaguer in the Baltimore system, played Sunday in the Orioles' exhibition game against Pittsburgh.
Cal Sr. died in 1999.
The Associated Press contributed to this report.
Baltimore Orioles' Trey Mancini gets standing ovation, singles in return from cancer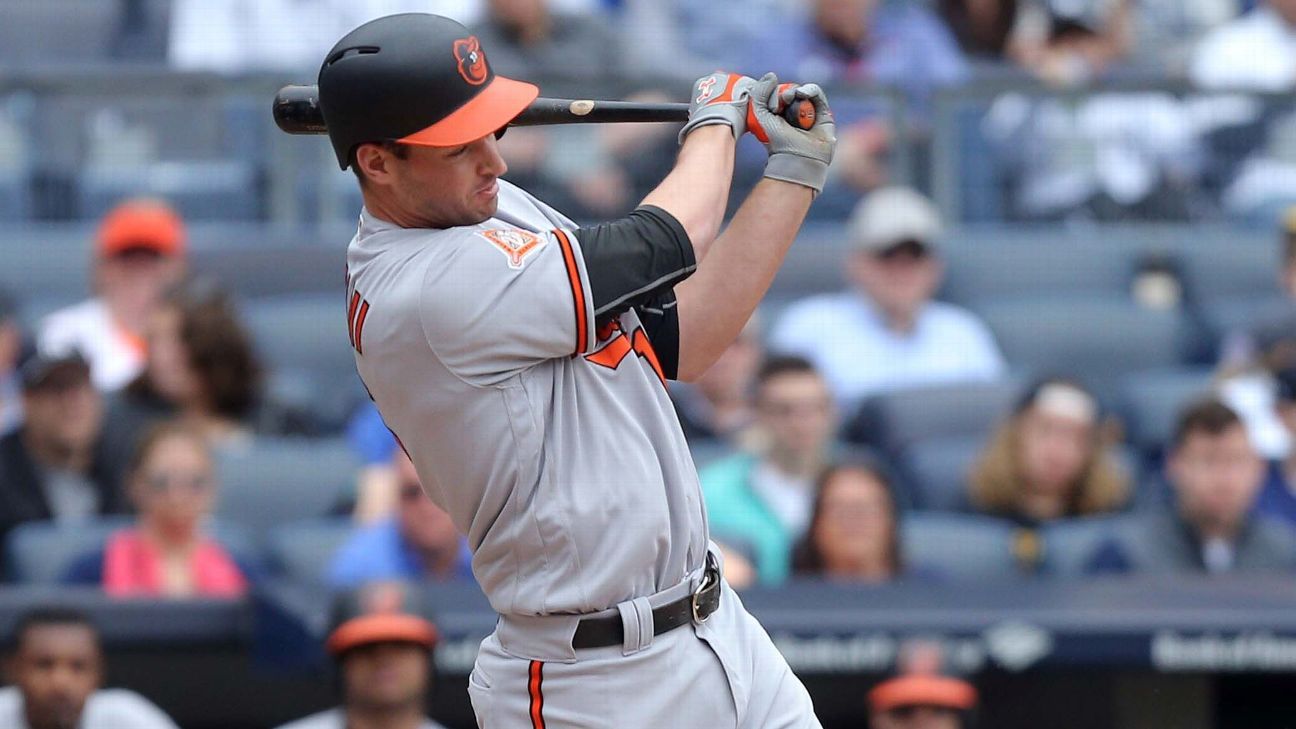 Trey Mancini received a standing ovation and applause from both dugouts Sunday during his first live at-bat after missing the 2020 season while recovering from State 3 colon cancer.
When the Baltimore Orioles first baseman came up in the first inning against the Pittsburgh Pirates, he drew a nice round of applause as he approached the batter's box and waved to the crowd. The cheers kept growing, with pitcher Chad Kuhl stepping off the mound and umpire Will Little cleaning the plate to prolong the salute.
After tipping his cap in acknowledgement of the applause, Mancini then punctuated his return with a single to center in his first spring training at-bat Sunday, against the Pittsburgh Pirates' Chad Kuhl.
"It was amazing," Mancini told reporters when asked about the ovation. "I almost teared up a little bit, I'm not going to lie, when I was up there and everybody gave me a standing ovation and I saw all the guys on the field clapping on the Pirates, clapping in the dugout, our team and all our fans.
"It meant the world to me. It was a really, really cool moment and one of the favorite moments of my baseball career. I think it was a huge day for me, personally, getting back in a game. Just another kind of milestone that I can check off here."
After producing 35 home runs and 97 RBIs for the Orioles in 2019, Mancini seemed primed for even bigger things. But after playing just five exhibitions last year, he needed to end his season to have surgery for colon cancer.
"It's almost a year to the day when I was last in a game, so it definitely felt like a moment where we came full circle a little bit," Mancini, who who turns 29 in a few weeks, said Sunday. "I thought more about everything that happened today than I have in a long time. I've mostly tried to in a lot of ways just move on and not think too much about last year. But today I ran through all the tough days that we had and really tried to appreciate and cherish today."
The Associated Press contributed to this report.
San Diego Padres OF Tommy Pham lucky to be playing again after stabbing
SAN DIEGO — Tommy Pham knows how lucky he was to be in the starting lineup for the San Diego Padres in their spring opener on Sunday, 4½ months after he was stabbed in the lower back during an altercation in the parking lot of a strip club.
It could have been much worse.
"The cut's deep. The doctor here basically told me if I wasn't so muscular, I might be dead or paralyzed," the left fielder said during a videoconference with reporters from Peoria, Arizona.
"I'm lucky. I'm lucky to even be able to play."
As he was being rushed to the hospital in an ambulance on Oct. 11, three nights after the Padres were eliminated from the playoffs, Pham was on the phone with general manager A.J. Preller and trainer Mark Rogow.
"I thought I wasn't going to be able to play," Pham recalls telling the club officials.
"When I got the CT scan, the doc was like, 'I've got great news for you. You can play.' She just said it's going to be a little bit of a recovery."
Pham said late last year that he needed 200 stitches to close the gash. A video posted online showed the lower part of his white shirt soaked in blood.
The San Diego Police Department is still investigating, and no arrests have been made.
Preller said Sunday that "obviously it's not the type of news you're expecting, ever, that type of phone call."
Preller said Pham was "just matter of fact in terms of talking about what happened. The biggest focus for us was just making sure that we were in a position to get our doctors on the case and try to make sure we were being smart to give him every possible advantage in the care he needed at that point."
Preller said the first thing that stood out "is how lucky he was, when you're talking about a stab wound really in any area, but that was as deep and extensive as it was. If it was a centimeter in either direction, maybe a different outcome. Once we got past that hurdle, with his work ethic and the way he attacks things and gets in the gym and takes care of himself, he was going to give himself every possible opportunity to come back.
"He's in great shape. Obviously he had some different injury stuff last year. I think he's ready to go."
Pham said his recovery included bedrest and then he flew to San Francisco every week for about six weeks to get injections of Regenokine to help with the inflammation.
"I worked with a few doctors on getting to where I'm at because it's only been about 4½ months and the timeline is normally a little bit longer," he said.
The injury affects him when he tries to do squats and deadlifts in the weight room.
"My norms aren't there yet. You don't really have to squat a lot or deadlift a lot to be a good baseball player," he said.
After being traded from Tampa Bay Rays to San Diego, the 32-year-old Pham was limited to 31 games during the pandemic-shortened 2020 season due to an injury to his left hand that required surgery in mid-August. He hit .211 with three home runs and 12 RBIs. He hit .375 in the playoffs.
He had another hand surgery in October.
He says he's at about 80%.
"I probably have the most to prove because I had a terrible year," said Pham, who rattled off a number of analytics that were down. "Plus, this is my free agent year as well. So I feel like I have the most to prove."
Pham said his perspective hasn't changed since the stabbing.
"I still look at everything almost the same. If anything, I probably would just spend more money and stop saving as much, because if I died I would feel like I had too much money in the bank and I didn't live enough."