LAKE FOREST, Ill. — The Chicago Bears' never-ending search for a franchise quarterback could have another chapter after general manager Ryan Pace declined to say that the team intends to re-sign 2017 second overall pick Mitchell Trubisky.
"As far as the plan at quarterback, to get to where we want to go, we definitely need more out of that position," Pace said Wednesday after he and coach Matt Nagy were given a vote of confidence.
"Everything is on the table."
Trubisky's future in Chicago has been tenuous ever since the Bears traded for veteran Nick Foles last April and declined Trubisky's fifth-year option a little over a month later.
Trubisky went on to win the starting job over Foles to open the season, but Nagy benched Trubisky, 26, in favor of Foles in Week 3.
An injury to Foles — coupled with ineffective play — opened the door for Trubisky to return to the starting lineup in late November, and he helped Chicago revive its playoff hopes with three straight wins versus Houston, Minnesota and Jacksonville.
The spark that Trubisky provided proved fleeting. The Bears lost at home in Week 17 to Green Bay. Chicago backed into the playoffs and the NFC's seventh seed courtesy of the Rams' victory over the Cardinals in the regular-season finale but then had a dreadful offensive performance in the playoffs versus the Saints.
Overall, the Bears dropped eight of their final 11 games after having begun the year 5-1.
Chicago went 1-7 against playoff teams.
Still, Trubisky expressed a willingness to return to Chicago next season, telling reporters in the aftermath of the season-ending loss to New Orleans that he had "unfinished business" with the team.
That may be so, but the Bears made no promises Wednesday to extend Trubisky or apply the franchise tag. Instead, Pace and Nagy spoke at length about the importance of improving the position that has been a problem for the Bears since Hall of Famer Sid Luckman retired in the 1940s.
In recent times, Pace infamously traded up to draft Trubisky over Patrick Mahomes and Deshaun Watson in 2017. Mere weeks before obtaining Trubisky, the Bears signed free-agent quarterback Mike Glennon to a deal that included $18.5 million in guarantees. The Bears pulled the plug on Glennon after just four starts and were forced to prematurely usher in the Trubisky era.
"Why do we feel strong about getting that position right?" Pace said. "It goes back to the connected vision I share with Matt.
"I just have a lot of confidence in the unity we have as coaching staff and personnel department, but mainly that Matt and I have at attacking that together."
Foles, 31, is the only Bears quarterback under contract for next year. The veteran will count approximately $6.6 million against the 2021 salary cap.
In other news:
• Pace said star pass-rusher Khalil Mack is unlikely to require offseason surgery to repair the shoulder injury that bothered him much of the year. Mack still led the Bears with nine sacks.
• The Bears are hopeful veteran pass-rusher Robert Quinn can have a bounce-back season in 2021. Quinn, who signed a deal last offseason that contained $30 million in guarantees, recorded just two sacks for the Bears. Pace all but conceded that Quinn will return in 2021 — largely because his salary next year is fully guaranteed.
"We expect him to rebound," Pace said. "I think having an offseason being with us, I think that will bode well for him. Together with him and with us and our plan, we have to find a way to help him get more production, and I believe that he will."
• Nagy announced that the search to replace retiring defensive coordinator Chuck Pagano will begin in earnest. Nagy does not believe Chicago's current predicament will prevent outside parties from having interest in the position. Nagy has two years left on the five-year contract he received to coach the Bears. Pace has one year left on the three-year extension he signed in 2018. Bears CEO and president Ted Phillips said neither Nagy nor Pace received any additional years on their contracts after Chicago's 8-9 finish.
• Pace remained noncommittal about the future of wide receiver Allen Robinson, who will be a free agent unless the Bears use the franchise tag. The Bears and Robinson's agent were unable to come to terms on a long-term deal during the season, and talks eventually broke off. Robinson, 27, led the team with 102 catches for 1,250 yards.
"You know how we feel about Allen, how respected he is in the building," Pace said. "But to get into specifics on his contract, you guys also know I'm not going to get into that. In regard to the franchise tag, I would just say everything is on the table. The league gives us tools for a reason, but right now we're just going to keep all those talks internal out of respect to Allen, out of respect to his agent. I just think those are best handled in a private manner."
• Nagy punted when asked whether he intended to reclaim offensive playcalling duties next season. Nagy insisted that offensive coordinator Bill Lazor served as the team's primary playcaller for the final eight games. Nagy, however, declined to say whether he plans to carry over the arrangement into next year.
Sources — Philadelphia Eagles to interview Los Angeles Rams DC Brandon Staley for head coaching job
Los Angeles Rams defensive coordinator Brandon Staley, who has the Green Bay Packers waiting for him in Saturday's Divisional Playoff, also has the Philadelphia Eagles waiting for him whenever this season ends, per league sources.
The Eagles already have received permission to interview Staley at the appropriate time, which could be as early as Sunday if the Rams don't advance, per sources. Staley will join the list of head-coaching candidates the Eagles already are considering as they have spent their week conducting interviews.
The Eagles are drawn to Staley and the reputation he has built during his year as Sean McVay's defensive coordinator in Los Angeles, as well as the skills he has demonstrated in Denver under Broncos head coach Vic Fangio.
The Eagles are not the only team interested in Staley. The Houston Texans also have received permission to interview Staley, and there's a connection there.
Staley coached at John Carroll University, where new Texans general manager Nick Caserio also attended. The two have a strong relationship and perhaps Caserio's presence could help draw Staley to Houston.
But the Eagles want to talk with Staley; they have made that known. He is one of their top candidates and, depending on what happens Saturday, could have a chance to soon meet with the NFC East team looking to fill the head coaching vacancy it created last week when it fired Doug Pederson.
From drive-ins to outdoor setups, Buffalo Bills fans find ways to watch playoff games – Buffalo Bills Blog
BUFFALO, N.Y. — This has been a weird 2020 NFL season.
There aren't many other ways to put it, particularly for Buffalo Bills fans, as the coronavirus pandemic has kept them from witnessing the team's playoff run in person until last weekend. While 6,772 fans will be inside Bills Stadium to see the team's AFC divisional-round game Saturday against the Baltimore Ravens (8:15 p.m., ET, NBC), the rest will have to get creative.
The Transit Drive-In, a Buffalo-area theater, has opened its gates for viewings of Bills games in the past and plans to do so Saturday.
But even as fans find new ways to enjoy Bills games in lieu of the trademark tailgates around the stadium — including a block party in downtown Buffalo — some have opted for a more relaxed approach at home. With a state-imposed 10 p.m. curfew in effect for outdoor dining at bars and restaurants (and even concession stands in Bills Stadium), they don't have much of a choice.
Ken Obstarczyk hoped to travel with the team this season after witnessing the Bills' wins in Dallas and Pittsburgh in 2019, but those plans wilted once the realities of the 2020 season set in. He used to have season tickets with his father, also named Ken, but that has evolved into a trip to his dad's house in Williamsville, New York, and a day full of beverages and Bills football.
"We were saying that out of all the years the Bills are supposed to be a solid team and do great things, they do it in a year where no one can actually witness it," he laughed. "The Bills-iest thing to do would be to actually win the Super Bowl and have everyone not be able to celebrate."
Obstarczyk figured it was only right to spend last Saturday's game, the Bills' first home playoff game in 25 years, with the same man he has watched "so many awful games" with.
It went smoothly for the most part — until that all-too-familiar feeling crept in as Indianapolis mounted a comeback toward the end of Buffalo's 27-24 win against the Colts.
"You get to that moment where, it's a 'Buffalo moment,'" he said. "[The Colts] started crawling back, [Bills QB] Josh Allen fumbles at the end and it's like, 'is he making that mistake that everybody wants him to make?' [Buffalo] managed to pull it off, it was a great experience, and I was glad I was with my dad and able to experience that with him."
Like the Obstarczyks, Jason Hahl did the same from his home in East Aurora, New York; well, outside of his home, technically.
Hahl said he has set up an outdoor television to watch games so frequently that it now has an increasingly permanent spot in his dining room between game days — for ease of access, in lieu of bringing it all the way back to the basement.
• Divisional round: Matchups, X factors »
• Keys to victory for all eight teams »
• Experts predict upsets, more »
• Schedule, brackets, TV times »
Sometimes he'll be by himself, other times he will have a few people with him, but Hahl has watched nearly every Bills game this season via his outdoor setup. He said he doesn't care how cold it is, either, although sometimes he'll build a fire, when necessary.
However, last weekend Hahl was forced to put a canopy up, and not because of the temperature, which was just above freezing.
"It was so sunny that you actually needed a canopy to protect from the glare," he said. "We could barely see the TV, so we put a canopy up in January because it's too sunny."
If he can't be at games, spending game days outdoors feels like the next best thing. Turns out, he's not the only one in his neighborhood with the idea.
Hahl said he has heard his neighbors doing the same, especially during the Bills' past few games — although their celebrations have been a bit staggered.
"Because everybody's streaming the game through a different service, you will hear one family erupt and scream, then another," he said. "It's kind of going off like fireworks around you because of the delay between plays. It's another interesting outdoor pandemic phenomenon."
Sources — Buffalo Bills OC Brian Daboll emerges as a favorite to land Los Angeles Chargers' head coaching job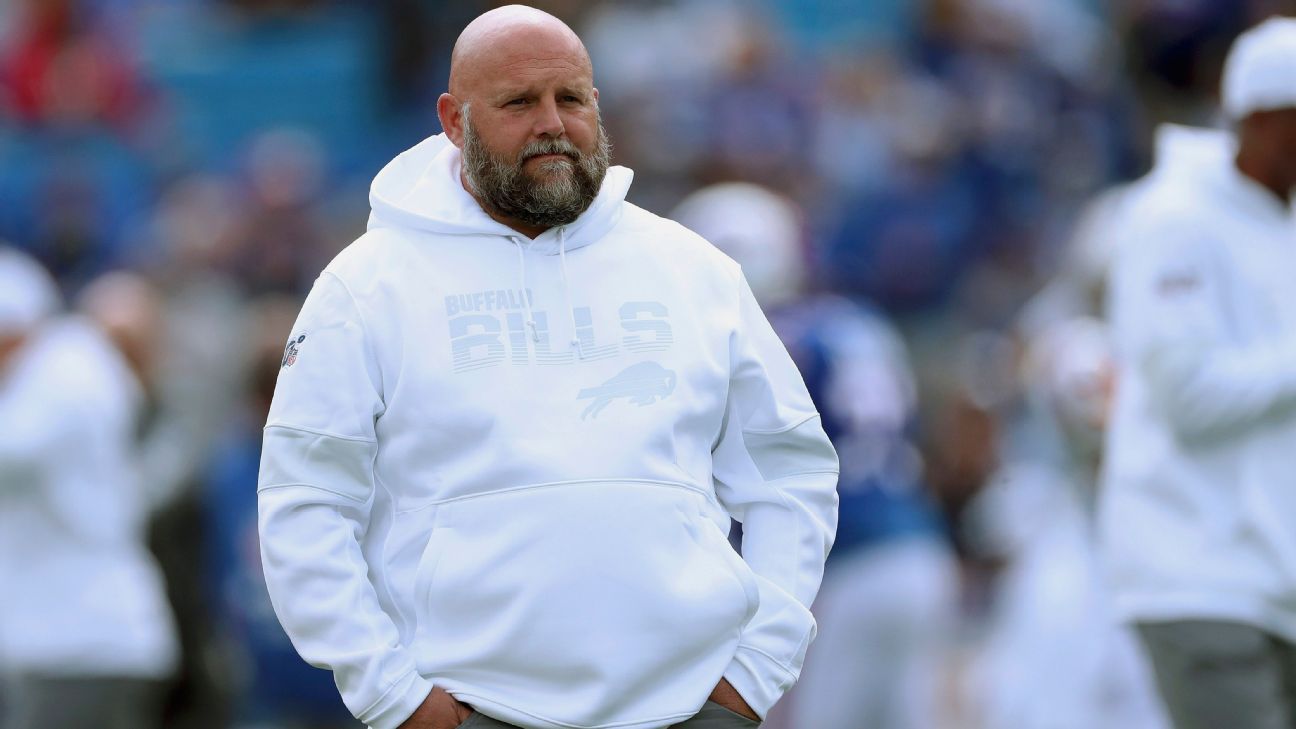 Buffalo Bills offensive coordinator Brian Daboll has emerged as a favorite to land the Los Angeles Chargers' head coaching job, per league sources.
Daboll is one of nine candidates who has interviewed for the job, and the Chargers are plotting the next steps in their process, which will be influenced by the result of Saturday night's Divisional Playoff game between the Ravens and Bills.
If the Bills lose, Daboll can meet with the Chargers whenever he wants and accept their head coaching job if offered. If the Bills win, the Chargers must wait for Daboll to be finished with the postseason before they negotiate.
Daboll would fit many of the traits that the Chargers are looking for in their next head coach. He is an offensive-minded coach, learning under some of the best coaches of all-time, and has helped elevate the game and production of Bills quarterback Josh Allen. Daboll would be expected to do the same of Los Angeles quarterback Justin Herbert.
Plus, there is a great familiarity. Daboll went to St. Francis High School in Buffalo with Chargers' general manager Tom Telesco. The two played on the same high school football team, with Daboll two grades behind Telesco. Daboll was a hard-hitting safety and Telesco was a wide receiver and cornerback.
From their time together in Buffalo, both men followed different paths. Daboll went on to learn his craft at the feet of Bill Belichick in New England and Nick Saban at Alabama before returning home to Buffalo, where he has helped the Bills' offense become one of the best in the league.
Telesco went from St. Francis to learn under former Colts' general manager Bill Polian before landing the Chargers' general manager job.
Now Daboll and Telesco could be teammates again on the opposite coast, in Los Angeles, still trying to win together.