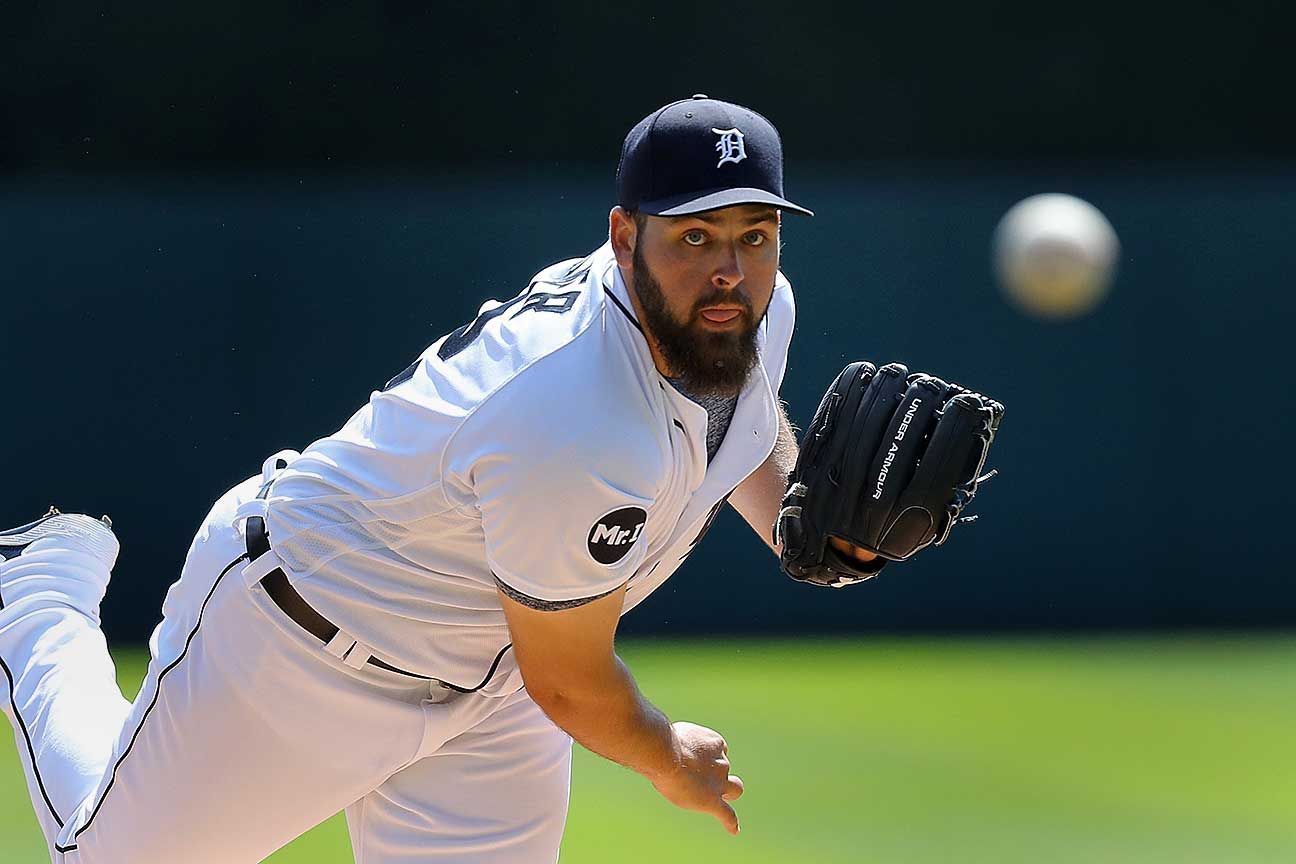 DETROIT — Right-hander Michael Fulmer and the Detroit Tigers agreed Tuesday to a $3.1 million, one-year contract that avoided arbitration.
The 2016 AL Rookie of the Year went 0-2 with an 8.78 ERA in 10 starts last season after missing all of 2019 because of Tommy John surgery. He earned $1,037,037 in prorated pay from a $2.8 million salary.
Eight Tigers remain eligible to swap proposed salaries Friday: right-handers Jose Cisnero, Buck Farmer and Joe Jimenez, left-handers Matt Boyd and Daniel Norris, shortstop Niko Goodrum, third baseman Jeimer Candelario and outfielder JaCoby Jones.
Detroit also announced that Steve Chase has been promoted to major league strength and conditioning coach after 16 seasons working in the organization's player development system. He spent the last six seasons as minor league strength and conditioning coordinator.
Carlos Carrasco says New York Mets are primed for postseason, World Series
NEW YORK — Carlos Carrasco got a welcome call from new Mets owner Steven Cohen.
"He was so excited. He can't wait to meet me. I can't wait to meet him, too," the pitcher said Tuesday. "The way he talked, the way he said everything is — he looked like a really nice guy."
New York has bulked up since Cohen completed his $2.4 billion purchase of New York from the Wilpon and Katz families on Nov. 6. Carrasco is expecting a postseason contender.
"I'm so happy right now. I wish spring training started next week, to meet everyone and start wearing this jersey," Carrasco said during a news conference. "It's something really important for me, just wearing this jersey right now."
Carrasco and All-Star shortstop Francisco Lindor were acquired from Cleveland last week for infielders Andrés Giménez and Amed Rosario plus a pair of minor league prospects: right-hander Josh Wolf and outfielder Isaiah Greene.
A right-hander who turns 34 in March, Carrasco missed three months of the 2019 season while fighting leukemia. He pitched through the coronavirus pandemic, going 3-4 in 12 starts with a 2.91 ERA, his best since a career-best 2.55 ERA when he split 2014 between Cleveland's rotation and bullpen.
"The first time that I found out that I had leukemia, I just think about it for 10 seconds, the worst thing," he recalled. "But after that, I just always had my wife on my side and she told me, 'You're going to be fine. From day one to even now this morning, your fine, you don't have anything.′ And that's what I needed to hear."
A positive thinker, Carrasco said that has been a key to his return to health.
"Just given to the simple, of just being strong," he said. "I never feel down. I always think about it a different way. I have kids. I have a wife. My parents, friends, I don't want them to see me sad. I always be strong and that's what I've been feeling right now. I'm feeling really strong about that."
Carrasco joins two-time NL Cy Young Award winner Jacob deGrom and Marcus Stroman in the rotation, which also may include from among David Peterson, Steven Matz and Seth Lugo. Noah Syndergaard is likely to return from Tommy John surgery at some point from June until the season's end.
After going 88-73 with a 3.73 ERA over 11 seasons with the Indians, joins a team seeking its first World Series title since 1986, one that feels it is positioned to contend around its pitching and a core offensive group that includes Pete Alonso and Michael Conforto.
Carrasco will keep his No. 59 in New York and Lindor his No. 12. Winner of Major League Baseball's 2019 Roberto Clemente Award for best exemplifying baseball, sportsmanship, community involvement and the contribution to his team, Carrasco is looking forward to starting community work in the New York area.
New York's offseason has included Stroman accepting an $18.9 million qualifying offer and deals for right-handed reliever Trevor May ($15.5 million for two-years), catcher James McCann ($40.6 million for four years) and Syndergaard ($9.7 million for one season).
"The potential is to make it to the playoffs and to the World Series, too," Carrasco said. "We have a really good team. Adding myself, Lindor is going to be really, really good, really nice. We have really good players, starting pitchers, relievers, I think we're going to be fine."
Pitcher Corey Kluber hopes bullpen session shows he's healthy after 2 lost seasons
Free agent Corey Kluber is out to prove he's healthy, as the right-hander prepares for a bullpen session in front of major league teams on Wednesday in Florida. The two time Cy Young winner has pitched in just eight games over the last two seasons but says his injuries are a thing of the past.
"I don't have a mindset that I need to prove myself to anyone, so to speak," the 34 year-old said in a phone interview recently. "I just need to show people that I'm healthy. I'm not putting pressure on myself to go out there and do X, Y and Z. It's just about showing teams I'm progressing through a normal offseason."
The 25-30 pitch tryout in front of scouts from about two thirds of MLB teams is necessary for Kluber after three separate injuries helped sideline him over the past two years. He fractured his arm after getting hit by a line drive in a game early in 2019, then was shut down during his rehab due to an abdominal injury. The latest ailment may have been the most frustrating, as Kluber missed all but one inning for the Texas Rangers in 2020 after experiencing a muscle issue in the back of his throwing shoulder. His season ended just as baseball was returning.
"Jumping from intra-squad to a game that matters, probably had something to do with it," Kluber said.
It was a classic pandemic-related injury. Kluber lives in Massachusetts, so when spring training was halted in mid-March, he wasn't exactly sure how to continue his preparation. Throwing against a fence — which is how Kluber kept up his arm strength at first — isn't exactly the ideal way to stay ready. Like all players, his normal routine came to a halt.
"I don't think anyone was really prepared to figure out how to train in that environment," Kluber stated. "Now, having gone through it, I think I have a better idea of how to get the work you need in. It helps to have Eric's place in Massachusetts and in Florida."
Eric is Eric Cressey, pitching guru to a handful of major league baseball players. But his training facility in Massachusetts was closed early on in the pandemic. It's why heading to Florida, where there are fewer restrictions, has been helpful for Kluber and other pitchers. Cressey's Florida facility will be where Kluber's bullpen session for scouts will take place.
"No one had a lot of access to sports medicine resources or hands-on manual therapy or gyms and stuff," Cressey said of the shutdown. "Had this been a longer season he could have come back if the Rangers had been in the mix."
Kluber added: "If we had done this (the tryout) in a state like Massachusetts, where I live, it probably would have been more difficult."
Kluber was already trying to find his best form after the injuries in 2019. Even before the broken arm, his delivery was off, leading to some struggles and a higher than usual ERA (5.80) that season, even though it was compiled in only seven starts. It's why he was excited for 2020 despite the awkward training routine during the shutdown.
"My low moment was after that first inning in Texas just because I had spent over a year working my butt off to get to that point," he said. "One of the things I wanted to make sure that I did while I was hurt (in 2019) was piece together that puzzle and what had gone sideways and how do I get on track. And I think we did that."
The form he showed for that half decade run, when he won two Cy Young Awards, was as good as anyone in the game. According to ESPN Stats and Information, from 2014 to 2018 Kluber struck out 10 or more in 44 games, second in the AL to Chris Sale. Opponents chased his pitches outside the strike zone at a 33% clip, third in baseball. He also threw the fourth-most pitches in the game over that timeframe.
His run came to a halt on May 1, 2019 when he got hit by a line drive off the bat of Miami Marlins third baseman Brian Anderson. It took Kluber until spring training last year to feel good again.
"In the spring of 2020 I got a text from Corey saying he felt like, in the first time in years, he could do whatever he wanted to do with the baseball," Cressey said. "He had some subtle things he needed to be addressed. And he did."
But Kluber never got a chance to showcase it in a big league game. Rangers general manager Jon Daniels was as surprised as anyone when Kluber went down in his first outing for them after coming over from Cleveland before the 2020 season.
"I felt like he was in a really, really good spot, had had really no physical issues at all," Daniels told the Associated Press and other reporters when Kluber was injured in July. "Really no indication that this was coming. He was throwing the ball really well."
And so Wednesday is his next step in his comeback. In his last bullpen session over the weekend, he was sitting between 87-89 mph, right where Cressey thinks he should be at this point in his comeback.
"You don't need to see Corey Kluber go out and throw 95 in the bullpen to know he's back," Cressey said. "He's ahead of everyone else."
One executive, whose team won't be in Florida to watch Kluber, calls him the classic "buy low" candidate.
"He might be a middle of the rotation guy to start the season but you're getting a two-time Cy Young winner," the executive said. "By the end of the year, he could be leading your staff."
Kluber actually thinks he's stronger in certain areas after all the rehab while the rest of his body isn't worn down after two seasons of fluky injuries.
"I didn't have to spend the first month of the offseason piecing things back together," Kluber stated. "But I tried the whole silver lining approach last year. I think I've stopped questioning why after this latest one. It is what it is."
That's been the prevailing thought from many players during the past 10 months. For those on a long term contract, it's less of an issue. For those coming back from injury, like Kluber, while also searching for a team to play for, it hasn't been the easiest of situations to navigate. Kluber admitted he has had moments when he wondered, "What if the pandemic never happened?"
"I spent more time dwelling on it than I should have," he said. "What could I have done differently? It's not going to do me any good to keep thinking, 'What if?' I did as much as possible. I don't think I lacked any preparation in summer camp … I'm in a spot now where I can contribute to a team that's looking to compete."
As for Wednesday, Kluber isn't putting more pressure on himself than he needs to. This isn't a minor leaguer looking for a spring invite. This is a player with a decorated track record.
"I'm confident in throwing whatever pitches and not holding back," he stated. "No hesitancy in going after it. That's the goal more than showing I'm Corey Kluber from whatever year."
Five things Jeff Passan is hearing — White Sox become AL's team to beat, the DJ LeMahieu-Yankees staredown and more
While the trade market has brought most of MLB's headlines this offseason, the Chicago White Sox spending big to land closer Liam Hendriks shows free agency could soon heat up as well.
Here's what Jeff Passan is hearing about Chicago handing out a surprisingly large contract, where Fernando Tatis' contract talks really stand, DJ LeMahieu's future — in New York or elsewhere — and much more.