EAST RUTHERFORD, N.J. — Saquon Barkley's recovery from ACL reconstruction and a meniscus repair in his right knee, following a Week 2 injury that ended the New York Giants running back's 2020 season, is on schedule.
Barkley is back in New Jersey and rehabbing at the Giants' facility. He spent almost a month in Los Angeles after surgery by Dr. Neal ElAttrache.
During his first interview with reporters since the procedure, Barkley explained that the MCL in his right knee healed on its own, without surgery, and that doctors were able to do a full repair on the meniscus.
"They were able to save my meniscus," Barkley said. He later added: "Which is a good thing."
A partial meniscus repair could have left Barkley susceptible to more problems down the line. Instead, Barkley was optimistic about his future.
He wouldn't put a timetable on his return but was clear about his belief that he would be as good or better physically than prior to the injury.
"No doubt in my mind!" Barkley said.
Barkley said he was told that the likelihood of getting back to 100% would be determined by how he attacked the rehab. It was especially important for him to be smart with it in the first six or seven weeks because of the meniscus.
"Then at the end of the day, sometimes they see when you do ACL reconstruction, your ACL becomes 10 times stronger, to be honest," he said.
For now, he just wants to get a little better each day — take the small wins is how he described it on multiple occasions. This isn't something he can rush.
Barkley mentioned consulting with Detroit Lions running back Adrian Peterson and his trainer in the early part of the journey. Peterson has become the standard for ACL comebacks, especially for running backs. He topped 2,000 yards rushing in 2012, a season that began eight months after Peterson underwent reconstructive knee surgery.
Barkley is hoping to follow in those footsteps, but he has to listen to his body and the medical professionals.
"I'm not Superman," he said. "I never viewed myself as Superman."
Barkley is eligible for a contract extension this offseason for the first time. Running backs such as Christian McCaffrey, Dalvin Cook and Alvin Kamara all signed new contracts this past offseason, after their third professional seasons.
"Don't really focus on it. Not really focused on money or anything right now," Barkley said. "I'm really just focused on coming in every single day and be 1 percent better. Whenever that day is, I can come back and be ready for my team."
In the meantime, Barkley has watched closely as the Giants' running game has improved in his absence. With an offensive line that is jelling and the emergence of running back Wayne Gallman, the Giants have the eighth-ranked rushing attack since Week 3.
Barkley had 19 rushes for 34 yards and no touchdowns before injuring his knee while trying to get outside on a run in Week 2 against the Chicago Bears.
"I wish I was able to be part of it," Barkley said of the Giants' current success. They have won three straight and are in first place in the NFC East.
"I'm still part of it, to be completely honest," he said. "That is my mindset. I'm still part of it in a way. To see those guys open up those holes and see the way Wayne is running is amazing. It has really helped the team."
CB Stephon Gilmore doesn't report for New England Patriots' mandatory minicamp, source says
FOXBOROUGH, Mass. — New England Patriots cornerback Stephon Gilmore, the 2019 NFL Defensive Player of the Year, did not report to mandatory minicamp that began Monday, a source confirmed.
Gilmore could be making a statement about his contract, as he is scheduled to earn a base salary of $7 million in 2021.
The Patriots had advanced $4.5 million of Gilmore's 2021 salary to him last year, leading to this year's low figure.
Gilmore, who turns 31 in September, is in the final year of the five-year, $65 million pact he signed with the Patriots as an unrestricted free agent in 2017. The deal included $40 million in injury guarantees and $31 million fully guaranteed at signing.
At the time, a contract with those guarantees and an average of $13 million per season was viewed as a strong deal. The cornerback market has since exploded, with Jalen Ramsey of the Los Angeles Rams topping it with a contract averaging $20 million per season.
Acknowledging they didn't have specifics of the situation, teammates noted Gilmore's absence in the locker room Monday, as well as on the practice field.
"I support my brother. I wish he was here, but I support him all the same," veteran safety Adrian Phillips said. "What he has going, whenever he gets back here, he'll let you know how it went."
Longtime captain Matthew Slater added: "That's a situation I don't want to get too far into, because it's frankly none of my business. Obviously you support all your teammates, whether they are here or not."
Head coach Bill Belichick deflected questions on Gilmore earlier Monday and wouldn't reveal whether he has given him (or any player) an excused absence. Players who don't report for mandatory minicamp can be fined up to $93,085 — which breaks down to $15,515 for the first missed day, $31,030 for the second missed day and $46,540 for the third missed day.
Gilmore partially tore his quad in a Week 15 loss last season, landing on injured reserve.
The Boston Globe first reported Gilmore's absence.
Hamstring forces Jacksonville Jaguars QB Trevor Lawrence out of team drills on first day of minicamp
JACKSONVILLE, Fla. — The Jacksonville Jaguars are being extra careful when it comes to Trevor Lawrence's hamstring.
The tightness that limited Lawrence last week in OTAs reemerged during the first day of mandatory minicamp on Monday, forcing the Jaguars to keep him out of team drills. Coach Urban Meyer said that's likely to happen on Tuesday as well.
"Our trainers and Schotty [passing game coordinator Brian Schottenheimer] are being a little cautious because right now when you're a month out, you yank a hamstring now you're going to miss the early part of the training camp," Meyer said. "That's that one muscle that, you guys have all seen it like I have, you pull a hamstring at this point you're going to miss all your summer conditioning so we're being somewhat conservative on it.
"But he actually could play a game if he had to."
Lawrence did some work off to the side while the rest of the team did their stretches and warm-ups, but he did participate in individual drills and 7-on-7 sessions. He did not participate in 11-on-11 drills.
Lawrence said he would rather be practicing fully, but understands the Jaguars' approach.
"It's been about a week and trying to work it back to full capacity and yeah, it's a little frustrating just not being able to go full speed, but I'm feeling good," Lawrence said. "I'm just trying to not have any more setbacks, so taking it slow. Got some good reps today. So start getting more and more each day this week and kind of work back into it."
The Jaguars have one more day of mandatory minicamp and then break until training camp starts in late July.
Madden NFL 22 teases cover athletes with goats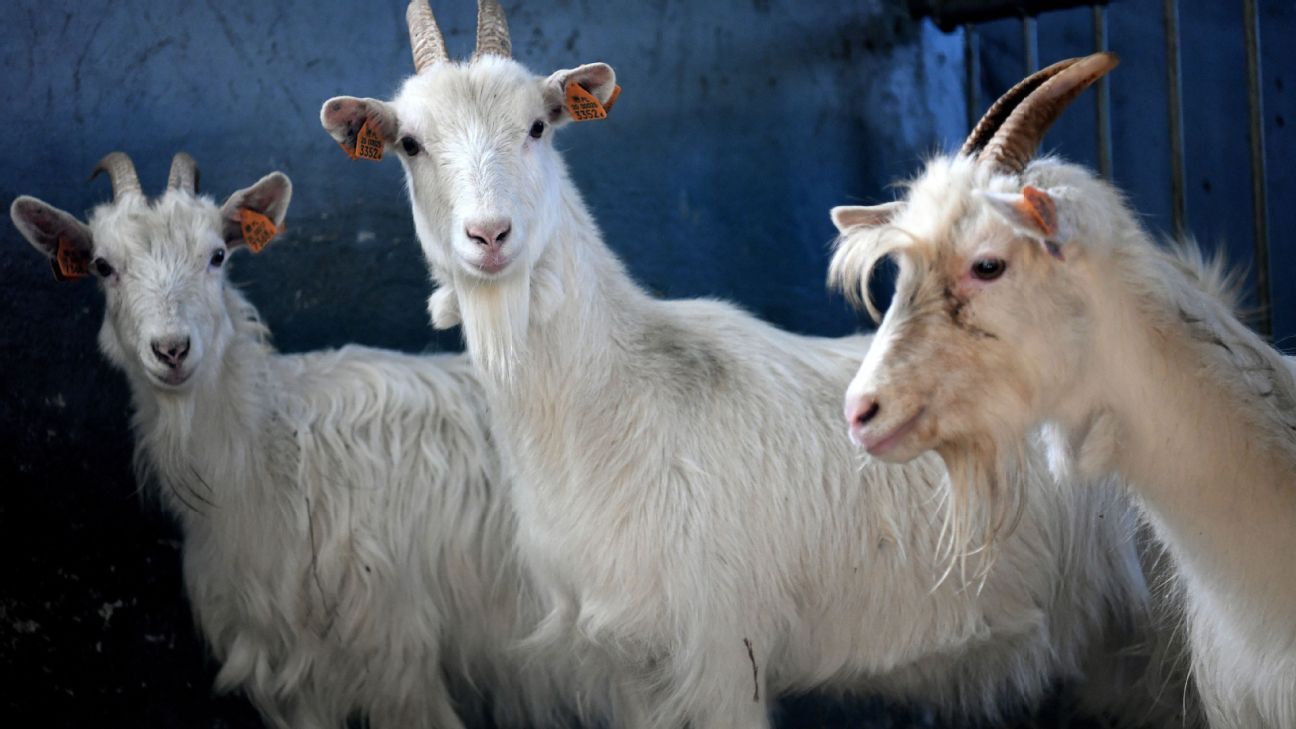 The Madden NFL 22 game cover will be released later this week. The day when we see which superstar nabs the cover is another big date on the NFL's offseason calendar.
To promote this year's cover release, EA Sports is teasing the identity of the athlete with literal goats. Former cover athlete Peyton Hillis interacts with the animals and reacts to the cover.
The video seems to promise two GOAT (greatest of all time) athletes. Given his Super Bowl win last season and his untouchable status as the NFL's greatest QB, it's safe to assume that Tampa Bay Buccaneers QB Tom Brady will be one of the athletes featured.
But who could join him? Could it be Kansas City Chiefs QB Patrick Mahomes, who lost to Brady in Super Bowl LV? Maybe it's a former or current Brady collaborator. Whomever it is, the ungulate ad men in the video aren't saying.
Who do you think will be joining Brady?