MINNEAPOLIS — The Minnesota Twins declined Wednesday to offer a 2021 contract to Eddie Rosario, their regular left fielder for the past six seasons.
The Twins also decided to non-tender reliever Matt Wisler prior to MLB's deadline. They reached one-year deals with five of their arbitration-eligible players: Jose Berrios ($500,000 signing bonus and $5.6 million salary), center fielder Byron Buxton ($5,125,000), reliever Tyler Duffey ($2.2 million), catcher Mitch Garver ($1,875,000) and reliever Caleb Thielbar ($650,000).
Rosario cleared waivers this week, another sign of the economic uncertainty around the industry.
"We very much appreciate everything Eddie has done up to this point. He's been a big part of this team over the last number of years. So those are always difficult decisions. But he was a pro about it," president of baseball operations Derek Falvey said.
Though Rosario and Wisler were the only players on the 40-man roster not offered new contracts, Falvey said the team remains open to negotiating with them as free agents.
The 29-year-old Rosario made $7.75 million last season, batting .257 with 13 homers and 42 RBI with a .792 OPS in 57 games. He hit a career-high 32 homers with 109 RBI in 2019 and was voted the team's most valuable player in 2018, but the club's top prospects are in the outfield. Alex Kirilloff, a 2016 first-round draft pick, is likely ready for an everyday role after landing on the postseason roster. Brent Rooker and Trevor Larnach are close behind.
Rosario, who was eligible for his third and final year of arbitration that likely would have driven his salary over $10 million, became a free agent one season early. With the pandemic putting the squeeze on revenues and payrolls, Rosario, whose career on-base percentage is just .310, was a logical candidate to non-tender.
Wisler was a waiver claim success story for the Twins, posting a 1.07 ERA with 35 strikeouts in 25 1/3 innings after splitting the 2019 season with San Diego and Seattle. He made $725,000 in 2020.
The moves left only one player in the salary arbitration eligibility pool, closer Taylor Rogers, with two more months to reach an agreement before the Twins would be forced to go to a hearing. Rogers took a step back this season, compiling a 4.05 ERA in 21 appearances with nine saves and two blown chances. He made $4.45 million in 2020, after notching 30 saves with 90 strikeouts over 69 innings in 2019.
Berrios, a two-time All-Star, had a 4.00 ERA in 12 starts during the 60-game season to help the Twins win their second straight AL Central title. He made $4,025,000 in 2020.
Buxton battled injuries again but posted a career-best .844 OPS, with 13 homers in 39 games while providing elite defense in center field. He made $3,075,000 in 2020.
Duffey, who turns 30 on Dec. 27, had a career-best 1.88 ERA in 24 innings this year with 13 hits allowed and 31 strikeouts. Over the last two years, the right-hander has been a key late-game cog in Minnesota's bullpen, logging a 2.31 ERA and 113 strikeouts over 81 2/3 innings with 57 hits allowed. He made $1.2 million in 2020.
Garver and Thielbar entered their first year of arbitration eligibility. After a breakout 2019 season with 31 homers in 93 games, Garver slumped in 2020 and spent much of the summer on the injured list.
In addition to Rosario and Wisler, the Twins have a long list of notable free agents: designated hitter Nelson Cruz, starting pitchers Jake Odorizzi and Rich Hill, multi-positional player Marwin Gonzalez, relievers Sergio Romo and Tyler Clippard, and backup catcher Alex Avila. Relief pitcher Trevor May signed with the New York Mets.
Chicago Cubs' Zach Davies, three relievers combine for MLB's 7th no-hitter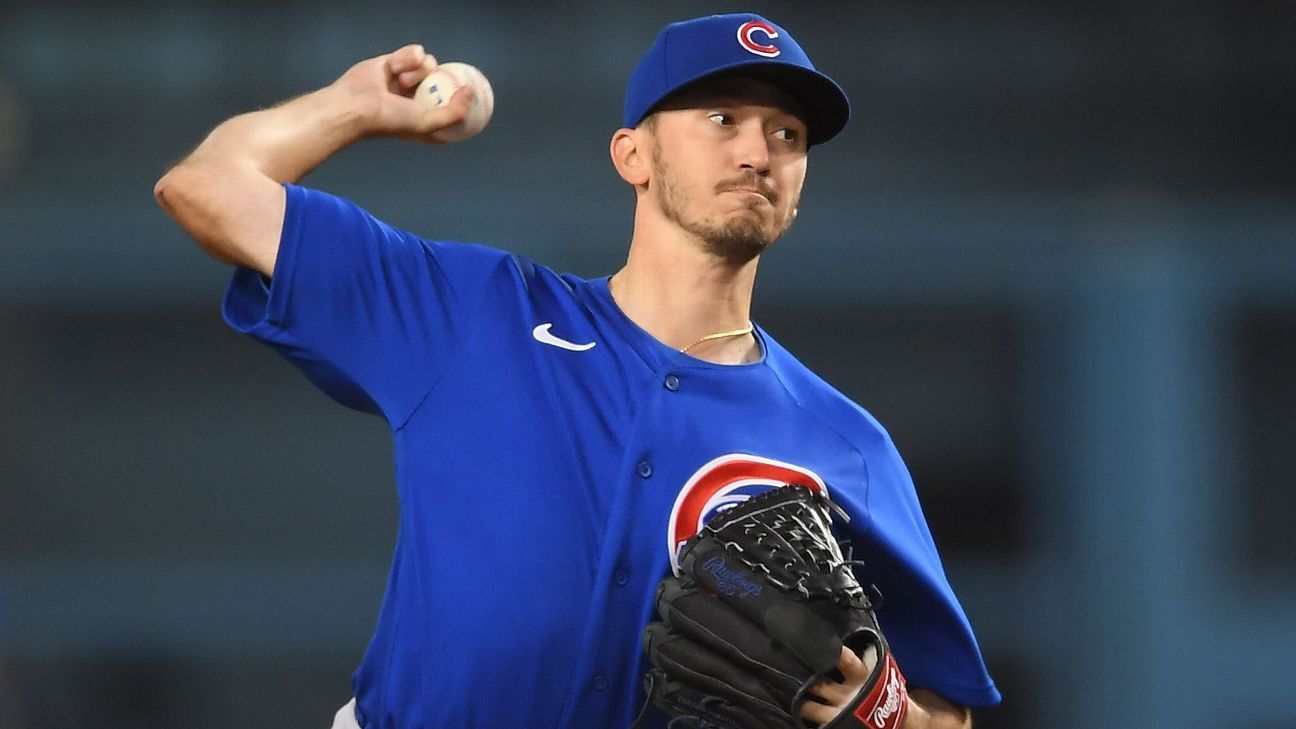 The Chicago Cubs threw their first combined no-hitter in franchise history as four pitchers shut down the Los Angeles Dodgers 4-0 on Thursday night.
It's the seventh no-hitter in baseball this season, the most ever before July 1.
Zach Davies pitched the first six innings on Thursday without giving up a hit, but he was pulled for a pinch hitter in the top of the seventh inning after 94 pitches.
Righty Ryan Tepera pitched a clean seventh inning, and lefty Andrew Chafin did the same in the eighth. After walking the leadoff hitter in the ninth, closer Craig Kimbrel finished off the 17th no-hitter in Cubs' history, striking out Cody Bellinger, Albert Pujols and pinch hitter Will Smith.
The Cubs walked eight batters, the most walks in a no-hitter since the Diamondbacks' Edwin Jackson walked eight in a 149-pitch no-hitter against the Rays in 2010.
Davies went into the game with a 4.66 ERA and 1.49 WHIP. He walked five batters in the first four innings but stranded them all. He set the Dodgers down in order over his final two innings.
Javier Baez and Willson Contreras provided the offense for the visitors, as they both took Dodgers starter Walker Buehler deep. The Cubs handed him his first loss since Sept. 21, 2019.
It's the sixth time in the past 50 years a defending World Series champion has been no-hit. It's the first time the Dodgers were no-hit since the Cubs did it to them in 2015 with Jake Arrieta on the mound. He starts against them on Friday.
Tampa Bay Rays' Kevin Kiermaier ends combined no-hit bid after Boston Red Sox pull Nick Pivetta
ST. PETERSBURG, Fla. — Kevin Kiermaier broke up a combined no-hit bid by the Boston Red Sox with a one-out double in the eighth inning and Manuel Margot scored on a wild pitch in the ninth to give the Tampa Bay Rays a 1-0 victory Thursday night.
Margot got Tampa Bay's second hit, a two-out single in the ninth off Matt Barnes (3-2). He stole second and went to third on a throwing error by catcher Christian Vazquez.
Joey Wendle was intentionally walked, and Margot dashed home on Barnes' wild pitch with Francisco Mejía batting.
Kiermaier lined his opposite-field double to left off Darwinzon Hernandez, the third Red Sox pitcher. The Gold Glove center fielder also threw out a runner at the plate in the seventh.
"It was a tied ballgame," Kiermaier said. "We were just trying to stay the course and try and get something going."
Boston starter Nick Pivetta was pulled with a runner on second and two outs in the seventh after throwing 100 pitches. His career high is 116.
"To be honest with you, it was the right call. It made the most sense," said Pivetta, who wanted to stay in the game. "We're all about winning."
Pivetta finished with eight strikeouts, two walks and one hit batter. He joined Babe Ruth, on May 20, 1916, against the St. Louis Browns, as the only Red Sox pitchers to be removed with a no-hitter after six or more innings.
"It was amazing," Boston manager Alex Cora said. "He was into it."
Boston was trying to throw the seventh no-hitter in the majors this season. That would have matched 1990, 1991, 2012 and 2015 for the most since 1900, one shy of the record eight in 1884 — the first season overhand pitching was allowed.
Despite a tough loss that dropped the Red Sox a half-game behind first-place Tampa Bay in the AL East, Cora saw a lot of positives.
"A lot of people, they didn't believe in this team before the season," he said. "I think the way we played against these guys tonight shows how good we are. We have a lot of work to do, we know that. We belong in the conversation, we really do."
"It's going to be a fun summer in Boston," Cora added.
Tampa Bay starter Michael Wacha, who took a no-hitter into the fifth, allowed one hit and two walks in five innings. He had seven strikeouts.
The Associated Press contributed to this report.
Follow Live: Cubs' Zach Davies working on no-hitter in Los Angeles