The Detroit Lions placed starting cornerback Desmond Trufant and defensive tackle Danny Shelton on injured reserve Wednesday, taking two starters away from interim head coach Darrell Bevell as he prepares for his first game as a head coach.
Trufant injured his hamstring on Thanksgiving against Houston — the third time he's hurt a hamstring this season and the second time he has landed on injured reserve. Shelton suffered a knee injury in the loss to the Texans as well.
Both signed with Detroit this offseason, and considering the potential for a complete regime change after the firings of general manager Bob Quinn and head coach Matt Patricia on Saturday, it's possible they have played their final games in Detroit.
Bevell also said receiver Kenny Golladay (hip) and cornerback Jeff Okudah (shoulder) would miss Wednesday's practice, something to watch leading into Sunday. Golladay had practiced Wednesday the past two weeks before not practicing the rest of the week and eventually missing the game.
"It's a day-in, day-out thing where we monitor it and we push him to a certain level," Bevell said. "And the next day see how that level, the body reacts to it, and then we come back the next day and go from that plan that day forward."
Bevell also said running back D'Andre Swift (concussion) is closer to returning.
With Trufant out and Okudah, who was injured against Carolina on Nov. 22, missing practice, the Lions could be short-handed at corner with just Justin Coleman, Amani Oruwariye and Mike Ford available, although Darryl Roberts will begin practicing Wednesday as he works to come back from injured reserve.
Bevell said he's been in touch with the quartet of people replacing Quinn as general manager to work through what they need to do.
"We do have other guys that we'll continue to work with the roster," Bevell said. "And by the end of the week we'll feel comfortable with who we'll have out there."
The Lions also announced that third-round pick Julian Okwara would return to practice as he continues to recover from injured reserve.
Why the Cardinals' D.J. Humphries was inspired to feed a region – Arizona Cardinals Blog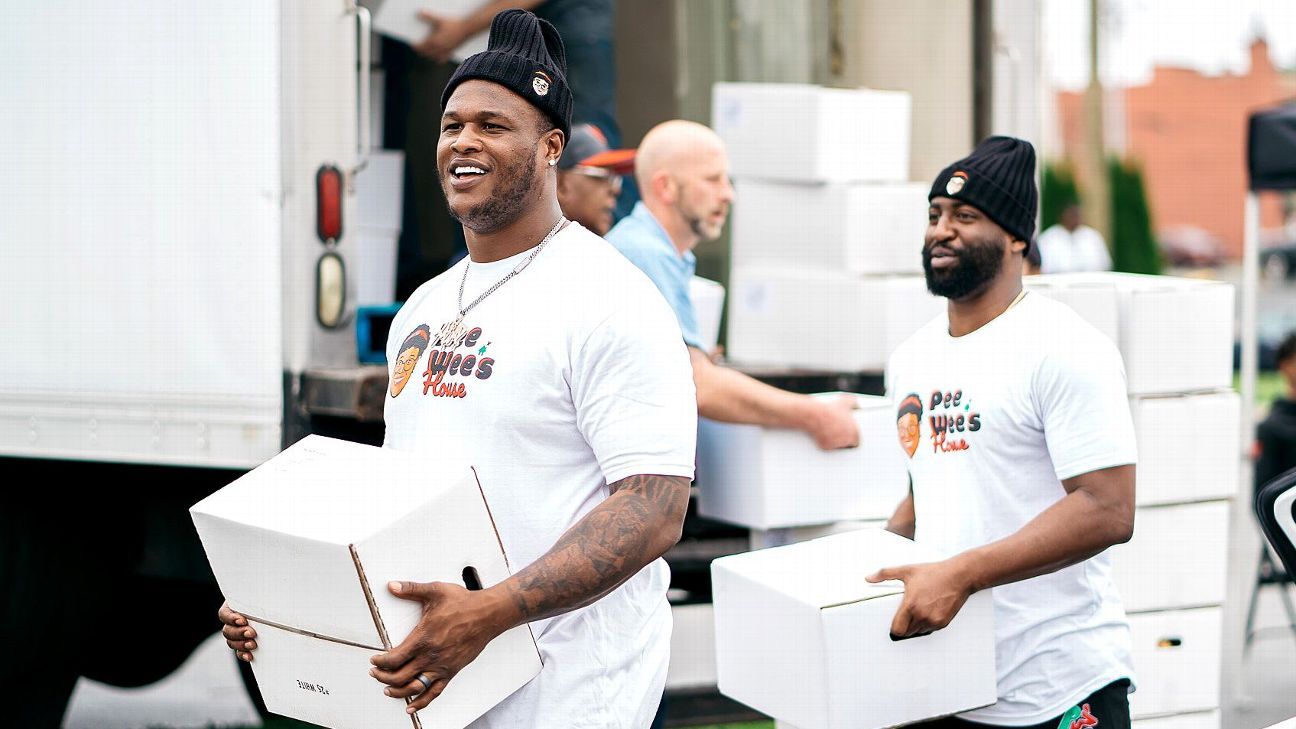 TEMPE, Ariz. — Briyana Humphries wanted to get her husband, Arizona Cardinals left tackle D.J. Humphries, something he couldn't buy for his birthday last December. After all, it's hard to buy gifts for someone who can buy himself whatever he wants.
For the past four years, D.J. had talked about finding a way to help his hometown of Union, South Carolina. The more he brainstormed, the more Briyana listened. Whenever she'd push for him to finally start something, D.J.'s response was always the same: He wanted to do it when the time was right so he could dedicate time to it. Briyana's counter was the same every time: There's never a right time, not when you're a full-time NFL player and a full-time dad.
So, for his birthday on Dec. 28, she began the process of creating his foundation. She had a logo made and put years of conversations to paper in an outline of everything D.J. wanted to accomplish. The foundation has been applied for in Florida with tax-exempt status and they are still waiting on a determination letter, according to Humphries' agent. They named it Pee Wee's House after D.J.'s late grandmother, Elizabeth Ann Means, whom everyone knew as Pee Wee and who had a special relationship with D.J.
Through Pee Wee's House, which Briyana has been running, D.J. has set out to improve accessibility to affordable, quality fresh food as well as to teach financial literacy and empower young people to find jobs.
"It's something very near and dear to my heart," Humphries said.
---
Pee Wee's 'baby'
D.J. tries to downplay his birthdays as much as possible. He was at home in the Phoenix suburb of Ahwatukee when Briyana gave him the gift on Dec. 28, and, in typical D.J. fashion, he tried not to cry, just as he did when he found out Pee Wee died in 2009. He held it together, but barely, the emotions visible on his normally charismatic face.
"She was a very strong, stern woman," D.J. said. "But, she was so loving and caring, and I always wanted to do something to make her proud.
"And me and my mother are her only legacy."
D.J. and his grandmother were like "peas and carrots," said D.J.'s mother, Keisha Means. They were always together during his childhood because Means, who had D.J. at 15 years old, worked the second shift. D.J. went to Pee Wee's house every day after school, where they watched TV and he helped her cook. She loved taking him to her favorite place, Walmart, in her Nissan Sentra, Keisha remembered.
"Her and her baby," Keisha said. "And when everybody saw Pee Wee, they saw D.J., and they knew, 'That's Pee Wee's baby, don't bother him.'"
It was Pee Wee who taught D.J. his manners and how to be a gentleman. She'd drop him at his house every night and by the time Keisha got home, D.J. was already sleeping.
Keisha said that Pee Wee had one goal for D.J.: for him not to end up on the streets.
"We were so worried about him being a follower and running in behind the wrong people because if he saw somebody doing it, he wanted to do it," Keisha said. "He wanted to fit in as a little kid.
"She was like, 'The streets are not getting my baby.' And she was like, 'I promise, the streets are not gonna get my baby.' And that was always in her soul of raising him, like, 'We're gonna make sure that he is something.' And she always told him, 'I want you to be a leader, not a follower. You can't do what other people are doing, things that they're doing are not the right things. You can't do that, D.J.'"
Pee Wee died in 2009 after a series of strokes left her on life support. D.J. was at football practice when Pee Wee's last stroke hit, leaving her unable to communicate, Keisha said. All these years later, Keisha thinks D.J. not being able to see his grandmother in a vegetative state, a shell of her lively self, was a blessing in disguise.
"I don't think he would have been able to take her like that," Keisha said.
"I think she had the biggest impact besides his dad."
---
Bringing food to the people
D.J.'s first priority with Pee Wee's House was to tackle the food situation in Union.
On March 31, in a parking lot off North Pinckney Street, he hosted The Fresh Food Initiative, during which they gave away 1,333 boxes of food, each averaging 28 pounds of fresh produce that was sourced locally from a minority-owned company called Marvin's Produce.
It was a drive-through event, and every box was given away, with some people on foot picking through the boxes to take what they could carry.
D.J.'s mission was to start changing the eating habits of the 7,000 people of his hometown and the 30,000 people of his home county, where finding fresh fruits and vegetables is an inconvenience, Keisha said. There simply aren't the options to eat heathy, she added.
Driving through Union, you'll see liquor stores, barbecue restaurants, places that serve everything fried 24 hours a day, but fresh food is hard to find, Briyana said.
The closest Whole Foods is an hour from Union.
Marion Kirby, the chief operations manager at Marvin's, which provides produce within a 150-mile radius of its warehouse in Simpsonville, South Carolina, said the servings of fruit that people received in those boxes might have been the only fruit they'll eat for weeks. For some, Kirby added, it might have been the first time they had tried some of the fruits and vegetables. He has seen that a lot in that area of South Carolina, where people are "hung up on fast food."
"There's people in need there, and they fulfilled that need with what they did with the boxes," Kirby said. "In certain areas it's pretty bad."
Kirby said the produce gave people vitamins and minerals they might not have had for a while and could prevent them from getting sick.
With that in mind, D.J. — at 6-foot-5 and 305 pounds — knew that if he was going to start educating the people of Union on how to eat better, he had to do it himself.
"I think it's just important for me to be able to be the person that tells them," he said. "I'm from a small town, man. Outsiders come in, we're not, pretty much, gonna listen to you. But for me, being from there, it's different. Me telling my people what is going to be and how it can be better."
D.J. going back to Union was enough to give the people there hope, Kirby said. And D.J. giving out the boxes of food was enough to get people to change, Kirby believes.
"If I was a kid and I had someone like that give me something, I want to eat it because I want to be like him," Kirby said. "And I think that's more powerful than anything he could say."
---
Journey to healthier eating
When D.J. grew up in Union, Southern cooking reigned.
Nothing has changed, Keisha said.
"They're still cooking how they were raised to cook," she said.
That means butter, bacon fat and grease are staples of every meal. Greens go from healthy to delicious with the help of, well, all three. D.J. remembers eating canned vegetables growing up, out of convenience. Eating back then, he said, was about time and effort rather than reading the labels to see how much sodium was in each can.
Southern cooking, though, was a way of life, regardless of how well informed someone was. Take Pee Wee, for example. She went to school for foods and nutrition, Keisha said, and spent her life working in food service. She understood the benefits of a balanced meal, making sure her meals had a protein, starch, vegetable and grain. Yet she cooked her greens with bacon grease.
Food has always been a bond D.J.'s family shares. Him playing football, however, started leading his family on a journey to healthier eating. He was able to escape the food desert of Union when he went to the University of Florida. There, at 18 years old, he had access to a nutritionist. Even so, it took him until his second season in the NFL for it to click. He started eating right, learning how certain foods affect the body and how food causes certain inflammations.
"I didn't even know that that was a thing," he said. "Learning stuff like that, and I know that my people don't know that. My people don't know that. We just don't. If we knew better, you would do better, and that's a fact."
D.J.'s family now eats healthier, too. They look for smarter alternatives and try to cut out the bad stuff in favor of the good stuff. Health issues run in D.J.'s family. Keisha has kidney disease and is hoping for a transplant. Pee Wee had high blood pressure when she died.
As with every rule, though, there are exceptions. One is Pee Wee's fried chicken recipe, which Keisha re-creates about every other month.
D.J. tries to keep his personal life private, but seeing how the food drive — his vision to honor his grandmother brought to life — helped so many in Union touched him, Briyana said.
"I usually don't talk about the stuff that really means the most to me because I'm sensitive about certain things like that," D.J. said. "But it's fun to finally be able to put it out in the world and do something good for my hometown."
Dak Prescott: These three Cowboys are 'most important, if you ask me' – Dallas Cowboys Blog
FRISCO, Texas — At the four practices open to the media during the Dallas Cowboys' organized team activities and minicamp, all eyes were on quarterback Dak Prescott.
And for good reason. The last time he was on a football field, his right leg was in an air cast because of a compound fracture and dislocation of his ankle. He had two surgeries. His rehab was intense, but what he did in spring practices would carry weight, especially after signing a four-year, $160 million extension this past March. There was nothing spotted in Prescott's performance that would suggest the ankle will be an issue when the season starts.
As important as Prescott's return will be to the Cowboys' success in 2021, so will the return of three offensive linemen who did not do much on-field work during spring practices: Tyron Smith, Zack Martin and La'el Collins.
And Prescott knows it.
"They're the most important, if you ask me," Prescott said. "From the time that I got drafted until now, this offense is built off of those guys. They're the three most veteran guys on this team, and that's for a reason. Those guys are walk-in Pro Bowl guys when they're healthy, future Hall of Famers. Just to have those three guys lead the five guys up front, everything starts with them. The run game, that allows the pass game to open up. When you have those guys back healthy, energized, it's special."
The nominations for the 2021 ESPYS are full of NFL players. Cast your votes today.
Best Athlete, Men's Sports
• Tom Brady makes the cut
Best NFL Player
• Brady, Rodgers, Donald or Henry?
Best Team
• Can Tampa Bay take the title?
Best Play
• Murray and Metcalf magic
Best Breakthrough Athlete
• Herbert and Young among the nominees
Best Game
• Remember the Ravens
For all of the Cowboys' offensive glitz — Prescott, running back Ezekiel Elliott and wide receivers Amari Cooper, Michael Gallup and CeeDee Lamb — they will not be the same without Smith, Martin and Collins, who combined to miss 36 games in a lost 6-10 season in 2020.
Smith played in two games before undergoing season-ending neck surgery. Martin missed a career-high six games because of a concussion and calf injury. Collins did not play at all because of hip surgery.
Because of their significance to the Cowboys' line, all three were held out of the competitive drills in the offseason program. Instead, they worked mostly off to the side with the Cowboys' strength and conditioning staff. They lined up in drills that did not have an opposing defensive line, working on their pass sets and footwork.
"I'm loving the positive vibes. They look great out there," Dallas coach Mike McCarthy said. "Tyron, going off last year's experience, I have never seen him smile as much. A big part of it is he is healthy. He is pain-free. He looks great. LC looks great and the big man can run. … We definitely are a different line when those two guys line up. There is no question about that. It will be great to have them out there on an individual basis [after] what they have gone through last year. It definitely makes our line, our whole process up front, move a lot smoother."
When McCarthy took the job in January 2020, the Cowboys had what was considered one of the best offensive lines in football. Then Pro Bowl center Travis Frederick retired and Smith, Collins and Martin were injured. The Cowboys were forced to use 13 different offensive line combinations a year ago.
It wasn't an easy task for the veterans to watch from the sideline.
"You see somebody rough up your quarterback, and me not being able to step in and calm that out, that was tough," Collins said. "Any time your team takes the field, and as a true competitor and you're not out there, it's always tough. But it really gave me something to look forward to when I came back. It just gave me a lot of motivation and everything that I need to just keep moving forward."
Added Smith: "Honestly, it just pushed us to be better and just know what we have to get done."
Smith has had a recurring neck and back issue for the past few years that caused him to lose strength in his left arm. He has not played a full season since 2015. Following the surgery last fall, he said he feels better.
"It's no longer a lingering injury or something I have to worry about," Smith said.
Collins' hip injury was an issue he had been dealing with over time. It affected his ability to work out last offseason, leading to more problems, such as added weight, as he entered training camp. He said he has dropped about 10 pounds and is moving fine now.
"To be honest with you, I'm just starting to feel like myself again," Collins said. "It feels good. I'm working overtime just with treatment and physical therapy to make sure this thing is right, and all the hard work is definitely paying off."
Martin, one of the best guards in the NFL since arriving as the Cowboys' 2014 first-round draft pick, moved to right tackle for a spell last season, proving adept in that spot as well, but his calf popped against the Washington Football Team and he missed the final five games.
When training camp starts next month, Martin is expected to be a full participant, along with Smith and Collins.
"That's definitely a big thing, getting our O-line back, getting a lot of guys we didn't have — a lot of key guys, like Pro Bowl O-linemen, you know, La'el Collins, Tyron Smith, Zack Martin," Cowboys running back Tony Pollard said. "All three of those guys are big for us."
Star Lotulelei 'happy to be back' with Buffalo Bills after 2020 opt-out – Buffalo Bills Blog
BUFFALO, N.Y. — Retiring from the NFL hardly crossed Star Lotulelei's mind over the past year.
The Buffalo Bills defensive tackle, who opted out of the 2020 NFL season, enjoyed spending time with his wife and four children. But the more he watched his teammates from afar, the firmer his stance became he wasn't done playing football. His wife, Fuiva, helped remove any doubt as well.
"I enjoyed it, but my wife wasn't so into the whole idea as much as I was," Lotulelei said. "She was getting sick of me. That's when I found out that maybe my wife isn't ready for me to call it, yet. I was ready to come back as soon as I saw that."
The 2013 first-round draft pick of the Carolina Panthers returned to Orchard Park this week for the first time since the end of the 2019 season. The Bills' mandatory minicamp might have been his first football action in an official capacity, but Lotulelei spent the majority of his time away training for his return.
Lotulelei referred to his opt-out as the "best decision for myself and my wife and kids" considering the uncertainty surrounding COVID-19. He admitted he had a tough time watching games last season because of how much he missed being around the team, although he communicated via text message with Bills teammates Jordan Poyer, Micah Hyde and Jerry Hughes.
"I didn't watch every game, just because it was a little tough," Lotulelei said. "Especially that last game. I was happy because the team was doing so well. The success that they had last year was great. It was a bummer not to be a part of it, but again, I made the decision, I don't regret it. … I was hoping they would have got it done, but it is what it is, so I'm back now and we'll see what happens this year."
Buffalo is banking on Lotulelei's return to elevate its defense to its form from the 2018 and 2019 seasons, times when the Bills allowed the second and third fewest yards per game in the NFL, respectively. The Bills' defense took a step back in 2020, finishing 14th in yards allowed per game (352.5) and 16th in scoring with 375 total points after finishing the 2019 season as the league's second best scoring defense.
Bills coach Sean McDermott tempered expectations when asked how the team's de facto 1-technique could help improve its defense this coming season.
"Look, you play and you go with who you got," McDermott said. "And I'm extremely proud of what we were able to do last year on that side of the ball up front. Can Star help us? Yes, he can. But that again remains to be seen by how much time he's missed. There's a lot that has to be played out between now and the time we tee it up against Pittsburgh. And so we all have a tremendous amount of work to do. And in this case, Star does as well."
McDermott reminded how Lotulelei gave Buffalo a point of attack up front on early downs last time the defensive tackle was on the field, and he brings leadership to the Bills' locker room.
One player who will benefit from Lotulelei's return is 2019 first-round pick Ed Oliver, who had less success against double teams last season (7.8% pass rush win rate versus double teams) than he did as a rookie in 2019 (10.1%). Lotulelei would ideally attract some of the attention opposing offensive lines gave Oliver last season.
In this clip for the first time this offseason are Star Lotulelei (98), Jerry Hughes (55), Mario Addison (97) and Vernon Butler (94)#Bills pic.twitter.com/sBI4R4HM6X

— Marcel Louis-Jacques (@Marcel_LJ) June 15, 2021
And if there's any question as to whether Oliver was happy to see his defensive line mate back, he greeted Lotulelei with a noteworthy hug when they first saw each other inside the facility.
"He was dealing with a lot more double teams than he did his rookie year, but I feel like he played well," Lotulelei said of Oliver. "He always plays hard, that's one thing you know that you're gonna get from Ed, he goes 100% every time he's on the field. … Ed's gonna have another good year, so it was just good to be back."
Lotulelei did not participate in team drills during Tuesday's minicamp practice because McDermott said the defensive tackle has "some catching up to do." Lotulelei said he is roughly 5 to 10 pounds lighter than his normal playing weight of 310 pounds, but added he generally starts off lighter because he gains weight over the course of a season.
Despite the limited on-field time, Lotulelei still made an impression on quarterback Josh Allen, who called him "one of the favorites on the team."
"He doesn't say two words throughout the entire year, but he's a guy that you love being around," Allen said. "He's got good vibes. … Obviously, last year he opted out, but it was good for his body. I think he's completely healed up. Playing that position, you get banged up throughout the year, so he's going to be really fresh for us.
"I'm excited that he's back … because the things that he can do on the field are just special. But above that, in the locker room, he's a guy that everybody kind of gravitates toward, even though he doesn't say much."