HOUSTON — Houston Texans wide receiver Will Fuller was suspended for six games for violating the NFL's policy on performance-enhancing substances, but quarterback Deshaun Watson said Wednesday that he thinks it's "very important" that the receiver, playing on his fifth-year option, is back in Houston in 2021.
"Will knows that we all love him," Watson said. "He always do the right thing and then one slip-up just got popped. But we always going to have his back. Will's my brother. The whole organization knows that too. And you know, make sure that we get him back for next year, especially in this organization."
On Monday, Fuller announced the violation he was suspended for was a result of his taking prescribed medication not permitted under the policy.
Watson was asked if it was important for the Texans to re-sign Fuller, who will be a free agent this offseason.
"That's very important," Watson said. "That's definitely one guy that I'm going to be working on this last month and offseason, for sure."
The Texans took offers for Fuller before the Nov. 3 trade deadline, but ultimately did not make a move. After the deadline, Watson said, "It would have been hell" if the team had traded Fuller.
Fuller will miss the final five games of this year and the first of the 2021 season. In 11 games this season, Fuller had 53 receptions for 879 yards and eight touchdowns.
Hamstring forces Jacksonville Jaguars QB Trevor Lawrence out of team drills on first day of minicamp
JACKSONVILLE, Fla. — The Jacksonville Jaguars are being extra careful when it comes to Trevor Lawrence's hamstring.
The tightness that limited Lawrence last week in OTAs reemerged during the first day of mandatory minicamp on Monday, forcing the Jaguars to keep him out of team drills. Coach Urban Meyer said that's likely to happen on Tuesday as well.
"Our trainers and Schotty [passing game coordinator Brian Schottenheimer] are being a little cautious because right now when you're a month out, you yank a hamstring now you're going to miss the early part of the training camp," Meyer said. "That's that one muscle that, you guys have all seen it like I have, you pull a hamstring at this point you're going to miss all your summer conditioning so we're being somewhat conservative on it.
"But he actually could play a game if he had to."
Lawrence did some work off to the side while the rest of the team did their stretches and warm-ups, but he did participate in individual drills and 7-on-7 sessions. He did not participate in 11-on-11 drills.
Lawrence said he would rather be practicing fully, but understands the Jaguars' approach.
"It's been about a week and trying to work it back to full capacity and yeah, it's a little frustrating just not being able to go full speed, but I'm feeling good," Lawrence said. "I'm just trying to not have any more setbacks, so taking it slow. Got some good reps today. So start getting more and more each day this week and kind of work back into it."
The Jaguars have one more day of mandatory minicamp and then break until training camp starts in late July.
Madden NFL 22 teases cover athletes with goats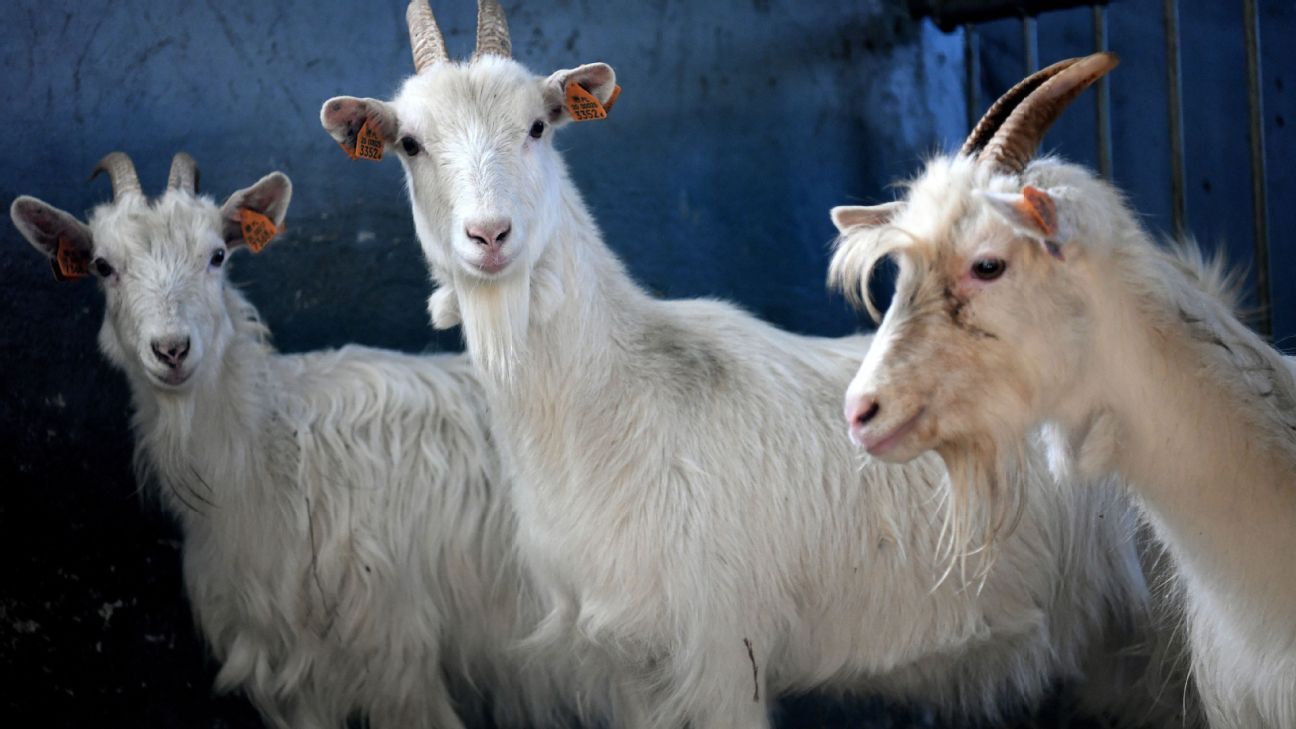 The Madden NFL 22 game cover will be released later this week. The day when we see which superstar nabs the cover is another big date on the NFL's offseason calendar.
To promote this year's cover release, EA Sports is teasing the identity of the athlete with literal goats. Former cover athlete Peyton Hillis interacts with the animals and reacts to the cover.
The video seems to promise two GOAT (greatest of all time) athletes. Given his Super Bowl win last season and his untouchable status as the NFL's greatest QB, it's safe to assume that Tampa Bay Buccaneers QB Tom Brady will be one of the athletes featured.
But who could join him? Could it be Kansas City Chiefs QB Patrick Mahomes, who lost to Brady in Super Bowl LV? Maybe it's a former or current Brady collaborator. Whomever it is, the ungulate ad men in the video aren't saying.
Who do you think will be joining Brady?
WR Jamison Crowder agrees to pay cut to remain with New York Jets, source says
FLORHAM PARK, N.J. — New York Jets wide receiver Jamison Crowder, the team's leading receiver the last two seasons, avoided the possibility of being released by agreeing to a pay cut, a source confirmed Monday.
Crowder was due to make a non-guaranteed $10 million in base pay for 2021, the final year of a three-year, $28.5 million contract. Details of the renegotiated contract weren't immediately available, but the new deal is expected to significantly lower his $11.4 million cap charge.
The Jets are among the league leaders in cap space (about $27 million), but they approached Crowder recently about a reduction. Crowder, who turns 28 on Thursday, skipped the voluntary portion of the offseason as the two sides haggled over the contract. NFL Network first reported the agreement.
The Jets' mandatory minicamp starts Tuesday, and Crowder is expected to attend.
Coach Robert Saleh was optimistic that a deal would get done, saying 10 days ago that "Jamison's definitely got a role here and we're excited to have him."
After signing receivers Corey Davis and Keelan Cole in free agency, and drafting Elijah Moore in the second round, the Jets had the leverage in talks with Crowder. He led the team with 59 catches and 699 yards in 2020, but his production was down because he missed four games due to leg injuries. The Jets also finished 32nd in total offense for the second straight year.
Even though Crowder is back, it will be interesting to see if his role diminishes in the regular season. Moore, selected 34th overall, has impressed the coaches in offseason practices. Like Crowder, he's a slot receiver.
In another contract-relation development, safety Marcus Maye reported to the facility Monday ahead of the minicamp. Maye, who signed his franchise-tag tender ($10.6 million) earlier in the offseason, skipped the voluntary practices as the two sides attempt to negotiate a long-term deal. The deadline is July 15. If they can't agree to a deal, Maye will play the 2021 season for the amount of the tender.