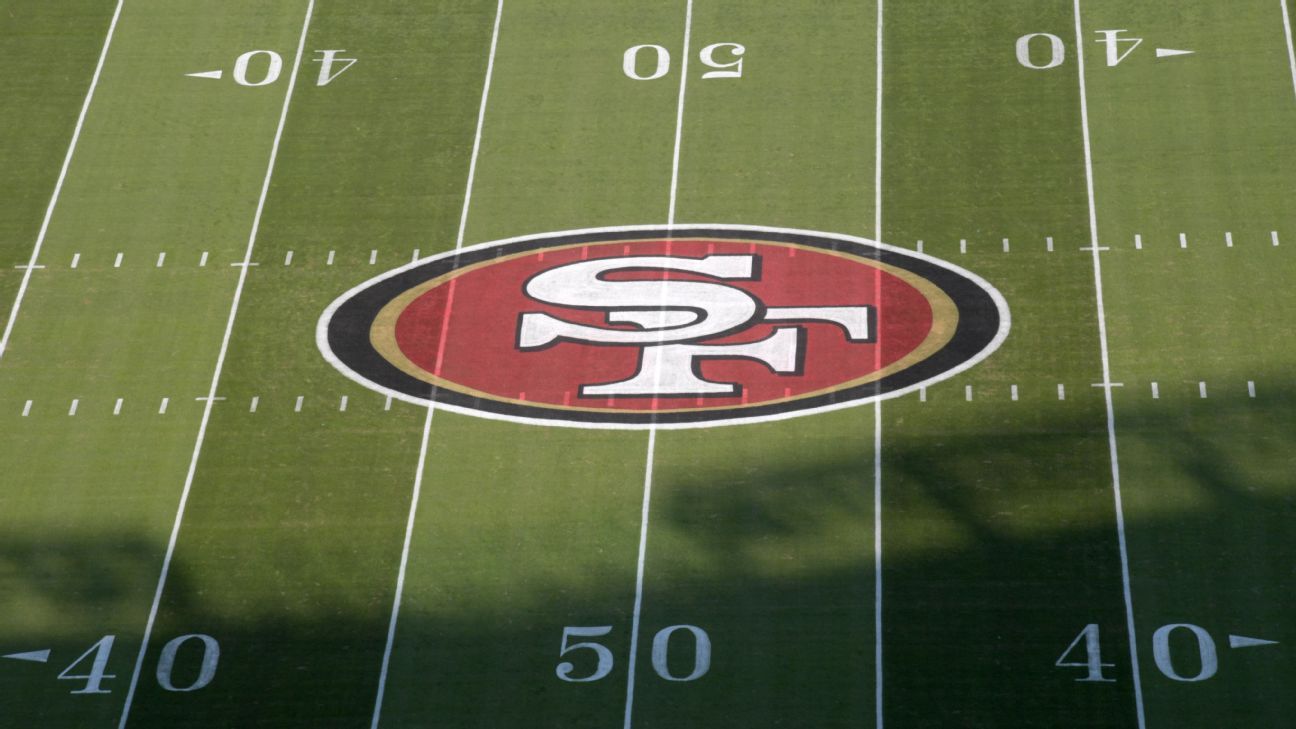 SANTA CLARA, Calif. — The San Francisco 49ers have found their home for the holidays.
Days after they were blindsided by the announcement from Santa Clara County that contact sports are banned for the next three weeks, the 49ers have officially decided to move their entire football operation to Arizona for at least the duration of those restrictions.
On Wednesday, the 49ers will fly to Phoenix at 2:30 p.m. PT. Once there, the team will set up shop at the Renaissance hotel close to the Cardinals practice fields and State Farm Stadium in Glendale, Ariz. That will be the 49ers' home through at least Dec. 21 at 5 a.m. PT, which is when the current Santa Clara County restrictions are set to expire, though the Niners are also prepared for a scenario in which that will be extended and they have to stay in the desert for the rest of the regular season.
San Francisco will begin practice on Thursday with sessions set for Friday and Saturday also leading into Monday night's game against the Buffalo Bills.
On Tuesday, Niners coach Kyle Shanahan discussed the Niners' forthcoming move for the first time, acknowledging the logistical challenges of the relocation and all that it entails while also tipping his cap to the Cardinals for their help in getting the Niners squared away in the Phoenix area.
"The best scenario for us and the most convenient for us right now with the situation presented is just getting out to Arizona, there's a good setup there," Shanahan said. "The Cardinals have been awesome with us, everyone out there has been awesome with us. I do believe we have a really good setup there to make the best of it, and that's where we'll play our games, too."
Before settling on Arizona, which was a contingency that the 49ers and the NFL had discussed well before the season began, the Niners did what they could to find a more local option. Their initial preference was to find a Bay Area county nearby where they could practice and then fly to their "home" games in Arizona and return.
But that effort proved unmanageable because anything outside of the county that could accommodate them would require at least a couple hours drive each way and then they'd likely have to stay in a hotel anyway because once they traveled for games, they'd have to stay outside of Santa Clara County to avoid the 14-day quarantine for anyone traveling 150-plus miles outside of county lines and returning.
Shanahan did say the Niners will continue to explore options that could get them back to the Bay Area sooner.
"I know our guys aren't going to stop working at it," Shanahan said. "We're not trying to stay away from everybody for three weeks. If we could come up with something different and something works out, I know we would love to adjust that and come back and do that."
In the meantime, Shanahan said the Niners will treat their hotel like Levi's Stadium, as it will be both where they live and their place of business. Players and coaches will have the option of finding temporary housing for their families and being able to stay with them in the Glendale area but Shanahan emphasized that the rules will remain the same in terms of not venturing out and risking COVID-19 complications.
Shanahan also made sure the players knew that there wouldn't be a chance to bond outside of practice and at the hotel. He said the Niners' recent mini-outbreak which landed nine players on the reserve/COVID-19 list was the result of a 30-minute dinner for some players after the team's loss to New Orleans.
"You don't want to hang out and stuff," Shanahan said. "That's how people get in trouble. That's how it spreads. That's what happened to us during our bye week at a hotel. We won't sit there and hang out at all. So, we'll work there and guys will go up to their hotel room."
While Shanahan said he and the Niners are prepared for bumps along the way in their move, he is remaining hopeful they will be able to spend Christmas with their families, either in Arizona or back in the Bay Area. Coincidentally, the 49ers are scheduled to play the Cardinals on Dec. 26, which means the Niners could return home for the week leading up to the game and then fly back to Arizona if the restrictions are lifted or find a way to get their families to Arizona that week.
"I just try to tell our guys, I don't care what happens, we're not going to spend Christmas without our families," Shanahan said. "We'll figure it out. That's really what I tried to give to everyone just so they could say that to their families, because I think that is their concern."
While Shanahan was unsure of the size of the 49ers' traveling party, he did say all players will be going, including those who are working their way back from injury and those coming off the reserve/COVID-19 list.
According to Shanahan, the four players still on that list — receiver Brandon Aiyuk, defensive tackle D.J. Jones, defensive end Jordan Willis and tight end Daniel Helm — will come off of it Tuesday afternoon, which allows them to travel with the team.
Quarterback Jimmy Garoppolo (ankle) and tight end George Kittle (foot) will also be going to Arizona as Shanahan remains hopeful they will be able to play in the season's final weeks.
The Niners will not, however, have cornerbacks Jamar Taylor (torn ACL) and Ken Webster (hamstring strain) after they suffered season-ending injury in Sunday's win against the Rams.
Likewise, Shanahan indicated that defensive end Dee Ford (back), center Weston Richburg (shoulder) and defensive lineman Ronald Blair III (knee) are unlikely to return this season. Ford has been on injured reserve since Week 2 and Blair and Richburg have missed the season while on the physically unable to perform list.
NFL mandatory minicamps 2021 — Derek Carr's stance, Julio Jones' debut, Tua Tagovailoa's rough day and more
From quarterback Derek Carr making a bold statement about his commitment to the Las Vegas Raiders to Miami Dolphins quarterback Tua Tagovailoa throwing five interceptions in a heavy rainstorm to wide receiver Julio Jones taking the field in the Tennessee Titans' No. 2 uniform, some of the big names in the NFL made waves on Tuesday during NFL mandatory minicamps.
Eighteen NFL teams opened their mandatory three-day minicamps this week. Ten held theirs last week, with four teams electing to cancel. Teams that opted out of mandatory minicamps this week are the Houston Texans, Indianapolis Colts and San Francisco 49ers. The Philadelphia Eagles were the first team to skip theirs when they did so a week ago.
While practices were underway for half the league, much of the talk of Tuesday's camps included the players who haven't stepped foot on the field because of ongoing contract negotiations. Dolphins cornerback Xavien Howard, New England Patriots cornerback Stephon Gilmore and Seattle Seahawks safety Jamal Adams were among the notable players absent from their respective team facilities.
Teams already have been going through organized team activities, but this marks the first time that many veterans will take the field since the end of the 2020 NFL season. That includes some players who joined new teams this offseason, including prized free agents and edge rushers Matt Judon (Patriots) and Yannick Ngakoue (Raiders).
Here are some snapshots, many from ESPN's NFL Nation reporters who are on the scene at this week's activities, from Tuesday's minicamps:
Jump to the best of the day:
Photos | Videos | Quotes

Top news of the day
Carr says he has no desire to leave Raiders
Las Vegas quarterback Derek Carr re-asserted his desire to remain with the team that drafted him in the second round in 2014. "I'd probably quit football if I had to play for somebody else," Carr said.
Derek Carr explains why he has no interest in playing for a franchise other than the Raiders.

Howard not at Dolphins camp over 'unique' situation
Xavien Howard, who hasn't shown up to any portion of the Dolphins' voluntary offseason program this year, was not in attendance for minicamp meetings Tuesday, and he's officially a holdout as he seeks a new contract. Coach Brian Flores noted the cornerback's situation is "unique" in regard to his contract because Howard feels like he has outplayed the five-year, $75.25 million extension he signed in May 2019.
Dolphins coach Brian Flores discusses the team's desire to keep Xavien Howard amid a contract dispute.
Packers' Rodgers jokes about 'quiet offseason'
Aaron Rodgers, who has dominated the NFL headlines this spring because of his dissatisfaction with Green Bay, showed his sense of humor during a promotional video in advance of the July 6 golf match featuring Rodgers and PGA Tour star Bryson DeChambeau against Tom Brady and Phil Mickelson.
Adam Schefter says Green Bay's front office isn't doing itself any favors when it comes to keeping Aaron Rodgers.
More NFL headlines:
---
Best videos
Julio Jones footwork drill with WR coach Rob Moore. Nice grab at the end. pic.twitter.com/SnLSPThdT6

— TURRON DAVENPORT (@TDavenport_NFL) June 15, 2021
Cam Newton with a little hop in his step upon arrival. pic.twitter.com/y37cfPjGKr

— Mike Reiss (@MikeReiss) June 15, 2021
Joe Burrow News Conference https://t.co/Ve1fqIbpv6

— Cincinnati Bengals (@Bengals) June 15, 2021
We had to mute the video because we don't own the rights to the music, but just know @JIHADWARD17 was vibing during the stretch period!@BaptistHealthJx | #DUUUVAL pic.twitter.com/mGeveT6t7h

— #DUUUVAL (@Jaguars) June 15, 2021
Day 1 of minicamp is in the books after this play by the first team in the red zone. Chad Beebe make a catch in the corner of the end zone; think Mackensie Alexander was supposed to be on him. pic.twitter.com/Q9HNDbyIjx

— Courtney Cronin (@CourtneyRCronin) June 15, 2021
I got you!! 😂 https://t.co/jlh7Zwe7nb

— Joe Haden (@joehaden23) June 15, 2021
we missed this pic.twitter.com/1q4J8FDpg4

— Los Angeles Chargers (@Chargers) June 15, 2021
Off & running at Day 1️⃣ of minicamp! pic.twitter.com/bcVONrlpsI

— Denver Broncos (@Broncos) June 15, 2021
Day 1 of Dolphins mandatory minicamp. Tua Tagovailoa going through some warmup reps. pic.twitter.com/31nTB9DXY3

— Cameron Wolfe (@CameronWolfe) June 15, 2021
That "just signed" feeling 🖊@jayceehorn_10 pic.twitter.com/fekObNBPIH

— Carolina Panthers (@Panthers) June 15, 2021
In this clip for the first time this offseason are Star Lotulelei (98), Jerry Hughes (55), Mario Addison (97) and Vernon Butler (94)#Bills pic.twitter.com/sBI4R4HM6X

— Marcel Louis-Jacques (@Marcel_LJ) June 15, 2021
"Dude is fast, shifty! Like a Muggsy Bogues." @BrandonW_66 on @Jkdobbins22 🤣🤣🤣 pic.twitter.com/RSA2F2adM2

— Baltimore Ravens (@Ravens) June 15, 2021
Things we love to see: this@DangeRussWilson x @dkm14 pic.twitter.com/PjGJghyKCl

— Seattle Seahawks (@Seahawks) June 15, 2021
.@LaurentDTardif is ready to get back to work 👏 pic.twitter.com/nEY8zkYaXQ

— Kansas City Chiefs (@Chiefs) June 15, 2021
#Browns RB Nick Chubb, on signing a potential extension this summer: "Cleveland is where I want to be…" pic.twitter.com/2wwntIKZn8

— Jake Trotter (@Jake_Trotter) June 15, 2021
---
Quotes of the day
"I played with Julio [Jones], Mohamed Sanu, since Day 1, those guys, I feel like I've been moving toward that way of I can do it by myself. Obviously I'm not by myself, we have other players who are really good, but I feel like I've been ready and I just needed an opportunity to get in those positions."

Falcons wide receiver Calvin Ridley
"I was surprised. … You never like to see things like that."

Chiefs tight end Travis Kelce on Le'Veon Bell's comments about coach Andy Reid
"I wore 9 in college my senior and junior year. I'm one of 10 children, so I got 9 siblings – every time I go out there, I represent them. I like 9; that's one of the reasons I rock it. And 99 was taken, so I chose to use the new rule."

Patriots linebacker Matthew Judon on his jersey number
"You don't feel like yourself, even when you pass the symptoms. There's a certain level or feeling you have when you're ready, and COVID made it a little harder to get to that good feeling."

Ravens defensive end Calais Campbell has had no post-COVID issues the past couple of months
---
Best photos
📍Vegas pic.twitter.com/S46WirbKaO

— Las Vegas Raiders (@Raiders) June 15, 2021
Mekhi Becton says he's at a "good weight" right now. Asked his weight, he said he didn't know off hand. #Jets pic.twitter.com/6aqq99fkzF

— Rich Cimini (@RichCimini) June 15, 2021
Here to 𝗛 𝗨 𝗦 𝗧 𝗟 𝗘. pic.twitter.com/2GuxKobTs3

— Chicago Bears (@ChicagoBears) June 15, 2021
Just the beginning 🔥 pic.twitter.com/FuwE7uoKBH

— Pittsburgh Steelers (@steelers) June 15, 2021
Green Bay Packers' Aaron Rodgers jokes about his 'quiet offseason' in interview for July 6 golf match
Through everything that has happened surrounding Aaron Rodgers this offseason, one thing is clear: He still understands sarcasm.
The reigning MVP, who has dominated the NFL headlines this spring because of his dissatisfaction with the Green Bay Packers, showed his sense of humor Tuesday during a promotional video in advance of the July 6 golf match featuring Rodgers and PGA Tour star Bryson DeChambeau against Tom Brady and Phil Mickelson.
TNT's Brian Anderson, who hosted the video conference, set up Rodgers with this: "You've really kept a low profile this offseason, I've hardly seen your name at all and you haven't hosted any TV shows or been involved in any kind of controversy or anything. It's been a nice, peaceful offseason for you, it sounds like."
Rodgers' reply was both deadpan and dripping with irony.
"It's been one of those quiet offseasons you dream about, where you can kind of just go through your process on your own, quietly," Rodgers said. "And that's all you can ask for as an older player in the league and someone who's been around for a long time and just enjoys that time to yourself, just relax, to not be bothered, to not have any obligations or anything going on.
"I think that's what this offseason has been about. It's been about really enjoying my time and spending it where I want to spend it, not feeling like I have to go anywhere but still be an NFL player at the same time. It's been great."
Rodgers skipped his only actual obligation, the Packers' mandatory minicamp last week, and is subject to fines of $93,085. He also missed the entire offseason program, thereby forfeiting his $500,000 workout bonus.
The Packers have publicly maintained their desire to have Rodgers back for "2021 and beyond," as team president Mark Murphy put it earlier this offseason, but it's unclear whether Rodgers will report for training camp next month or will hold out and try to force a trade. Since the news of Rodgers' unhappiness with the Packers broke on the afternoon of this year's draft, the Packers have insisted they will not trade him.
Earlier this month, Murphy wrote that the situation has divided the Packers' fan base and added that the less said publicly about the situation, the better. However, Murphy didn't heed his own advice last week when, during a speaking engagement, he referred to Rodgers as "a complicated fella," saying he was echoing how former Packers general manager Ted Thompson once described him.
It's unclear whether the T-shirt Rodgers wore for Tuesday's videoconference, which read "I'm offended," was in response to Murphy's comment.
Carolina Panthers WR Robby Anderson says he sees new 'glow' in QB Sam Darnold
CHARLOTTE, N.C. — Carolina Panthers wide receiver Robby Anderson sees something in quarterback Sam Darnold that he didn't in their two years together with the New York Jets.
"When I walked in the building I could see a new energy out of him, like a glow, charisma that I didn't really see in New York," said Anderson, who played with Darnold in 2018-19. "I can definitely see the difference in him so far."
Anderson was the only Carolina player not seen by media for any of the voluntary portions of on-the-field offseason workouts.
So Tuesday, the first of a three-day mandatory camp, was the first time Anderson had a chance to work with Darnold since the Jets' 2019 finale against Buffalo when they connected three times for 18 yards.
"You know when a person can see like a glow, energy, their aura?" Anderson said. "I could kind of see that when I walked in the building."
Anderson was Darnold's favorite target with the Jets. He had 102 catches for 1,431 yards and 11 touchdowns during their time together.
Stopping short of making a prediction, Anderson expects better things for them in Joe Brady's system at Carolina, where in 2020 Anderson had a career-best 95 catches for 1,096 yards and three touchdowns.
"The New York system was a little more complex, had a lot of nuances that was more difficult for everybody, not just him, not just me," Anderson said. "This system is a little more graspable."
New Carolina edge rusher Haason Reddick hasn't played with Darnold before, but he likes what he has seen.
"Sam's completing passes," said Reddick, an offseason free-agent signing from Arizona. "It looks like he's playing intelligent football."
Coach Matt Rhule just wants Darnold, who struggled with consistency with the Jets, completing only 59.8% of his passes and going 13-25 as the starter, to continue playing "good" football in practice.
"I don't want him to have great days right now … just steady progress to make good days roll into great days," he said of the quarterback Carolina traded for before the draft.
Anderson, who should help Darnold's growth because of their past chemistry, didn't go into detail on why he stayed in South Florida throughout the voluntary portions of OTAs.
"I'm to the point of my career where I know how to get myself ready," he said. "So it wasn't nothing against the team or nothing like that. I feel I capitalized on this time. The work I was putting in with my trainer, I was on a good program.
"I didn't want to step away from that."
Rhule said it was great to have Anderson back even though Anderson wasn't in all the team drills.
"Robby is a guy that brings energy to the practice field," he said. "He's in great shape. You can tell he's been working hard. We had a goal of like three to four reps in a team drills. I'm not going to over-rep anybody."