SANTA CLARA, Calif. — The San Francisco 49ers have a new home, at least for their next two games.
As had been expected since Santa Clara County announced on Saturday new COVID-19-related restrictions that prevent contact sports in the county for at least the next three weeks, the Niners announced Monday morning that they will hold their next two games at State Farm Stadium in Glendale, Arizona.
That, of course, is the home of the Cardinals, who have no day-of-game scheduling conflicts with the Niners moving forward.
"The Cardinals organization, State Farm Stadium and League officials have been supportive and accommodating as we work through the many logistical issues involved in relocating NFL games," the 49ers said in a statement.
Monday's announcement means the Niners will "host" the Buffalo Bills for Monday Night Football on Dec. 7 and the Washington Football Team on Dec. 13 in Arizona. The Niners' other game in that three-week time frame is set for Dec. 20 in Dallas against the Cowboys.
"As far as San Fran goes, that's obviously a challenging situation for them. I'm glad it worked out that we could host them in a way and allow them to use these facilities, and continue to keep their season going. It's kind of 2020 in a nutshell, and I'm just glad it all worked out for them," Cardinals coach Kliff Kingsbury said Monday.
A league source told ESPN after Santa Clara County's announcement on Saturday that the NFL and the 49ers had been working through contingencies since before the season began.
At the time, it was unclear whether the county would approve the Niners to even begin training camp at Levi's Stadium and the team facilities. Arizona was considered the top option then for the Niners if they had to relocate games because of relative proximity and the lack of schedule conflicts with the Cardinals.
Over the past few days, the league and the Niners also considered temporary homes in Dallas — the Cowboys also have no schedule conflicts with the 49ers — and San Diego. San Diego mayor Kevin Faulconer's office reached out to the Niners soon after the announcement to see if his city could be a landing spot, according to Niners CEO Jed York.
I also want to thank @SDMayorsOffice for immediately reaching out to see if San Diego could help @49ers during our search for a home. While we wish we could keep our players at / close to home with their families during the holidays, that is currently not viable. #OneDayAtATime

— Jed York (@JedYork) November 30, 2020
The 49ers are still working through where they will practice for the next few weeks. Their preference is to stay in the Bay Area for practice and fly to Arizona for games, but that might not be feasible logistically, in part because Santa Clara County has recommended a 14-day quarantine for anyone traveling 150-plus miles and returning to the county.
If those arrangements can't be worked out, the Niners would likely set up a sort of bubble in Arizona, where they could practice and stay between games.
It remains to be seen where the 49ers will close out the regular season. They're scheduled to play the Seattle Seahawks at Levi's Stadium on Jan. 3, but that will depend on whether Santa Clara County extends the three-week ban on contact sports.
ESPN's Josh Weinfuss contributed to this report.
CB Stephon Gilmore doesn't report for New England Patriots' mandatory minicamp, source says
FOXBOROUGH, Mass. — New England Patriots cornerback Stephon Gilmore, the 2019 NFL Defensive Player of the Year, did not report to mandatory minicamp that began Monday, a source confirmed.
Gilmore could be making a statement about his contract, as he is scheduled to earn a base salary of $7 million in 2021.
The Patriots had advanced $4.5 million of Gilmore's 2021 salary to him last year, leading to this year's low figure.
Gilmore, who turns 31 in September, is in the final year of the five-year, $65 million pact he signed with the Patriots as an unrestricted free agent in 2017. The deal included $40 million in injury guarantees and $31 million fully guaranteed at signing.
At the time, a contract with those guarantees and an average of $13 million per season was viewed as a strong deal. The cornerback market has since exploded, with Jalen Ramsey of the Los Angeles Rams topping it with a contract averaging $20 million per season.
Acknowledging they didn't have specifics of the situation, teammates noted Gilmore's absence in the locker room Monday, as well as on the practice field.
"I support my brother. I wish he was here, but I support him all the same," veteran safety Adrian Phillips said. "What he has going, whenever he gets back here, he'll let you know how it went."
Longtime captain Matthew Slater added: "That's a situation I don't want to get too far into, because it's frankly none of my business. Obviously you support all your teammates, whether they are here or not."
Head coach Bill Belichick deflected questions on Gilmore earlier Monday and wouldn't reveal whether he has given him (or any player) an excused absence. Players who don't report for mandatory minicamp can be fined up to $93,085 — which breaks down to $15,515 for the first missed day, $31,030 for the second missed day and $46,540 for the third missed day.
Gilmore partially tore his quad in a Week 15 loss last season, landing on injured reserve.
The Boston Globe first reported Gilmore's absence.
Hamstring forces Jacksonville Jaguars QB Trevor Lawrence out of team drills on first day of minicamp
JACKSONVILLE, Fla. — The Jacksonville Jaguars are being extra careful when it comes to Trevor Lawrence's hamstring.
The tightness that limited Lawrence last week in OTAs reemerged during the first day of mandatory minicamp on Monday, forcing the Jaguars to keep him out of team drills. Coach Urban Meyer said that's likely to happen on Tuesday as well.
"Our trainers and Schotty [passing game coordinator Brian Schottenheimer] are being a little cautious because right now when you're a month out, you yank a hamstring now you're going to miss the early part of the training camp," Meyer said. "That's that one muscle that, you guys have all seen it like I have, you pull a hamstring at this point you're going to miss all your summer conditioning so we're being somewhat conservative on it.
"But he actually could play a game if he had to."
Lawrence did some work off to the side while the rest of the team did their stretches and warm-ups, but he did participate in individual drills and 7-on-7 sessions. He did not participate in 11-on-11 drills.
Lawrence said he would rather be practicing fully, but understands the Jaguars' approach.
"It's been about a week and trying to work it back to full capacity and yeah, it's a little frustrating just not being able to go full speed, but I'm feeling good," Lawrence said. "I'm just trying to not have any more setbacks, so taking it slow. Got some good reps today. So start getting more and more each day this week and kind of work back into it."
The Jaguars have one more day of mandatory minicamp and then break until training camp starts in late July.
Madden NFL 22 teases cover athletes with goats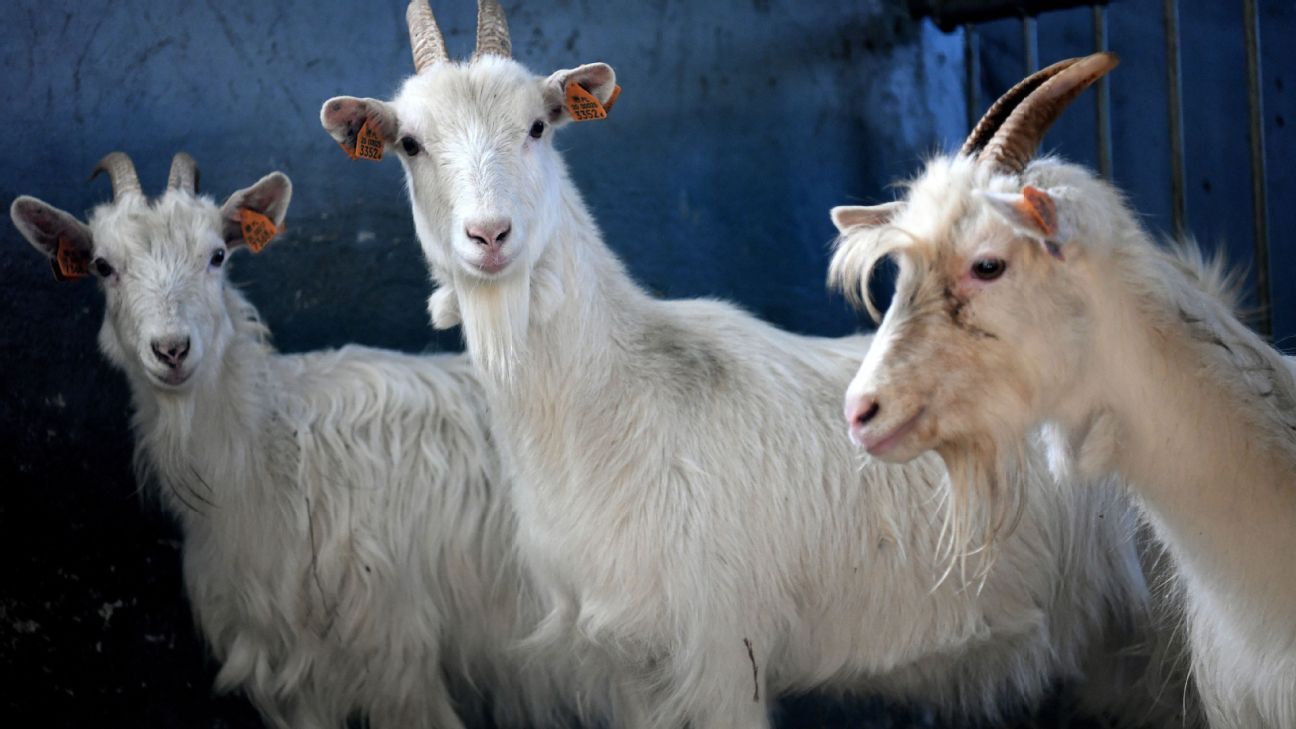 The Madden NFL 22 game cover will be released later this week. The day when we see which superstar nabs the cover is another big date on the NFL's offseason calendar.
To promote this year's cover release, EA Sports is teasing the identity of the athlete with literal goats. Former cover athlete Peyton Hillis interacts with the animals and reacts to the cover.
The video seems to promise two GOAT (greatest of all time) athletes. Given his Super Bowl win last season and his untouchable status as the NFL's greatest QB, it's safe to assume that Tampa Bay Buccaneers QB Tom Brady will be one of the athletes featured.
But who could join him? Could it be Kansas City Chiefs QB Patrick Mahomes, who lost to Brady in Super Bowl LV? Maybe it's a former or current Brady collaborator. Whomever it is, the ungulate ad men in the video aren't saying.
Who do you think will be joining Brady?