GREEN BAY, Wis. — Matt LaFleur knows an MVP season when he sees one. He served as Matt Ryan's position coach in 2016, when the Atlanta Falcons quarterback won the NFL's Most Valuable Player award.
So listen up, MVP voters, to what LaFleur had to say late Sunday night after another four-touchdown game from Aaron Rodgers in the Green Bay Packers' 41-25 win over the Chicago Bears.
Here's how the postseason bracket looks at the moment and what scenarios lie ahead.
• Playoff picture (ESPN+) »
• Playoff Machine: See scenarios »
• Standings » | Football Power Index »
"This is as good as I've ever seen anybody play," LaFleur said. "Just his ability to go out there and get us in the right looks and — shoot, even, you know, when I make a bad call he definitely makes us look good. So that's a credit to him. He is playing, in my eyes — he's an MVP player. No doubt about it. And I wouldn't want any other quarterback on our football team."
With five games to go — four of them against teams with losing records — Rodgers still has plenty of time and opportunity to pile up numbers. And he might have to in order to prevent Patrick Mahomes from winning his second MVP in three seasons.
There's more to Rodgers' candidacy than just numbers, but let's start there:
Touchdowns: Rodgers has 33 — Mahomes and Russell Wilson each have 30. It's the first time in NFL history that three players have had at least 30 touchdown passes through Week 12.

Total QBR: Mahomes leads at 86.2, but Rodgers is just barely behind at 85.3. Wilson, meanwhile, is ninth at 73.0.

Four-touchdown/No-interception games: Rodgers had his fifth game of the season with four touchdown passes and zero interceptions. That's tied for the most such games in a season in Packers history. Rodgers also did it in 2011, his first MVP season. Brett Favre did it in 1996, his second of three MVP seasons. The only player with more games of four touchdowns and no interceptions in a season is Peyton Manning (with six) in 2013. He won the MVP for the season too. Rodgers has only four interceptions on the season, but Mahomes has just two. Wilson has 10.
There are non-quarterback MVP candidates to consider too: Titans running back Derrick Henry, Saints running back Alvin Kamara and even Rams defensive tackle Aaron Donald.
But what better story of redemption is there than Rodgers winning his third MVP in the same season that the Packers drafted his potential replacement?
When the Packers traded up to take Jordan Love in the first round of the draft, one NFL source said at the time: "There's nothing wrong with lighting a little fire under his ass."
Even if that wasn't general manager Brian Gutekunst's intent, he may have ignited a wildfire.
Or maybe this was always going to be the offensive evolution between Rodgers and LaFleur in Year 2.
Rodgers threw three of his four touchdowns on play action, giving him an NFL-leading 16 play-action touchdown passes this season (to go along with no interceptions on such plays), according to ESPN Stats & Information. Play action is a staple of LaFleur's system, and Rodgers has excelled in it.
Rob Demovsky expects Packers RB Aaron Jones to increase his production in the final month of the season.
"I just feel like he's settled into his role as head coach," Rodgers said. "Him and I have been really on the same page all season. There's just a beautiful trust that I think has blossomed even more this year between him and I, and I think that's an important part of us being successful is the QB and the coach being on the same page."
Rodgers won his Super Bowl in his third season (2010) as a starter and his MVPs in his fourth (2011) and seventh (2014) seasons at the helm.
"I played in that other offense for so long; I knew it just inside and out," Rodgers said. "I think the beauty in this year is the subtleties of simplicity that I feel like Matt implemented in the offseason. It's really allowed me to feel super comfortable with the plan every week, with my responsibilities, with my checks. I think that's why I've been playing well."
There's Rodgers' health too.
In 10 of the 11 games this season, Rodgers has been sacked either zero or one time.
"For a soon-to-be 37-year-old, that's my dream," Rodgers said. "That's an amazing feeling to go home and not be feeling like an almost-37-year-old. I've been feeling really, really good all season, so I appreciate those boys up front."
It was evident again Sunday, even after center Corey Linsley (back) and right guard Lucas Patrick (toe) dropped out, and the Packers' shuffled line didn't miss a beat.
And if everyone thought the Packers handcuffed Rodgers by not getting him any weapons either in free agency, through the draft or at the trade deadline, then doesn't it make what he's done this season even more remarkable?
"I see him pretty dialed in all the time, but obviously when you're executing at a different level, I think it's a little bit more obvious," said receiver Davante Adams, who was a rookie in Rodgers' first MVP season. "But that's what he does. That's the way that he is. And especially this year, that's what we expect from him, and we're going to need to make a push at this thing."
CB Stephon Gilmore doesn't report for New England Patriots' mandatory minicamp, source says
FOXBOROUGH, Mass. — New England Patriots cornerback Stephon Gilmore, the 2019 NFL Defensive Player of the Year, did not report to mandatory minicamp that began Monday, a source confirmed.
Gilmore could be making a statement about his contract, as he is scheduled to earn a base salary of $7 million in 2021.
The Patriots had advanced $4.5 million of Gilmore's 2021 salary to him last year, leading to this year's low figure.
Gilmore, who turns 31 in September, is in the final year of the five-year, $65 million pact he signed with the Patriots as an unrestricted free agent in 2017. The deal included $40 million in injury guarantees and $31 million fully guaranteed at signing.
At the time, a contract with those guarantees and an average of $13 million per season was viewed as a strong deal. The cornerback market has since exploded, with Jalen Ramsey of the Los Angeles Rams topping it with a contract averaging $20 million per season.
Acknowledging they didn't have specifics of the situation, teammates noted Gilmore's absence in the locker room Monday, as well as on the practice field.
"I support my brother. I wish he was here, but I support him all the same," veteran safety Adrian Phillips said. "What he has going, whenever he gets back here, he'll let you know how it went."
Longtime captain Matthew Slater added: "That's a situation I don't want to get too far into, because it's frankly none of my business. Obviously you support all your teammates, whether they are here or not."
Head coach Bill Belichick deflected questions on Gilmore earlier Monday and wouldn't reveal whether he has given him (or any player) an excused absence. Players who don't report for mandatory minicamp can be fined up to $93,085 — which breaks down to $15,515 for the first missed day, $31,030 for the second missed day and $46,540 for the third missed day.
Gilmore partially tore his quad in a Week 15 loss last season, landing on injured reserve.
The Boston Globe first reported Gilmore's absence.
Hamstring forces Jacksonville Jaguars QB Trevor Lawrence out of team drills on first day of minicamp
JACKSONVILLE, Fla. — The Jacksonville Jaguars are being extra careful when it comes to Trevor Lawrence's hamstring.
The tightness that limited Lawrence last week in OTAs reemerged during the first day of mandatory minicamp on Monday, forcing the Jaguars to keep him out of team drills. Coach Urban Meyer said that's likely to happen on Tuesday as well.
"Our trainers and Schotty [passing game coordinator Brian Schottenheimer] are being a little cautious because right now when you're a month out, you yank a hamstring now you're going to miss the early part of the training camp," Meyer said. "That's that one muscle that, you guys have all seen it like I have, you pull a hamstring at this point you're going to miss all your summer conditioning so we're being somewhat conservative on it.
"But he actually could play a game if he had to."
Lawrence did some work off to the side while the rest of the team did their stretches and warm-ups, but he did participate in individual drills and 7-on-7 sessions. He did not participate in 11-on-11 drills.
Lawrence said he would rather be practicing fully, but understands the Jaguars' approach.
"It's been about a week and trying to work it back to full capacity and yeah, it's a little frustrating just not being able to go full speed, but I'm feeling good," Lawrence said. "I'm just trying to not have any more setbacks, so taking it slow. Got some good reps today. So start getting more and more each day this week and kind of work back into it."
The Jaguars have one more day of mandatory minicamp and then break until training camp starts in late July.
Madden NFL 22 teases cover athletes with goats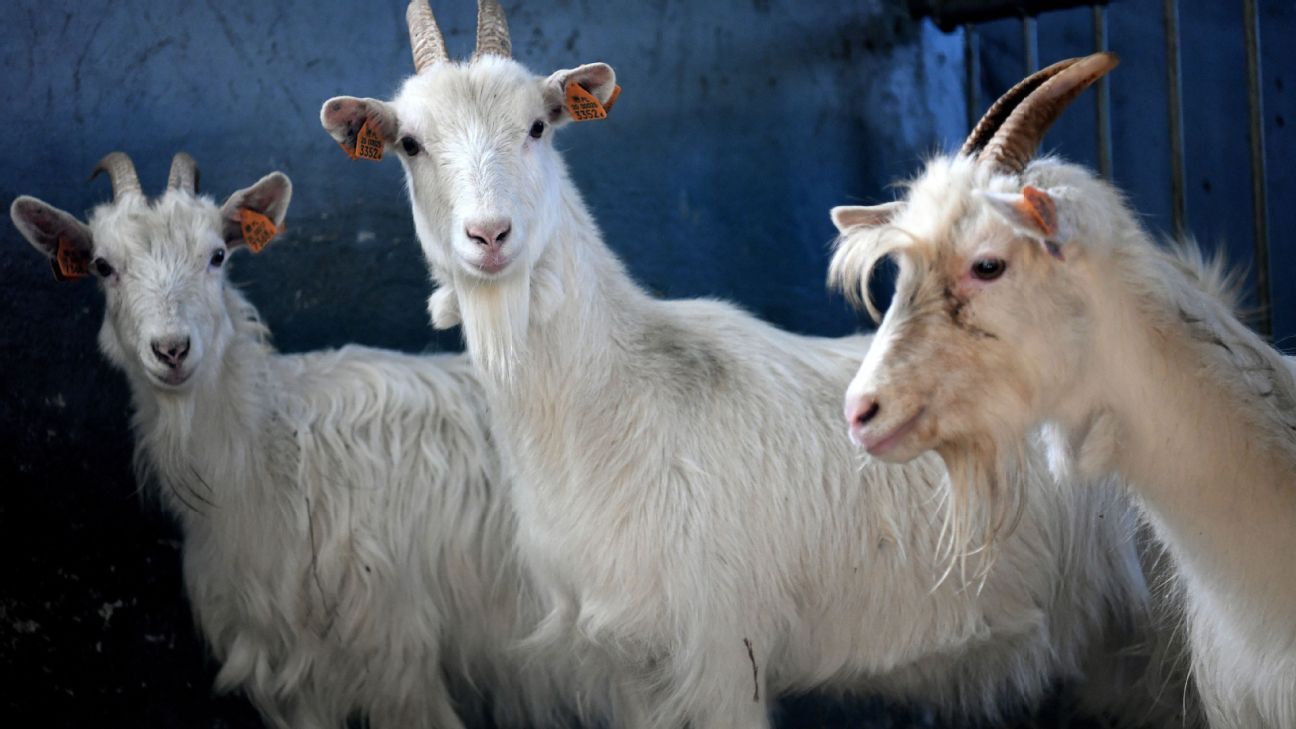 The Madden NFL 22 game cover will be released later this week. The day when we see which superstar nabs the cover is another big date on the NFL's offseason calendar.
To promote this year's cover release, EA Sports is teasing the identity of the athlete with literal goats. Former cover athlete Peyton Hillis interacts with the animals and reacts to the cover.
The video seems to promise two GOAT (greatest of all time) athletes. Given his Super Bowl win last season and his untouchable status as the NFL's greatest QB, it's safe to assume that Tampa Bay Buccaneers QB Tom Brady will be one of the athletes featured.
But who could join him? Could it be Kansas City Chiefs QB Patrick Mahomes, who lost to Brady in Super Bowl LV? Maybe it's a former or current Brady collaborator. Whomever it is, the ungulate ad men in the video aren't saying.
Who do you think will be joining Brady?