METAIRIE, La. — Somehow it got lost in the sea of scrutiny and second-guessing. But Taysom Hill's debut as New Orleans Saints quarterback last week should really be appreciated as one of this season's great feel-good stories.
Hill overcame a tremendous amount of adversity to make his first NFL start at the age of 30 — and to win that game 24-9 over the Atlanta Falcons while completing 18 of 23 passes for 233 yards and running for 49 yards and two touchdowns.
"He deserves this," Saints coach Sean Payton said while explaining why he started Hill ahead of Jameis Winston.
Teammates such as Drew Brees and Alvin Kamara said the same thing. Guys who had seen Hill's development behind the scenes over the past four years — along with Hill's willingness to do all of those extra things like running down on special-teams kick coverage, blocking for running backs and catching touchdown passes while he patiently waited his turn.
"Patience and perseverance is exactly right. The ultimate team player," Brees told ESPN. "Think about all the roles he has played for us over the last few years to help us win. A real testament to his commitment and willingness to sacrifice for the team [in addition to] his work ethic and desire to constantly improve.
"A lot of mental toughness and fortitude."
Hill's college career started late after a two-year church mission to Australia. Then he suffered four season-ending injuries during a five-year career at BYU that generated some Heisman Trophy buzz at one point. One of those injuries was a Lisfranc fracture in his foot in the 2015 season opener, which required extensive rehab into the next year.
Hill also endured the tragic loss of his older brother, Dexter, to an opiate addiction in 2016 — the reason he switched to his brother's old college jersey number and still wears No. 7 today.
Hill went undrafted in 2017 and got released by the Green Bay Packers before the Saints claimed him off waivers.
Then he spent the past four years showing a willingness to do whatever the team asked in his QB/RB/WR/TE/FB/special teams role — even though it led to him being dismissed as a "gadget player" by skeptics who couldn't believe Payton kept touting him as Brees' potential successor.
It feels like a Hollywood script that should have Mark Wahlberg attached.
Hill acknowledged he was emotional as he and his wife, Emily, reflected on everything it took to get here.
We can't control what life brings, we can only control how we respond to it. My journey to the NFL has had the highs, the lows and everything in between- and I'm grateful for all of it! #GiveThanks

Full video: https://t.co/FMlFI0eYYp pic.twitter.com/2QCRJ6NcoZ

— Taysom Hill (@T_Hill4) November 22, 2020
"I wouldn't say that there's one event that sticks out more than another. But my wife and I dealt with a lot of disappointment through college — where pretty much every one of my offseasons but one was spent rehabbing from an injury," Hill said. "So when you work hard to mentally, emotionally overcome that and step into another season just to have another disappointment, I would say it was the combination of every year of those five years at BYU which was what really caused us to reflect.
"You know, a lot of people don't see behind the scenes of that process. But what my wife went through with me and taking care of me, it's been really rewarding to go through that experience with her. And again, it was a great time for her and I to reflect on all those experiences."
Hill said he somehow managed to leave "my phone alone Sunday night" while spending time with his wife, their newborn son, his parents and other family members who had made the trip to New Orleans for the game.
"As you can imagine, I didn't have a ton of time to spend with them last week," Hill said.
One of Hill's many supporters who enjoyed watching his victory from afar was Virginia football coach Bronco Mendenhall — who coached Hill during his first four seasons at BYU, which included a knee injury as a freshman, a broken leg and torn ligaments in his ankle as a junior and the Lisfranc fracture.
"Man, he went through such a challenge of back-to-back injuries. Those were hard days," Mendenhall said. "And he has an amazing wife and an amazing family, and their first child just came. And there's just nothing that he can't do. And I look back at those times of those injuries, and there was still this sense of optimism and hope where he had that this is still gonna have a great finish. And that's exactly what's happening — because of him, because of his family, because of how he was raised and because of who he is."
Mendenhall's BYU staff coined the term "Thor-terback" while the fast and physical Hill first developed his reputation as a dual-threat marvel, finishing his career with 6,929 passing yards, 43 TD passes, 2,815 rushing yards and 32 rushing TDs despite all the setbacks.
The 6-foot-2 221-pounder was so strong back then coaches had to instruct him not to squat more than 700 pounds. He reportedly ran the 40-yard dash in 4.4 seconds at BYU's pro day.
"There's nothing that Taysom Hill will do on the field that will surprise me. He can lead, in my opinion, any team to a championship at any level," Mendenhall said. "He's capable in every possible way. He can run, he can throw, he's poised, he's a great decision-maker, he's a great person. He's a great influence in the locker room, he's unselfish, he's willing to do anything that he's asked to do, he's an amazing teammate.
"There's nothing in a victory in his first start with the Saints that's surprising. It's just like, certainly. Of course they won. Because Taysom was the quarterback."
Of course Hill's debut wasn't perfect. His best result came on an ugly 44-yard completion to receiver Emmanuel Sanders that wobbled in the air for an eternity after Hill appeared to be hit in the leg as he threw it. Sanders had to come back and field it like a punt.
And Payton was able to laugh after the fact about a couple of the motions and alignments Hill got wrong — including one of the first plays of the game.
But Hill's day could have been even better if a beautiful 57-yard TD pass to Sanders later in the game hadn't been nullified by a holding penalty. And the biggest surprise to outsiders who viewed Hill as a "gadget player" was the fact he spent most of the day looking like a true pocket passer, with barely any designed runs or rollouts.
"Here's what no one else is privy to," Payton said. "And it's hard because what the fans and other people are privy to is the special-teams snaps, the Wildcat snaps, the tight end, receiver snaps. But they don't get to see the same snaps that we might see throughout the course of a year that take place."
Before Sunday's game, Hill had attempted only 20 passes in the NFL, including the playoffs, completing 11 of them for a total of 255 yards with no touchdowns and one interception. He had run the ball a lot more since he mostly entered games in a change-of-pace read-option package, with 105 carries for 596 yards and four TDs.
Nevertheless, the Saints proved how serious they were about Hill's potential by signing him to a two-year, $21 million extension as a restricted free agent this past offseason. And he is now very much in the competition to replace Brees on a full-time basis if the 41-year-old winds up retiring after this season.
"He has such a unique skill set," said Brees, who has to miss a minimum of three games after being placed on injured reserve with broken ribs and a punctured lung. "Playing quarterback in this league is tough. You only get better with reps and experience, which have been limited for him because of his role doing other things."
Another well-known coach who always showed faith in Hill was current Michigan coach Jim Harbaugh — who originally recruited Hill to Stanford after he was named the Idaho Gatorade Player of the Year for 2008.
Harbaugh stayed in touch with Hill and reached out while he was recovering from the foot injury, saying when he went through a similar experience he decided to take his competitive nature to the classroom and get his best grades yet.
That stuck with Hill, who has maintained that mentality with whatever opportunity arises.
"There are a lot of really great players that just didn't get opportunities in the NFL. And these opportunities are few and far between," Hill said. "So my mindset is to do everything I can to take advantage of every single opportunity. Each game is a big game for me."
WR Jamison Crowder agrees to pay cut to remain with New York Jets, source says
FLORHAM PARK, N.J. — New York Jets wide receiver Jamison Crowder, the team's leading receiver the last two seasons, avoided the possibility of being released by agreeing to a pay cut, a source confirmed Monday.
Crowder was due to make a non-guaranteed $10 million in base pay for 2021, the final year of a three-year, $28.5 million contract. Details of the renegotiated contract weren't immediately available, but the new deal is expected to significantly lower his $11.4 million cap charge.
The Jets are among the league leaders in cap space (about $27 million), but they approached Crowder recently about a reduction. Crowder, who turns 28 on Thursday, skipped the voluntary portion of the offseason as the two sides haggled over the contract. NFL Network first reported the agreement.
The Jets' mandatory minicamp starts Tuesday, and Crowder is expected to attend.
Coach Robert Saleh was optimistic that a deal would get done, saying 10 days ago that "Jamison's definitely got a role here and we're excited to have him."
After signing receivers Corey Davis and Keelan Cole in free agency, and drafting Elijah Moore in the second round, the Jets had the leverage in talks with Crowder. He led the team with 59 catches and 699 yards in 2020, but his production was down because he missed four games due to leg injuries. The Jets also finished 32nd in total offense for the second straight year.
Even though Crowder is back, it will be interesting to see if his role diminishes in the regular season. Moore, selected 34th overall, has impressed the coaches in offseason practices. Like Crowder, he's a slot receiver.
In another contract-relation development, safety Marcus Maye reported to the facility Monday ahead of the minicamp. Maye, who signed his franchise-tag tender ($10.6 million) earlier in the offseason, skipped the voluntary practices as the two sides attempt to negotiate a long-term deal. The deadline is July 15. If they can't agree to a deal, Maye will play the 2021 season for the amount of the tender.
Cam Newton expected to practice at New England Patriots minicamp after hand injury during OTAs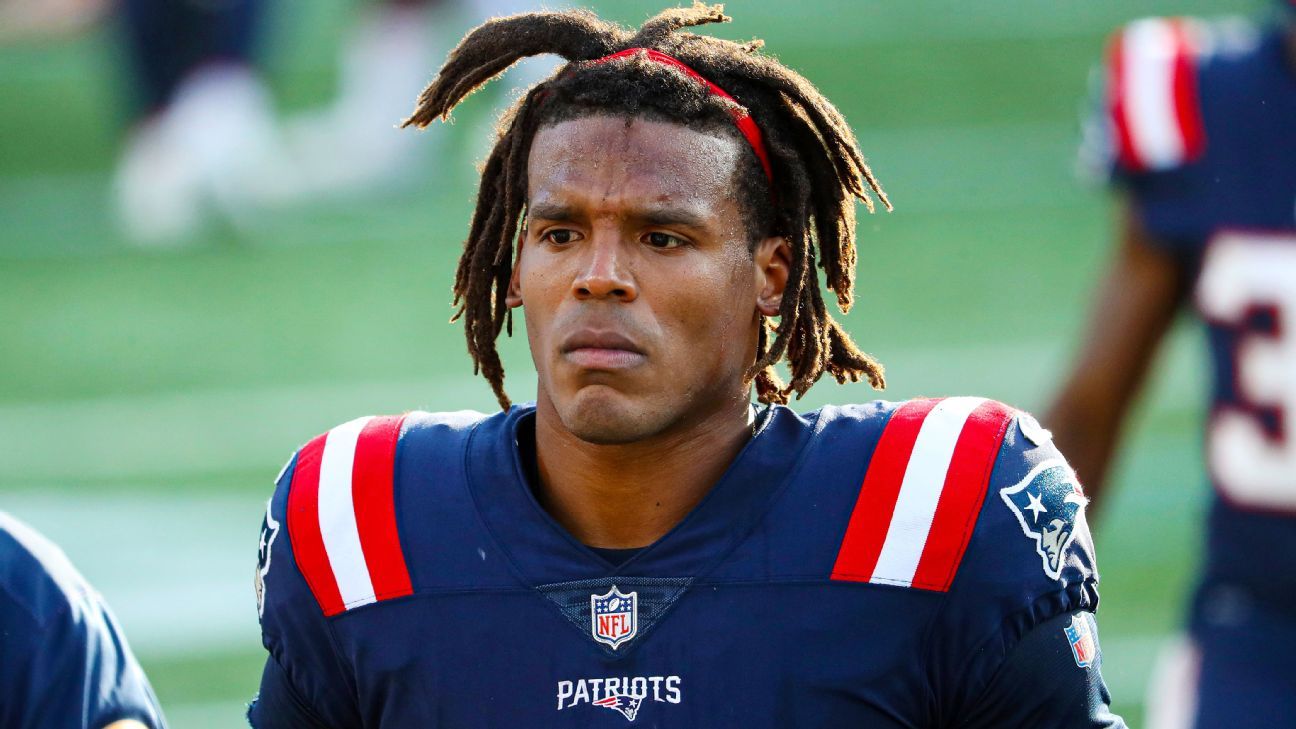 FOXBOROUGH, Mass. – Ten days after sustaining a minor injury on his right throwing hand, New England Patriots quarterback Cam Newton is expected to take part in the team's mandatory minicamp beginning Monday, according to coach Bill Belichick.
Newton had not been present at last Thursday's practice when reporters were present, but returned the following day. The hand apparently responded well.
"He practiced last week. I'd expect him this week too," Belichick said Monday.
Newton has been taking top repetitions in spring practices, with Belichick having previously declared him the team's quarterback. Belichick previously left open the possibility that Newton could face a challenge for the starting job when the team shifts from a spring teaching mode to more of an evaluation mode at the start of training camp in late July.
In Newton's absence last Thursday, third-year quarterback Jarrett Stidham was the first player to take snaps, followed by veteran Brian Hoyer and then first-round draft pick Mac Jones.
Jones was complimentary of Newton, noting that he gave him the nickname "Mac and Cheese" while calling him a "good mentor."
Another notable storyline at Patriots mandatory minicamp surrounds cornerback Stephon Gilmore, the 2019 NFL Defensive Player of the Year. Gilmore is scheduled to earn a base salary of $7 million in 2021, which is below market value for a player of his caliber, and Belichick deflected a question when asked if he's seen Gilmore at camp.
Gilmore is not present, according to the Boston Globe.
Dan Marino on Tua Tagovailoa leading Miami Dolphins to a Super Bowl
MIAMI — Seeing Miami Dolphins fans wearing his jersey take over Hard Rock Stadium never gets old for Dan Marino. Even 21 years after retirement, the Pro Football Hall of Fame quarterback is still the man in Miami.
"I was able to play here so long and to see the fans still care after all this time. It's special and I love it," Marino told ESPN. "It's important to me. I'm happy they still do it."
But Marino also knows the pressure of replacing him has magnified as the Dolphins have failed time and time again during the past two decades to find their franchise quarterback. Miami has had 22 starting QBs since Marino retired in 2000, and the current one — Tua Tagovailoa — has the potential to finally be the answer.
Tagovailoa has the star power — finishing in the top five of all players in jersey sales as a rookie. He's already a folk hero in Hawaii and Alabama, where he was born and played college football, respectively. But after an up-and-down rookie season (14 touchdowns to 5 interceptions with 6-3 record, but an average of 181.4 passing yards per game and hesitancy throwing the deep ball), questions remain about whether he will be the right guy to lead the Dolphins to an elite level.
The Dolphins are counting on a big Year 2 jump. If Tagovailoa shows he can lead this team to championship contention, fans might be as all-in on the Tagovailoa-led future as they are on the Marino-led past.
"I hope he does," Marino said. "It would be awesome for everybody, wouldn't it? The most important thing is to be yourself, be who you are and work your butt off. It'll work out."
The focus around Tagovailoa this offseason has been about his confidence. He admitted recently that last season he "wasn't comfortable calling plays, checking plays, alerting plays" and he "didn't know the playbook really, really good."
Both comments led to widespread criticism from multiple media outlets, but Dolphins coach Brian Flores said it was overblown: "Honestly, I just think he's comparing last year to where he is right now, and I get it. I understand that. I remember being a first-year position coach and coming out of that year, going into the spring, going into the next season and saying, 'I could've been better last year. I should have been better. I'm better now.'"
Early Tagovailoa reviews are positive as the Dolphins head into mandatory minicamp this week. Wide receiver DeVante Parker said Tagovailoa's "mechanics and footwork look different," plus the "ball comes out faster." Tagovailoa, listed as 6 feet, 217 pounds as a rookie, also looks stronger and bigger. He says he's more comfortable with this playbook and scheme under co-offensive coordinators George Godsey and Eric Studesville. Tagovailoa also says his hip feels "10 times better" than it did this time last year coming off his career-threatening dislocation and wall fracture at Alabama in November 2019.
During a wide-ranging conversation with ESPN, Marino discussed what he has seen from Tagovailoa, his view of how being an NFL quarterback has changed since his playing days (1983-1999) and his roller-coaster health journey, which includes two recent knee surgeries and a return to a diet plan to help him lose weight.
Tagovailoa 'has all the talent in the world'
Marino, who has worked for the Dolphins as a special adviser since 2014, knows a lot about Year 2 jumps given his second season — 1984 — is considered one of the best QB seasons of all time. He also gets an up-close view of Tagovailoa and the offense by attending practices and meetings throughout the year.
"He's been great. He's been awesome. He has all the talent in the world. Now it's just about him developing the relationship with the other players," Marino said of Tagovailoa. "It's been tough because he didn't have OTAs last year, a lot of the summer camp or the chance to play in exhibition games. All those things delay you somewhat. I'll tell you, he works his butt off. I'm really excited about him, his future and our future as a team."
The quarterback made clear he's not "Coach Marino," just "someone who can help at times with my view of certain things."
#️⃣1️⃣ finds #️⃣2️⃣@Tua 🤝 @iThinkIsee12 pic.twitter.com/be3b4NbXTf

— Miami Dolphins (@MiamiDolphins) June 2, 2021
Over the past year, Tagovailoa said he valued Marino's occasional insight added during quarterback meetings. Count Marino among those who believe Tagovailoa will be much improved.
"As time goes on you, you get a better handle [of things]. You know your people. That's what OTAs is about, getting your timing down," Marino said. "He played a lot last year and when he played, we won games. We almost got in the playoffs. All that is a positive. You try to build from the positives.
"He wants to be really good. And in time, he's going to get there because that's what type of kid he is."
'I would guarantee you 6,000 [yards]'
Marino smiles when you mention 1984.
He doesn't say it directly, but it's an easy guess it was his favorite season as a pro — winning MVP, reaching Super Bowl XIX, breaking the passing-touchdown record (48) and becoming the first NFL QB to eclipse 5,000 passing yards (he finished the 1984 season with 5,084). Peyton Manning eventually broke both records and remains the record holder after his historic 2013 season (55 touchdowns, 5,477 yards) with the Denver Broncos.
"I look back at it sometimes and I feel like we were doing something very special back then as a group, as a team, as an offense, as individuals that no one did for 30 years [afterward]," Marino said. "Now guys are throwing for 5,000 yards all the time, so it's going to happen on a more consistent basis. But to me, it's still a special deal from 37 years ago."
With the NFL shifting to 17 games, records will be broken. There have been 12 5,000-yard seasons, with 10 of them coming within the past decade, and Marino believes a 6,000-yard season will happen. Then he pauses and his competitive QB spirit comes out.
"If I was still younger with [Mark] Duper and [Mark] Clayton, I would guarantee you 6,000," Marino said. "But I don't have to do it now. I don't have to prove it."
Marino says the game has evolved quite a bit since his playing days. He lists the advanced access to doctors, health information, training techniques and food options, all of which have created the widespread perception of bigger, stronger faster players. But in terms of quarterback play, he sees only one significant difference.
"How to deal with protections at the line of scrimmage — defenses have changed some with multiple blitzes and different personnel — we did some of that stuff, but it's a lot more complicated now than it was in the early '80s," Marino said. "As far as throwing it and reading the coverage, that hasn't changed. It's still 11 guys on 11 guys."
Marino then turns it back to these current Dolphins. Coming off a 10-6 season in which they narrowly missed the playoffs, there's another reason for Marino's Dolphins optimism: Flores. Marino played for arguably the greatest coach of all time in Don Shula, so his perspective on Flores is valuable.
"Coach Flores has been incredible," Marino said.
"As far as discipline and guys playing hard for him, that's all there. I don't think that's going to change. He's been a great addition for us. Guys, they want to follow him."
Chris Canty explains how Tua Tagovailoa can improve in his second year as the Dolphins' QB.
'Trying to impact the game any way I can'
Marino walks a lot better these days with two new knees. He had spent more than a decade fighting it off but finally gave in, getting knee replacement surgery last November and again in March when the pain worsened.
"It was from playing football since a little kid. All the operations, plus playing on the real turf that was like concrete. I did all the scopes, there was no cartilage left. It was getting pretty bad," Marino said.
"But I feel better now. Maybe I'll play again. I'm 59 years old. I can still throw a fade route."
Today, Marino says he's in a better place. His Achilles, which he tore in October 1993 against the Cleveland Browns, wasn't repaired properly and still bothers him. But he got his knees done so that he could move around well with his grandkids. He's 20 to 25 pounds heavier than his playing weight and the Nutrisystem spokesman has a summer goal of eating better to lose some pounds.
Transitioning away from football can be a challenge, Marino admits. He was able to have a smooth lane to a broadcast career for CBS and HBO, and then landed the adviser role with the Dolphins, but he believes the most difficult part for players is maintaining their physical and mental health outside of a team structure.
"It's about enjoying your life every day," Marino said. "We all have family situations. I'm going through stuff with my one sister now where it's not easy and it's not going to be good. You just have to do the best you can, be as open as you can, the whole talking about life is so important."
Marino admits former players all talk about those scary three letters — CTE, or chronic traumatic encephalopathy. He says it certainly "hits your mind," but he is blessed it "hasn't impacted me at all, but it does impact players. It's part of our life — we choose to play the game of football."
In the nearly 45-minute chat, Marino's competitive nature pokes through a few times. When his 1983 QB draft class that included Broncos great John Elway and Buffalo Bills legend Jim Kelly is brought up, Marino notes they don't compete anymore at their ages (Kelly is 61 and Elway is 60). Then he pauses, tries to resist the zinger, but decides to let it loose.
"When we're together, we always have a good time," Marino says. "John is still a pretty good golfer. I'm not sure I can beat him in golf. But I know I can beat up on Jim Kelly for sure."
As far as football, he gets his joy watching Tagovailoa and these Dolphins. His adviser role doesn't put too much stress on him, but it also makes him a part of an ascending Dolphins team that seems poised for a playoff appearance in the near future.
"Sitting in a meeting here or there, being around the coaches, being around practice, trying to impact the game any way I can. I love football. I'm blessed at my age to still be a part of the whole thing," Marino said. "Try to see our Dolphins be better, make the playoffs and win the Super Bowl someday. If I can be a small part of that, it would mean the world to me."