ALLEN PARK, Mich. — The Detroit Lions fired head coach Matt Patricia and general manager Bob Quinn on Saturday after two straight seasons under-.500 and a third season where the team was again under-.500 at midseason.
Patricia's record was 13-29-1 since taking over as the Lions coach in 2018. Quinn had been the team's GM since 2016, and the Lions were 31-43-1 during his tenure.
Lions offensive coordinator Darrell Bevell will be the team's interim head coach, a source told ESPN's Adam Schefter.
The Lions went 7-19-1 with Patricia and Quinn paired together over the the last two-plus years, a stark decline from when Quinn made the decision to fire former coach Jim Caldwell after the 2017 season following back-to-back 9-7 years.
When Quinn did that and then hired one of his former New England Patriots counterparts, it tied the two of them together in success or failure. Soon after Patricia was hired, Quinn was given a matching timeframe contract going through the 2022 season — further putting the two in a similar category.
Things never prospered under Patricia and it ended up costing both of them their jobs.
In December 2019, when the Lions decided to keep Quinn and Patricia for the 2020 season, then-owner Martha Ford and then-vice chair Sheila Ford Hamp said they expected to be playing meaningful games this December.
Hamp, when she took over ownership of the team in June, said the goals remained the same despite the shift in ownership and the COVID-19 pandemic.
"The overarching thing is that we want to see major improvement and at this point I can't really say what the specific measures are going to be because I don't know what the season is going to be like yet," Hamp said in June. "But believe me, major improvement is the goal."
The Lions hired Quinn in January, 2016 after firing team president Tom Lewand and general manager Martin Mayhew midway through the 2015 season after the Lions started 1-7. When Quinn was hired, he said he would focus heavily on the depth of the roster and in his first major decisions chose to retain Caldwell and then sign wide receiver Marvin Jones from Cincinnati to help replace Calvin Johnson, who retired two months into Quinn's tenure.
Jones ended up being one of Quinn's best signings, putting up 1,011 yards in 2017 and catching 256 passes for 3,821 yards and 32 touchdowns during his first four-plus seasons with the Lions. Holding on to Caldwell seemed to pay dividends too, as Caldwell took Detroit to the playoffs in 2016 and finished 9-7 in 2017.
But Quinn, after Caldwell's second straight 9-7 season, fired him because he felt Caldwell couldn't advance the Lions to "beat the really good teams. Our record was above average. We're 9-7 the last two years, but our record against the better teams in the league has not been that good."
Detroit, under Patricia, then won 12 games in the next two-and-a-half seasons. And it was the team's performance, especially after the promises of hiring a coach that would get them, as Quinn described, "to the next level, and to me that's winning championships," never happened.
Detroit has gone 26 years without a division title, last claiming a crown in 1993, and have not won a playoff game since the 1991 season.
When Quinn set out to hire Patricia, he called the relationship between the head coach and general manager "the most important relationship in this building," and said they have to be able communicate with each other about players that do and don't fit.
Patricia and Quinn had similar visions for players and what Patricia needed to make his scheme successful. That shared vision never coalesced into anything other than inconsistency and on-the-field failure.
Beyond the on-the-field failings, there were off-the-field miscues. Detroit missed a decades-old sexual assault allegation against Patricia during their background check while hiring him. Months after Patricia was hired, it uncovered by the Detroit News and led to public scrutiny over hiring Patricia before he even coached a game.
Once the games started, it didn't get much better. The Lions were blown out on Monday Night Football by the New York Jets, 48-17, in Patricia's first game and the franchise won back-to-back games just once during the 2018 season.
During those two seasons, Quinn also made unpopular moves for the fanbase and the locker room, trading away receiver Golden Tate to Philadelphia at the trade deadline in 2018 and safety Quandre Diggs a week before last season's trade deadline.
Quinn made some savvy moves, including trading a fifth-round pick to the Giants to acquire Damon Harrison and shore up the team's run defense midway through the 2018 season. He also had success in the third round of the draft, selecting starters Kenny Golladay, Will Harris and Tracy Walker in that round along with Graham Glasgow, who now plays for Denver.
He struggled in the second round, including the drafting of cornerback Teez Tabor in 2017. At the time, Quinn said he scouted Tabor more than any other player in the draft, but he flopped in Detroit and was cut before the 2019 regular season.
Firing Quinn and Patricia leaves Hamp with major hires to make shaping the future direction of the franchise less than six months after taking over the franchise from her mother, Martha Ford.
Hamstring forces Jacksonville Jaguars QB Trevor Lawrence out of team drills on first day of minicamp
JACKSONVILLE, Fla. — The Jacksonville Jaguars are being extra careful when it comes to Trevor Lawrence's hamstring.
The tightness that limited Lawrence last week in OTAs reemerged during the first day of mandatory minicamp on Monday, forcing the Jaguars to keep him out of team drills. Coach Urban Meyer said that's likely to happen on Tuesday as well.
"Our trainers and Schotty [passing game coordinator Brian Schottenheimer] are being a little cautious because right now when you're a month out, you yank a hamstring now you're going to miss the early part of the training camp," Meyer said. "That's that one muscle that, you guys have all seen it like I have, you pull a hamstring at this point you're going to miss all your summer conditioning so we're being somewhat conservative on it.
"But he actually could play a game if he had to."
Lawrence did some work off to the side while the rest of the team did their stretches and warm-ups, but he did participate in individual drills and 7-on-7 sessions. He did not participate in 11-on-11 drills.
Lawrence said he would rather be practicing fully, but understands the Jaguars' approach.
"It's been about a week and trying to work it back to full capacity and yeah, it's a little frustrating just not being able to go full speed, but I'm feeling good," Lawrence said. "I'm just trying to not have any more setbacks, so taking it slow. Got some good reps today. So start getting more and more each day this week and kind of work back into it."
The Jaguars have one more day of mandatory minicamp and then break until training camp starts in late July.
Madden NFL 22 teases cover athletes with goats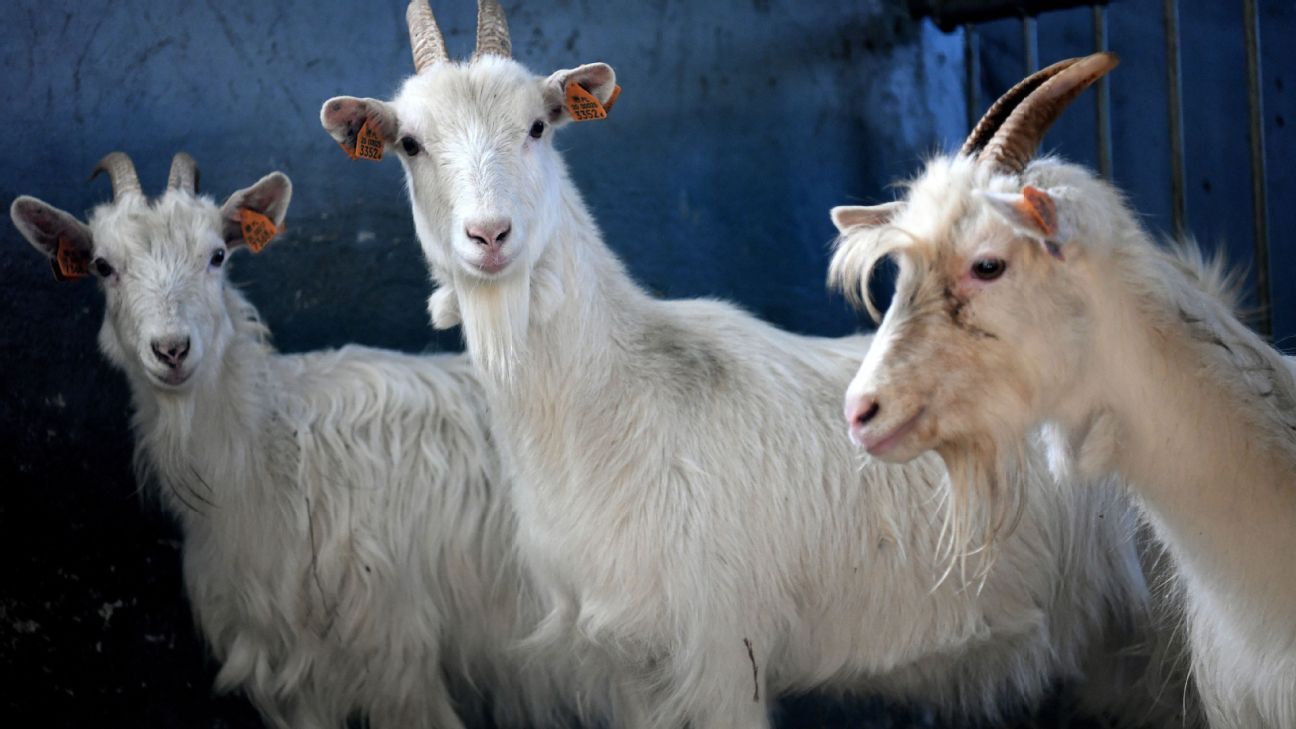 The Madden NFL 22 game cover will be released later this week. The day when we see which superstar nabs the cover is another big date on the NFL's offseason calendar.
To promote this year's cover release, EA Sports is teasing the identity of the athlete with literal goats. Former cover athlete Peyton Hillis interacts with the animals and reacts to the cover.
The video seems to promise two GOAT (greatest of all time) athletes. Given his Super Bowl win last season and his untouchable status as the NFL's greatest QB, it's safe to assume that Tampa Bay Buccaneers QB Tom Brady will be one of the athletes featured.
But who could join him? Could it be Kansas City Chiefs QB Patrick Mahomes, who lost to Brady in Super Bowl LV? Maybe it's a former or current Brady collaborator. Whomever it is, the ungulate ad men in the video aren't saying.
Who do you think will be joining Brady?
WR Jamison Crowder agrees to pay cut to remain with New York Jets, source says
FLORHAM PARK, N.J. — New York Jets wide receiver Jamison Crowder, the team's leading receiver the last two seasons, avoided the possibility of being released by agreeing to a pay cut, a source confirmed Monday.
Crowder was due to make a non-guaranteed $10 million in base pay for 2021, the final year of a three-year, $28.5 million contract. Details of the renegotiated contract weren't immediately available, but the new deal is expected to significantly lower his $11.4 million cap charge.
The Jets are among the league leaders in cap space (about $27 million), but they approached Crowder recently about a reduction. Crowder, who turns 28 on Thursday, skipped the voluntary portion of the offseason as the two sides haggled over the contract. NFL Network first reported the agreement.
The Jets' mandatory minicamp starts Tuesday, and Crowder is expected to attend.
Coach Robert Saleh was optimistic that a deal would get done, saying 10 days ago that "Jamison's definitely got a role here and we're excited to have him."
After signing receivers Corey Davis and Keelan Cole in free agency, and drafting Elijah Moore in the second round, the Jets had the leverage in talks with Crowder. He led the team with 59 catches and 699 yards in 2020, but his production was down because he missed four games due to leg injuries. The Jets also finished 32nd in total offense for the second straight year.
Even though Crowder is back, it will be interesting to see if his role diminishes in the regular season. Moore, selected 34th overall, has impressed the coaches in offseason practices. Like Crowder, he's a slot receiver.
In another contract-relation development, safety Marcus Maye reported to the facility Monday ahead of the minicamp. Maye, who signed his franchise-tag tender ($10.6 million) earlier in the offseason, skipped the voluntary practices as the two sides attempt to negotiate a long-term deal. The deadline is July 15. If they can't agree to a deal, Maye will play the 2021 season for the amount of the tender.