FRISCO, Texas — Doug Nussmeier has had one of the most difficult jobs in the NFL in 2020.
The first-year Dallas Cowboys quarterbacks coach started the season with Dak Prescott on pace for a career high in passing yards, but then Prescott got hurt in Week 5 against the New York Giants. Over the next four weeks, the Cowboys started three different quarterbacks: 10-year veteran Andy Dalton, rookie Ben DiNucci and journeyman Garrett Gilbert, who made his first NFL start against the unbeaten Pittsburgh Steelers.
Despite all that, Nussmeier has had a bigger worry this season.
"The hardest nights for me are Friday nights," he said.
• Game picks from our NFL experts »
• PickCenter » | ESPN Chalk »
More NFL coverage »
That has nothing to do with having to get a new quarterback comfortable in the offense or worrying about how, say, Thursday's opponent, the Washington Football Team, will try to defend the Cowboys (4:30 p.m. ET, Fox).
It has everything to do with being a dad.
Garrett Nussmeier, Doug's oldest son, is a senior at Marcus High School in Flower Mound, Texas, and the 13th-ranked pocket passer in the country, according to ESPN's recruiting database. Next year, Nussmeier will play at LSU. With a win Friday against Lewisville, the Marcus Marauders will win their district. They have already clinched a playoff spot, but given the pandemic, there's no guarantee that the season will finish with a state championship game.
Fridays have been different for the Nussmeiers this year because of COVID-19. There have been no tailgates with other families. The games have been watched from afar. But the emotions have remained the same.
"It's tough sitting in the stands when you're used to being on the sidelines and being in the fight, so to say," Nussmeier said. "You know the playcalls. You know the adjustments. You know where the ball is supposed to go. Now you're in the stands — you don't know. You're watching the game play out. It's been fun, but I won't say it's easy. I guess it would be like if you're a stockbroker, and your child becomes a stockbroker, and you're sitting there watching and say, 'Oh, no, not that one.'"
A football family
The Nussmeiers' story is not driven by the father, but it has certainly been influenced by his profession.
"To be honest, he kind of wanted to give me the freedom to build my own love for the game," Garrett said. "I think it was pretty evident that my love for the game was strong at a young age."
The Nussmeiers have moved a lot because of football. Doug spent three years as quarterbacks coach at Michigan State (2003-05). The next two season were with the St. Louis Rams as quarterbacks coach. Then he did one season at Fresno State as offensive coordinator and three at Washington with Steve Sarkisian. In 2012-13, Nussmeier was Nick Saban's offensive coordinator at Alabama, and that was followed by a year at Michigan and three years as Florida's offensive coordinator. Nussmeier landed with the Cowboys as the tight ends coach in 2018.
Garrett remembers quarterback Drew Stanton at Michigan State, but it was Jake Locker at Washington and A.J. McCarron at Alabama who stood out as he got a little older.
"I wanted to be the guy," Garrett said. "I wanted to be the guy to lead the huddle. I saw my dad's players growing up. I saw him build relationships with those guys, watch them play, and that grew my love more as I started to understand the game more."
Vivid memories stand out to both father and son, first with the Madden video game.
"I'd let him get a lead, and he'd start throwing pass after pass. I told him, 'When you've got a lead in the fourth quarter, run the ball,'" Doug said.
How did he know his son was listening?
"We're playing in the New Mexico Bowl [with Fresno State in 2008], and we had a lead in the fourth quarter when I called a screen pass. It got intercepted, and they ended up scoring and winning," Doug said. "We're getting on the bus after the game, and he just has this disgusted look on his face. I said, 'Hey, bud, sorry. Tough loss, but we'll bounce back.' He said to me, 'Don't you know you run the ball with the lead in the fourth quarter? Why are you running a screen?'"
A few years later in Gainesville, Florida, the Nussmeiers had The Swamp to themselves for some coach/quarterback time.
"One of the worst workouts ever," Garrett said. "I had a plastic football. I hadn't invested in a leather football yet. I'm in sixth or seventh grade, throwing in The Swamp. Just scorching heat, and the ball's going everywhere. I'm like, 'Dang, man, this is not going good.' I remember getting yelled at a lot."
But Garrett never stopped wanting to work. It could've been in the backyard with a net like the Cowboys use to help their quarterbacks with accuracy or in a vacant field not far from the house. Doug remembers looking out the kitchen window and seeing his son with his helmet and shoulder pads on.
"I'm not wired to say, 'Hey, wake up early Saturday morning. We're throwing,'" Doug said. "It was him saying, 'Dad, if you have the time, can we go throw?' That's what made it enjoyable."
Said Garrett, "He's happy as long as I'm using my form right. I think he knew that as long as I kept working, he thought I'd have a chance. I don't think he thought I'd play at the Power 5 level or get to where I am now. I grew into my body, and that surprised a lot of us."
Changing teams
Garrett played some his freshman year at Buchholz High School in Gainesville after the starter got hurt, but when the Cowboys called with an offer to coach tight ends, his father couldn't pass up the chance to reconnect with Scott Linehan. Doug, a former quarterback himself, played for Linehan at Idaho, where he won the Walter Payton Award in 1993 as the Division I-AA player of the year and became a fourth-round pick by the New Orleans Saints in 1994. Doug coached for Linehan in St. Louis. Next fall, Linehan will coach Doug's son at LSU.
In order to have the chance to play his sophomore season, Garrett moved to Texas with his father that spring. Accustomed to calling recruits across the country, Doug eventually cold-called Marcus coach Kevin Atkinson to see if his son could earn a spot.
"I heard his name, of course," Atkinson said. "When he left a voicemail, he said, 'This is Doug Nussmeier.' Wait a minute — I know that name. I typed it into Google, and I was like, 'Holy smokes. That's a good phone call. I'm calling this one back.'"
Marcus found its quarterback; Garrett found a home. Atkinson soon nicknamed him "Extra" because he was always looking for more to do. Garrett led player-run practices even as he was getting to know his new teammates.
Three years later, he is the school record holder in touchdown passes and passing yards.
"I knew right away he had the leadership," Atkinson said. "He hadn't developed physically yet, but mentally, his leadership just exuberated out of him. That's the one thing I told his dad. They sent me his video before they moved, and I commented back to his dad, 'He's got a great release and good footwork, all the things you're looking for in a quarterback, but what I see is a command of the offense. He's moving guys around, expanding their splits.' He just seemed like a leader."
Garrett had been around the game his whole life. He knew what a quarterback was supposed to look and sound like because his father was a quarterback, made it to the NFL and coached at the highest levels in college football and the NFL.
"The only problem with the kid is he wants to be a coach," Doug said with a laugh.
As Garrett's senior season winds down, Doug finds himself being wistful, remembering all the times they were together throwing passes and working on drills.
"I was just looking for an opportunity to go hang out with my dad," Garrett said.
Pittsburgh Steelers release guard David DeCastro, agree to terms with Trai Turner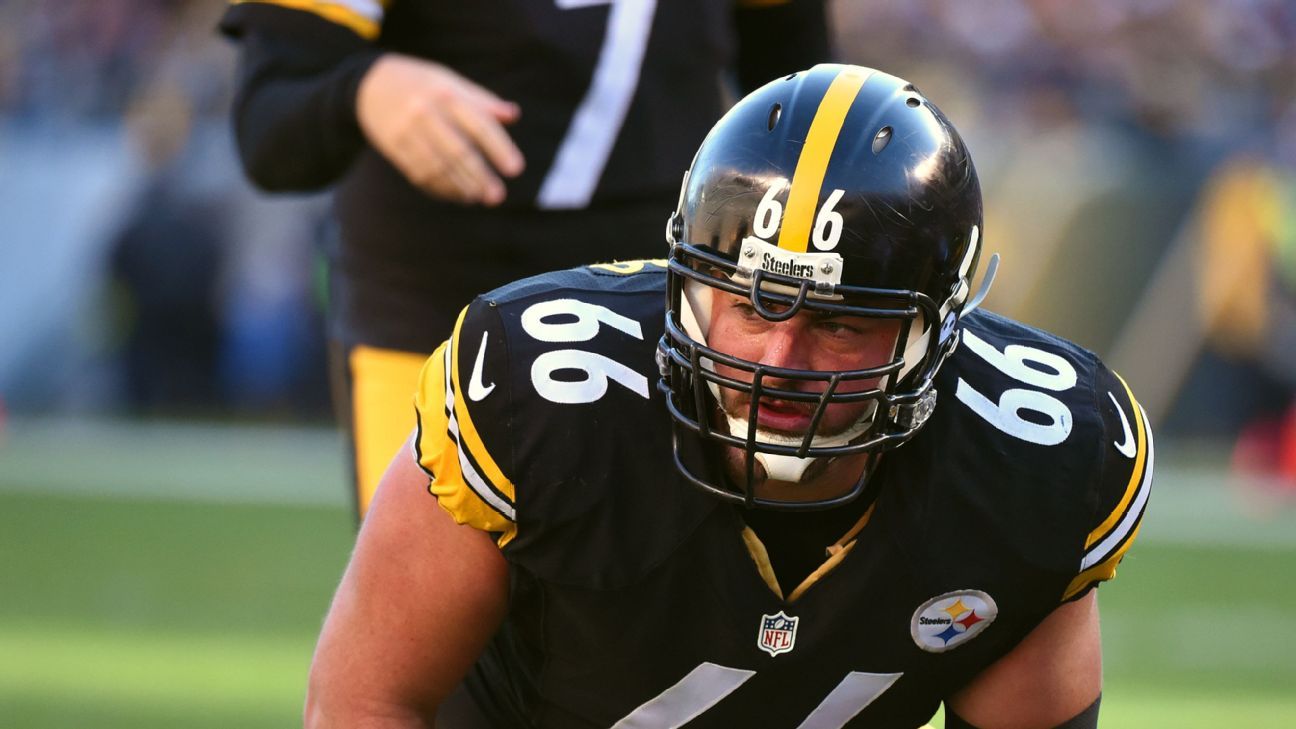 The Pittsburgh Steelers announced on Thursday that they released six-time Pro Bowl guard David DeCastro.
DeCastro was released with a non-football injury designation.
The Steelers later agreed to terms with former Pro Bowl guard Trai Turner on a one-year deal, his agent, Drew Rosenhaus, told ESPN's Adam Schefter.
The 31-year-old DeCastro has been battling ankle issues and is evaluating whether surgery is required, a source told ESPN's Jeremy Fowler, adding that retirement is a strong option for him.
He didn't participate in minicamp recently. When asked a week ago about DeCastro, coach Mike Tomlin said, "If I thought injury circumstances or reasons why people were not participating were significant, I would share them with you."
DeCastro was in the final year of his contract with a $14.2 million cap hit. Releasing him saves the Steelers $8.75 million in cap space. He was the Steelers' first-round pick (24th overall) in the 2012 draft.
"David was without a doubt one of the premier offensive linemen during his time with us," Steelers general manager Kevin Colbert said in a statement. "He helped us win a lot of football games, but it was David's consistency, reliability and professionalism that stood out more than anything else. We wish him the best moving forward in his career."
DeCastro missed the first two games of 2020 with lingering knee issues but appeared in 13 of Pittsburgh's final 14 games.
With DeCastro's release, the Steelers will have one returning starter on the offensive line: Chukwuma Okorafor, who is likely moving from last season's spot on the right side to left tackle. Kevin Dotson also started for DeCastro a few times last season, but he's slated to be the left guard.
The Los Angeles Chargers released Turner in March after first attempting to trade him. Turner, 28, was limited to nine games last season because of a groin injury, but he said recently he was "back at 100 percent."
Turner had no guaranteed money left on a four-year, $45 million extension he signed with the Carolina Panthers in 2017.
Turner was selected to five Pro Bowls in his first six NFL seasons. Chosen in the third round of the 2014 draft by Carolina, he has played in 93 career games with 89 starts.
ESPN's Brooke Pryor and The Associated Press contributed to this report.
San Francisco 49ers' George Kittle says tight ends 'do everything,' deserve respect
NASHVILLE, Tenn. — San Francisco 49ers tight end George Kittle feels it's time to put some respect on his position. That's why he made it a point to gather 49 NFL tight ends together for this week's Tight End University.
The program, which Kittle is conducting along with the Kansas City Chiefs' Travis Kelce and former tight end Greg Olsen, began Wednesday and will continue through Friday in Nashville.
"100% it does," Kittle told ESPN when asked if the way his position is being undervalued bothers him. "I think TE is the most unique and diverse position. It's the most fun position because it's the only one on the field where you get to do everything that a football player does. You run block, you pass pro, you get to run routes and catch the football. We do everything!"
Kittle said his position deserves a little more recognition, given how players such as himself, Kelce and others have become focal points of NFL offenses.
The group of tight ends at TEU got to share trade secrets in hopes of collectively helping each other sharpen their playmaking ability. The summit offered on-the-field workouts, film-study sessions and some evening activities.
"I'm a big believer that you surround yourself with good people which brings the best out of you. We're sharing our strategy with guys. Our mindsets, how you approach the game. All of this is for the tight end position to take a step forward. I'm excited that we have such a great group of guys," Kittle said.
Alternate helmet approved by NFL for use with throwback uniforms in 2022, sources say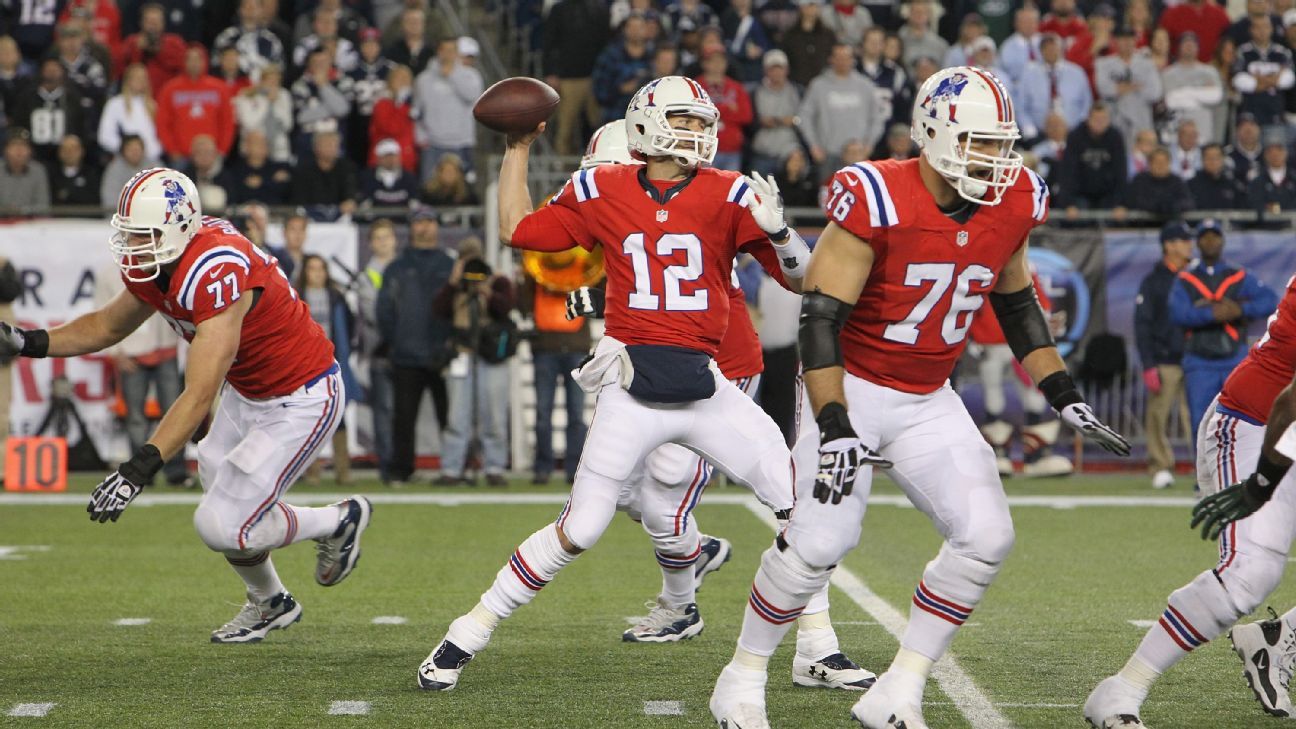 The NFL on Thursday approved that teams can wear alternate helmets with their throwback uniforms starting in 2022, league sources told ESPN's Adam Schefter.
Teams have been limited to one helmet since 2013, when the rule was put in place for safety reasons.
According to ProFootballTalk, the second helmet could also be used with an alternate or Color Rush uniform.
But allowing an additional helmet design would likely be most popular with throwback looks, which could include the Tampa Bay Buccaneers' white helmet with an orange buccaneer logo, the New England Patriots' Pat Patriot look and the Tennessee Titans' Oilers throwback.