As the NFL turns its attention to the draft and free agency, Dallas Cowboys reporter Todd Archer, Washington Redskins reporter John Keim, Philadelphia Eagles reporter Tim McManus and New York Giants reporter Jordan Raanan look to the 2018 season with a series of questions this week.
Monday's question: Can the Eagles command the East the way they did under Andy Reid?
Tuesday's question: How will Alex Smith's addition to the Redskins affect the division?
Wednesday's question: Should we expect a different Eli Manning with Pat Shurmur as the coach and Dave Gettleman as the GM in New York?
Thursday's question: What's the view on the Cowboys a year after Dak Prescott and Ezekiel Elliott led them to a 13-3 record?
Archer: The value of Elliott rose in 2017 because of how far the Cowboys and Prescott fell during the six-game suspension that shelved the running back for all but two of the final eight games. Dallas stumbled to 9-7 after its NFC East-winning 13-3 mark in 2016. I would have voted Elliott as the Rookie of the Year in 2016 over Prescott. That's not to slight the quarterback, but Elliott was the engine of that team. In the second half of the 2017 season, Prescott threw for more than 212 yards in a game just once. He had nine of his 13 interceptions in that second half. But I don't believe Prescott had a "sophomore slump." It was more what happened around him than what he did or did not do. To me, there is no reason to think the Cowboys won't compete for a playoff spot in 2018. Although Dallas has been to the playoffs just twice in Jason Garrett's tenure, the Cowboys have been in contention for the NFC East title or a playoff spot every season but 2015. For the Cowboys to succeed again offensively, they need a full season of Elliott and Prescott benefiting from the looks Elliott gets from the defense. The formula Dallas followed in 2016 is a formula that can work again in 2018.
Keim: A lot of skepticism. The troubling part last season was Prescott's performance during Elliott's six-game suspension. I liked Prescott a lot as a rookie — he had terrific poise — but he stumbled in 2017. However, the Cowboys' struggles were about more than just Elliott's absence; they showed how reliant not just Prescott but also the entire offense was on Elliott. They need more from the receiver position to make this attack more multi-dimensional. Prescott and Dallas' offense just weren't good minus Elliott. In six games without him, Prescott threw five touchdowns and seven interceptions (as Dallas averaged 18.3 points), compared to 17 touchdowns and six picks when Elliott played (and 24.4 PPG). It's really hard to know the direction Dallas is headed. The Cowboys' defense, if it keeps DeMarcus Lawrence, continues to improve and could be the strength of the team next season. But what will Prescott do? Can Elliott not just bounce back but also have the same impact he did as a rookie? If they enter next season with Dez Bryant as their top receiver, 2018 will look a lot like 2017.
McManus: The formula for success seems to be pretty straightforward. When the Cowboys are able to lean on Elliott and that offensive line, everything else falls into place. Prescott gets put in better situations, the defense is less stressed, and victories are much easier to come by. When Zeke is not the centerpiece, the operation tends to get a little out of whack, as evidenced by Dallas' 9-7 finish in 2017. With Elliott back, I'm sure the Cowboys will return to the blueprint that led them to a 13-3 record in 2016. It seems important, though, for the Cowboys to find a way to be less dependent on a single player, particularly in the wake of Elliott's suspension last season. One way to cure that issue is for Prescott to take a step forward in his development. His numbers went down across the board in 2017 after a stellar rookie season. That's somewhat understandable, given the turmoil surrounding the team, but now's the time to get the arrow pointing back up. An infusion of young talent at the receiver and tight-end positions might help in that cause. As we've seen in the NFC East over the past decade-plus, a lot can change in a year. Although the Eagles appear to be well-positioned for a run of success, it's quite possible that Dallas gets off the mat and makes a playoff charge this season. But that will happen only if Elliott shows maturity and Prescott delivers.
Raanan: The Cowboys are dangerous. They are poised for a bounce-back season with Elliott not suspended and Prescott having seen the adjustments that were made against him following a standout rookie season. The 2017 season was undoubtedly a shot of reality for Prescott. He's maybe not quite as good as 2016 suggested, but he's probably somewhere in between his rookie performance (23 TDs, four INTs) and sophomore campaign (22 TDs, 13 INTs). Dallas' defense is gradually improving its talent base, and if the Cowboys can add another serious weapon for Prescott in the passing game, they should be a really good offense with Elliott running behind that still-imposing line. The Cowboys went 9-7 during a 2017 season in which they had a tough schedule and didn't meet expectations. They appear primed to improve this season if they can avoid any internal implosions, which always seems to be in play in Dallas, particularly with Jerry Jones as the owner and a Dez Bryant decision looming.
Son of former Green Bay Packers DT Ron Kostelnik loses dad's Super Bowl II ring
GREEN BAY, Wis. — The son of a former Green Bay Packer says he is heartbroken after losing his father's Super Bowl II ring, and he is offering a $5,000 reward for its return.
Mike Kostelnik told the Green Bay Press-Gazette that he believes he lost the ring that belonged to his dad, former Packers defensive tackle Ron Kostelnik, last weekend when he and his family went to visit his daughter at Indiana University and take another daughter to tour Miami University in Ohio.
He said he had been wearing the ring but took it off and stored it in the car's console.
Kostelnik said he made only one stop along the way, at a BP gas station in Greensburg, Indiana. When he was at Miami and discovered the ring was no longer in the console, the family went back to the gas station to look for it and to report it missing to police. It's possible the ring ended up on the floor of the car and was kicked outside the vehicle, he said.
"All I can do now is sit back and wait," Kostelnik said. "Maybe another idea will pop up, and I will follow all pursuits. Right now, I'm just waiting."
Ron Kostelnik played for the Packers for eight seasons from 1961 to 1968 and helped the team win five NFL championships and the first two Super Bowls. He finished his career playing one season for the Baltimore Colts in 1969 and was inducted into the Packers Hall of Fame in 1989. He died of a heart attack in 1993 at age 53.
"It's the ring my father wore," he said. "A lot of things he went through in life after football were in that ring. It's a ring that I wore during the times I was building my business. So, it's all of the energy and the issues that appear that are in that ring. I felt like it gave me a lot of strength in some very trying times."
Troubled receiver Josh Gordon joins Johnny Manziel on team in Atlanta-based startup league, owner says
Former NFL wide receiver Josh Gordon will return to the sport in the startup Fan Controlled Football league, as a member of the Zappers, team owner Bob Menery told ESPN's Adam Schefter on Saturday.
Gordon will join former NFL quarterback Johnny Manziel on that team's roster.
The league, which began play this month, features 7-on-7 games where fans set rosters, call plays and interact in a blend of traditional and esports environments.
Gordon's on-again, off-again NFL career ran into another roadblock last month as a member of the Seattle Seahawks, when he was suspended indefinitely after the league rescinded his conditional reinstatement.
An NFL spokesperson told ESPN at the time that the decision stemmed from Gordon, 29, violating terms of his conditional reinstatement under the league's substance-abuse policy. No other details were provided from the league.
The league suspended Gordon indefinitely in December 2019 for violations of its policies on substances of abuse and performance-enhancing substances. That was Gordon's sixth suspension since the 2013 season and his fifth for some form of substance abuse, according to ESPN Stats & Information research.
Gordon was conditionally reinstated by the NFL in December and was set to practice with the Seahawks in the final two weeks of the regular season. Coach Pete Carroll said at the time that he had a chance to play Week 16 against the Los Angeles Rams. But that same week, the NFL placed him on the commissioner's exempt list.
Gordon signed a one-year deal with the Seahawks before last season began. In 63 NFL games, he has 247 receptions, 4.252 yards and 20 touchdowns. He was drafted by the Cleveland Browns in the second round of the 2012 NFL supplemental draft, after playing at Utah and Baylor.
FCF teams are playing a six-week schedule, with games live-streamed on Twitch from a league-leased facility in Atlanta. The games last about an hour, and the field is 50-by-35 yards with 10-yard end zones.
Players have backgrounds from the FBS and FCS college levels, along with the CFL, XFL and the Indoor Football League, Manziel among them.
Before FCF, Manziel, 28, last played football in April 2019 for the Alliance of American Football and also has played in The Spring League and the CFL since the Browns released him in 2015. Manziel and Gordon were teammates in Cleveland.
Jake Fromm, Matt Barkley or both? Bills have decision to make at backup QB – Buffalo Bills Blog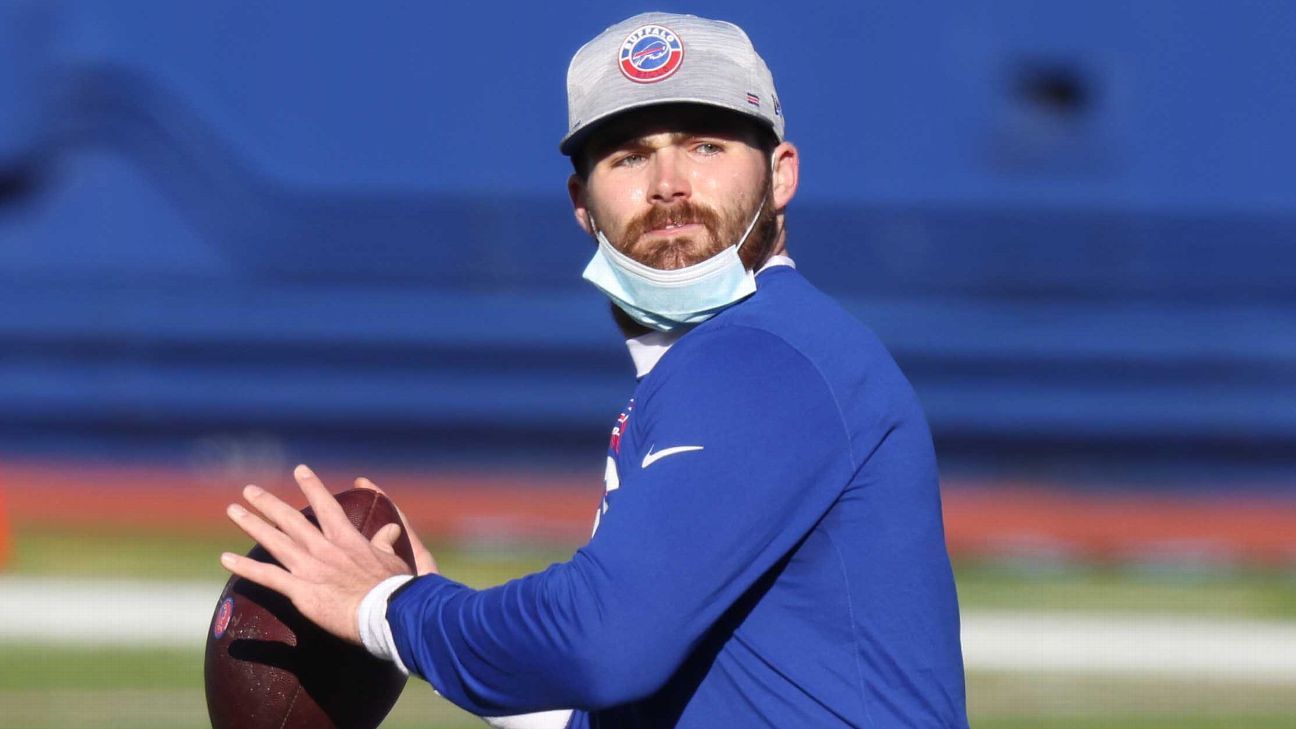 BUFFALO, N.Y. — Among myriad difficult decisions the Buffalo Bills must make this offseason, their situation at quarterback flies under the radar.
Backup quarterback, that is.
Since arriving in Buffalo as a free agent in October 2018, veteran Matt Barkley has served as Josh Allen's backup. In those three seasons, Barkley has completed 53 of 97 passes for 788 yards, three touchdowns and four interceptions, making one spot start in 2018. He is a free agent once again in 2021, and the decision to bring him back is complicated, thanks to the presence of 2020 fifth-round pick Jake Fromm.
The Georgia product, like every other rookie in last year's class, did not have a normal offseason because of the coronavirus pandemic. Fromm's year was even more unique, considering he dealt with an offseason controversy and the Bills made him the team's emergency quarterback, which involved him practicing separately from the rest of the team throughout the week and remaining socially distant inside the Bills' facility.
"Jake Fromm had the most un-normal year a player could ever have, to have to come in here and be the COVID quarantine quarterback," Bills general manager Brandon Beane said. "I thought he handled it greatly. In his exit meeting we just praised him for staying true. He would literally be back there hearing the call in his helmet, and while Josh [Allen] or Barkley are going back [in the pocket], he's going back just like he's making the throw from 20 yards back. He stays after and throws with the practice squad.
"Really tough year for him, but … it will help him going into next offseason. He'll be excited to be able to sit in the quarterback room within six or seven feet of the other guys."
Based on Beane's explanation, Fromm will return to the team in 2021, which is obvious for a player at a prime position in the second year of a rookie contract. The real question is whether Buffalo believes Fromm is ready to be Allen's primary backup, or if he needs another year learning alongside Barkley.
Without any game action — even in the preseason — to evaluate, it's difficult to gauge Fromm's progress. His coaches and teammates have praised his work ethic in practice, particularly Allen, who was asked about the rookie late in the 2020 season.
"It's not an easy ask, to put a guy who's played his entire career and just kind of say, 'Go over there and stay away from everybody,'" Allen said. "He's handled it with a lot of pride. He takes pride in his work, and it's good to see a guy like that go in there and do his job. He's been a pleasure to be around, he's grown a lot since he first got here, and he's been awesome in the quarterback room."
• Ranking top 50 free agents »
• Biggest looming free-agent decisions »
• Top offseason needs for all 32 teams »
• See more on free agency »
Buffalo kept only two quarterbacks on its roster in 2019, Allen and Barkley, before drafting Fromm. The Bills will have to clear some salary-cap space to improve their roster this offseason, but will need a stabilizing presence behind Allen.
On Jan. 26, the Bills signed journeyman Davis Webb, who has spent time on their practice squad, to a futures contract, but it might be worth it to bring Barkley back on a one-year deal. It would provide insurance as they evaluate Fromm throughout training camp. Assuming there's a normal preseason, if Fromm plays well enough to instill confidence in him, the Bills could cut Barkley before the season.
If not, Barkley would spend his fourth straight season with the Bills; or, Buffalo can go in a different direction.
Fromm will obviously return, but Beane can opt for a "high-end two," as ESPN analyst Matt Bowen puts it — a player like A.J. McCarron, C.J. Beathard or Nick Mullens.
"Knowing where they are right now, as one of the top Super Bowl contenders … do you need to bring in a veteran quarterback to be a high-end two until you believe Jake Fromm is ready?" Bowen said. "If you don't think he is right now, then you're going to have to go out and get someone, in my opinion."
Either way, any decision that involves not bringing Barkley back will weigh heavily on Beane; Barkley and his wife are beloved within the organization.
"What a selfless guy. Some guys are the backup and they're itching to play," Beane said. "Matt's a competitor, he wants to play, but his first thing every day he walks in this door is to help Josh Allen be the best version of himself. And that's why it's been so great to have him.
"Without getting into contracts, we'll see, but very appreciative of Matt, even his wife, Brittany, does a great job of helping wives connect. It's big for our team culture. So the Barkleys have been a big blessing to the Buffalo Bills. We'll see [on] the business side where that ends up."