INDIANAPOLIS — Saquon Barkley ran headlong, without any hesitation, into the NFL's scouting combine Thursday.
The Penn State running back, who some NFL talent evaluators believe is the top-rated prospect in this year's draft, said he has no cause for concern if any of the NFL's have-nots at the top of the draft board, including the winless Cleveland Browns, select him in April.
On the Browns, who hold the No. 1 and No. 4 picks in the opening round to go with a 1-31 record over the last two seasons combined, Barkley said it would be "awesome" if Cleveland made him one of their picks.
"That's awesome, something bigger than you," Barkley said. "You go to a team like that, obviously they've had some rough years, but I think they're a couple pieces away. They do have a lot of young talent, new offensive coordinator. … You want to be part of something like that, that's something bigger than yourself, that's something you leave a legacy of being part of something special."
But Barkley has obviously done some homework about the teams at the top of the board. Inthe span of about 12 minutes, he referenced: being a teammate of New York Giants players Odell Beckham Jr., Sterling Shepard and Eli Manning; the fact Colts quarterback Andrew Luck didn't play last season because of a shoulder injury; and that he was a New York Jets fan growing up.
The Giants, Colts and Jets, respectively, have the second, third and sixth overall picks in April's draft. The only team Barkley didn't reference in the draft's top six was the Denver Broncos, at No. 5.
"But any team, in my mind, that would pick me would be a good fit," Barkley said. "… I'm just going to keep my head low and be ready to work."
Barkley rushed for at least 1,076 yards in all three of his seasons at Penn State, including 1,496 yards in 2016 and 1,271 yards this past season. He also caught 54 passes in 2017 and closed out his career with back-to-back seasons with 18 rushing touchdowns.
Football from Tom Brady's first NFL touchdown pass going up for auction
The football that Tom Brady threw to complete his first touchdown pass in the NFL is going up for auction with Lelands on Sunday.
It's a unique piece of sports history that has been with the seller, who wishes to remain anonymous, since the game on Oct. 14, 2001, when the New England Patriots played the San Diego Chargers.
The seller grew up in Rhode Island and has gone to Patriots games since the late 1970s with his family. He and three of his high school friends first bought season tickets in 1992 as college students and have kept the tickets to this day.
He's a loyal fan of the Patriots and jokes that his wife almost divorced him 100 times because of how devoted he was to the Sunday games and tailgates with friends.
In the beginning, the tailgates were what the group of friends looked forward to as the Patriots went 2-14 in 1992 and 5-11 in 1993. The team had improved by the 2001 season, but the 25 to 30 friends still enjoyed the tailgate.
On that fall day in October, the seller made his way to Lot 11 right when the parking lot opened in the morning. Eventually, they dispersed to their respective seats and the seller made his way down near the field in the south end zone.
"Looking from the 50-yard line to the south end zone, the left field goal post, I sat to the left of that," the seller said. "[Place-kicker] Scott Sisson, we called him Missin' Sisson. I caught a lot of balls in that stadium because he would miss field goals."
The game was only the third one Brady started after Drew Bledsoe was injured in the second game of the season against the New York Jets, so most Patriots fans didn't have high expectations for Brady. From the moment Bledsoe was injured, however, the seller tried to convince his friends Brady was going to be the guy going forward, although he met with much resistance from his audience.
Brady had gone two games without throwing a touchdown as the starter, and there was now 4:01 left in the second quarter with New England and San Diego tied at 3 apiece.
The Patriots were driving at the San Diego 21-yard line when Brady took the snap, looked for Terry Glenn the whole play and threw a dart to him in the front of the end zone. Glenn threw his arms in the air and celebrated with his teammates. He then made his way near the back of the end zone and threw the ball into the crowd.
"It was a melee. I stood up on my seat, I pushed my buddy to my left," the seller said. "The other two guys, I handed them my beer in a gentle way. I jumped up, tussled with a group of other fans around me and I came down with the ball."
At the time, it was just another football. He was excited he had caught the ball and proud to see that, at age 29, he still had hands from his high school football days.
It wasn't until he went to the postgame tailgate, when he opened his trunk to show the football off to his friends, that one of them reminded him it was Brady's first touchdown.
He kept the ball in a safe place in his house and even played a very careful game of catch with the football in the backyard. It wasn't until the end of the 2003 season, when New England beat the Carolina Panthers in the Super Bowl, that the seller knew he had something special.
Immediately after that game, he put the ball in a safety deposit box at his local bank. There it stayed, rarely brought out of its safekeeping. The ball became something of a superstition for the seller and his friends, as he would take it out the Saturday before each Super Bowl the Patriots appeared in, take a picture of it and send it to his friends.
The Patriots have lost the Super Bowl only once when the seller took a picture of the ball, and they were 0-2 in the two games when he didn't.
"I was out of town for the Philly game [in 2017], and I just missed the bank closing for the Giants game [in 2007]," the seller said. "I had kids' sports and just couldn't get there before the bank closed. That's what caused the David Tyree helmet catch, because I couldn't take a picture of the ball."
As time passed, and with neither of the seller's kids expressing interest in keeping the ball in the family, they decided it was time to move on and allow someone else to enjoy this piece of sports history.
Lelands has photo-verified the football based on markings and writing on the football that was specific to the Patriots at the time. As Glenn celebrated in the end zone, a photographer captured the moment with Glenn holding the football with the laces out and the markings clearly shown. There are four main points that were identified on the ball. The Patriots wrote "PATS" in marker on one side of the ball near the laces, two dots on the end of the laces, the letters "L" and "N" on one side and a two-digit number on the other side identifying which game ball it was for that day.
"You can see the exact marks where the writing on the ball in the photo matches the ball that we are about to offer," Lelands director of acquisitions Jordan Gilroy said. "It's incredible that there was a photographer that close to him at that moment in time. Everything in that scenario was perfect, and we definitely did our due diligence to make sure it is the one."
Lelands previously sold the infamous football from the Patriots' AFC Championship Game defeat of the Colts in 2014, after which New England was accused of deflating footballs to gain an advantage. That ball sold in July 2015 for $43,740.
Gilroy and the seller don't have a realistic gauge for the amount this ball could bring in, but he says it isn't in the same conversation as the Deflategate ball.
The timing is right to get top dollar for this type of item as the sports card and memorabilia hobby has exploded in the past year. Lelands sold an autographed Tom Brady Panini Playoff Contenders Championship Ticket rookie card for $2.25 million in April, which broke the record for the highest-selling football card.
That card was graded as an 8.5, and the auction house now has the same card graded as a 9 up for auction on Sunday as well. There are only seven of these cards graded as a 9, so the expectation is that this card will eclipse the $2.25 million price tag from April.
As rare as that card is, this football is a true one of one and can't be replicated or re-created.
"For Tom Brady's football to be available and owned by an average fan is incredible," Gilroy said. "It's a piece of football history, and I think 10, 20, 30 years from now and Brady's legacy is remembered even more, like Michael Jordan is now, it's just going to increase in value. The fact that this ball is probably going into a private collection and might not see the light of day again, it might be the last time it ever sells."
The seller hasn't thought much about what would happen if Brady called him to try to put the ball into his personal collection, and he doesn't have an expectation for what the ball could bring at auction when it ends on June 4.
Because he is a loyal Patriots fan and the ball means so much to him, the seller wishes only that it will go to the right fan.
"Somebody that has a place that can put it on their mantel, tell the story of how they got the ball," the seller said. "My entire goal is to get it in the right fan's hands that will enjoy telling their family and friends that they have the ball. It's a piece of history you never see, but some of these great pieces of history need to be in the fans' hands, so I want to get it to the right person that will enjoy it the way I have."
Where Julio Jones could land if the Falcons trade him – Atlanta Falcons Blog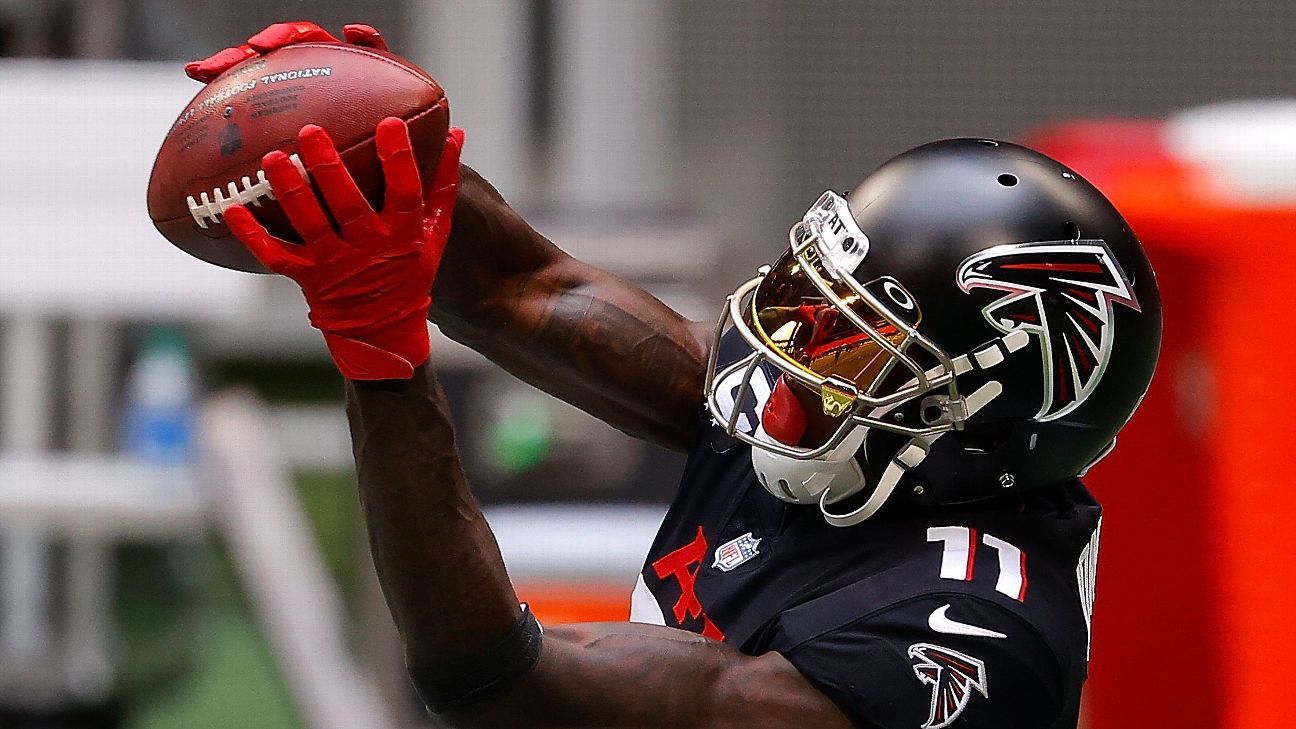 It's a move no one would really want to make. Parting with franchise stars, players who could end up in the Hall of Fame, is never an easy thing. Teams do it every year, the multibillion-dollar business side of a game.
But every career sees changes, and in the National Football League moving on is a harsh part of life. Which is where the Falcons might sit at the moment with star receiver Julio Jones.
The draft over, the Falcons now must turn their attention to the rest of their roster — and what it might look like in the fall. The draft class still needs to be signed. Cap space remains incredibly tight, which is how Atlanta ended up in a conversation about possibly trading Jones.
"The answer to that is just pointing to the cap and pointing to the fact that we'll answer calls on any players," new Falcons general manager Terry Fontenot said last month. "When teams ask about players, we have to answer those calls and we have to listen because we do have to, we knew when we stepped into this we were going to have to make some tough decisions because it is just the reality of it.
"That's where we are with the salary cap, so we have to make some difficult decisions."
Trading Jones isn't a performance thing. It's simply the reality of a shrunken salary cap due to COVID-19 and a cap-flow problem the previous regime left Atlanta in.
And this isn't to say the Falcons are definitely trading Jones after June 1. If the return value isn't there, whether that's draft picks, good players on cheap contracts or a combination of both, it would be surprising to see Atlanta trade him.
With that in mind, here's a few ways to look at the Falcons' situation.
Keeping Jones
If Atlanta keeps Jones – which from an on-field perspective is logical – the Falcons have to find a way to free up money. That could come from releasing other players, and to speculate on names would not be prudent because there's too many potential scenarios Fontenot could try.
There's also the possibility of trading other players who wouldn't get the return Jones would either in capital or cap relief.
The other option would be to restructure Jones, much like the team did with Matt Ryan, Jake Matthews and Deion Jones. There aren't many players they could ask for pay cuts from, like the team did with Dante Fowler Jr., but that's another option.
But restructuring Jones -– or, perhaps Grady Jarrett –- could provide the short-term relief it needs while continuing to create potential cap problems in the future. Say the Falcons restructured $7.5 million of Jones' contract. It would give Atlanta almost $6 million in cap room for this year, according to Over The Cap, but it would give Jones a cap hit of almost $22 million in 2022 and 2023. Which is, again, pushing the potential problem down the road. It's an option, but maybe not the best long-term one.
Fontenot also acknowledged he doesn't want to keep restructuring deals because it doesn't help long-term.
"This is not going to be an overnight fix with the cap. It's going to take time," Fontenot said. "But we want to have a healthy cap at some point so we can't just restructure every contract because it's just hurting us in future years."
Jones and Jarrett, though, are the only two players on the roster where a restructure would offer the kind of 2021 fiscal relief that would truly help.
Another option could be extending Jarrett, but to speculate on what a contract like that would look like could go in too many directions for how it could free up money for Atlanta.
Trading Jones
As Fontenot takes potential calls, there are some things to consider. First is Fontenot didn't "want to put a number on it" of what it would take to make a deal happen, so it's not quite clear what the demarcation line is for Atlanta between keeping or trading.
Due to Jones' age – he's 32 – some teams may not be interested. Others have their own cap conundrums, so taking on Jones' contract would not be a palatable plan for those teams. Others may feel good about their receiver corps.
And if you are a team interested in trading for Jones, you either would be one of two things: A team believing it's a star receiver away from a Super Bowl, or one trying to find a top option for a young quarterback to help him build.
But there would be clubs where a move like this could make sense.

New England: With around $16.5 million in cap space, the Patriots would have the room to make a deal. Bill Belichick has shown no concerns going after top players this offseason in free agency, and he has made trades to acquire players – particularly wide receivers. Remember, this is a franchise that traded for Randy Moss and Wes Welker in 2007 and Brandin Cooks in 2017. Plus, Belichick made a move for Corey Dillon in 2004. So the Patriots have made moves for playmakers in the past. While New England did sign Nelson Agholor and Kendrick Bourne in free agency, Jones is another class of receiver and would give veteran Cam Newton and rookie Mac Jones a high-level target every down.

San Francisco: Reuniting Kyle Shanahan with Jones would be intriguing and with cap room of $17.5 million, there is space to figure out a deal. Compensation would have to come in something other than a first-round pick, though, since San Francisco doesn't have any in 2022 or 2023 because of the Trey Lance deal. But the Niners could use a receiver, especially since neither Deebo Samuel nor Brandon Aiyuk was incredibly healthy last year. There's also the Jimmy Garoppolo contract question as well that would seemingly play into any high-money move San Francisco would make. But Jones would fit into the scheme and end up on a contender.

Indianapolis: The Colts have the cap room (just over $21.5 million) and a quarterback in Carson Wentz who could use a high-level receiver. Other than T.Y. Hilton, the Colts' receivers are long on potential and lacking in true production. Hilton's production has waned, too, including just 56 catches for 762 yards and five touchdowns last year. Not bad numbers, but the addition of Jones to Hilton would be a win for Wentz and a team seemingly in a win-now mode after making the playoffs in two of the last three years. Plus, general manager Chris Ballard has been bold in his trades before – between the Wentz deal this year and trading for DeForest Buckner a year ago.
Las Vegas: The Raiders don't have the cap room some other teams do (just over $5.279 million), but Jon Gruden has never shied away from trying to land impact playmakers. And Jones is that. There's also a lot of youth in that receiving corps, including potential standouts Bryan Edwards and Henry Ruggs III, and a player like Jones could add a No. 1 option, a mentor and a key piece to an offense that already has Darren Waller and Josh Jacobs. It'd be a fit for a team that has been improving under Gruden.
New Detroit Lions QB Jared Goff can lean on experience, both good and bad – Detroit Lions Blog
At 26 years old, Jared Goff is a two-time Pro Bowler with a Super Bowl appearance on his resume, but there's a burning question still lingering ahead of his first season in Detroit: Can he bring relevance to the Lions?
Often viewed as an afterthought in the Matthew Stafford trade, which brought him to Motown in March, Goff doesn't feel the need to remind outsiders of his past glory with the Los Angeles Rams.
"I try not to pay much attention to media dialogue or anything like that, but sure there's some things that build a little chip on your shoulder," Goff said during Thursday's media availability. "Not that I would say I feel like I'm forgotten, but there's some things I've done in this league that I feel pretty good about and excited to bring to the Lions.
"I don't need to do that. I'll go out and play this year and hopefully play pretty well this year and let them make that decision."
Goff was selected first overall in the 2016 NFL draft by the Rams but is replacing Stafford, a fan favorite who spent 12 seasons as a Lion. The Lions' front office committed to him as their guy with a strong draft class, which included selecting Oregon offensive tackle Penei Sewell to beef up the line.
Detroit also locked up Frank Ragnow Thursday to a four-year, $54 million contract extension, which makes him the highest-paid center in the league. Goff said he was in communication with Lions general manager Brad Holmes, who gave him assurance ahead of the draft that they would not be drafting a quarterback, which was a "nice vote of confidence" for him entering the season.
"Fired up. When I saw we took Penei, I know the staff was fired up and so was I, obviously, as a quarterback," Goff said. "Any time you can get help up front, that's always good. But yeah, we've got a lot of solid guys up there right now, and I think it's shaping up to hopefully be one of the top groups in the league.
• Bears' next QB dilemma: When to play Fields
• Draft raises questions about Texans' QB room
• Saints rookie QB Book is 'unflappable'
• Moore a perfect fit for Cardinals' offense
• Goff leans on experience — good and bad
"There's obviously a lot of work to do, and I know they know that, but there's a lot of good players up there right now — and as a quarterback, that's your best friend. So, I'm excited for it."
Although the offensive line is one of the strengths of the Lions, their receiving corps is still a mystery. Quintez Cephus, a 2020 fifth-round rookie, is the only returning Lions wide receiver who had a catch for the team last season.
This offseason, the Lions added Breshad Perriman, Tyrell Williams, Kalif Raymond and Damion Ratley, who combined for 32 receptions and 552 yards last season, but they're motivated by the early criticism that they may not be deep enough.
"We've got a receiving room full of guys that have handled some kind of adversity," Raymond said. "And when you've got guys like that, guys come with a different level of grit, different level of chip on their shoulders. And it's the same thing that's kind of molded me into the player and the man that I am today, and I see a lot of that in the guys in the receiving room. So I think that's probably the most important thing."
Goff will be drawing from early career experiences, notably from a rookie year in L.A., where he went 0-7 as a starter. Recounting those moments can help him prepare for joining a team like the Lions, who are building from the ground up, which he is also embracing.
"Yeah, I think so. There's a lot to take," Goff said. "Any time there's a new head coach and a full new staff and a lot of new players as well; there's a turnover, and there's a different feeling, and there's a different energy in the building, and just trying to grasp that and run with it.
"The biggest thing is that it can change very quickly. It can go from unfortunately not very good last year, to good and to playoff good very quickly. It's not easy, I'm not saying it's show up and it works, but there's a lot of work that can be done, but it is available. It is an option if we make it the right way and we put the work in and do the right things."