It has been almost a month since the Philadelphia Eagles captured their first Super Bowl championship, and the demand for ink is still going strong.
On Sunday, tattoo artist Dan Czar held an "Eagles Flash Day" at AC Ink in Somers Point and, by his tally, serviced about 30 customers.
"All in all, a great day," Czar said.
There have been a lot of them for tattoo parlors across the Philadelphia area since the Eagles beat the New England Patriots 41-33 in Minneapolis to capture the Lombardi Trophy. Fifty-plus years had passed between Eagles titles, and fans have been eager to commemorate the feat.
After scouring social media, here are our picks for the 10 best tattoos so far:
10. Eagles long-snapper goes all-in
It's not just fans; some Eagles players have been getting work done as well. The team's long-snapper, Rick Lovato, went with a giant Lombardi Trophy down his side.
Forever a part of history. #FlyEaglesFly pic.twitter.com/CxqlyjfCL9

— Rick Lovato (@TheSnappingLife) February 21, 2018
He explained why in a Twitter post: "For those who want some more background on my tattoo, 2 years ago I visited Vince Lombardi's grave in my hometown of Middletown, NJ where my grandfather is buried. Not having a full time job in the NFL yet and not knowing where this career would take me, I trusted my passion and faith to keep reaching my dreams. Since then I was cut two more times and could've given up on those dreams, but it made me want it more than ever. After a heated battle with my friend Jon Dorenbos in training camp I had finally found my place in this league. Through the ups and the downs of my first full season in the NFL, I have fulfilled my dream of playing and winning the Super Bowl. It has brought me more joy in my life than I could've ever imagined. I still pray and thank Coach Lombardi to this day because of how my life has changed since the day I visited his grave. This tattoo means much more than just winning a Super Bowl. It represents my journey, everyone who's supported me and my faith in God."
9. "The Philly Special"
A popular tattoo has been the "Philly Special" play design. The reverse throwback to Nick Foles on fourth-and-goal proved to be the defining moment of Super Bowl LII.
Today in Eagles champ tattoos pic.twitter.com/V8OaVZqZkT

— Darren Rovell (@darrenrovell) February 22, 2018
8. Radio host stays true to his word
Jon Marks, a sports radio drive-time host on 94.1 WIP in Philly, was one of the few who remained confident the Eagles could win the Super Bowl when Carson Wentz went down with a torn ACL — so much so that he put his body on the line.
"I was pissed at the fans after the Raiders game [late in the regular season] because everyone was saying the Eagles couldn't win with Foles," Marks said. "So for whatever reason, I said that they still could win the Super Bowl with Foles, and if they did, I'd get his face tattooed on my back."
And so he did.
.@JonMarksMedia's Nick Foles tattoo is done!

Phenomenal job by @TimPangburn at @AMP_Tattoo 👏 pic.twitter.com/hx6gzAqaZG

— Jon Marks & Ike Reese on 94WIP (@MarksReeseWIP) February 20, 2018
7. Lip service
There's dedication, and then there's getting a tattoo on your inner lip that reads "Go Birds."
6. Bad-looking Eagle
Dig it.
@Eagles got my super bowl tattoo yesterday pic.twitter.com/lQ415TXw4B

— Steve McDermott (@Flyeaglesfly72) February 11, 2018
5. Trolling Tom Brady
Some took as much joy in sticking it to the Patriots as they did in seeing their own team win.
Inked at the Philadelphia Tattoo Arts Convention. pic.twitter.com/zywOGmhoj5

— Darren Rovell (@darrenrovell) February 11, 2018
4. Did we just become best friends?
A personal favorite: Wentz and Foles, for reasons unclear, donning sweater vests in a recreation of "Step Brothers."
Today in Eagles fan tattoos (📷 by @4thandJawn) pic.twitter.com/anuST0itsK

— Darren Rovell (@darrenrovell) February 13, 2018
3. Jason Kelce eating scrapple
The Eagles center did wonders for his Q rating by dressing up in a green Mummers outfit for the parade and delivering an impassioned, profanity-laced speech about underdogs on the Art Museum steps. Playing to the "underdog is a hungry dog" theme, here's Kelce downing some scrapple, a Philadelphia breakfast dish.
Please #retweet this and make sure @JasonKelce sees this. Embodiment of this great city. #legend #eagles #SuperBowlChamps #tattoos #letshavebeers #imbuying pic.twitter.com/d5HGlAsywf

— Wolf LITzer (@Beemill81) February 11, 2018
2. Super Bowl City
Just a cool design.
Amazing Philadelphia Eagles tattoo! #FlyEaglesFly pic.twitter.com/VYYHnllWvV

— Eagles UK🇬🇧 (@PhiEaglesUK) February 20, 2018
1. Corey Clement sets the bar
Days before catching a touchdown pass in the Super Bowl, rookie running back Corey Clement was feeling so good about his squad that he booked an appointment with Czar to have an Eagles tattoo done.
"He hit me up before the Bowl and said, 'Let's plan for Wednesday after the Super Bowl.' And I was like, wow, this guy is really trying to get in because I knew how busy he would be," Czar said. "And once he told me it was an Eagle, I was wired. It was awesome."
He asked for "an Eagle ripping out of my arm" and ended up with one of the best tattoos to come out of the Super Bowl win.
New York Giants' Nate Solder intends to play in 2021 after opting out last season
EAST RUTHERFORD, N.J. — New York Giants offensive tackle Nate Solder intends to play in 2021 as long as the situation is right, he told ESPN in a phone conversation this week.
Solder, who opted out this past season because of concerns for his family with COVID-19, has yet to have that conversation with the team about his future. He was considered a high-risk opt-out and his contract tolled.
He is scheduled to make $10 million in 2021 while costing $16.5 million against the salary cap this upcoming season.
The Giants haven't been in a rush to make any moves with the new league year still almost three weeks away. Like everybody else, they're waiting to see the official salary cap number for the 2021 season. Then they're expected to meet with the veteran tackle.
Solder, 32, was the Giants' starting left tackle in 2018 and '19 after signing a lucrative free-agent contract. He had spent the previous seven years of his career with the New England Patriots, where he won a pair of Super Bowls.
The decision to opt out last season centered around Solder's family. His oldest son Hudson has battled cancer. So has Nate. Solder and his wife Lexi also had a newborn.
Solder had said late last year on the Sports Spectrum podcast with former NFL quarterback Brock Huard that if he had another opportunity to play, he would probably take it. He also noted that he was still working out, but hadn't prioritized his conditioning and weight lifting like he would during a normal football season.
The Giants now have a decision to make if they are going to move forward with Solder. They would save $6 million this season against the salary cap if he's released, and $10 million if they made it a post-June 1 cut.
New York drafted a pair of tackles in last year's draft, including Andrew Thomas with the No. 4 overall pick out of Georgia. Thomas started at left tackle and, despite early struggles, got better as the season progressed.
Third-round pick Matt Peart is expected to compete for the starting right tackle spot this year. Cameron Fleming, who started last season, is a free agent.
From Curtis Samuel to draft, Washington has options to add speed at WR – Washington Blog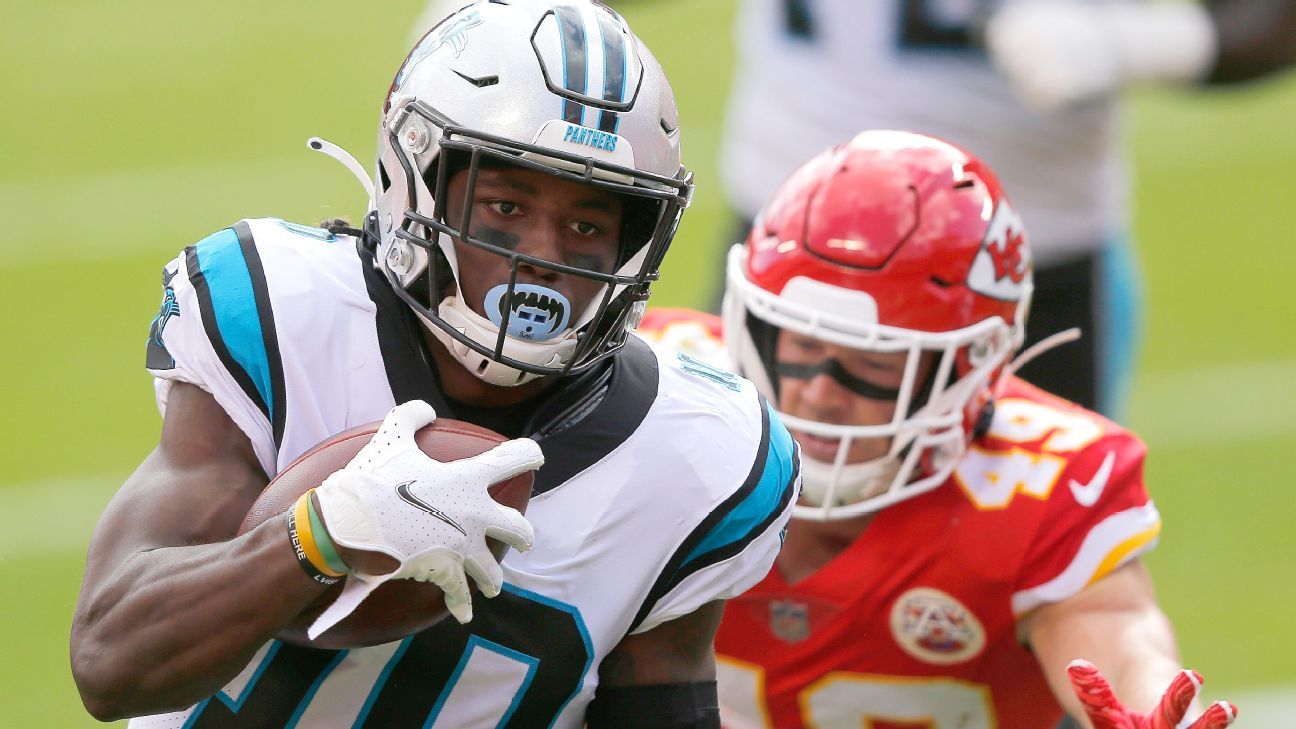 ASHBURN, Va. — The Washington Football Team needs to settle who will throw the ball for it this season. However, while quarterback remains the hottest topic, the group he will throw to is a big priority. To help any quarterback, Washington must improve at wide receiver.
And there's one quality the team wants most: Speed.
They have Terry McLaurin, who has caught 145 passes for for 2,037 yards in his first two seasons without any consistency at quarterback or from other wide receivers. He has been targeted 223 times, and over the past two seasons no other Washington wide receiver has more than 95 targets or 61 catches. No other player has more than 111 targets.
Washington finished 24th in the NFL with 31 plays of 20 yards or more by wideouts, and McLaurin had 17 of them. In other words, they will add more talent around him.
Who are the best free-agent solutions?
Washington pursued the Dallas Cowboys' Amari Cooper heavily last offseason, but he was also the only blue chip wide receiver available. Also, knowing they would select Chase Young as the No. 2 overall pick in the 2020 draft and without a second-round pick, free agency was the best way to land a premium pass-catching talent.
More options exist this offseason. Signing one would allow them to target an offensive tackle in the first round with the No. 19 pick of the 2021 NFL draft.
Chicago Bears wide receiver Allen Robinson II would be considered the best available and would help any quarterback look better. That's what he did for Blake Bortles in Jacksonville and Mitchell Trubisky in Chicago. He also had 22 gains of 20 yards or more, one behind the league lead.
• Ranking top 50 free agents »
• Biggest looming free-agent decisions »
• Top offseason needs for all 32 teams »
• See more on free agency »
However, if Washington wants pure speed, there is Curtis Samuel, whom the Carolina Panthers drafted when Ron Rivera was their coach and Marty Hurney the general manager. Both are now in Washington along with offensive coordinator Scott Turner, who was in Carolina as well. Samuel's speed makes him dangerous. Against Washington this season, for example, he caught a 45-yard pass where a head fake didn't fool the safety, but his speed made the play work. He creates well after the catch, too, and can help in the backfield.
Nelson Agholor averaged 18.67 yards per catch for the Las Vegas Raiders last season, second in the NFL. His average air yards per target ranked third at 11.1 yards. In other words: He's a downfield threat. In Philadelphia, he was used mostly in the slot. From 2017 to 2019 with the Eagles, Agholor caught a combined 117 passes from the slot and 37 outside. With the Raiders, he caught 12 passes in the slot and 35 outside. One NFC scout called him explosive with big-play ability, but he has inconsistent hands. His flexibility would pair well with the equally versatile McLaurin.
Will Fuller (Houston Texans) is another fast (and probably expensive) free agent: He averaged an NFL-best 11.4 air yards per target and was fifth at 16.58 yards per catch.
Chris Godwin (Tampa Bay Buccaneers) and JuJu Smith-Schuster (Pittsburgh Steelers) are other prominent free agents; both are considered playmakers, though Schuster is not considered a burner.
How much does the QB situation impact free agency?
A lot. Not at all. Or, OK, maybe a little. It depends which agent you ask. As it searches for an upgrade, Washington, for now, has quarterbacks Alex Smith, Taylor Heinicke and Steven Montez under contract with Kyle Allen an exclusive rights free agent.
One agent was adamant he wouldn't send his clients into a situation like Washington's, feeling it could prevent them from building up statistics and earning another deal. That would especially be true if the player was coming on a one-year, prove-it deal where numbers equal more money the following year.
However, another agent, who also represents some wide receivers, said the quarterback situation wouldn't matter.
"For any player in free agency, money is always the No. 1 thing," the agent said. "If it's equal in pay, you go to your next criteria. For your last deal you might say I'll play with the best quarterback, but those guys have gotten their money already."
Another agent said if a guy hasn't played with a good quarterback, it might fuel his desire to get with one. But it was clear some quarterbacks would be undesirable.
"I don't think there's ever a cookie-cutter method," he said. "It depends on the player and his priorities."
Could the draft provide help?
ESPN draft analyst Mel Kiper Jr. said of Washington's situation: "Wide receiver is the deepest position in the draft. … They've got to find someone."
Kiper said as many as 40 wide receivers could receive draftable grades. Because of the unusual season, and lack of great scouting opportunities, teams will disagree on which 40 warrant those grades. A wide receiver a team likes in the fourth round could fall to the sixth or seventh.
That draft depth also could prompt Washington to spend elsewhere in free agency, or it could allow the team to trade back from the No. 19 pick and still get a player who can help. Florida's Kadarius Toney likely will be available when Washington selects in the first round. He is not considered a deep burner, but he does have good speed and makes defenders miss because of elite quickness.
"He's a playmaker," Kiper said.
Kiper listed others in the top two rounds who could make an impact, including Elijah Moore (Ole Miss) and TuTu Atwell (Louisville). They are smaller but with excellent speed, particularly Atwell. There's also Western Michigan's D'Wayne Eskridge. He's another small-but-fast target who can align in the slot, but also move outside.
"He's super explosive," said Jim Nagy, the Senior Bowl director as well as an ESPN college draft analyst. "He was playing at a whole different speed than everyone else, but was that just the [Mid-American Conference]? … But the speed was real."
Nagy also pointed out UCLA's Demetric Felton, a running back in college who stood out in the slot at the Senior Bowl. His versatility is attractive and he could be a younger version of Samuel.
It's too early to know who will be available for Washington, but there will be options if it doesn't land someone in free agency.
How the Denver Broncos can win their offseason – Denver Broncos Blog
ENGLEWOOD, Colo. — When new Denver Broncos general manager George Paton pulls into his parking space each day, it's for a team that has missed the playoffs in each of the past five seasons.
But the Broncos have enough salary cap room to dive into free agency — currently north of $40 million with room to make more. They also have the No. 9 pick in the 2021 NFL draft and four picks among the first 109 with nine selections overall.
In short, they can get some things done — even in a year when the salary cap has gone down in the wake of the pandemic. The cap is expected to be somewhere between $185 million and $189 million per team.
So, what would a perfect offseason look like?
Many would say Desahaun Watson, but that's gold at the end of the rainbow down a hidden, gilded path inside a Faberge football. And until it looks like the Houston Texans are actually taking calls about Watson it is little more than something fun to debate.
The Broncos must figure out what do do with linebacker Von Miller, who is the subject of a police investigation. Any decision on Miller will involve some discussion with his representatives about his contract and a clearer understanding between Miller and the Broncos about what any potential charges are or aren't coming from the 18th Judicial District District Attorney.
Until more is known, let's put this question off to the side.
As for the rest, here's how the Broncos could win their offseason:
• Ranking top 50 free agents »
• Biggest looming free-agent decisions »
• Top offseason needs for all 32 teams »
• See more on free agency »
Re-sign Justin Simmons. The Broncos can let their top safety move on and say it just "didn't work out" or that they "couldn't get to a deal." But every player left in the locker room will wonder: If you do what Simmons has done — five interceptions and 77 tackles in 2020 — and don't get re-signed, is giving the Broncos a discount the only way to stay in Denver?
The Broncos have already released A.J. Bouye, and if they don't engage the option year in safety Kareem Jackson's contract AND let Simmons go in free agency, they will be overhauling their secondary in the division where Patrick Mahomes plays.
Cornerbacks: The Broncos must address this position early, often and with both cash and draft picks. The No. 9 pick of the draft, or a slight trade down in the first round, will be the sweet spot for one of the top three cornerbacks on the board — Patrick Surtain II, Caleb Farley or Jaycee Horn.
There are cornerbacks with scheme-fit potential to be found on Day 2 and 3 of the draft and the Broncos should come away with at least two by the end of the three-day affair.
In free agency, long looks at the under-30 cornerbacks could include William Jackson III, Desmond King II and Shaquill Griffin. Older players at the position who have shown some recent durability and should get a look include Jason McCourty (16 games with 665 snaps played in '20) and Patrick Peterson (16 games and over 1,000 snaps in '20).
Don't forget the big guys: Even if Ja'Wuan James returns from his opt-out season to be the right tackle — as expected — the Broncos still need to add here. The last time James played more than three games in a season was 2018 and he has never played more than eight in back-to-back seasons. Former starters at right tackle in the market will include Rick Wagner, Taylor Moton and Daryl Williams (Williams missed 2018 with a torn ACL, but started 16 games for the Bills last season). The Broncos should be ready to use multiple draft picks on at least one tackle and one swing interior player at guard/center.
Tender Tim Patrick, Alexander Johnson and Phillip Lindsay like they mean it: Those three players are the Broncos' top restricted free agents, meaning they can match any offer.
Talk to people around the league and it's clear Johnson and Patrick will quickly draw some interest if the Broncos don't tender them at the second round or above — expected to be just above $3.3 million salary for the season for a second-round tender and more than $4.5 million on a first-round tender.
The Broncos were reticent to work through a long-term deal for Lindsay a year ago even when they said they would look at it. It seems clear that Lindsay could simply be tendered at "right of first refusal" given he entered the league as an undrafted rookie. In that scenario the the Broncos wouldn't receive any compensation if he was signed elsewhere and that would be a clear indication they don't quite believe in the Colorado native.
Aaaaand at quarterback: Watson ain't on the market folks and the Broncos likely don't really have the draft pick juice even if he was (that first first-rounder in any deal has to be better than No. 9) . So, go with Drew Lock for one more extended look and pay up for the best veteran free agent who can both mentor and push Lock without being a problem.
A caveat would be if Dak Prescott is truly allowed to enter the market, then take the longest of looks and get the checkbook ready. But many in the league see the Cowboys eventually ending the odd, somewhat inexplicable, dance they have done with Prescott with a contract.
Ryan Fitzpatrick is 38 years old, but has proven to be a player who can both mentor and play well enough to push the player he's mentoring. Jameis Winston has two 4,000-yard passing seasons as well as a 5,000-yard passing season on his résumé — to go with the 30 interceptions that season. He's talented enough and is just 27 coming off a football rehab year in New Orleans.
Lock must clean up his footwork and decision-making and the Broncos must have a backup QB good enough to help win games if Lock can't. The 2021 season is not one for hurt feelings and the Broncos have proven they're not too concerned with Lock's psyche since they dipped into the Matthew Stafford discussions.