INDIANAPOLIS — In a long-anticipated move, the New York Jets released defensive end Muhammad Wilkerson on Wednesday, ending a seven-year run that turned bitter last season.
The Jets had to cut Wilkerson before March 16 or else his $16.75 million salary for 2018 would have become fully guaranteed.
Wilkerson, 28, was benched for the final three games of last season, ostensibly because he was late for a meeting on Dec. 15 — the fourth time since 2015 he was disciplined for tardiness.
The Jets decided to keep him off the field for the remainder of the season because they were concerned about a potential injury, which could have resulted in the team being on the hook for his 2018 salary. By then, the organization had decided Wilkerson's fate.
"It was a business decision; it wasn't disciplinary at all," coach Todd Bowles said Wednesday at the scouting combine. "It was good for both parties.
"I'm disappointed for the team; I'm disappointed for him. Obviously it didn't work out. I have a lot of love for Mo. I still think he's got a lot of football ahead of him."
Wilkerson was due to count $20 million on the cap, the league's fourth-highest cap charge for a non-quarterback. By cutting him, the Jets will save $11 million.
The move marks the culmination of a significant fall for Wilkerson, a 2011 first-round pick who once appeared to be on the verge of stardom.
Wilkerson peaked in 2015, when he recorded a career-high 12 sacks and was named to his first Pro Bowl. In 2016, he was rewarded with a five-year, $86 million contract that included $37 million fully guaranteed at signing. He was the highest-paid player on the team in 2017, making $15 million in cash earnings.
His decline coincided with the new contract. In 28 games over the past two seasons, Wilkerson produced eight sacks. Privately, team officials questioned whether he still had a passion for the game.
In 2015, the Jets had one of the best defensive lines in the league, but they lost Damon Harrison in free agency and traded Sheldon Richardson. Now Wilkerson is gone, too. The only holdover is Leonard Williams, who the Jets selected with the No. 6 overall pick in the 2015 draft.
Washington Football Team places franchise tag on Brandon Scherff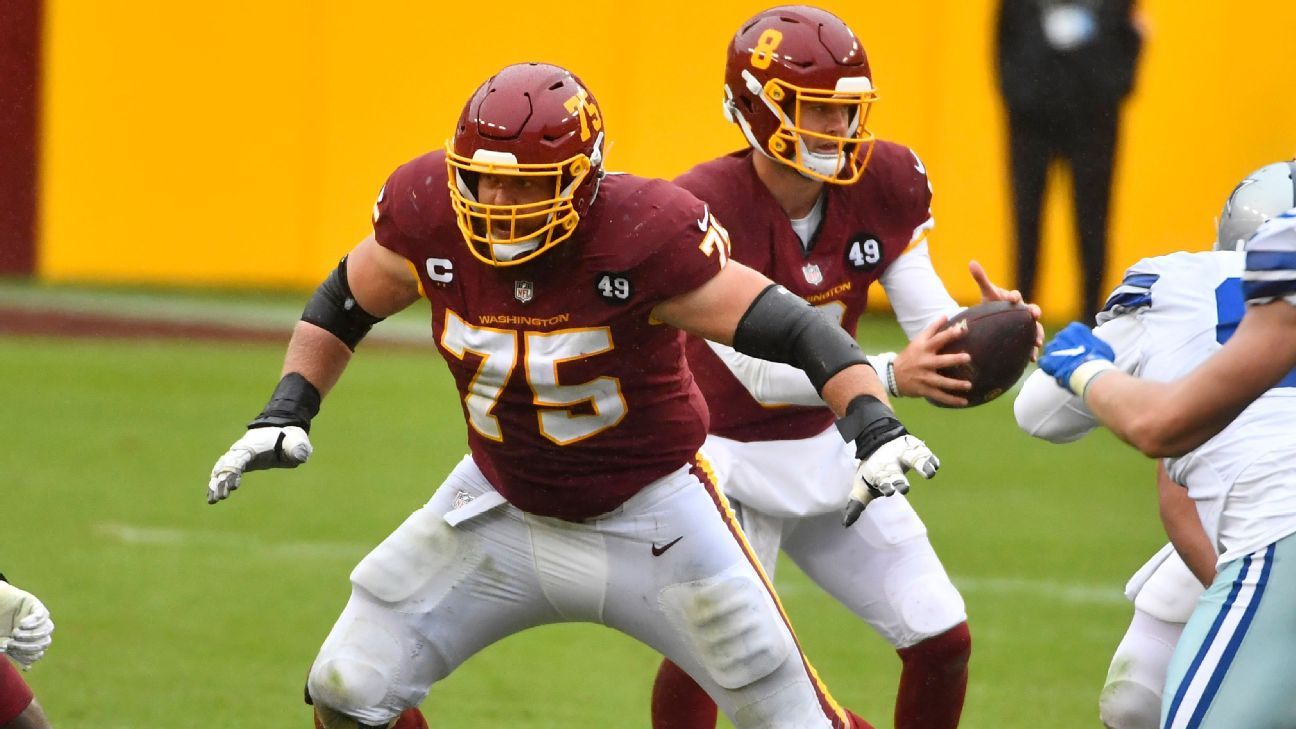 Washington has placed the franchise tag on right guard Brandon Scherff for a second consecutive year, the team announced Monday night.
Scherff will receive $18.03 million in the 2021 season — a 20% increase over last season. But Washington still hopes to sign him to a long-term deal. It has until July 15 to do so, and a source described talks so far as amicable.
Scherff, who turned 29 in December, played on the franchise tag last season, earning $15.03 million. He also became the first Washington player to be named first team All-Pro since punter Matt Turk in 1996. Scherff has made four Pro Bowls, including the past two.
Coaches liked how Scherff played inside, but also how well he blocked on the move in the screen game.
But injuries also have been an issue. Scherff hasn't played all 16 games since 2016 and has missed a combined 18 games the past four years. He ended up on injured reserve in 2017 and '18.
Washington selected Scherff with the fifth overall pick in the 2015 draft, intending to try him at right tackle first. But Washington moved him to right guard early in his first camp and started Morgan Moses at tackle, creating a strong tandem on the right side.
While at Iowa, Scherff was named the Outland Trophy winner in 2014 as the nation's best offensive lineman.
Traffic case closed, as Las Vegas Raiders' Josh Jacobs completes community service, lawyers say
LAS VEGAS — A traffic case involving Las Vegas Raiders player Josh Jacobs was closed Monday after he completed community service and paid a fine stemming from a vehicle crash in January near McCarran International Airport, his lawyers said.
The 23-year-old running back mentored at a Boys & Girls Club and paid a $500 fine to resolve a failure to exercise due care traffic violation, said his attorneys, David Chesnoff and Richard Schonfeld.
Jacobs received several stitches for a cut forehead and was initially also charged with driving under the influence after the 2019 Acura NSX he was driving crashed early Jan. 4 into a tunnel wall at the Las Vegas airport.
The DUI charge was dropped a week later because Jacobs' blood-alcohol level did not reach the 0.08% level needed to pursue the case, his attorneys and a prosecutor said.
Jacobs, who lives in Las Vegas, was alone in the vehicle after returning to Las Vegas from Denver, where the Raiders defeated the Broncos in their final NFL regular-season game less than 12 hours before the crash.
A team representative did not immediately respond Monday to an email message about the case.
Dallas Cowboys QB Dak Prescott gets congratulations from other players after his big new contract
Dak Prescott is getting paid by the Dallas Cowboys.
The star quarterback reached a four-year, $160 million deal to stay with the Cowboys on Monday, a source told Adam Schefter, putting to rest months of speculation about where he would end up in the 2021 season. The contract has $126 million in guaranteed money, and Prescott received a $66 million signing bonus, which would be the most in NFL history. Though he is coming off a compound fracture and dislocation of his right ankle from a Week 5 win, Prescott, who will turn 28 in July, has been predicted to make a full recovery.
Athletes from around the sports world sent congratulations to Prescott after hearing the news.
When your little brother gets the call. Let's go @dak time to win the @dallascowboys a Super Bowl. pic.twitter.com/PzlCKejTe5

— Tad Prescott (@86Prescott) March 8, 2021
Congrats @dak … go finish what you started 👊🏾 #CowboysNation

— D-Ware (@DeMarcusWare) March 9, 2021
Hype for #4️⃣ @dak you did that my boy! 💰💰

— Antwaun Woods Sr. (@AntwaunWoods_) March 9, 2021
@dak Congrats & McDonald's on you don't ignore my dm, diet is important‼️

— Chad Johnson (@ochocinco) March 9, 2021
The Dak situation started to remind me whenever we let Demarco walk in 15… me personally I knew our chances of having a chance to win the super bowl was gone.. it wasn't the catch it was Demarco leaving the team which made me feel hopeless Smart decision @dallascowboys ….

— Dez Bryant (@DezBryant) March 9, 2021
It's always earned.. nobody just giving out free money lol.. Congrats @dak https://t.co/5d6DIXz9Hn

— Jalen Ramsey (@jalenramsey) March 9, 2021
Happy for him! https://t.co/wqevTdCPMT

— Dwayne Haskins, Jr (@dh_simba7) March 9, 2021
HE'S BAAAAAACCCKKKK 🤘🏿-> @dak

— DeMarcus Lawrence (@TankLawrence) March 8, 2021
Congrats to @dak and the best agent in the biz Todd France! 🙌🏽

— Golden Tate (@ShowtimeTate) March 9, 2021
Get paiddddddd my guy!!!!! @dak 🙏🏾🙏🏾🙏🏾🙏🏾 congrats!!! https://t.co/mChp1TBNKF

— Donovan Mitchell (@spidadmitchell) March 9, 2021
I'm not a contract specialist but I feel like Dak got a much better deal than Mahomes 👀.

-$75M in year 1
-$66M GTD at signing.
-No Trade, No Tag.
-Back at the table at age 31 at the latest.

— Darius Butler (@DariusJButler) March 9, 2021
The answer to the question "Should Dak take a pay cut?" has and always will be pic.twitter.com/XxSrDREvqj

— Torrey Smith (@TorreySmithWR) March 9, 2021
Shout out Dak.

— Kenny Moore II (@KennyKennyMoe3) March 9, 2021
— Tyrone Crawford 🇨🇦 (@TCrawford98) March 9, 2021
DAKOTA!!!! 👏🏾 👏🏾 👏🏾 https://t.co/liapufMZKf

— Benjamin Watson (@BenjaminSWatson) March 9, 2021