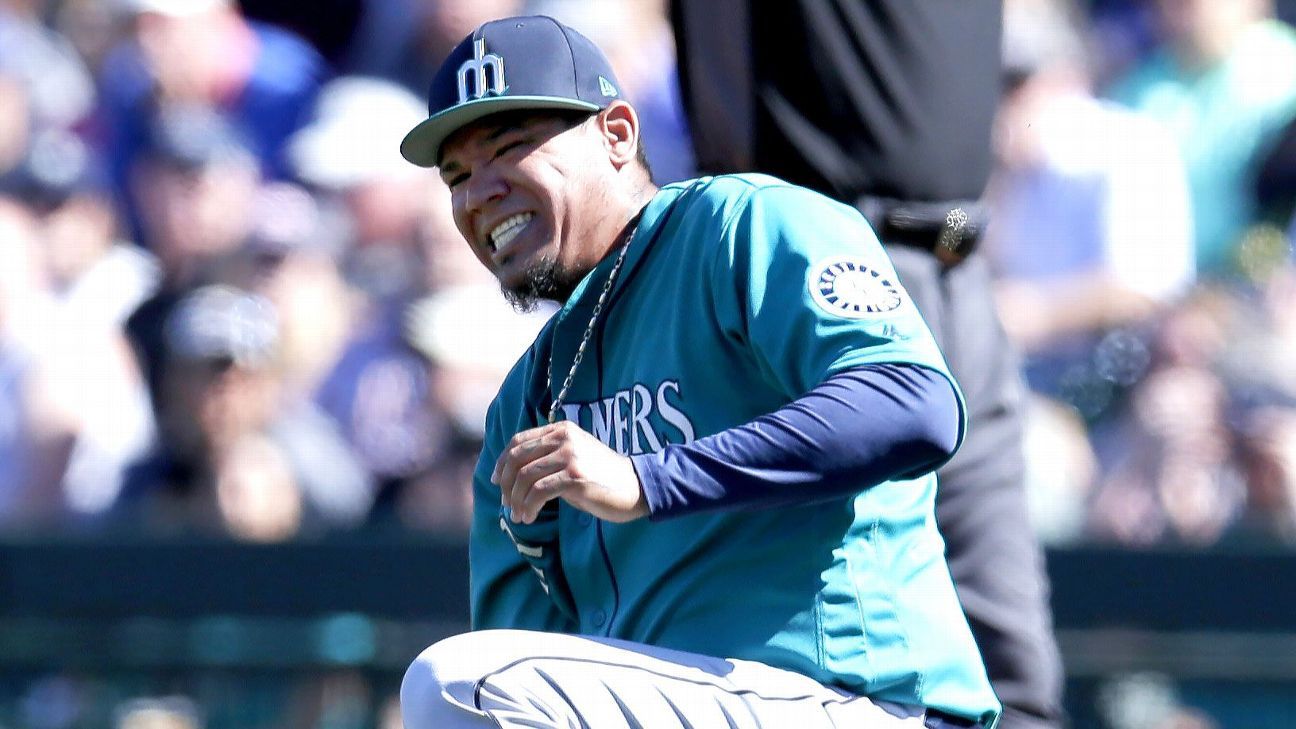 Seattle Mariners fans held their breaths when pitcher Felix Hernandez took a line drive flush on his forearm Monday in his first Cactus League start.
But Mariners general manager Jerry Dipoto said Wednesday that Hernandez escaped serious injury and is expected to miss only one spring start.
Talking on the Wheelhouse Podcast, Dipoto said, "It was one of those moments that stops your heart a little bit. But once we got some feedback from the training staff and doctors and ultimately took three sets of images to make sure he's in a good place, I was very encouraged when he walked in yesterday with minimal swelling, the pain was down, and there were no obvious signs of a fracture or break."
Hernandez made 16 starts last season, pitching only 86⅔ innings, his fewest since his rookie season in 2005. He had two stints on the disabled list, with right shoulder inflammation and right shoulder bursitis.
"Felix is critically important to us," Dipoto said. "I think he looks great. His breaking balls, the spin particularly with his curveball, has been in midseason form since his second bullpen. I'm very encouraged by the way he's commanding his pitches. Frankly, I thought the first inning he threw in Mesa, if Felix Hernandez shows up and does that, we're going to be very happy with the outcome."
Hernandez, 31, had been scheduled to start again Saturday night against the Angels in Peoria, Arizona, but that will now be pushed back.
Slumping New York Yankees shake up lineup against Atlanta Braves
NEW YORK — New York Yankees manager Aaron Boone made three changes to the starting lineup of his slumping team against Atlanta on Tuesday night, inserting first baseman Mike Ford and left fielder Mike Tauchman and giving Brett Gardner his second start this season in center field.
DJ LeMahieu moved back to second base from first, and center fielder Aaron Hicks, left fielder Clint Frazier and second baseman Rougned Odor moved to the bench.
New York has lost five straight games, dropping to 5-10 for its worst start since 1997.
The switch-hitting Hicks was batting .160, including 3 for 32 vs. right-handers, Frazier was hitting .167 with no RBI and Odor was batting .125.
Ford was to make his season debut. He was recalled from the alternate training site and took the roster spot of Jay Bruce, who hit .118 and retired Sunday.
Jameson Taillon started for the Yankees, who were starting a stretch of games on 13 consecutive days. Charlie Morton started for Atlanta.
Boone said he might give Hicks another day off Wednesday.
Infielder Neil Walker retires after 12 MLB seasons
Veteran infielder Neil Walker announced his retirement Tuesday after 12 major league seasons.
Born in Pittsburgh, he played his first seven seasons for the Pittsburgh Pirates before playing for the New York Mets, Milwaukee Brewers, New York Yankees, Miami Marlins and Philadelphia Phillies over his final five seasons.
Walker, 35, made his announcement on Twitter, writing, "thank you to everyone that helped me in my journey to live out my childhood dream of being a Major Leaguer, I loved & cherished every day."
Officially retired, thank you to everyone that helped me in my journey to live out my childhood dream of being a Major Leaguer, I loved & cherished every day. From Pittsburgh, NY Mets & Yankees, Milwaukee, Miami, and Philly, nothing but love to those Organizations, Cities & Fans! pic.twitter.com/mvl3cg9k80

— Neil Walker (@NeilWalker18) April 20, 2021
The Pirates selected Walker with the 11th-overall pick of the 2004 draft and he went on to hit 93 home runs with 418 RBIs while slashing .272/.338/.431 in 836 games. His best major league season came in 2014 when he hit .271 and set career bests with 23 home runs and 76 RBIs, earning a Silver Slugger award. His 23 home runs broke Bill Mazeroski's franchise record for home runs in a season by a second baseman.
Walker played for the Phillies during the 2020 pandemic shortened season, appearing in 18 games.
Overall, Walker finishes his major league career with 149 home runs and 609 RBIs and a slash line of .267/.338/.426.
Mookie Betts out of Los Angeles Dodgers lineup after getting hit on forearm, but not expected to miss time
SEATTLE — Mookie Betts was out of the Los Angeles Dodgers lineup on Tuesday after getting hit on the right forearm a night earlier, but manager Dave Roberts doesn't expect it to be a long-term issue.
Roberts said X-rays on Betts' arm were negative after the former MVP took a fastball from Seattle closer Rafael Montero off the inside of his right forearm in the ninth inning of Monday's 4-3 Mariners victory. Betts remained in the game after getting hit.
Roberts said Betts was receiving treatment and that he was hoping to avoid using him in Tuesday's game with the Dodgers having a day off on Wednesday before opening a four-game series with division rival San Diego on Thursday at Dodger Stadium.
"I was hoping that it would be something soft tissue, as opposed to you know the wrist or the elbow or something like that," Roberts said. "I guess best case scenario. There was an exhale once he wanted to stay in there. So that's part of it, the soreness, but I think that we dodged a bullet there."
Betts is hitting .292 early in the season and already had one of the signature defensive moments of the season with his game-ending catch in the ninth inning last Saturday in a win over San Diego.
Chris Taylor started in center field for the Dodgers.