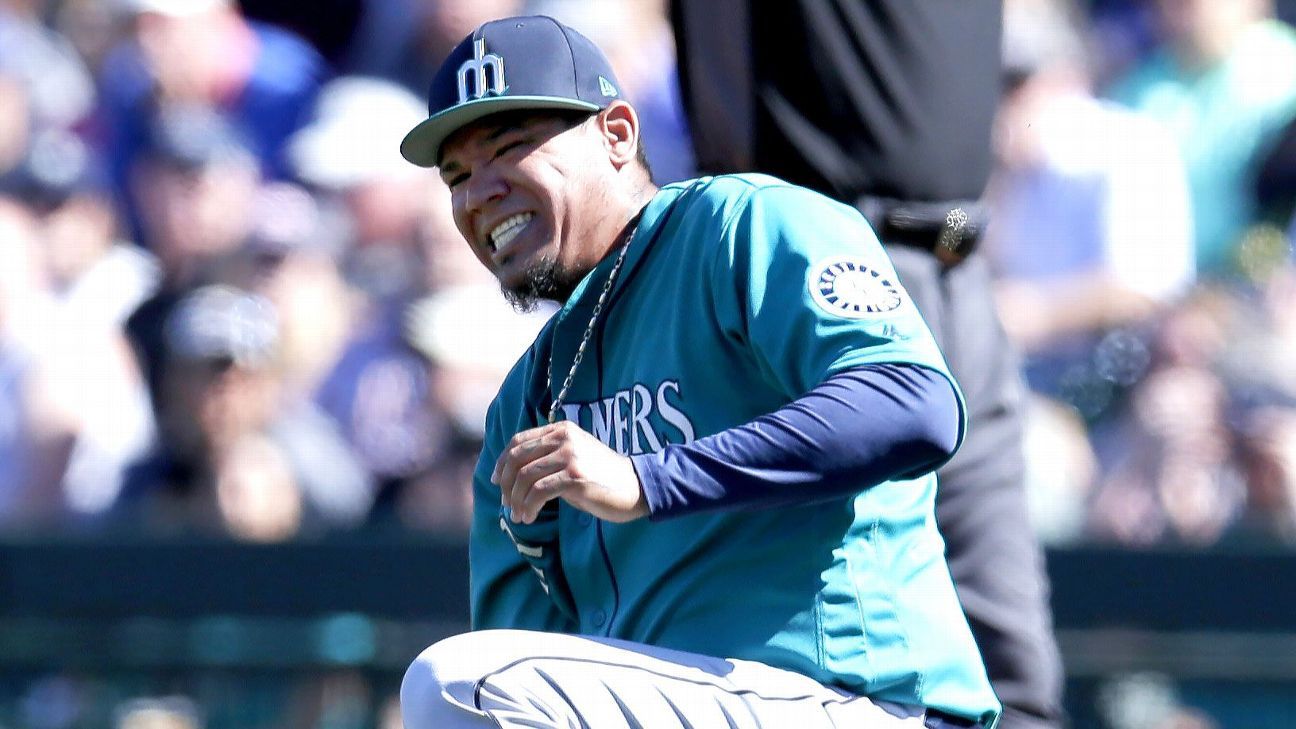 Seattle Mariners fans held their breaths when pitcher Felix Hernandez took a line drive flush on his forearm Monday in his first Cactus League start.
But Mariners general manager Jerry Dipoto said Wednesday that Hernandez escaped serious injury and is expected to miss only one spring start.
Talking on the Wheelhouse Podcast, Dipoto said, "It was one of those moments that stops your heart a little bit. But once we got some feedback from the training staff and doctors and ultimately took three sets of images to make sure he's in a good place, I was very encouraged when he walked in yesterday with minimal swelling, the pain was down, and there were no obvious signs of a fracture or break."
Hernandez made 16 starts last season, pitching only 86⅔ innings, his fewest since his rookie season in 2005. He had two stints on the disabled list, with right shoulder inflammation and right shoulder bursitis.
"Felix is critically important to us," Dipoto said. "I think he looks great. His breaking balls, the spin particularly with his curveball, has been in midseason form since his second bullpen. I'm very encouraged by the way he's commanding his pitches. Frankly, I thought the first inning he threw in Mesa, if Felix Hernandez shows up and does that, we're going to be very happy with the outcome."
Hernandez, 31, had been scheduled to start again Saturday night against the Angels in Peoria, Arizona, but that will now be pushed back.
Kris Bryant joins ex-Chicago Cubs teammates Anthony Rizzo, Javier Baez in mashing debut homer
Kris Bryant on Sunday joined former Chicago Cubs teammates Anthony Rizzo and Javier Baez in making an immediate good impression with his new team.
The now San Francisco Giant hit a two-out solo shot in the third inning of a 5-3 win over the Houston Astros. Two days earlier, Rizzo crushed a 449-foot solo home run in his New York Yankees debut while Baez mashed a two-run dinger in his first game with the New York Mets the following day.
The former Cubs became the first trio of ex-teammates in the Modern Era to start the season on the same team, and then homer in their respective debuts with a new team later that season, according to the Elias Sports Bureau.
Acquired in a trade with the Cubs for two minor league prospects just minutes before Friday's deadline, Bryant was greeted by chants of "KB, KB, KB" when he trotted onto the field for pregame warmups and received a standing ovation before his first at-bat.
The four-time All-Star was cheered again after striking out swinging. Those cheers got louder after Bryant crushed an 0-1 pitch from Luis Garcia (7-6) into the left field stands for his 19th home run this season.
"It's nice to really feel welcome," Bryant said before the game. "Barry Bonds was my favorite player. I still have the autograph that my mom went and bought at the mall. Now I'm here. It's kind of weird."
It wasn't a perfect debut for Bryant, who started at third base. His throwing error on Martin Maldonado's grounder down the line in the fifth gave the Astros a runner in scoring position with no outs. Logan Webb retired the next three batters to work out of the jam.
Still, Bryant made it clear how valuable he will be to the Giants as they attempt to stay in front of the Los Angeles Dodgers and San Diego Padres in the NL West.
"It's a bat that really lengthens our group and makes our bench better," Giants manager Gabe Kapler said of Bryant. "It makes it more difficult to get through the top of our lineup. He's going to be good for us."
The Associated Press contributed to this report.
Alex Cora encouraged as Chris Sale, Kyle Schwarber move steps closer to joining Boston Red Sox
ST. PETERSBURG, Fla. — Boston Red Sox left-hander Chris Sale will make a fifth minor league rehab start later this week for Triple-A Worcester as he moves closer to pitching in the majors for the first time since Aug. 13, 2019.
Sale had Tommy John surgery in March 2020.
"We'll re-address the situation after that but he's getting close," Red Sox manager Alex Cora said before Sunday night's game at Tampa Bay. "We'll see where it takes us."
Cora said Sale "felt great" one day after allowing one run over five innings Saturday for Worcester.
The Red Sox had lost four of five entering Sunday, including the first two games of a three-game series with Tampa Bay, that dropped them a half-game behind the AL East-leading Rays.
There is also encouraging news about recently acquired slugger Kyle Schwarber, who is currently out with a hamstring injury. He will take part in an off-day workout Monday in Detroit.
Schwarber will continue doing defensive work at first base where the team hopes he will be able to play at the unfamiliar position. He is nearing a rehab assignment.
"We'll sit down on Tuesday or Wednesday and see where we're at," Cora said. "As far as the progress of the injury, we're excited. The progress has been great. We're hoping he goes on a rehab assignment sooner rather than later."
Boston got Schwarber from Washington for a minor league pitcher last Thursday. He last played on July 2.
Utilityman Marwin Gonzalez (right hamstring strain) will also join the team for Monday's workout and could be back Tuesday night when the Red Sox open a three-game series with the Tigers.
Right-hander Matt Andriese (right hamstring tendinitis) had a live batting practice session.
Reliever Brandon Workman, designated for assignment last Thursday, was outrighted off the major league roster and elected to become a free agent.
New York Mets put infielder Luis Guillorme on IL with hamstring injury
NEW YORK — The Mets placed infielder Luis Guillorme on the 10-day injured list with a left hamstring strain on Sunday, a day after he scored the tying run as a pinch-runner in a comeback victory over the Cincinnati Reds.
The 26-year-old Guillorme is batting .293 in 56 games this season. He missed six weeks earlier this year with a right oblique strain, returning on June 11.
The Mets recalled right-hander Geoff Hartlieb from Triple-A Syracuse. He has made one appearance for New York this season after being selected off waivers from the Pittsburgh Pirates on July 9.