INDIANAPOLIS — As the Denver Broncos prepare themselves to make major changes at quarterback, John Elway said the team's plan is to keep its top two receivers for any new quarterbacks to throw to.
The Broncos' president of football operations/general manager said at the scouting combine Wednesday that "the plan" was to keep both Demaryius Thomas and Emmanuel Sanders on the roster. With the Broncos expected to make some salary-cap room with the release of a notable veteran player or two in the coming weeks, there had been some speculation Thomas and Sanders could be among the players let go.
"The plan is to have them back," Elway said.
Asked if that meant the Broncos would pay a $4 million option bonus to Thomas in the coming weeks that would keep the final two years of his deal (2018 and 2019) in place, Elway said: "That is the plan, yes."
Elway was critical of the team's quarterback play last season when the Broncos used three different starters and threw the second-most interceptions in the league (22), and he didn't absolve the top two receivers from that, either.
Elway said both players must be better in the coming season.
"We want to have them come back and play the way they're capable of," Elway said. "They still have a lot of football and still (are) a top receiving pair in the league, so we have got high expectations, but they've got to come back and play a lot better."
Thomas led the Broncos with 83 receptions for 949 yards — his first season with fewer than 1,000 yards receiving since 2011 — while Sanders finished with 47 catches and 555 yards in an injury-marred season. Sanders, who missed four games with an ankle injury, did not have a touchdown reception after Week 2.
Thomas currently has the second-highest salary-cap charge on the team for 2018 at $12.033 million, while Sanders is fourth at $10.938 million.
The return of the two receivers, however, could help the Broncos lure a free-agent quarterback. Because of the league's tampering rules, team officials cannot openly comment on their desire to sign prospective free agents until the start of the new league year on March 14.
But Elway made it clear any quarterback on the open market will be considered by the Broncos. That would include the likes of Kirk Cousins and Case Keenum.
"Anybody that's not under contract right now or won't be under contract," Elway said.
Asked if that included every quarterback who would be on the market, Elway said, "Yes."
Then asked if he believed the Broncos had enough salary-cap room — expected to be about $27 million with another $10 million or so rolled over from last season — to handle any scenario with quarterbacks in free agency, Elway quickly said, "Yeah."
Cleveland Browns QB Baker Mayfield says he and WR Odell Beckham Jr. are making 'huge strides' with their chemistry
BEREA, Ohio — Cleveland Browns quarterback Baker Mayfield said Thursday that he and wide receiver Odell Beckham Jr. have made "huge strides" with their chemistry going into their third season together.
"When it comes down to the chemistry stuff, it's every rep matters for us, but then, just the terminology and speaking outside the building, not just about football, that goes such a long way when it comes to chemistry that trust factor," Mayfield said. "And I know he feels the same way."
Since the 2019 trade that shipped Beckham to the Browns, Mayfield and OBJ have the worst completion rate (55.6%) of any quarterback-receiving duo, according to ESPN Stats & Information research.
Last year, Beckham suffered a season-ending knee injury in Week 7. From that point through Week 15, Mayfield took off, ranking third in the NFL in QBR, trailing only Aaron Rodgers and Patrick Mahomes.
Mayfield, however, has credited his late-season surge to a growing comfort with coach Kevin Stefanski's scheme, while pushing back on the narrative it had anything to do with Beckham's absence. Last year, Stefanski became the fourth head coach Mayfield had played for his first three seasons in the league.
Beckham, who had surgery last year and was a spectator as Cleveland made the playoffs for the first time since 2002, said over the weekend that his knee was "feeling great." Beckham flashed plenty of speed and explosiveness on the first day of training camp Wednesday.
"Normal people and normal athletes don't come back from an injury like that as quickly as he did," Mayfield said. "He obviously worked his tail off to get to where he's at right now."
Mayfield added that he can "play a whole lot better than last year." And that there's plenty of reason to believe that this will be the season he and Beckham finally take off together.
"Year 1, we were definitely just trying to get used to each other last year," Mayfield said. "Last year, didn't have a full season by any means because of the injury. This year, I think we've had our backs up against the wall, the two of us together, I think we can relate a lot on those types of things. But having success is always sweeter when it's not just handed to you. It's not the easy road when you hit adversity and you have to battle through it."
NFLPA president JC Tretter rips teams' wristband use for unvaccinated players
BEREA, Ohio — NFLPA president JC Tretter ripped the NFL teams that are forcing their unvaccinated players to wear wristbands, calling it an unnecessary move that publicly shames players.
"It's a nonsensical idea," the Cleveland Browns center said Thursday. "They say they need a differentiator between vaccinated and unvaccinated players. We already have a differentiator. The unvaccinated players need to wear masks. No other sports league uses any sort of scarlet marking or helmet decal or wristband, because they know it's not necessary and the teams know who's vaccinated, who's not vaccinated."
This week, ESPN's Adam Schefter reported that the NFL and the NFLPA remain at odds over the use of wristbands to identity unvaccinated players.
"So what it really comes down to is the NFL wanted to put a policy in place to try to shame unvaccinated players publicly about their status and make that known to everyone on the field," Tretter said. "It shouldn't be the case because it's unnecessary. We all know who's vaccinated and who's not, and it doesn't need to be a scarlet marking on people's helmets or wrists."
Although multiple teams are requiring their unvaccinated players to wear wristbands, the Browns are not among them.
"We're not dividing the team over this issue," coach Kevin Stefanski said.
Carolina Panthers linebacker Jermaine Carter is among the players who expressed frustration over the league's COVID-19 protocols. That included not being allowed to have contact with his girlfriend and their newborn daughter Thursday at practice. Carter had to stand on the opposite side of a fence about 20 feet from them. Later, he noted in a tweet that he would be allowed to practice in two weeks at Indianapolis against "one of the least vaccinated teams."
I can't see my vaccinated family but I can practice against one of the least vaccinated teams 🥴 I'll see you in a couple weeks baby girl ❤️ https://t.co/JCLu2KR6wg

— Jermaine Carter Jr. (@JERMA1NECARTER) July 29, 2021
The NFL announced Thursday that 87.9% of players have been vaccinated with at least one shot. All told, 19 teams have a player vaccination rate better than 90%, with seven of those teams above the 95% threshold.
The Colts, however, reportedly remain one of the least vaccinated teams in the league.
ESPN's David Newton and Kevin Seifert contributed to this report.
New York Jets' Zach Wilson signs rookie deal after missing first 2 days of practice, sources say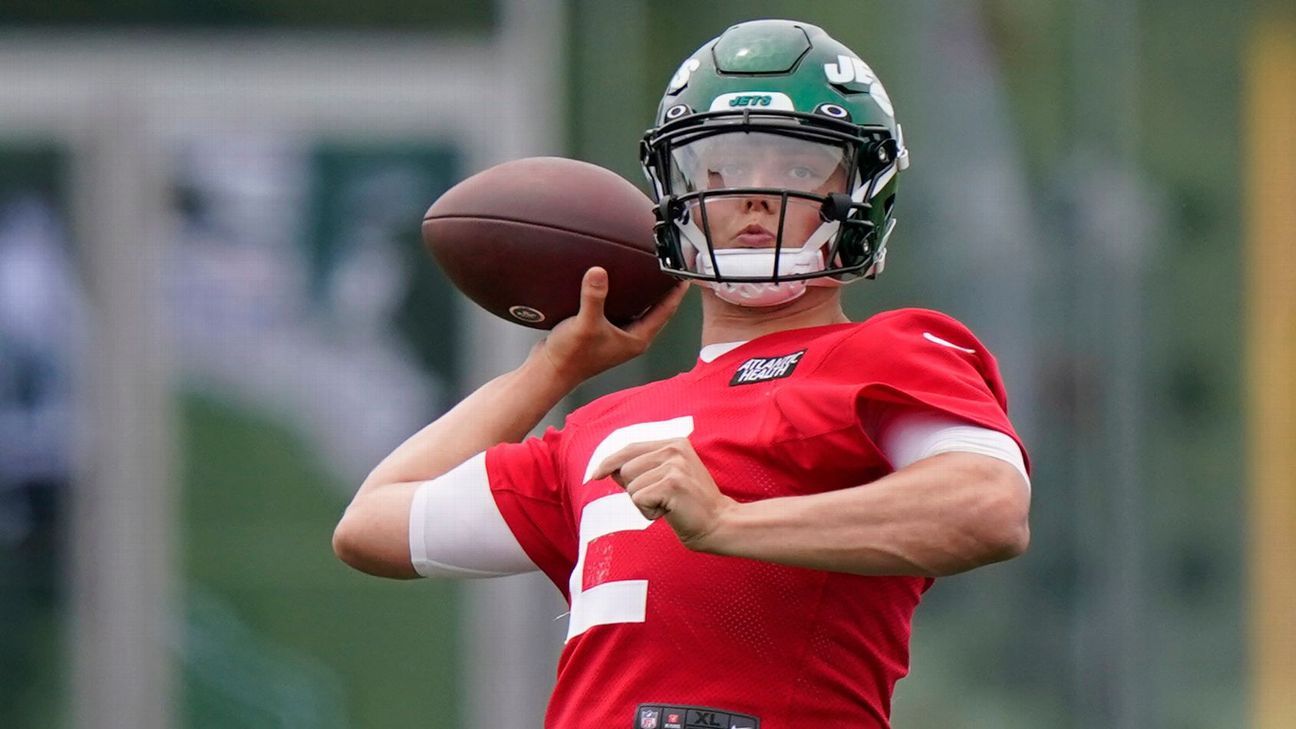 FLORHAM PARK, N.J. — It took longer than expected, but the New York Jets and quarterback Zach Wilson agreed to terms Thursday on his rookie contract, sources told ESPN.
The first-round pick and presumptive starter, who missed two days of practice as the two sides haggled over technicalities in the contract language, will sign a four-year, $35.15 million contract — a slotted deal that is fully guaranteed.
It includes a $22.9 million signing bonus and a fifth-year team option, standard for all first-round picks.
Wilson, who took a red-eye flight from Los Angeles and arrived in New Jersey on Thursday morning, was the last unsigned first-round selection from the 2021 NFL draft.
The contract includes offset language and the signing bonus will be paid within 15 days, per a source, details that imply that the sides have compromised because those were the sticking points.
At the start of camp, coach Robert Saleh said he wasn't concerned about Wilson missing camp time. "It's something he'll have to navigate through," Saleh said. "I've got a lot of faith in Zach. He's incredibly intelligent, and he's got a tremendous drive. When he does get here, I know somehow, some way he'll make up for it."
Wilson benefited from a heavy workload in the spring. With no veterans on the roster, he took all the first-team reps.
There was an increased sense of urgency to strike a deal because the Jets are counting on him to be their opening-day starter, although they haven't announced that. The only other quarterbacks on the roster are James Morgan and Mike White, neither of whom has regular-season experience. Rookie contract disputes are unusual because the deals are slotted, but teams and agents sometimes haggle over certain clauses.
The Jets include an offset in every contract that has guaranteed money, which provides financial protection if they release the player before the contract is complete. An offset allows a team to cut a player before the end of his four-year contract is completed and have the remaining money reduced by the amount of his next contract.
This isn't an unusual stance. It's believed that 30 of the 32 teams use offsets in contracts. The exceptions are the Los Angeles Rams and the Jacksonville Jaguars, with the latter having signed No. 1 pick Trevor Lawrence to a deal with no offsets.
Without an offset, a cut player collects the guarantee from his old team plus the money he receives from his new team — aka double dipping.
What complicated the Jets' negotiation was that at least two of the five quarterbacks drafted in the first round received deals without full offsets — Lawrence and Justin Fields (No. 11 by the Chicago Bears). Fields received a partial offset.
Interestingly, Cincinnati Bengals quarterback Joe Burrow, the top pick in 2020 and represented by the same agency that negotiated Wilson's contract, signed a contract that includes offset language.