INDIANAPOLIS — If the Green Bay Packers had any concerns that the two concussions Davante Adams suffered last season would affect his career, his agent Frank Bauer's meeting with the team at the NFL scouting combine would have been much more complicated than what it was earlier this week.
Instead, Bauer and Packers contract negotiator Russ Ball could toast to the four-year, $58 million extension that Adams signed the final week of the regular season and then get on to other business.
Bauer told ESPN on Thursday that Adams was cleared by multiple neurologists before the deal was completed Dec. 29. Adams was inactive for the final two regular-season games after Carolina Panthers linebacker Thomas Davis knocked him out of the Week 15 game at Carolina. That came after Adams was concussed on a hit by Chicago Bears linebacker Danny Trevathan in September that sent Adams to the hospital.
"He called me after the first one and said, 'Frank, I'm fine,'" Bauer said. "There's no long-term concern. I've talked to Davante quite a bit, and we've had everything checked out."
Davis and Trevathan each served one-game suspensions for their hits, prompting Adams to say the NFL has "to do something about" the illegal hits.
"He took two hellacious hits," Bauer said. "Hellacious. And he responded so fast to both."
Adams also suffered a concussion during the 2016 season but returned without missing a game.
Bauer said Adams could have played in at least one of the final two regular-season games.
"He wanted to play at the end of the season, but they wanted to protect him," Bauer said. "That was really good for the long term. Green Bay is a classy organization that takes care of their athletes. They protected the kid, and that was great."
Said Adams the day after the season: "I'm 100 percent fine. It's not anything [I'm concerned with]. It happened twice in a year. It's more mental and upset that I couldn't play in the game to be there for my teammates. But definitely not worried about my health long term."
Despite missing the final two games, Adams tied for second in the NFL with 10 touchdown catches and led the Packers in catches (74) and yards (885).
Adams' contract extension made him the league's fourth-highest paid receiver based on his $14.5 million average per year.
Bauer's other order of business with the Packers at the combine was tight end Richard Rodgers, who is scheduled to become a free agent. Bauer said the Packers have shown interest in bringing back the 2014 third-round pick but no deal was imminent.
NFL warning to teams — COVID-19 outbreaks among unvaccinated players could lead to forfeited games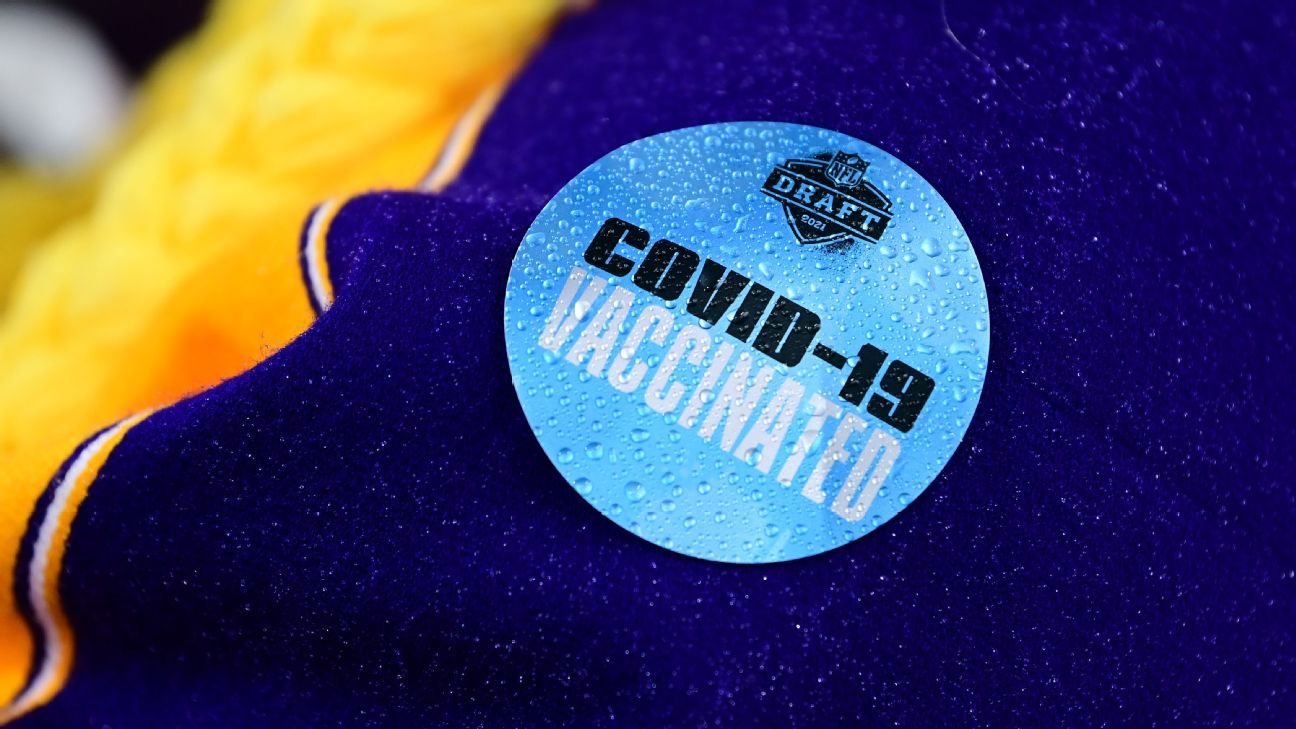 The NFL has added an additional COVID-19 vaccination incentive for players, threatening forfeits and the loss of game checks if an outbreak among unvaccinated players causes an unresolvable disruption in the regular-season schedule.
Commissioner Roger Goodell informed clubs of the new policy Thursday in a memo. The league has encouraged vaccination for players but has not required it, per an agreement with the NFL Players Association.
Instead, the league has set up a series of incentives. As of Thursday, Goodell wrote, more than 75% of NFL players were at least partially vaccinated and more than half of the league's teams have player vaccination rates above 80%.
Unvaccinated players will be subject to severe protocols during training camp and the regular season, including daily testing, mask-wearing and travel restrictions. Thursday's memo made it clear that unvaccinated players could, in theory, be responsible for the losses of games and paychecks as well.
The new policy drills down on a scenario that never occurred in 2020, when the NFL postponed five games and moved 10 others to accommodate outbreaks. A forfeit will be called in 2021 if all of the following circumstances occur:
• A game is postponed by requirement of government authorities or medical experts, or at the discretion of the commissioner, because of ongoing health concerns of an outbreak.
• The league can't find a suitable date to reschedule within the 18-week framework of the regular season.
• The original postponement was caused by an outbreak among unvaccinated players of one team.
The NFL was able to reschedule all of the games it postponed in 2020, but it's possible it might not go to the same extremes — such as playing a game on a Tuesday or Wednesday — as it did during its first pandemic season.
According to the memo: "Whether to reschedule a postponed game will be dependent on health and safety reasons at the recommendation of medical experts as well as considerations of stadium availability, schedule integrity, fan convenience, and other appropriate matters."
If the forfeit occurs, players from both teams will lose their game checks. The team that suffered the outbreak would be responsible for any shortfall in the league's revenue-sharing pool and also would be credited with a loss for the purposes of playoff seeding, with the opposing team credited with a win.
According to Caesars William Hill, if a game is forfeited, a wager for standard spread, money line and total wager on that game will be voided.
"These operating principles are designed to allow us to play a full season in a safe and responsible way," Goodell wrote, "and address possible competitive or financial issues fairly. While there is no question that health conditions have improved from last year, we cannot be complacent or simply assume that we will be able to play without interruption — either due to Covid outbreaks among our clubs or outbreaks that occur within the larger community. These principles are intended to help inform decisions, recognizing that, as in 2020, we will need to remain flexible and adapt to possibly changing conditions."
According to the memo, if an outbreak among vaccinated players causes the postponement of a game, the league "will attempt to minimize the competitive and economic burden on both participating teams."
Mychal Kendricks sentenced to one day in jail, three years' probation in insider trading case
Free-agent linebacker Mychal Kendricks was sentenced Thursday to one day in jail, three years of probation and 300 hours of community service as a result of his 2018 guilty plea to insider trading charges.
The sentence, handed down by Judge Gene Pratter in the U.S. District Court for the Eastern District of Pennsylvania, came after numerous postponements.
Kendricks' agent, Doug Hendrickson, told ESPN that the linebacker is serving his one-day jail sentence Thursday. Hendrickson said that not knowing what kind of sentence to expect made it a "very emotional day" for Kendricks.
"Clearly, Mychal is very happy with the outcome and he's ready to continue playing football for someone," Hendrickson said.
According to the Securities and Exchange Commission complaint, a Goldman Sachs investment banking analyst, Damilare Sonoiki, illegally fed Kendricks information in 2014 about corporate acquisitions that his bank was advising before those deals were publicly announced. The complaint alleges that those tips helped Kendricks make about $1.2 million in illegal profits by purchasing securities in four companies that were about to be acquired.
Kendricks apologized in a statement after the charges were announced in August of 2018, saying that while he didn't fully understand the details of the illegal trades, he knew it was wrong and that he "wholeheartedly" regretted his actions. He pleaded guilty to one count of securities fraud and one count of conspiracy to commit securities fraud.
Sonoiki pleaded guilty to securities fraud in September 2018.
The 30-year-old Kendricks was a member of the Philadelphia Eagles at the time of the illegal trades, having been drafted by the team in the second round in 2012. He was released in May of 2018, signed a one-year deal with the Cleveland Browns the next month and was released by Cleveland after the charges were announced in August.
The Seattle Seahawks signed Kendricks in September of 2018, one week after his guilty plea. He served an eight-game suspension later that season for a violation of the NFL's personal conduct policy, which stemmed from the insider trading case.
Kendricks made 17 starts over two seasons with the Seahawks, finishing each season on injured reserve. He was signed to Seattle's practice squad last October, then finished the year on the Washington Football Team's active roster.
One source familiar with the situation told ESPN in 2018 that Kendricks could be facing 30 to 37 months in prison — as had been reported — based on federal guidelines and the amount of money involved in his case.
Hendrickson said Kendricks' supporters around the NFL wrote letters to the court vouching for him.
"I think there was over 150 letters of support ranging from — I won't name names — but head coaches in the NFL to general managers to the league office, the union, players on down to high school coaches and so forth and so on," he said. "So everybody was really supportive and behind him in terms of that. I'd like to think hopefully that went into part of the decision for people to understand who Mychal is.
"Certainly he screwed up and made a bad decision and he owned up to it, and now that chapter is over and now he's free to keep playing. He's got a lot of football left in him."
It's not clear why Kendricks' sentencing date was continually pushed back. Those can be changed at the request of the defense, the U.S. attorney or the court. The expectation for several months has been that Kendricks would finally be sentenced in July.
Hendrickson said teams interested in Kendricks have been waiting on his sentencing before proceeding.
"He's serving one day in jail, which is as we speak," Hendrickson said. "So as of tomorrow he's legitimately free to sign with any team. There's no restrictions. There's no pending possible dates in the future. As you know, he's already been suspended by the league in the past."
Over nine seasons and 104 career games, Kendricks has 548 tackles, 19 sacks and four interceptions.
ESPN's Tim McManus and The Associated Press contributed to this report.
Dallas Cowboys' DeMarcus Lawrence had offseason back surgery, will start training camp on PUP list
OXNARD, Calif. — Dallas Cowboys defensive end DeMarcus Lawrence will open training camp on the physically unable to perform list because of offseason back surgery, the third of his career.
"It's more of a cleanup, so there's no high concern," coach Mike McCarthy said before the Cowboys' first training camp practice. "He looks great. It's probably more us than him as far as the timeline of him coming back."
Lawrence did not participate in the organized team activities or minicamp, but the surgery was not disclosed until Thursday. Lawrence had back surgeries in 2016 and '17 that helped correct an issue that first appeared in 2015. He had a career-high 14.5 sacks in 2017 and followed that up with 10.5 sacks the next season before signing a five-year, $105 million contract extension in 2019.
Lawrence had 6.5 sacks last season.
Kicker Greg Zuerlein, 33, will also open camp on the PUP list due to offseason back surgery, forcing punter Hunter Niswander to handle the kicking duties full time as Zuerlein rehabs. Zuerlein, who is in the second year of a three-year contract with the Cowboys, made 34 of 41 field goal attempts last season.
"Just things we're being smart about," McCarthy said.
Wide receiver Amari Cooper, who had offseason ankle surgery, will also open on the PUP list, but the expectation is that he will be practicing sooner rather than later. He had his surgery not long after the 2020 season ended but did not take part in any on-field work during the offseason program.
"He has a history there," McCarthy said. "He looks great. He's in great shape, so this is the time of year to be smart."
Defensive tackle Trysten Hill and offensive tackle Mitch Hyatt are expected to need more time for rehab as they return from serious knee injuries. Rookie defensive end Chauncey Golston tweaked his hamstring during Wednesday's conditioning test, which led to him being placed on the PUP list. Rookie receiver T.J. Vasher (knee) was placed on the non-football injury list.