The last we saw of Tim Lincecum was in 2016, when the two-time Cy Young winner signed with the Los Angeles Angels in May following a showcase tryout, made nine starts and was the worst pitcher in the league. He pitched 38 innings, allowed 68 hits, including 11 home runs, posted a 9.16 ERA and his 2.374 WHIP was the highest for a pitcher with at least 30 innings since 1997.
So with reports that Lincecum will sign a one-year major league contract with the Texas Rangers, the obvious question is why will this season be any different?
Lincecum had another showcase session on February 15 at the Driveline Baseball facility in Kent, Washington, outside of Seattle, throwing in front of scouts from 15 to 20 teams. Reports from the session indicated he threw about 25 pitches exclusively from the wind-up and hit 93 mph while averaging between 90-92. He showed no signs of the hip injury that bothered him at the end of his Giants career and required season-ending surgery in 2015. In December, Rockies pitcher Adam Ottavino posted a photo on Instagram of a ripped Lincecum working out in a sleeveless shirt.
So what do we know? Lincecum is in great shape. He can maybe hit 93 mph throwing at max effort at an indoor baseball facility. He's well-rested after not pitching in 2017 and is now more than two years removed from the surgery. He obviously knows how to pitch, although precision control was never his forte.
This is obviously a complete roll of the dice by the Rangers, a minimal investment with the hope you hit the lottery. The most likely scenario would see Lincecum pitch out of the bullpen, where he would be a better bet to hold his velocity over short stints. With the Angels, his fastball averaged just 87.7 mph. One writer suggested that with the Rangers' closer job wide open, Lincecum even has a chance to winning that role.
Call me skeptical.
First off, Lincecum hasn't really been good since 2011, the last time he posted a sub-4.00 ERA. His year-by-year WAR totals since:
2012: minus-1.7
2013: minus-0.6
2014: minus-0.7
2015: 0.3
2016: minus-1.6
Remember, Lincecum was pitching in one of the best pitcher's parks in the majors and still couldn't keep his ERA below the league average. When the Giants won World Series titles in 2012 and 2014, it's notable that Lincecum made just one playoff start over those two postseasons (and pitched just one game in relief the entire 2014 run).
We're supposed to believe that seven years after his last good season Lincecum will rediscover stuff good enough to make him a closer? It's not an impossible idea, but he has a lot to prove before the Rangers even remotely consider him for that job. Don't you want to see some results before you trust him to get out Mike Trout with a one-run lead in the ninth inning?
It's also unlikely the Rangers double down on a wild card like Lincecum as their Opening Day closer, given what happened last season when Sam Dyson nearly torpedoed their season in April when he blew all three of his save chances and was 0-4 with a 12.66 ERA through May 7. Alex Claudio isn't a sexy alternative, but at least you know what you're getting with him.
Is there a precedent for a Lincecum comeback? Bartolo Colon made just 47 starts from 2006 through 2010 (missing all of 2010) with a 5.18 ERA and certainly appeared finished before resurfacing with the Yankees in 2011. After his comeback he made two All-Star Games and has won 87 games. Guess what? Colon is in Rangers camp as a non-roster invite.
Hey, I hope it works out. Lincecum is from the same Seattle suburbs I grew up in and was obviously a wonder to watch at his peak. That peak was a long time ago, however. Certainly the Rangers saw something to give him a guaranteed contract, but I'll be pleasantly surprised if Lincecum ends up a major contributor to the Rangers.
Sources — New York Yankees acquire pitcher Jameson Taillon from Pittsburgh Pirates for four prospects
The New York Yankees have added another bounce-back candidate to their starting rotation, acquiring Jameson Taillon from the Pittsburgh Pirates for four minor-league prospects, according to ESPN's Jeff Passan and multiple reports.
Pittsburgh will receive pitchers Miguel Yajure and Roansy Contreras, infielder Maikol Escotto and outfielder Canaan Smith in the trade, sources tell Passan.
Taillon, 29, was the No. 2 overall draft pick in 2010 and was a 14-game winner for the Pirates in 2018. But the hard-throwing right-hander appeared in just seven games in 2019 and missed all of last season while recovering from Tommy John surgery on his pitching elbow.
The Yankees agreed to the trade less than two weeks after signing former Cy Young award winner Corey Kluber, who also is looking to rebound from back-to-back injury-marred seasons.
How timing and circumstance finally allowed the Toronto Blue Jays to land a star
All along, the plan of the Toronto Blue Jays had been to start looking for opportunities — either in trades or in free-agent signings. The priority was to entrench the team's core of promising young players — Bo Bichette, Vladimir Guerrero Jr., Cavan Biggio and others — in the big leagues, and then add to them. In front-office meetings in recent years, they spoke of the 2020 trade deadline and the offseason that followed as perhaps the first windows to augment the roster with established players.
Ryan Zimmerman seals deal with Washington Nationals, says this might not be last year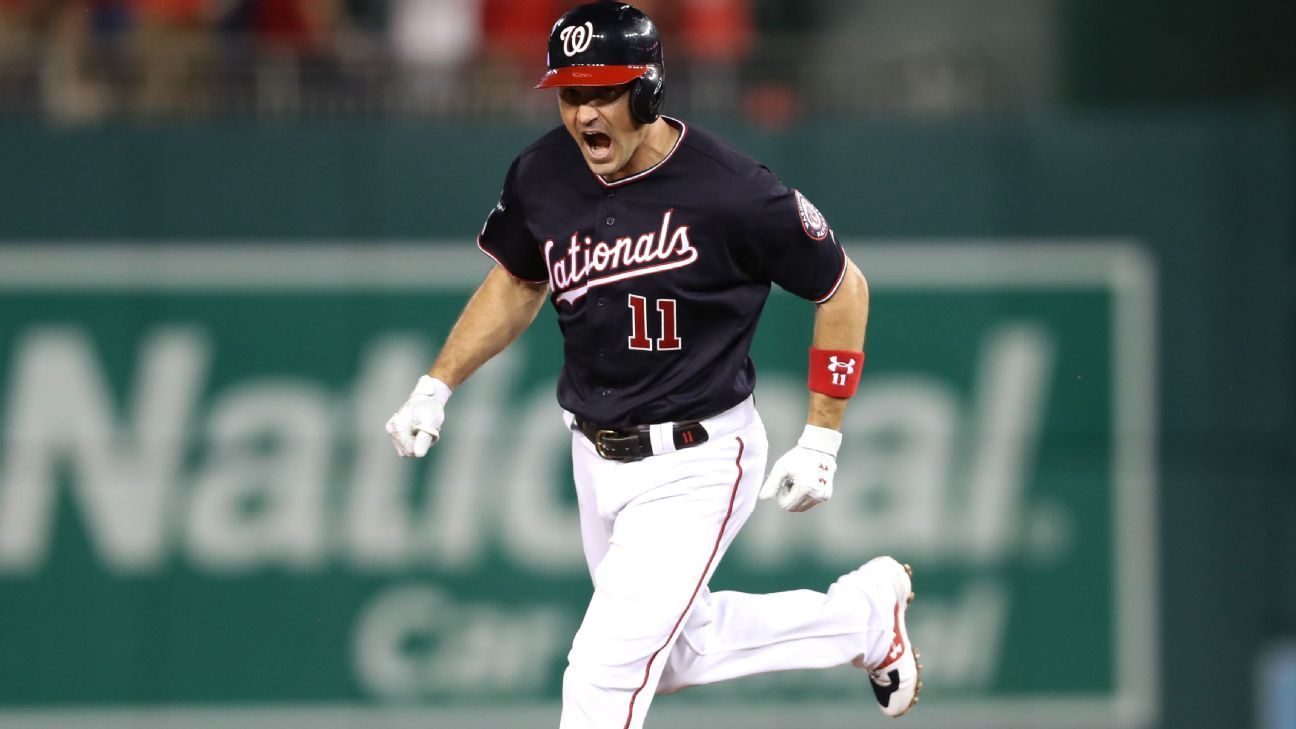 WASHINGTON — Now that he's set to play for the Washington Nationals this season, Ryan Zimmerman might stick around a little longer, too.
Zimmerman and the Nationals made it official Saturday, announcing his $1 million, one-year contract. The deal came after the Nats' longest-tenured player opted out of the coronavirus-shortened 2020 season.
"If I can settle into this role and do well this year, by no means does this have to be my last year," the 36-year-old Zimmerman said on a video call with reporters. "At least that's the way I'm looking at it."
Zimmerman is a two-time All-Star and bats right-handed. His playing time likely will diminish after Washington traded for switch-hitting first baseman Josh Bell from Pittsburgh last month.
It's still uncertain whether the National League will employ the designated hitter this year. It was used as part of the new rules added for the virus-abbreviated season.
Zimmerman, however, wasn't looking for a new opportunity in another city.
"Playing anywhere else would be really weird. Wouldn't really be worth it," he said.
Zimmerman has played 15 seasons in the majors, all for the Nationals. They took him with their first pick in the 2005 draft soon after moving from Montreal to Washington.
Zimmerman boosted the franchise to its World Series championship in 2019. He didn't play last year, choosing to sit out because of concerns about his family's health during the pandemic. His mother has multiple sclerosis; he and his wife had their third child last year.
"Me coming back this year was in no means for like a victory lap sort of thing," he said. "This is about coming back because I still think I can play the game at a high level, and I still think I can help the team win."
The Nationals went 26-34 last season, tied with the Mets for last in the NL East.
Zimmerman batted .257 with six homers and 27 RBIs in 171 at-bats in 2019. He is a career .279 hitter with 270 home runs and 1,015 RBIs.
Zimmerman said he was pretty certain he'd return to the diamond.
"I don't think it was ever 100%, but I don't think it was under, like, 95%," he said. "Once I was hanging out at home and watching the games and kind of getting into life without baseball, I think that number shot up to pretty close to 100% very quickly on my end."
Zimmerman thanked general manager Mike Rizzo and the organization for the chance to play again.
"I didn't know if they were going to offer me a major league deal, or if they were going to want me to come down on a minor league deal," he said. "I'm 36 years old, and I haven't played baseball in a year. So I think that shows, obviously, the respect that [Rizzo] and the team have for me. I can't tell you how much I appreciate that."
Zimmerman gave up a $2 million salary last season, but received a $2 million buyout for the declined option at the end of his previous contract.
In addition to his $1 million base salary this year, Zimmerman can earn $250,000 for games: $50,000 each for 50, 65, 80, 95 and 100. He also can make $250,000 for plate appearances: $50,000 apiece for 200, 250, 300, 350 and 400.
He also gets a one-day use of Nationals Park for charity, as a provision in his contract.
Zimmerman's deal includes $500,000 if he's league MVP or $200,000 if he finishes second through fifth in voting. He would get $100,000 for making the All-Star team and another $100,000 if he's the top vote-getter. Zimmerman would earn $250,000 for World Series MVP, $150,000 for League Championship Series MVP, $100,000 for Gold Glove, $100,000 for Silver Slugger, $100,000 for the Hank Aaron Award and $100,000 if he is Baseball America or The Sporting News player of the year.