The last we saw of Tim Lincecum was in 2016, when the two-time Cy Young winner signed with the Los Angeles Angels in May following a showcase tryout, made nine starts and was the worst pitcher in the league. He pitched 38 innings, allowed 68 hits, including 11 home runs, posted a 9.16 ERA and his 2.374 WHIP was the highest for a pitcher with at least 30 innings since 1997.
So with reports that Lincecum will sign a one-year major league contract with the Texas Rangers, the obvious question is why will this season be any different?
Lincecum had another showcase session on February 15 at the Driveline Baseball facility in Kent, Washington, outside of Seattle, throwing in front of scouts from 15 to 20 teams. Reports from the session indicated he threw about 25 pitches exclusively from the wind-up and hit 93 mph while averaging between 90-92. He showed no signs of the hip injury that bothered him at the end of his Giants career and required season-ending surgery in 2015. In December, Rockies pitcher Adam Ottavino posted a photo on Instagram of a ripped Lincecum working out in a sleeveless shirt.
So what do we know? Lincecum is in great shape. He can maybe hit 93 mph throwing at max effort at an indoor baseball facility. He's well-rested after not pitching in 2017 and is now more than two years removed from the surgery. He obviously knows how to pitch, although precision control was never his forte.
This is obviously a complete roll of the dice by the Rangers, a minimal investment with the hope you hit the lottery. The most likely scenario would see Lincecum pitch out of the bullpen, where he would be a better bet to hold his velocity over short stints. With the Angels, his fastball averaged just 87.7 mph. One writer suggested that with the Rangers' closer job wide open, Lincecum even has a chance to winning that role.
Call me skeptical.
First off, Lincecum hasn't really been good since 2011, the last time he posted a sub-4.00 ERA. His year-by-year WAR totals since:
2012: minus-1.7
2013: minus-0.6
2014: minus-0.7
2015: 0.3
2016: minus-1.6
Remember, Lincecum was pitching in one of the best pitcher's parks in the majors and still couldn't keep his ERA below the league average. When the Giants won World Series titles in 2012 and 2014, it's notable that Lincecum made just one playoff start over those two postseasons (and pitched just one game in relief the entire 2014 run).
We're supposed to believe that seven years after his last good season Lincecum will rediscover stuff good enough to make him a closer? It's not an impossible idea, but he has a lot to prove before the Rangers even remotely consider him for that job. Don't you want to see some results before you trust him to get out Mike Trout with a one-run lead in the ninth inning?
It's also unlikely the Rangers double down on a wild card like Lincecum as their Opening Day closer, given what happened last season when Sam Dyson nearly torpedoed their season in April when he blew all three of his save chances and was 0-4 with a 12.66 ERA through May 7. Alex Claudio isn't a sexy alternative, but at least you know what you're getting with him.
Is there a precedent for a Lincecum comeback? Bartolo Colon made just 47 starts from 2006 through 2010 (missing all of 2010) with a 5.18 ERA and certainly appeared finished before resurfacing with the Yankees in 2011. After his comeback he made two All-Star Games and has won 87 games. Guess what? Colon is in Rangers camp as a non-roster invite.
Hey, I hope it works out. Lincecum is from the same Seattle suburbs I grew up in and was obviously a wonder to watch at his peak. That peak was a long time ago, however. Certainly the Rangers saw something to give him a guaranteed contract, but I'll be pleasantly surprised if Lincecum ends up a major contributor to the Rangers.
Boston Red Sox slugger J.D. Martinez on a mission to leave 2020's struggles behind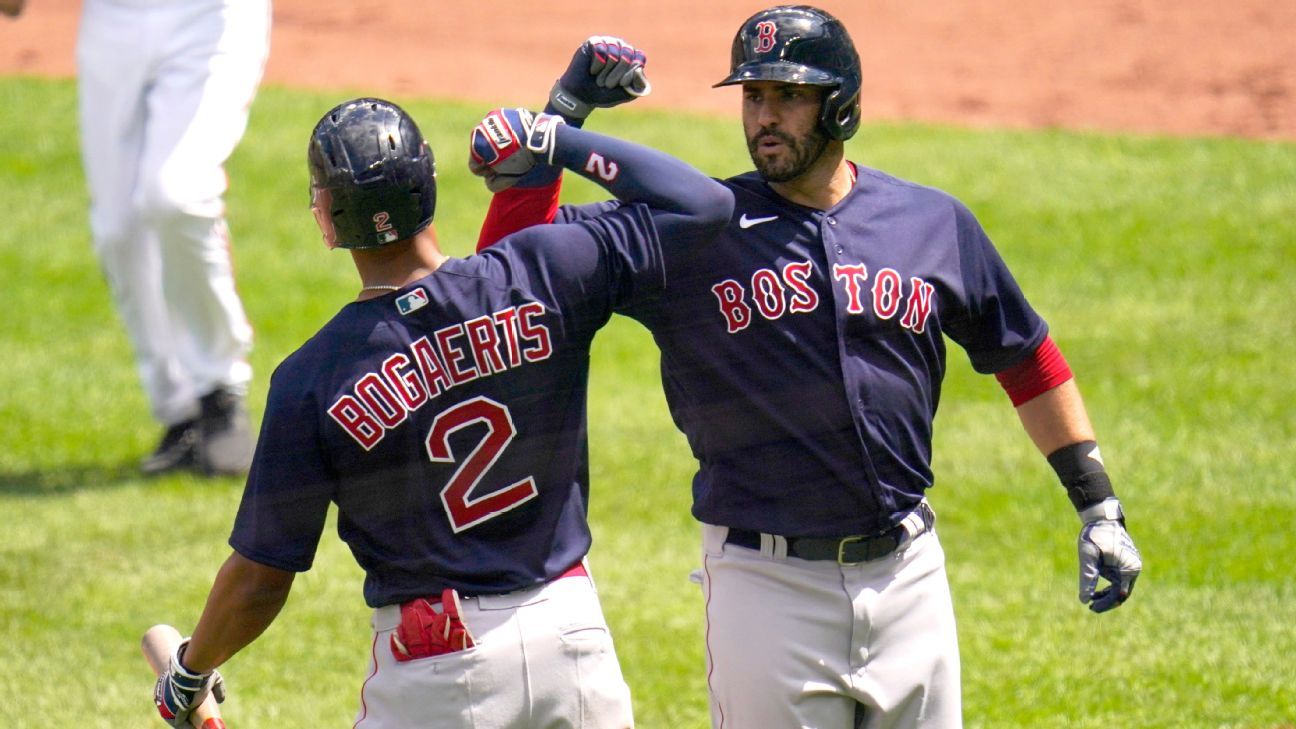 J.D. Martinez suffered through a miserable 2020 season. He hit .213. He ranked 129th out of 142 qualified hitters in weighted on-base average (wOBA). He finished with more strikeouts than hits. It was a shocking season for a hitter who ranked second in the majors in wOBA from 2017 to 2019, behind only Mike Trout.
He also made one thing clear in spring training: "I'm kind of tired of being judged on two months," he told WEEI.com's Rob Bradford late in March.
Martinez is making an early statement in 2021. He hit three home runs in Sunday's 14-9 win for the Boston Red Sox over the Baltimore Orioles and has started the season with extra-base hits in all eight games he's played — including seven doubles and five home runs. Martinez is the hottest hitter on the planet. Oh, and after Red Sox Nation and pundits were ready to bury the Red Sox after an 0-3 start in which the Orioles outscored them 18-5, Boston has won six in a row.
"He's on a mission to prove people wrong," manager Alex Cora said after Sunday's win. "It was only 60 games. He was one month away from getting his numbers right and now he's locked in and I'm glad he's swinging the bat the way he is."
Against the Orioles on Sunday, his three home runs came off three different pitchers:
• Third inning: 1-2 knuckle-curve from Jorge Lopez, 372 feet to right field (105.2 exit velo)
• Sixth inning: 1-2 curveball from Mac Sceroler, 382 feet to right-center (102.4 exit velo)
• Eighth inning: 0-2 changeup from Tyler Wells, 430 feet to center field (105.7 exit velo)
Granted, that trio of pitchers isn't exactly headed to the 2021 All-Star Game. I hadn't even heard of Sceroler and Wells until now, as Sceroler was making just his second major league appearance and Wells his fourth. Still, all three home runs came with two strikes, a good sign considering Martinez hit .171 with two strikes a year ago.
From the cool factoid department, Martinez also became the fifth player to hit three home runs in a game with three different teams:
• Martinez (Tigers, Diamondbacks, Red Sox)
• Mark Teixeira (Rangers, Braves, Yankees)
• Alex Rodriguez (Mariners, Rangers, Yankees)
• Dave Kingman (Mets, Cubs, A's)
• Johnny Mize (Cardinals, Giants, Yankees)
Martinez's eight straight games with an extra-base hit to start a season ties the major league record held by Alex Rodriguez (2007) and Sandy Alomar Jr. (1997). It's the volume of extra-base hits that is so impressive, however, as Martinez is hitting .472/.500/1.083:
Most extra-base hits in player's 1st 8 games played in a season (since at least 1906):

2021 J.D. Martinez: 12
1994 Dante Bichette: 12
2006 Chris Shelton: 11

— Sarah Langs (@SlangsOnSports) April 11, 2021
OK, the Chris Shelton reference is a reminder that not all hot starts are going to last, but Martinez has that long track record of being one of the best hitters in the game — and now he has his beloved in-game video back to study.
That was offered as one reason for Martinez's struggles in 2020, when in-game video was disallowed under the guise of pandemic protocols. He also had an ankle issue he played through that may have affected his swing. Whatever the reason, he admitted his troubles were self-inflicted.
"I think I've got a little bit of a chip on my shoulder," Martinez said when he reported to spring training in February. "I've always played with that, I've always played with that chip, having to prove people wrong my whole career. It kind of might have went away a little bit, but I think I've got it back a little bit now."
Martinez struggled most of spring training, however, leading to concerns that maybe he had just lost his swing overnight. Still, he's just 33, so it seemed a little early for that to happen. Cora pointed out Martinez finally got going late in camp, especially driving the ball to right field – like he did on Sunday. Cora sent another message to Martinez in spring training, playing him quite a bit in the outfield instead of just using him as the designated hitter. While Martinez has started just one game in the outfield so far, it was perhaps a signal from Cora to remind Martinez to stay in shape.
Still, it's hard not to ignore the psychological comfort of being able go into the dugout or clubhouse between at-bats to check the iPad. Few hitters in the game study their swing as studiously as Martinez — remember, he completely reconstructed his swing earlier in his career and was in the middle of that process when the Astros released him in spring training of 2014. Martinez signed with Detroit and has since had four 36-homer seasons, five .300 seasons and four 100-RBI seasons. And one big chip on his shoulder.
As for the Red Sox, their six-game win streak includes two extra-inning wins (12 innings over the Rays and 10 innings over the Orioles on Saturday) and they've hit a robust .332 with 53 runs those six games. Rafael Devers has homered in three straight games, Xander Bogaerts is hitting .375 and Christian Vazquez is off to a hot start. For this Red Sox lineup to click like it has in past seasons, though, it needs Martinez to thump.
What remains to be seen is how good the pitching will be. Playing six of nine games against the Orioles doesn't really tell us much. This week's series against the Twins and White Sox will be a much tougher test. Nick Pivetta, who won Sunday's game with four runs over six innings, is a key member in the rotation. For now, the Red Sox are in first place – it's early, of course, but that's a much better place to be after starting 3-9 and 6-13 in 2019 (and never really recovering) and then 6-18 in 2020.
Philadelphia Phillies reliever Archie Bradley on IL with oblique injury
Philadelphia Phillies reliever Archie Bradley was placed on the 10-day injured list with an oblique injury, the team announced Sunday.
Bradley, 28, revealed the injury to Phillies brass after giving up a run on two hits in Saturday's loss to the Atlanta Braves.
"It's not something I can pinpoint," Bradley said on Sunday afternoon. "It wasn't one particular act that I felt it on."
Bradley was a major offseason addition to the Phillies' bullpen, which had a historically bad season in 2020. He gave up runs in two of his four appearances this year before heading to the injured list.
This is Bradley's first experience with an oblique ailment, which can take considerable time to heal, depending on the severity. The righty wasn't sure on a timetable for his return.
"It's not something I felt doing baseball activities," Bradley said. "Honestly, I don't know where it came from."
The Phillies recalled lefty JoJo Romero from the alternate site to take Bradley's place on the roster. Romero was a late cut from spring training but is now needed just over a week into the season.
"He's throwing the ball pretty well," manager Joe Girardi said of Romero.
San Diego Padres LHP Adrian Morejon leaves Sunday start with injury
ARLINGTON, Texas — San Diego Padres left-hander Adrian Morejon left his start Sunday at Texas with an elbow/forearm strain after facing only three batters in the first inning.
Morejon threw 16 pitches, leaving after a four-pitch, two-out walk to Joey Gallo. He'll be re-evaluated Monday.
Morejon, 22, was making his second start of the season. He worked four innings at home against Arizona last Monday and allowed two runs, both on home runs, and got a no-decision in the Padres' 3-2 loss.
Morejon appeared in 14 games for the Padres during the previous two seasons, including six starts, without a decision.