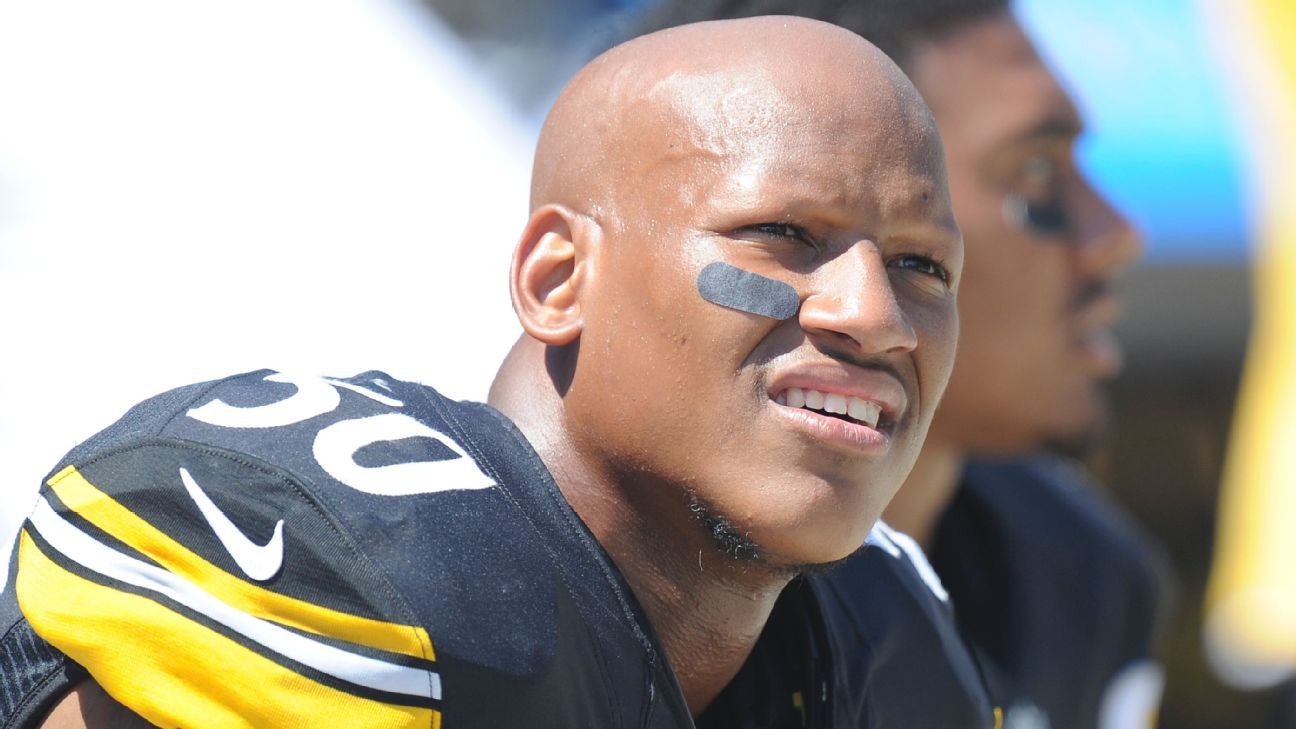 Linebacker Ryan Shazier will not play in 2018 as he recovers from a spinal injury, Pittsburgh Steelers general manager Kevin Colbert said Wednesday at the scouting combine in Indianapolis.
"Ryan Shazier won't play in 2018. He knows that and we know that. We're going to continue to support him in his recovery," Colbert said.
Colbert said it will be a challenge because the Steelers will be at 89 players, but "fortunately for Ryan he's covered in that manner."
"He will be part of our team officially and really unofficially because he's still with us day-to-day as he rehabs. He involves himself in team issues so he can be a formidable member in 2018," Colbert said.
Shazier said on teammate Roosevelt Nix's podcast, which was posted to social media last week, that he plans to play again.
Shazier, 25, underwent spinal stabilization surgery Dec. 6 after a tackling attempt on Monday Night Football in Cincinnati left him clutching his lower back. He was rushed to a local hospital and eventually transported to University of Pittsburgh Medical Center.
Shazier has used a wheelchair but is making progress in his rehab and was cleared for outpatient care on Feb. 1.
ESPN's Jeremy Fowler contributed to this report.
Houston Texans QB Tyrod Taylor says Deshaun Watson 'absolutely' a resource, not a distraction at training camp
HOUSTON — For the third straight day of training camp, Deshaun Watson did not take part in team drills. Although the Houston Texans' quarterback stood off to the side for most of practice, newly acquired QB Tyrod Taylor said Watson's presence has not been a distraction.
Taylor said Watson has "absolutely" been a resource for him as he learns this new team and offense in Houston.
"Me and Deshaun are friends," Taylor said. "We've known each other for a number of years now. We've had conversations on the field, off the field. Non-football, about life. Everything has been positive conversations and they'll continue to be that way."
Watson reported to training camp Sunday after requesting a trade from the Texans in January. Less than two months later, the first of 23 lawsuits was filed accusing Watson of sexual assault and inappropriate behavior. He faces 22 active lawsuits after one was dropped.
Taylor, who signed with the Texans just hours before the first lawsuit was filed against Watson in March, said his mindset hasn't changed from when he signed in Houston to the start of training camp.
"My mindset has been the same since I was drafted back in 2011," Taylor said. "To walk in every day with your best attitude, compete, prepare like a starter and go out and make plays.
Taylor was named the starting quarterback for the Los Angeles Chargers last season, but started only one game before a team doctor accidentally punctured his lung with a pain-killing shot while attempting to treat a rib injury. He was replaced in that game by quarterback Justin Herbert, who kept the starting job and went on to be named the NFL's Rookie of the Year.
Coach David Culley praised Taylor for being "first guy in this building every morning" and often being "the last guy to leave."
"And that's every day," Culley said. "And that's just who he is. You won't ever hear him a whole bunch talking about this or talking about that. He just goes about his business."
Culley announced that the Texans' first padded practice will be on Tuesday, but declined to say whether Watson would be in pads for that practice.
New England Patriots QB Cam Newton says Mac Jones makes good first impression
FOXBOROUGH, Mass. — Cam Newton said he is still getting to know rookie Mac Jones as they compete for the New England Patriots starting quarterback job, but in sharing his first impression, he cited a phrase made famous by late ESPN SportsCenter anchor Stuart Scott.
"Cool, like the other side of the pillow," Newton said Friday. "You never know when he's really down on himself. You don't really necessarily know when he's up, either. He's real cool."
Newton, 32, said that Jones has even surprised him with his knowledge of hip-hop.
All of which had Jones, 22, laughing after practice.
"That's a nice compliment. I'd say the same about Cam," said Jones, the Patriots' first-round draft pick from the University of Alabama (15th overall). "Obviously, with any relationship and meeting someone new, you have to form the bond and trust. He's helped me and made it a lot of fun. Your first couple practices as a rookie are going to be hard, so he just tries to stay positive with me. That's just who Cam is."
A notable example of that came in Thursday's practice after Jones had finished a series that didn't produce the desired results. Newton approached him on the sideline and the two talked it over.
"Hopefully, I can learn from him and try to be like him in some ways and have fun with it," Jones said. "We're going to grow together, and we're going to help each other win games, hopefully."
At the same time, they're also in a competition for the top spot on the depth chart, with coach Bill Belichick previously saying that Newton is No. 1 while leaving open the possibility that Jones could make a charge for the job in time.
That's how Newton has approached things this year, and even before that.
"Ever since I've been here, there's been a quarterback competition," he said. "I think in essence, that's the underlying Patriot Way. Every position has a competition there, and the quarterback position is no different."
Newton said one thing that has helped him this year is that he didn't have any surgeries in the offseason, which allowed him to spend more time with his family and also on his physical and mental well-being. The result, he said, is that "you feel a little different. More confident."
Along those lines, Newton said he plans to be judicious when he takes off and runs, in hopes of protecting his 6-foot-5, 245-pound frame.
"I'm getting older. You know, you just have to move a little differently," he said. "It's not about proving certain things. We all know what I can do running the football. And if it needs to come to those things, I'm willing to risk it all.
"But yet, if it doesn't require that, then of course you have to be a little more mental. Because a nick and a bruise where I'm at, it sticks a little longer than just a day and then going about your business."
Jones has taken off to run a couple of times in practice, but he's more of a traditional pocket passer. The ball is often out of his hands quickly.
As for what he has learned about Newton, he kept his response lighthearted.
"I like his outfits, for sure," he said. "I can't pull off his swag."
NFL allowing some unvaccinated players to unmask at outdoor practices
The NFL is updating its COVID-19 protocols and no longer requiring participating unvaccinated players to wear masks during outdoor practice sessions.
In a memo to the 32 teams sent by the NFL Management Council and obtained by The Associated Press, the league said that beginning with the stretching portion of the workout through the end of practice, such players now can work unmasked. Once the practice concludes, they must put on a mask.
The same will be true for practices in a team's "bubble," the indoor practice facility.
Players who are not practicing still must wear masks if they haven't been vaccinated against the coronavirus. They also must wear face coverings for weight sessions, all outdoor meetings, and the post-practice periods even when family – which the league is terming "cohabitants" – is allowed on the field.
The league also loosened restrictions on what those cohabitants can do after practices. They now are allowed to join players and all Tier 1 and Tier 2 personnel – those who deal directly with players – on the field. Outdoor social events are permitted at the facility, with some restrictions.
For teams with fewer than 90% vaccinated players, the visitors must produce proof of vaccination that teams must verify. Children under 12 will be allowed on the field or for such social events. However, unvaccinated players, staff and children under 12 must wear masks and practice social distancing.
But for teams with more than 90% vaccinated players, there will be no requirements for proof of vaccination. The same restrictions apply to those who are not vaccinated.
Unvaccinated players will be allowed to remove their masks for outdoor media interviews provided physical distance is maintained.
Finally, the league and the NFL Players Association agreed that players experiencing side effects "or an adverse event with the onset of such (COVID-19) symptoms" within the 48 hours after being vaccinated would be treated as a football-related injury. The team physician must "reasonably determine they are causally related to receiving" the vaccine.
——