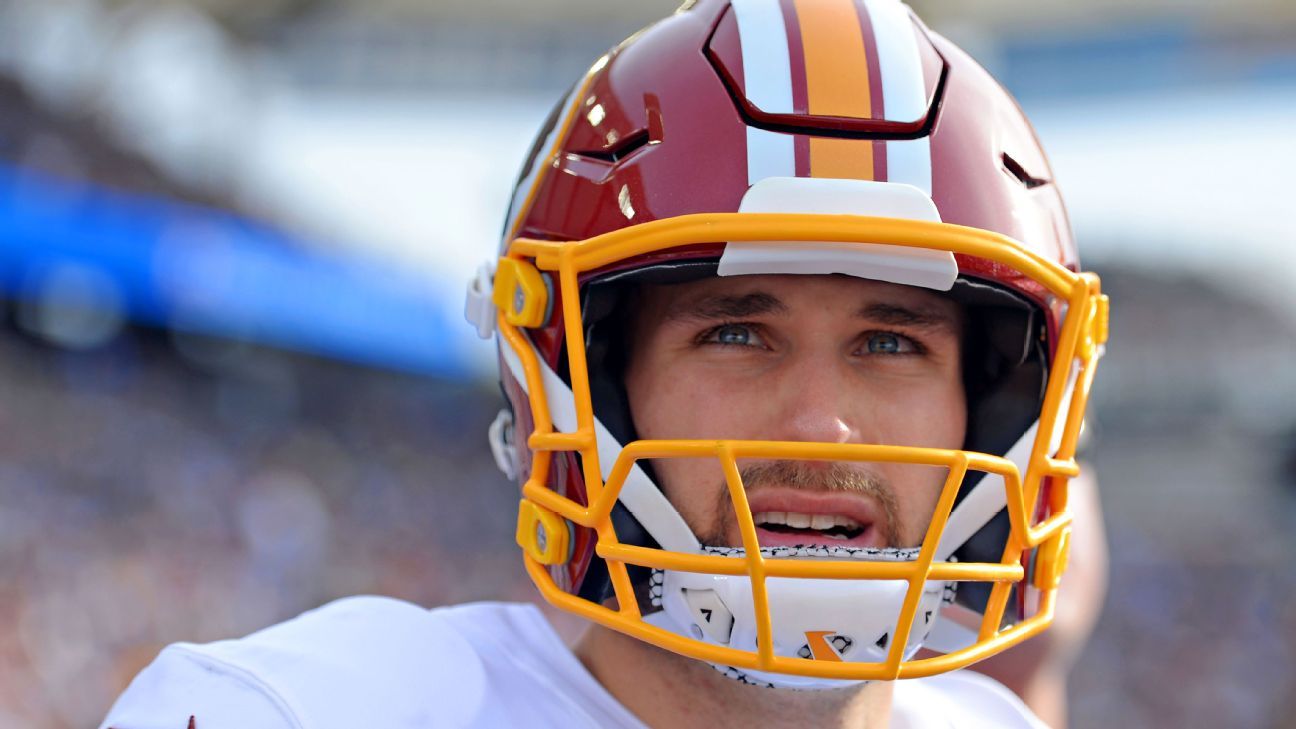 Kirk Cousins is a little more than a month away from showing us what can happen when a healthy, top-level starting quarterback in his prime hits the free-agent market. This will be unprecedented. In the era of the franchise tag, only two top-level quarterbacks have become unrestricted free agents — Peyton Manning in 2012 and Drew Brees in 2006 — and each was coming off a major injury at the time.
Cousins is 29 years old, healthy and coming off his third straight 4,000-yard passing season at a time of rapid salary-cap growth. As of March 12, when agents of prospective free agents are free to talk with other teams, Cousins will be in a position to set a new standard at the top of the NFL salary structure — not long after Jimmy Garoppolo agreed to terms on a five-year deal of his own in San Francisco.
Now, because I know some of you will ask: No, I do not think there is any chance Washington franchises Cousins for the third year in a row. It's certainly true that it has considered the idea of franchising him and trying to trade him, in an effort to avoid losing him and getting nothing in return. And at this stage of the process, that's the right position for them to be taking outwardly, just in case some team wants to offer them something crazy. But I, and the sources I've spoken to on this matter, consider a third Cousins franchise tag (which would cost Washington about $34.5 million) a totally unrealistic outcome.
Why? Well, any team willing to trade anything of significance for Cousins would want to know that they can sign him long term, and for how much. Washington is likely to end up with a third-round compensatory pick if it lets Cousins walk, which means a team probably would need to offer a second-rounder or more in order to get him, and why would a team do that if all it is guaranteed is one year at $34.5 million?
If Washington franchises Cousins, he'll surely rush to sign the tender and put the team in an impossible bind. That $34.5 million would immediately hit Washington's 2018 salary cap along with about $24 million in cap cost for Alex Smith, likely requiring undesirable roster cuts elsewhere and making it basically impossible for the team to do anything else in terms of player acquisition until they traded Cousins.
In theory, Cousins could make it easy on Washington by negotiating with potential trade partners on a long-term deal before a trade is finalized, but there's no reason to believe Cousins is or will be interested in doing his current team any favors. If Washington did decide to franchise Cousins, the more likely reason would be that it got cold feet on the Smith deal and decided to back out before it became official. As of Tuesday night, we can call this "Pulling a McDaniels." Not saying this will happen, but if Tuesday taught us nothing else, it's that nothing is final until it's final.
What Cousins wants — and believes he deserves — is a chance to hit the market unfettered, with a menu of potential new destinations from which to choose. It appears certain he will get that, and when he does, his deal could average $30 million or more per season with upward of $90 million in guarantees. The questions then will become how many teams will bid that high and how much he likes the idea of playing for those teams.
The Minnesota Vikings, who are coming off a 13-3 season and with all three quarterbacks on their roster eligible for free agency, should be at the top of Cousins' wish list. They have the cap space to make it happen. They have an elite defense, top-level wide receivers, a strong running game and an offensive line that — while it might need some maintenance work in the coming years — did an awfully good job of keeping Case Keenum clean in 2017. The question with the Vikings is how committed they are to developing Teddy Bridgewater as their long-term solution and rewarding Keenum for what he did in 2017. If they bring one or both of those guys back, that probably rules out Cousins. But if they see themselves a Cousins away from the Super Bowl, maybe they change the plan and go for it.
The New York Jets also have the cap room and the need. Their roster needs more work than Minnesota's does, but the receiving corps showed promise this season, the coach just got extended, and Cousins has spoken highly of new offensive coordinator Jeremy Bates. Perhaps he'd enjoy a shot to make a big splash in the Big Apple. The Buffalo Bills are coming off a 9-7 season and have a No. 1 receiver in Kelvin Benjamin and an elite running back in LeSean McCoy. If Cousins likes what Sean McDermott is putting together in Buffalo, the Bills become an interesting option that might not be too far from title contention. The Jacksonville Jaguars would be interesting if they found a way to move on from Blake Bortles, but his $19 million contract option could end up being guaranteed if Bortles, who just had wrist surgery, can't pass a physical by early March.
The Cleveland Browns will have all kinds of money to spend, but that situation comes with a ton of uncertainty. How long will Hue Jackson be the coach? Would Cousins expect to click immediately with offensive coordinator Todd Haley? How close, really, is a team that is 1-31 over the past two years to contention?
There's long-range coaching staff uncertainty, too, with the Denver Broncos, who also have to move a bunch of money around to clear room for a Cousins pursuit. And while the Arizona Cardinals have a need and sound like a nicer place to live than some of these other options, the Cardinals feel like a start-from-scratch situation in the wake of Bruce Arians' and Carson Palmer's retirements (and possibly Larry Fitzgerald's, too).
The upshot: Cousins is likely to find a historic contract on the open market, but it won't necessarily be easy for him to get there. Each potential landing spot has hurdles in front of it that he and/or his new team will have to clear. We're not likely to know the exact parameters of the Cousins market until after the combine, when the free-agency picture starts coming into focus. But when the smoke clears, expect Cousins to be at the top of the most interesting quarterback offseason in memory.
A quick look at some of the other names — and potential names — on that market:
---
2018 status: Unrestricted free agent
Brees would obviously be the top quarterback on the market if he hadn't been so vocal about his desire not to go anywhere. The final three years of the extension Brees signed two summers ago void on March 14, which would make him a free agent. Expect the 39-year-old and the Saints to work out something — even if it's converting one or two of the void years into real years just to keep him in New Orleans and avoid an onerous 2018 cap situation.
2018 status: Unrestricted free agent
As mentioned above, it's possible Minnesota wants Keenum back after the year he just had. It's also possible (and would make sense) that Keenum wants to parlay his big 2017 season into as big a contract as he can get, since he might never have a year like that again. If it's the latter, expect any jilted Cousins suitors to be in the mix.
2018 status: Unrestricted free agent
Assuming his contract doesn't "toll" for injury reasons, Bridgewater would hit the unrestricted market. If they don't pursue Cousins, expect the Vikings to bring him back on a reasonable deal.
2018 status: Unrestricted free agent
The veteran wants to keep playing, but the condition of his knee will severely limit his market value.
2018 status: Unrestricted free agent
Makes a lot of sense as a bridge quarterback for a team developing a draft pick (Browns?).
2018 status: Unrestricted free agent
A grievance hearing this month will determine whether McCarron is an unrestricted or a restricted free agent, and that obviously will affect his market value and mobility. Don't rule out Cleveland, where head coach Hue Jackson is a former Bengals offensive coordinator.
2018 status: Potential cap casualty
Almost certain to be cut by Buffalo, Taylor could appeal to a team looking for an experienced option or a bridge guy while they ready a rookie.
2018 status: Possible trade candidate
The unlikely Super Bowl MVP is signed through 2018 for $7 million in salary and bonuses, of which $3 million is guaranteed. As long as they're uncertain about starter Carson Wentz's timetable for recovery from his ACL injury, it makes sense for the Eagles to hold onto their decorated backup. But if someone comes offering a second- or third-round pick — neither of which the Eagles have in 2018 at the moment — it could prove tempting to sell high on Foles and invest in a different backup option.
2018 status: Possible trade candidate
As mentioned above, it's possible Bortles' wrist surgery could trigger his $19 million injury guarantee and tie Jacksonville's hands. But if they can find a way to knock that 2018 number down, they could end up trading Bortles, releasing him or keeping Bortles and bringing in some competition for him.
2018 status: Unrestricted free agent
Sources close to the situation say the Dolphins are all-in on Ryan Tannehill. Expect Cutler to see if that broadcasting job is still available. But if Tannehill gets hurt again or if someone else comes with another $10 million — who knows?
2018 status: Potential cap casualty
A candidate for a cap cut ($1.9 million savings), Siemian opened the season as the Broncos' starter the past two years and has shown flashes. Could have some appeal on a market where everyone is always looking for quarterbacks.
Editor's note: An earlier version of this story included Jimmy Garoppolo, before he and the 49ers agreed to terms on a five-year deal Thursday.
Tampa Bay Buccaneers would be 'elated' to extend Tom Brady's contract beyond 2021
Buccaneers general manager Jason Licht said Thursday that he and coach Bruce Arians would be "elated" if they could get a deal done with quarterback Tom Brady to keep him in Tampa beyond his two-year contract, which will end after the 2021 season.
Licht said Tuesday on the Rich Eisen Show that signing Brady to extension is a possibility, but declined to discuss the specifics of any conversations with Brady's agent Don Yee when asked Wednesday in the Bucs' pre-combine and free agency zoom conference.
"Bruce and I both have a great relationship with Tom, and I have a good relationship with his agent," Licht said. "We thought Tom played incredibly well this year, along with the entire team. We would love to have Tom play here — I can speak for Bruce — I think as long as he continues to want to play. If that comes to fruition at some point, we'd be elated. But I'd like to keep those conversations private right now."
Brady, 43, is set to earn $25 million next season. He had previously said his goal was to play until age 45, but Brady said last month the week of the Super Bowl that he would now consider playing beyond 45. Brady would be 44 next year and tacking on a year to his deal would keep him under contract through his 45th birthday.
A new contract would not only ensure more long-term stability at the position, but could help the Bucs' salary cap situation. They will have less than $30 million in salary cap space, with a number of high-profile players who need to be re-signed, including Pro Bowl wide receiver Chris Godwin, inside linebacker Lavonte David, outside linebacker Shaq Barrett, tight end Rob Gronkowski, wide receiver Antonio Brown and running back Leonard Fournette.
While there is uncertainty as to whether or not there will be an offseason program, Arians anticipates Brady would be recovered from his offseason knee procedure and ready to fully practice by early summer. If there is no offseason program this year, they could lean on Brady's player-organized workouts similar to what he led at Berkley Prep last summer.
"I think he's probably looking [at] somewhere around June, right now, from what I hear," Arians said. "His leadership — he doesn't have to be out there throwing it anymore. He can be there standing and coach the s— out of them. Wherever they meet and work out — I'm hoping we have an offseason for the younger players. Tom doesn't need it, but for the younger players — first-, second-, and third-year players — we've missed two years of player development with where we're at now. We don't need to miss another one."
Licht also said he "expects" center Ryan Jensen and left tackle Donovan Smith back next year. Both are under contract but neither are due any guaranteed money. With Smith set to count $14.25 million against the salary cap this year and Jensen $10 million, some had questioned if they'd be cap casualties. But the Bucs were thrilled with their performances down the stretch and in the postseason.
"We love Ryan and Donovan," Licht said. They played a pivotal role in our offense — in their protection, in the run game. We envision Ryan and Donovan both being on this team. We expect them, not just envision them."
Texans' AFC South rivals donate $100,000 to aid Houston recovery efforts after winter weather
The AFC South is again pitching in to help out one of their own.
The Jacksonville Jaguars, Tennessee Titans and Indianapolis Colts are combining to donate $100,000 to the Houston Harris County 2021 Winter Storm Relief Fund to help residents impacted by the severe winter weather that hit the state last week.
The NFL Foundation also is matching the donation.
"As our community continues to recover from the devastating events of last week, we are grateful for the support from our AFC South family as well as the NFL Foundation," Houston Texans chairman and CEO Cal McNair said in a statement. "I am very proud that our division and the NFL consistently act as one team with one mission — take care of each other. This is part of who we are."
Per its website, the Houston Harris County Winter Storm Relief Fund will focus on grants to local non-profits that will help families that need additional help from the storm damage to recover. It includes helping with home repairs and supplementing help from other local and federal efforts. The Washington Post reported last Sunday that at least 58 people died in the two major winter storms that struck the country. Thirty-two of the people killed lived in Texas, where power outages left many without heat in freezing temperatures.
"It is an honor to join our colleagues in the AFC South and at the NFL Foundation in supporting the Houston community as they recover from the devastating effects of the winter storm," said Titans controlling owner Amy Adams Strunk. "As a native of the area, I know the region will overcome the stunning amount of damage to families and property, and the entire Titans family is thinking of them during this difficult time."
Colts owner Jim Irsay and Jaguars owner Shad Khan also released statements in support of Houston residents.
"While we regularly square off against our division rivals on Sundays in the fall, some things are bigger than football, and now is one of those times," Irsay said. "The Colts are happy and proud to join with the Jaguars and Titans organizations as well as the NFL Foundation to assist our NFL family in Houston that is facing enormous challenges right now. All of us here in Indianapolis are thinking of and praying for the Houston community and others throughout Texas who have been impacted."
Said Khan: "Houston has endured some difficult times recently, but it always bounces back, and I am confident that will be the case again. … Everyone in Jacksonville is a Houston fan today as we get through this together."
This is not the first time AFC South rivals have teamed up to help one of their members. The Colts, Texans and Jaguars made a $100,000 joint donation to the Community Foundation of Middle Tennessee to help Nashville and surrounding areas recover from tornadoes that ripped through the area last March.
Tampa Bay Buccaneers safety Antoine Winfield Jr. turns Super Bowl 2021 taunting fine into positive with donation to school
Safety Antoine Winfield Jr. is donating $7,815, the amount he was fined for taunting the Kansas City Chiefs' Tyreek Hill in Super Bowl LV, to support the Tampa Bay Buccaneers' Youth Leadership Program at Tampa's Young Middle Magnet School.
The Buccaneers Foundation is matching his donation, putting the total donation to the school at $15,630.
"Since it got a lot of media attention, it was out there and I wanted to just spin it in a way to make it positive," Winfield told the team's website.
Winfield has been a mentor to students through the program, part of the Buccaneers' social justice initiative. After Winfield was fined, fans asked whether they could pay the fine, but he is encouraging them to donate to the school instead.
"Our district is deeply appreciative, not only for the Tampa Bay Buccaneers, but also Antoine Winfield, Jr. for this monetary donation that will make a strong impact at Young Middle Magnet," Hillsborough County superintendent Addison Davis said, according to the team's website. "Taking an unfortunate situation and turning it into a positive one is the measure of a true champion, and a wonderful example for our students and entire community."
Winfield received an unsportsmanlike conduct penalty for making a peace sign in Hill's face as the Chiefs receiver was getting up off the field in the fourth quarter with the Buccaneers comfortably ahead.
After the Buccaneers' 31-9 victory, Winfield told reporters he was only returning the favor to Hill, who he said made a similar gesture to him during the regular season in a game the Chiefs won 27-24. Hill scored three touchdowns and had 269 yards receiving on 13 receptions in that game but was held to seven catches, 73 yards and no touchdowns in the Super Bowl.
"The taunting, man, it's something I had to do. When we played them earlier, Hill went off on us. He backflipped right in front of my face and gave me the peace sign. So it was only right that I gave him the peace sign right back to him. It felt amazing to be able to do that," he told reporters.
ESPN's Adam Schefter contributed to this report.