TAMPA, Fla. – Yankees outfielder Clint Frazier is continuing to deal with symptoms related to a concussion after his head hit an outfield wall during Sunday's spring training game. He has been sidelined since the injury.
Frazier's frustration has grown during the time he has spent away from the field. The Yankees outfield is crowded with Aaron Judge, Giancarlo Stanton, Brett Gardner, Aaron Hicks and Jacoby Ellsbury, and Frazier feels like the spot on the 25-man roster he's been chasing this spring is slipping out of his grasp.
"I can't even sit in my living room without feeling like s—," Frazier said before Wednesday's game against the Detroit Tigers. "My head hurts, and it's just the headaches. I can't shake the headache all day.
"I have a goal to attain, and it's not fun watching it kind of feel like it dwindles away when you're sitting on the shelf."
Frazier's revelation to reporters came two days after manager Aaron Boone said the left fielder had a "mild concussion."
"He keeps telling me how good he is," Boone said Monday.
Frazier first reported concussion symptoms to the team Monday morning. In the game against the Philadelphia Phillies the day before in Clearwater, Florida, Frazier was drifting back for a fly ball that he said the wind kept carrying. When the leftfielder reached the warning track, he leaped, just short of the wall, and caught the ball as his head made contact with the bottom of the fence.
As part of the concussion evaluation process, Frazier has spent the past three days working with trainers doing a warmup routine to get his heartrate elevated. He said Wednesday he has made it through the warmups OK. It's when he starts trying to hit that the symptoms return.
"I think hitting's different than the warmups. I'm exerting more of my energy in my swing and that cause it to flare up a little bit," Frazier said. "But I'm just taking it slow … it's nothing to mess around with."
Frazier, who played football as a teenager but never had a concussion until now, said he plans to continue going through the same set of exercises until he no longer exhibits symptoms. His concern is that with a head injury, he isn't exactly sure when that will be.
Toronto Blue Jays address bullpen issues by acquiring closer Brad Hand from Washington Nationals
The Toronto Blue Jays have acquired three-time All-Star closer Brad Hand from the Washington Nationals for minor league catcher Riley Adams, the teams announced Thursday.
Hand is 5-5 with a 3.59 ERA and 21 saves this season.
Hand signed a one-year, $10.5 million contract with the Nats this past offseason. He was coming off another solid season as the closer for the Cleveland Indians in 2020, leading the major leagues with 16 saves, but was a victim of the team's salary purge heading into 2021.
The Blue Jays have had a multitude of injuries in their bullpen, beginning with the team losing Kirby Yates to Tommy John surgery to start the season.
Also missing time has been Julian Merryweather (oblique), Tyler Chatwood (neck), Carl Edwards Jr. (oblique) and David Phelps, lost for the season after undergoing surgery on his right lat.
Adams, 25, is considered the best power hitter in Toronto's system according to Baseball America. He joins the Nationals after hitting .239 with seven homers, 17 RBIs in 35 games for Triple-A East Buffalo.
Aaron Boone says Joey Gallo will be with New York Yankees on Friday
ST. PETERSBURG, Fla. — All-Star slugger Joey Gallo's trade to the New York Yankees from the Texas Rangers was completed Thursday, giving the heavily right-handed Yankees a much-needed powerful lefty bat.
Manager Aaron Boone said he spoke with Gallo on Thursday and "welcomed him to the team."
With switch-hitting center fielder Aaron Hicks hurt, second baseman Rougned Odor and outfielder Brett Gardner have been the only left-handed hitters to see substantial playing time.
"I think we're a lot better today," Boone said before the Yankees played Tampa Bay.
Boone said that Gallo will be with the Yankees for Friday's series opener against the Marlins in Miami.
While he has played right field for Texas, Boone envisions Gallo playing a lot in left for the Yankees, who have Aaron Judge as their regular right fielder.
"We're excited to add an All-Star," Boone said.
The Rangers received right-hander Glenn Otto, second baseman Ezequiel Duran, shortstop Josh Smith and second baseman/outfielder Trevor Hauver from New York. Texas also sent pitcher Joely Rodriguez to New York.
New York's left-handed hitters have struggled this season, ranking last in the majors in average (.197), 28th in home runs (22) and OPS (.633) and 29th in hard-hit rate (33%).
A two-time All-Star, Gallo ranks sixth in the AL this season with 25 home runs, to go with 55 RBIs and a .223 average. He had struggled mightily at the plate since the All-Star break, with no home runs and a .067 average in the 10 games following, before breaking out Tuesday with a three-run shot against the Diamondbacks.
Gallo, 27, is among just eight rostered major leaguers with multiple career 40-homer seasons (2017, 2018).
Gallo is owed $2.2 million from his $6.2 million salary. He is eligible for arbitration next winter and can become a free agent after the 2022 season.
The Yankees began the day 8½ games behind Boston in the AL East and trail Tampa Bay, Oakland and Seattle in the wild-card race for two spots.
Rodriguez, 29, is 1-3 with one save and a 5.93 ERA in 31 relief appearances this season, holding left-handed batters to a .176 average. He is 2-5 with a 5.05 ERA in 81 relief appearances over four seasons with Philadelphia (2016-17) and Texas (2020-21), and he was 3-7 with a 1.85 ERA over 90 relief appearances in 2018-19 for the Chunichi Dragons of Japan's Central League.
Duran, 22, hit .290 with 15 doubles, six triples, 12 homers and 48 RBIs this season in 67 games with High-A Hudson Valley.
Hauver, 22, made his professional debut this season with Low-A Tampa, hitting .288 with 17 doubles, nine homers and 49 RBIs in 66 games.
Otto, 25, was 7-3 with a 3.33 ERA in 12 starts and one relief appearance with Double-A Somerset and Triple-A Scranton/Wilkes-Barre this season.
Smith, 23, hit .324 with 12 doubles, nine homers, 24 RBIs and 17 stolen bases in 39 games with Low-A Tampa and High-A Hudson Valley.
The Associated Press contributed to this report.
Chicago White Sox acquire 2B Cesar Hernandez from Cleveland Indians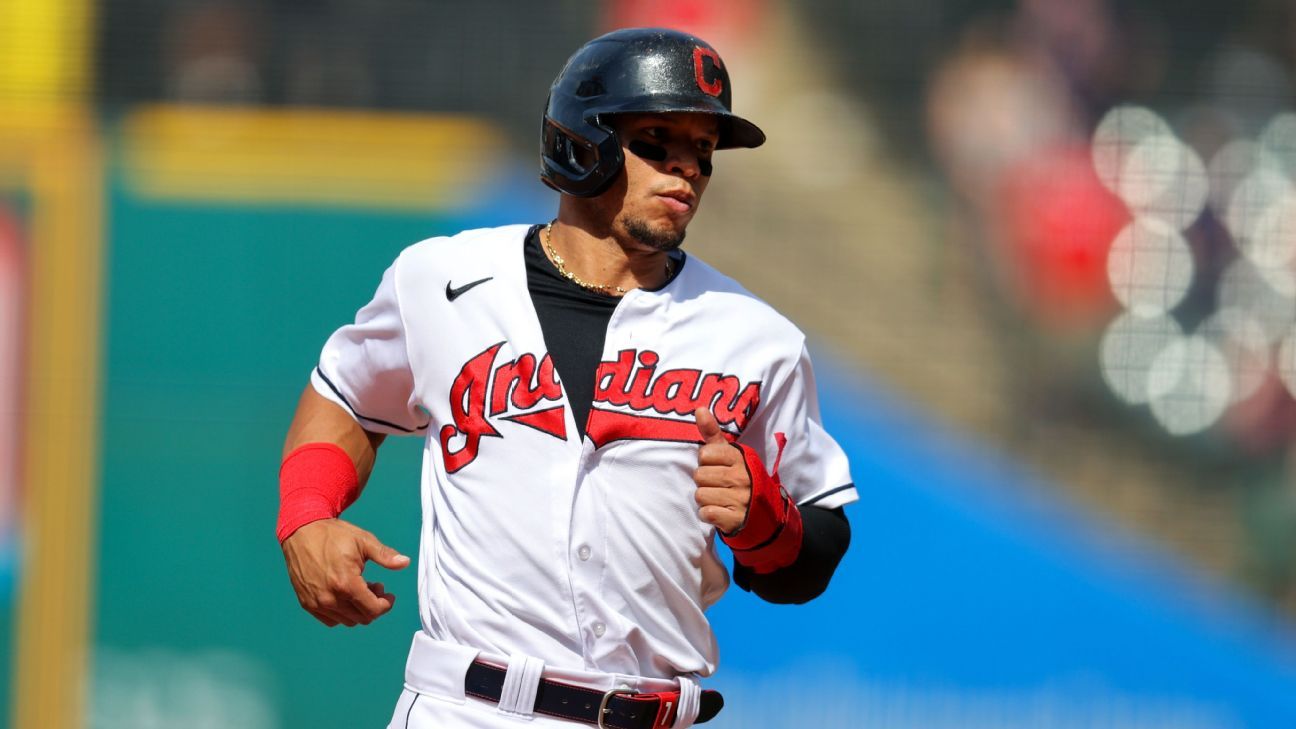 The Chicago White Sox have acquired second baseman Cesar Hernandez from the Cleveland Indians for Double-A left-hander Konnor Pilkington, the team announced.
The White Sox have been in the market for a second baseman, and they get one in Hernandez, 31, who is hitting .231/.307/.431 with 18 homers in his second year with the Indians, who trail the White Sox by 8½ games.
"César Hernández provides our club with a valuable combination of a power bat in the middle infield and Gold Glove quality defense," said Rick Hahn, White Sox senior vice president/general manager. "Adding a player like César gives [manager] Tony [La Russa] a strong and proven option at second base for the stretch run of the season and hopefully into October."
The White Sox lost Nick Madrigal for the season in June after he had surgery to repair tendon tears in his right hamstring.
The trading deadline is Friday, when Cleveland opens a three-game series in Chicago.
Hernandez hit a two-run homer in Cleveland's 7-2 win over St. Louis on Wednesday.
The Indians have several young middle infielders in their system, including Andres Gimenez, who came over from the New York Mets in the offseason trade of Francisco Lindor.
Information from The Associated Press was used in this report