NFL teams can begin placing franchise tags on their most valuable free agents Tuesday through the March 6 deadline (4 p.m. ET). Will the Steelers tag Le'Veon Bell for the second year in a row? Which quarterback should the Vikings tag?
NFL Nation reporters predict whether teams will use the tag and, if so, which players will be tagged.
AFC East | AFC North| AFC South | AFC West
NFC East | NFC North | NFC South | NFC West
---
AFC EAST

No tag. The Bills have 18 unrestricted free agents, but only four full-time starters in that group: wide receiver Jordan Matthews, defensive tackle Kyle Williams, linebacker Preston Brown and cornerback E.J. Gaines. There does not figure to be much conversation about using the tag because none of the four would be worth the cost. The Bills also have a slightly constrained salary-cap situation that was complicated by the career-ending neck injury to center Eric Wood, who will count about $10 million against the cap if he officially retires or is released. — Mike Rodak
Wide receiver Jarvis Landry. However, the decision on whether to tag him could depend on how well contract negotiations are going at the time. The tag will be around $16.2 million, which is more than the Dolphins want to pay Landry per year on a new deal. And if they don't think they can keep him long-term, they probably won't tag him. But if they feel they're making progress on a longer-term deal and don't want him to hit the market, they could use the franchise tag to hold him in place until a deal is done. — Dan Graziano
No tag. The Patriots' top free agents are left tackle Nate Solder, running back Dion Lewis and cornerback Malcolm Butler. The team is prohibited from tagging Solder per terms of the extension he had previously signed, which leaves Lewis and Butler. The franchise tag for running backs will likely be deemed too high to use on Lewis, and after what unfolded in Super Bowl LII, when the coaching staff didn't play Butler on defense, it's hard to imagine there is even a consideration of tagging the cornerback. — Mike Reiss

No tag. The Jets would like to re-sign cornerback Morris Claiborne, linebacker Demario Davis and tight end Austin Seferian-Jenkins — probably in that order of priority — but none rises to the level of a franchise or transition tag. The Jets probably won't have to make a franchise-tag decision until 2020, when defensive end Leonard Williams is eligible for free agency (assuming the team exercises the fifth-year option in 2019). — Rich Cimini
AFC NORTH

No tag. The Ravens are expected not to use the franchise tag for the fifth time in the past six years. Baltimore doesn't have the cap space, and none of its free agents really warrants the price of the tag. The Ravens' top free agent is center Ryan Jensen, but it would cost a projected $14.2 million to take him off the free-agent market. That would make Jensen the highest-paid center by a whopping $4 million. It wouldn't make sense to use the tag, even though Jensen would be among the top offensive linemen available in free agency. –– Jamison Hensley
No tag. The Bengals have already signed Vontaze Burfict through the 2020 season, so Tyler Eifert would be the only candidate for the tag. Considering the tight end has been injured for most of the past two seasons, there's no chance the Bengals put such a high price tag on him. — Katherine Terrell
No tag. The Browns' only "name" free agent is running back Isaiah Crowell. While he's been good, his production does not warrant the franchise tag. — Pat McManamon

Running back Le'Veon Bell. This comes with a big "if." Bell complicated his franchise tag situation by threatening to sit out the year or retire if tagged for a second straight season. But the Steelers, as currently constructed, would be crazy to let Bell hit free agency. The offense is largely built around him during a crucial Super Bowl window. A projected tag of $14.5 million allows the team to call his bluff. Here's the big "if": Bell said both sides want to reach a deal before having to make a decision on a tag, which means both sides are on the clock for February. So, if those negotiations stall, the tag must be applied. But neither side wants that. — Jeremy Fowler
AFC SOUTH
No tag. The Texans have no obvious candidates. Their top free agent, cornerback Johnathan Joseph, wants to return to Houston, and if the team wants him back, the two sides should have no problem working out a deal. — Sarah Barshop

No tag. The Colts have 14 unrestricted free agents, with the most notable ones being players who are on the tail end of their careers, such as 34-year-old Frank Gore and 45-year-old Adam Vinatieri. Gore and Vinatieri are still effective players, but not at the level where the franchise tag should be used on them. Indianapolis hasn't used its franchise tag since using it on punter Pat McAfee in 2013. — Mike Wells
Wide receiver Allen Robinson. He's the only player the Jaguars would consider using the franchise tag on. He missed almost the entire 2017 season with a torn ACL and didn't have a great year in 2016, so he has little leverage. The Jaguars won't commit big money for multiple years on faith alone, so a one-year, incentive-laden deal is their preference. However, if the two sides can't work out a deal, the Jaguars will use the franchise tag (approximately $16 million). They cannot let Robinson walk because he's the team's best downfield playmaker. Finding a replacement would be tough; it's not exactly a banner free-agent class. — Mike DiRocco
No tag. The Titans don't have any elite pending free agents who would prove worthy of the tag. The closest candidate might be kicker Ryan Succop, who is coming off a strong season. But it seems more likely that Tennessee could work out a long-term deal with Succop rather than have him plan on the tag. Because of inside and outside linebackers being bunched together, the linebacker franchise tag number will be too high for Avery Williamson. — Cameron Wolfe
AFC WEST

No tag. The Broncos have certainly been willing to use the tag in the past — Ryan Clady, Matt Prater, Demaryius Thomas and Von Miller have all been tagged in John Elway's tenure as the chief football decision-maker before the players signed long-term deals. But this time around, the team has other things on the to-do list. The Broncos' list of prospective free agents includes starters like linebacker Todd Davis and tight end Virgil Green, but the players are not at the level where the Broncos would use the tag. — Jeff Legwold
No tag. The Chiefs don't have any players who would require the tag this year. That's not a bad thing. They've had a franchise player in five of the past seven years and could use the break from the drama that usually ensues from using it. — Adam Teicher
No tag. The Chargers placed the franchise tag on Melvin Ingram before signing him to a lucrative, multiyear deal in 2017, but it's unlikely the team will use the tag this offseason. One potential candidate is pending unrestricted free agent Tre Boston, who led L.A. with five interceptions in 2017. But the expected franchise tag for safety will be north of $11 million, which is probably more than the Chargers would want to pay for one season to keep Boston in the fold. The team's most well-known pending unrestricted free agent is future Hall of Famer Antonio Gates, who wants to return for a 16th NFL season. But the Chargers have a productive tight end in Hunter Henry and likely will not use the franchise tag on Gates. They've used the franchise tag just seven times in franchise history. — Eric D. Williams
No tag. General manager Reggie McKenzie has used the franchise tag only once since taking over in Oakland, and that was in his first year, 2012, when he was wading into what he called "salary cap hell." Even then, strong safety Tyvon Branch agreed to a contract and shed the tag before the season began. When you look at the Raiders' more intriguing pending free agents — linebacker NaVorro Bowman, cornerback TJ Carrie, defensive tackle Justin Ellis — McKenzie would not need to break the bank to retain any of them, should Oakland choose to bring them back. Keep an eye on next year, though, should the Raiders not reach an extension with edge rusher Khalil Mack this offseason. But that's a different story for a different day. — Paul Gutierrez
NFC EAST
Defensive end DeMarcus Lawrence. He had a career-high 14.5 sacks and earned his first Pro Bowl appearance in 2017. He picked the right time to have his best season while entering a contract year. He is what the Cowboys like to do: Re-sign their own players to big-time contracts. He is young, turning 26 years old in April. When healthy, he has put up seasons with eight and 14.5 sacks. The key question, though, is his health. He's had two back surgeries and has needed to be managed through some practices. Getting to a long-term deal before the opening of free agency could be difficult, which is why a franchise tag seems likely at the moment. It would chew up a lot of the Cowboys' cap room (roughly $17 million), but the team can't let what Jerry Jones calls a "war daddy" hit the market. — Todd Archer

Offensive lineman Justin Pugh. He's considered among the top free-agent offensive linemen in an especially depressed market. And the Giants desperately need to address their offensive line. The problem is that the franchise tag — in the range of $14 million for an offensive lineman — would eat a large chunk of the team's cap space. If the Giants do use it on Pugh, who missed eight games this past season with a back injury, it is likely a placeholder for a long-term deal on the horizon. — Jordan Raanan
No tag. Linebacker Nigel Bradham is arguably the Eagles' top in-house free-agent priority, but using the franchise tag on him would be a bit extreme. Plus, the team is not really in financial position to do so. The franchise tag number for linebackers will be around $15 million. The Eagles are currently about $9 million over the cap and need to find ways to shed cap commitments, not dramatically add to them. — Tim McManus
No tag. However, this comes with a caveat: The Redskins could end up tagging quarterback Kirk Cousins in an attempt to trade him. But that's so fraught with obstacles that they'd have to end up rescinding the tag if they go that route. If he doesn't sign the tender, and they get to free agency, the tag number of $34.5 million would count against the salary cap and prevent any other signings. And if he were to sign the tender, any deal with a new team would start at the $34.5 million amount and there are teams who would be told: Don't bother. No long-term deal would be worked out beforehand so the Redskins would still be faced with carrying his cap hit. And any long-term deal would then start at $34.5 million; so any trade would be prohibitive for the team involved. It just doesn't make sense. — John Keim
NFC NORTH
Cornerback Kyle Fuller. The only player the Bears could consider tagging is Fuller, who's set to become an unrestricted free agent after Chicago declined his fifth-year option. Fuller, who had a bounce-back year in 2017, is expected to sign a lucrative deal (somewhere), but using the franchise tag on him would eat up in excess of $14.2 million worth of cap space in 2018 — the franchise tag figure for cornerbacks in 2017 was $14.212 million. The Bears would be better off negotiating a long-term deal with Fuller if they want to keep him around. They passed on applying a second franchise tag on Alshon Jeffery last offseason. — Jeff Dickerson
Defensive end Ezekiel Ansah. It will be an interesting decision for the Lions because of Ansah's struggles to stay healthy. When he hasn't been hampered by injuries, he can create havoc. But he's almost always dealt with something over the past two seasons. That's why a long-term deal is not a no-brainer for him. Letting him walk, particularly when Detroit has few options behind him as consistent pass-rushers, might not be the best option, either. So tagging him — and knowing the Lions have the cap space to do so while still being in play for a few free agents — appears to make the most sense for Detroit and first-year head coach Matt Patricia. — Michael Rothstein
No tag. The Packers haven't used the tag since 2010 (on Ryan Pickett) and new general manager Brian Gutekunst doesn't have any pending free agents worth using it on this year. Former GM Ted Thompson took care of that when he locked up the two must-have players from this class — wide receiver Davante Adams and center Corey Linsley. Not only do the Packers not have a tag-worthy player, they don't even have anyone they absolutely must re-sign this year. Safety Morgan Burnett is the closest they have, but that's no better than a 50-50 proposition. — Rob Demovsky
Quarterback Case Keenum. The Vikings have around $57 million in cap space for 2018 and can afford to spend on finding their quarterback of the future. Keenum, who won 13 games as a starter in 2017 (including the postseason), may or may not be able to perform like a top-10 quarterback consistently, but the Vikings won't have to lock into him long-term to find out. Minnesota can tag Keenum for one year with roughly a $23 million price tag. The deal also allows the Vikings to bring back Teddy Bridgewater or Sam Bradford next season for depth and to turn to them if Keenum doesn't work out in his second go-around. — Courtney Cronin
NFC SOUTH
No tag. There's no reason to believe the Falcons, who last used the tag in 2012 for cornerback Brent Grimes, will use the tag this year. Kicker Matt Bryant, defensive tackle Dontari Poe, wide receiver Taylor Gabriel and returner Andre Roberts are the most notable upcoming free agents, and Bryant might be the only one who is a true priority. The franchise tag figure for kickers last season was $4.835 million, so the Falcons are much better off negotiating an extension with Bryant, who made $2.75 million last season. — Vaughn McClure
No tag. The most likely candidates would be defensive end Star Lotulelei or left guard Andrew Norwell, but the number for either will be too high with little room under the salary cap. In all likelihood, the team will try to re-sign at least one, most likely Norwell, and move on from the other. Lotulelei appears the most expendable with 2016 first-round pick Vernon Butler waiting in the wings to play beside Kawann Short. — David Newton
No tag. The Saints aren't allowed to use the franchise tag on quarterback Drew Brees because of a clause in his contract (although the future Hall of Famer has repeatedly insisted that he has no plans to test the open market and wants to be a "Saint for life"). The Saints don't have any other pending free agents in the franchise-tag price range. But they do have at least two key free agents who could potentially be lost to higher bidders: safety Kenny Vaccaro and guard Senio Kelemete. — Mike Triplett
No tag. The Bucs have used the franchise tag only three times since it first became an option in 1993, and none of their current pending free agents is a candidate for that. For example, cornerback Brent Grimes made the most of any Bucs 2018 free agent, averaging about $6.75 million per year. The franchise tag amount for cornerbacks in 2017 was over $14 million. So they'd be much better off signing him to a one- or two-year deal. Instead, the Bucs will want to think about acquiring outside help and signing wide receiver Mike Evans long-term, while also securing center Ali Marpet and left tackle Donovan Smith. — Jenna Laine
NFC WEST

No tag. All of the Cardinals' franchise or big-ticket players have long-term deals. They used the tag briefly on outside linebacker Chandler Jones last season but quickly agreed on a long-term extension. There aren't any players where the tag would be a necessity for Arizona to continue having contract talks. — Josh Weinfuss
Wide receiver Sammy Watkins. The Rams gave up a solid cornerback, E.J. Gaines, and a 2018 second-round pick in order to pluck Watkins from the Bills last summer. It might be in their best interest to employ Watkins for at least another year. Watkins' 2017 numbers — 39 catches for 593 yards and eight touchdowns — weren't gaudy, but he stayed healthy, and his presence as a vertical threat helped open the middle of the field for Robert Woods and Cooper Kupp. A full offseason could do wonders for Watkins' chemistry with Jared Goff, which is why the franchise tag seems like an ideal option. It gives him another chance in Sean McVay's offense without the risk of a long-term commitment for a receiver with a history of injuries. The Rams are projected to have more than $40 million in salary cap space, and it could be more if they cut ties with some potential cap casualties. They can afford to give Watkins another one-year tryout. — Alden Gonzalez

No tag. Had the Niners been unable to strike a deal with quarterback Jimmy Garoppolo, it was a certainty they'd use the franchise tag on him. Now that Garoppolo is signed for the next five years, the Niners have no free agents worthy of the cost that goes with either tag. They have the cap space to use the tag, but they'll hold on to it this year and focus their attention on outside free agents who can help at key positions like cornerback, edge rusher and the interior of the offensive line. — Nick Wagoner
Defensive tackle Sheldon Richardson. He's the most logical candidate for the tag by virtue of being the team's most important free agent who's in position to command a top-shelf salary, but that doesn't mean it's likely. The franchise tag for defensive tackles could cost around $14.5 million. From a production standpoint alone, that number might be tough for the Seahawks to justify, even though Richardson was more productive in 2017 than his lone sack suggests. The Seahawks are projected to have only around $14 million in cap space as it stands now — although they can create more ahead of free agency — which could make the franchise tag prohibitive. The transition tag, projected at $11.7 million, would be more affordable. But it wouldn't put Seattle in position to receive any compensation if another team signed Richardson for more money. — Brady Henderson
Suspended WR Martavis Bryant joins CFL's Toronto Argonauts
Wide receiver Martavis Bryant, who has not played in the NFL since 2018 because of an indefinite suspension for multiple drug policy violations, has signed with the Toronto Argonauts of the Canadian Football League.
Terms of the contract were not disclosed.
Bryant's last season in the NFL was with the then-Oakland Raiders in 2018 when he had 19 receptions for 266 yards in 12 games. He played that season while a year-long suspension for violating the NFL's substance-abuse policy was under appeal and then was suspended indefinitely by the NFL in December of 2018.
Bryant applied for reinstatement in 2019 but has not been reinstated by the league.
He played for the Pittsburgh Steelers from 2014-17 but was suspended for the entire 2016 season for violating the league's substance-abuse policy. The Steelers traded Bryant to the Raiders before the 2018 season.
Bryant, 29, was a fourth-round pick by the Steelers in 2014 but missed 36 of a possible 80 regular-season games in his career because of suspensions.
He has 145 catches for 2,183 yards and 17 touchdowns in 44 career NFL games.
Notable Super Bowl betting trends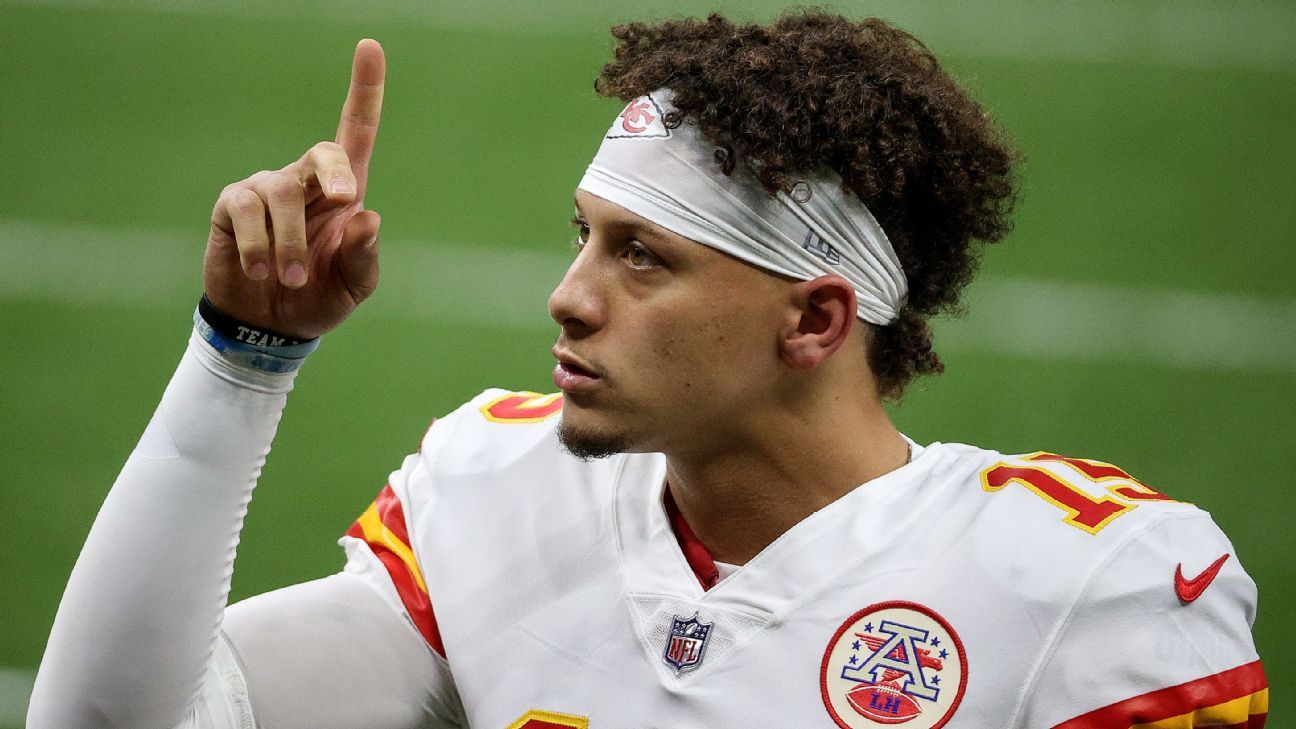 Super Bowl LV is set with Patrick Mahomes and the Kansas City Chiefs set to battle Tom Brady and the Tampa Bay Buccaneers in Tampa on February 7th. We will have two weeks worth of content leading up to the big game, starting with some nuggets and trends to get your prepared for the big game.
---
Super Bowl betting trends to know
Favorites have covered 2 straight Super Bowls and 3 of the last 4. Overall, favorites are 27-25-2.

Last 2 Super Bowls went under the total. 10 overs and 10 unders last 20 Super Bowls and it's 26-26-1 overall (no total for Super Bowl 1)
AFC teams have won and covered 5 of the last 6 Super Bowls

The favored team is 35-19 straight up in the 54 Super Bowls

Total of 57 would be 2nd-highest closing Super Bowl total ever. Super Bowl LVI closed at 58 and went over in OT

Chiefs enter 8-10 ATS on season, the 5th team to advance to Super Bowl with a losing ATS record (only 2012 Ravens went on to win)

3 of last 4 preseason favorites went on to win Super Bowl (Chiefs began 2020 as favorite at +400)

Tom Brady is 4-5 ATS and 6-3 outright in his career in the Super Bowl. He has been an underdog once, in his 1st Super Bowl vs. the Rams (Only two quarterbacks have won multiple Super Bowls as an underdog: Eli Manning and Jim Plunkett – 2 each).
WR 22
RB 21
TE 5
QB 3
CB 2
Defense 1
TD 26
FG 25
Safety 3
ESPN's Statistics & Information group contributed to this story
Fortune favors the bold for Bruce Arians, whose risks have Bucs in Super Bowl – Tampa Bay Buccaneers Blog
TAMPA, Fla. — On fourth-and-4 against the Green Bay Packers in Sunday's NFC Championship, with 13 seconds left before halftime and looking to pad a 14-10 lead, Tampa Bay Buccaneers coach Bruce Arians told his punt team to get off the field — they were going for it.
"I was like, 'We didn't come here to not take chances to win the game,'" said Arians, whose "no risk it, no biscuit" philosophy — not only on the field but off — is one of the big reasons the Bucs are headed to the Super Bowl this year.
"The coaches told us … all week, 'We're gonna be aggressive, we're gonna go at 'em, we're gonna take chances with the guys that we've got, that's what we do," said wide receiver Scotty Miller, who, after a 6-yard catch by Leonard Fournette to convert that fourth down, caught a 39-yard touchdown to extend Tampa Bay's halftime lead to 11 points.
By contrast, Packers coach Matt LaFleur kicked a field goal after being down 31-23 with 2:09 to go in regulation and never got the ball back.
Added Miller: "It was a risk at the time, but there was only 13 seconds left, so if we didn't run a play, we'd probably waste six [seconds], and then they'd probably throw a Hail Mary as well, so why not let us do it?"
The 68-year-old Arians, whose health issues led him into retirement after the 2017 season, didn't come back to football in 2019 to play scared, to hold back or leave things unsaid. He takes risks, makes unpopular decisions and does so with conviction — much of that stemming from the long wait he had to become a first-time NFL head coach at 60.
"For me, there were times when I never thought it would happen," Arians said Sunday. "I never thought I would get a head-coaching job. After the cancer scare in Arizona, sitting out that year and then coming back — this has been the most rewarding year of coaching in my life."
He told reporters at the NFL combine last February, if he could have his pick, he wanted quarterback Tom Brady, an audacious statement considering the Bucs' 7-9 record at the time. Then when he got Brady, he was scrutinized for his candor talking about Brady's mistakes publicly, which never happened in New England. Yet Arians scoffed at any notion of friction.
When players expressed outrage over the police shooting of Jacob Blake in Wisconsin this summer, Arians challenged them to take their frustrations beyond protesting. If they wanted to move or cancel a practice, he'd support it, but wanted to see a plan, telling them, "Your responsibility is to take action."
» Defining events of Brady's first Tampa season
» How Arians builds QB relationships
» What Brady's jerseys have meant to him
» White-David emerging as best LB duo
» Winfield Jr.'s secret weapon? His dad
» How Brady has meshed with teammates
» Ronald Jones believes in himself again
Members of the players' social justice committee responded by meeting with community leaders. They launched the Buccaneers' Youth Leadership Program, pairing staff members in all departments with middle school students in East Tampa. They also created a #BucsVote campaign to promote voter registration.
Arians' unique coaching style has also been about conveying support, which in numerous instances, made a world of a difference for players and his assistants.
When Leftwich's playcalling was called into question at times, Arians stood by him, not once considering taking back those duties.
When running back Ronald Jones had a costly fumble at the New York Giants, and then again at Carolina, Arians didn't scold him on the sideline, or bench him. Recognizing Jones was "in the tank," Arians pulled him aside and said, "'Let it go. The team's going to need you today, so you got to get back out there.'" Jones ripped off a 98-yard touchdown in the second half.
Arians welcomed wide receiver Antonio Brown, who served an eight-game suspension this season due to multiple violations of the NFL's personal conduct policy, after the coach had said just a few months earlier that he "wasn't a fit." Brown was accused by two women of sexual misconduct.
But Arians didn't just tolerate him — he went to bat for him, knowing the criticism that would come given Arians' advocacy for women and his desire to give second chances.
Fournette was another player who came to Tampa looking to start over.
"I tell A.B. every day at practice, 'Just thank God for second chances,'" said Fournette, whom Arians had to sell on being a backup in Tampa, after he was used to having entire offenses run through him in Jacksonville.
"We had our personal talks," Fournette said. "And he asked me through the duration of the season, 'What do I see myself [as] or what do I want to be?' Because I was upset plenty of times after the games because I wasn't getting the ball or anything. He just sat down and had a real talk with me."
Arians held Fournette out an extra week in Week 6 – against Green Bay — because he was concerned the running back's ankle wasn't 100%. He told Fournette, "We're gonna need you for the long run."
At first Fournette was angry, but gained respect for Arians for making the decision. He realized Arians was trying to protect him. And he thought he and Jones made a great one-two punch.
Lo and behold, when Jones suffered a quad injury and became a late scratch just before the Bucs' wild-card game at Washington, Fournette gashed his way for 93 yards, with 39 receiving yards.
That's how "Playoff Lenny" was born. His 313 yards from scrimmage have been the most of any player this postseason. He's fresher than he's felt in years and believes Arians has helped prolong his career. Which is why he jumped at the chance to answer Arians' call on fourth down.
Fournette told him, "Let's just keep fighting."