Editor's note: This piece was originally published in February 2017 and has been updated for the 2018 offseason.
It's that time of year when the NFL reminds you its calendar rarely slows and never stops. Less than three weeks after Super Bowl LII, the first window of player movement decisions will open.
Beginning Tuesday and continuing through March 6, teams can place the franchise tag on one pending free agent, a decision that is expensive but also provides massive leverage against losing a big-time player.
Transition tags can also be applied in this window, but the franchise tag is far more important — and popular — because it ensures the team a hefty return if a player ultimately departs. (Transition tags are cheaper, but offer only the opportunity to match an offer.)
As we enter the NFL's 26th offseason with the tag — it made its debut in 1993 as the salary-cap era took off — let's run through the basics, some recent trends and projections for 2018.
Please remind me exactly what the franchise tag is.
I appreciate your manners in these angry times.
The franchise tag is a labor designation that restricts a player's potential movement in exchange for a high one-year salary. It is governed by owners and players through the collective bargaining agreement (CBA) and has two types.
Go on …
The first is the "exclusive-rights" franchise tag. Any player with this tag is bound to the team for the upcoming season. His agent is prohibited from seeking offer sheets elsewhere.
The second is the "non-exclusive" franchise tag. In this scenario, players can sign an offer sheet with another team.
What happens after the tag is applied?
It depends on the interest level between the sides.
The player can sign the tender at any time, a decision that fully guarantees the salary and immediately places all of it on the current year's cap charge. This can increase a player's leverage in a tight cap situation; the team will be motivated to negotiate a longer-term deal to lower the cap number.
The decision can also backfire if the team is comfortable with the high cap number; the leverage in this case would side with a player who remains unsigned as camp looms.
In either event, the sides have until July 16 to agree on a multiyear extension. After that point, the player can sign only a one-year contract, which cannot be extended until after the season.
Can a team rescind the tag?
Why, yes.
The Carolina Panthers did just that to cornerback Josh Norman in 2016, for example, when they determined they wouldn't be able to sign him to a long-term extension. A rescinded tag is one of the risks players take when they don't immediately sign the tender. It can't be rescinded once it is signed.
What typically happens in these situations?
Over the past five years, the NFL has averaged just under seven franchise tag designations per season. Here's a look at the final results in that span, courtesy of ESPN Stats & Information researcher Evan Kaplan:
33 franchise tags extended

16 players played out the season under the tag

16 signed long-term extensions

One player (New York Giants defensive end Jason Pierre-Paul) signed a modified contract after July 15.
I'm an amateur capologist. Where can I find the franchise values for each position?
That's quite a hobby you've got there.
The NFL hasn't calculated them yet, and one of the twists of the franchise tag window is that teams can extend them without knowing the exact figure. They're usually released during the annual scouting combine, in the days before free agency begins (March 14). In a few cases, deals that happen between now and then can impact the exact numbers. The exact per-team salary-cap total — also not solidified yet — can change them as well.
The 2017 numbers are in the chart. The NFL salary cap is expected to jump at least $10 million from its $168 million number in 2017, so you can count on incremental rises in each franchise tag number as well. You can feel reasonably confident that the tag numbers will rise at least $500,000 and no more than $2 million per position.
Really? No firm numbers?
OK, maybe a few.
We know, based on the CBA, that a team has only one option when it wants to apply the tag in consecutive years to the same player: 120 percent of the previous year's tag. That could apply to a number of players in 2018, most notably Pittsburgh Steelers running back Le'Veon Bell.
Bell played under a $12.12 million tag in 2017, meaning his 2018 tag would be worth $14.544 million. (He has said he might sit out the 2018 season rather than play a second year under the tag.)
Other than Bell, what other players are 2018 franchise-tag candidates? Here are some names to watch for if productive negotiations on long-term deals don't materialize:
Is it always bad for the player to play under the franchise tag?
The franchise tag pays a player close to market value for one year, but provides no future guarantees. The tag becomes an advantage if a player remains healthy and valuable enough that the team feels compelled to use it multiple times. The value of the second tag is 120 percent of the first, and the third 144 percent of the second.
How rarely do teams use the tag on the same player in consecutive years?
It happens more often than you might think: 15 times since 1997, including four times since 2011: Cleveland Browns place-kicker Phil Dawson, Dallas Cowboys linebacker Anthony Spencer, Washington Redskins quarterback Kirk Cousins and Rams cornerback Trumaine Johnson.
It is much less common for skill players. Cousins became the first quarterback ever franchised in consecutive years last offseason. There have been only three other skill players who have been tagged twice at any point in their careers: quarterbacks Drew Brees (2005, 2012) and Peyton Manning (2004, 2011) and receiver Rob Moore (1995, 1999).
Are some positions more susceptible to the franchise tag than others?
Yes.
Per ESPN's Stats & Information research, 30 offensive linemen have been franchise tagged since 1993, while 27 defensive ends and 26 linebackers were tagged. On the other end, there have been four punters, 10 quarterbacks, 11 running backs and 11 tight ends franchised.
Generally speaking, teams see a better economic value to leverage high-end linemen than skill-position players.
Do some teams use the tag more than others?
Yes, but given the 26-year span of the tag's existence, the numbers are more a function of talent and cap management than a philosophical opposition or support of the tag itself. Every team in the league has used it at least once.
The Indianapolis Colts have used it an NFL-high 11 times, followed by the Chiefs (10), Seattle Seahawks (10) and Arizona Cardinals (10). The Texans (one), Falcons (two) and Browns (three) have used it the fewest times.
Son of former Green Bay Packers DT Ron Kostelnik loses dad's Super Bowl II ring
GREEN BAY, Wis. — The son of a former Green Bay Packer says he is heartbroken after losing his father's Super Bowl II ring, and he is offering a $5,000 reward for its return.
Mike Kostelnik told the Green Bay Press-Gazette that he believes he lost the ring that belonged to his dad, former Packers defensive tackle Ron Kostelnik, last weekend when he and his family went to visit his daughter at Indiana University and take another daughter to tour Miami University in Ohio.
He said he had been wearing the ring but took it off and stored it in the car's console.
Kostelnik said he made only one stop along the way, at a BP gas station in Greensburg, Indiana. When he was at Miami and discovered the ring was no longer in the console, the family went back to the gas station to look for it and to report it missing to police. It's possible the ring ended up on the floor of the car and was kicked outside the vehicle, he said.
"All I can do now is sit back and wait," Kostelnik said. "Maybe another idea will pop up, and I will follow all pursuits. Right now, I'm just waiting."
Ron Kostelnik played for the Packers for eight seasons from 1961 to 1968 and helped the team win five NFL championships and the first two Super Bowls. He finished his career playing one season for the Baltimore Colts in 1969 and was inducted into the Packers Hall of Fame in 1989. He died of a heart attack in 1993 at age 53.
"It's the ring my father wore," he said. "A lot of things he went through in life after football were in that ring. It's a ring that I wore during the times I was building my business. So, it's all of the energy and the issues that appear that are in that ring. I felt like it gave me a lot of strength in some very trying times."
Troubled receiver Josh Gordon joins Johnny Manziel on team in Atlanta-based startup league, owner says
Former NFL wide receiver Josh Gordon will return to the sport in the startup Fan Controlled Football league, as a member of the Zappers, team owner Bob Menery told ESPN's Adam Schefter on Saturday.
Gordon will join former NFL quarterback Johnny Manziel on that team's roster.
The league, which began play this month, features 7-on-7 games where fans set rosters, call plays and interact in a blend of traditional and esports environments.
Gordon's on-again, off-again NFL career ran into another roadblock last month as a member of the Seattle Seahawks, when he was suspended indefinitely after the league rescinded his conditional reinstatement.
An NFL spokesperson told ESPN at the time that the decision stemmed from Gordon, 29, violating terms of his conditional reinstatement under the league's substance-abuse policy. No other details were provided from the league.
The league suspended Gordon indefinitely in December 2019 for violations of its policies on substances of abuse and performance-enhancing substances. That was Gordon's sixth suspension since the 2013 season and his fifth for some form of substance abuse, according to ESPN Stats & Information research.
Gordon was conditionally reinstated by the NFL in December and was set to practice with the Seahawks in the final two weeks of the regular season. Coach Pete Carroll said at the time that he had a chance to play Week 16 against the Los Angeles Rams. But that same week, the NFL placed him on the commissioner's exempt list.
Gordon signed a one-year deal with the Seahawks before last season began. In 63 NFL games, he has 247 receptions, 4.252 yards and 20 touchdowns. He was drafted by the Cleveland Browns in the second round of the 2012 NFL supplemental draft, after playing at Utah and Baylor.
FCF teams are playing a six-week schedule, with games live-streamed on Twitch from a league-leased facility in Atlanta. The games last about an hour, and the field is 50-by-35 yards with 10-yard end zones.
Players have backgrounds from the FBS and FCS college levels, along with the CFL, XFL and the Indoor Football League, Manziel among them.
Before FCF, Manziel, 28, last played football in April 2019 for the Alliance of American Football and also has played in The Spring League and the CFL since the Browns released him in 2015. Manziel and Gordon were teammates in Cleveland.
Jake Fromm, Matt Barkley or both? Bills have decision to make at backup QB – Buffalo Bills Blog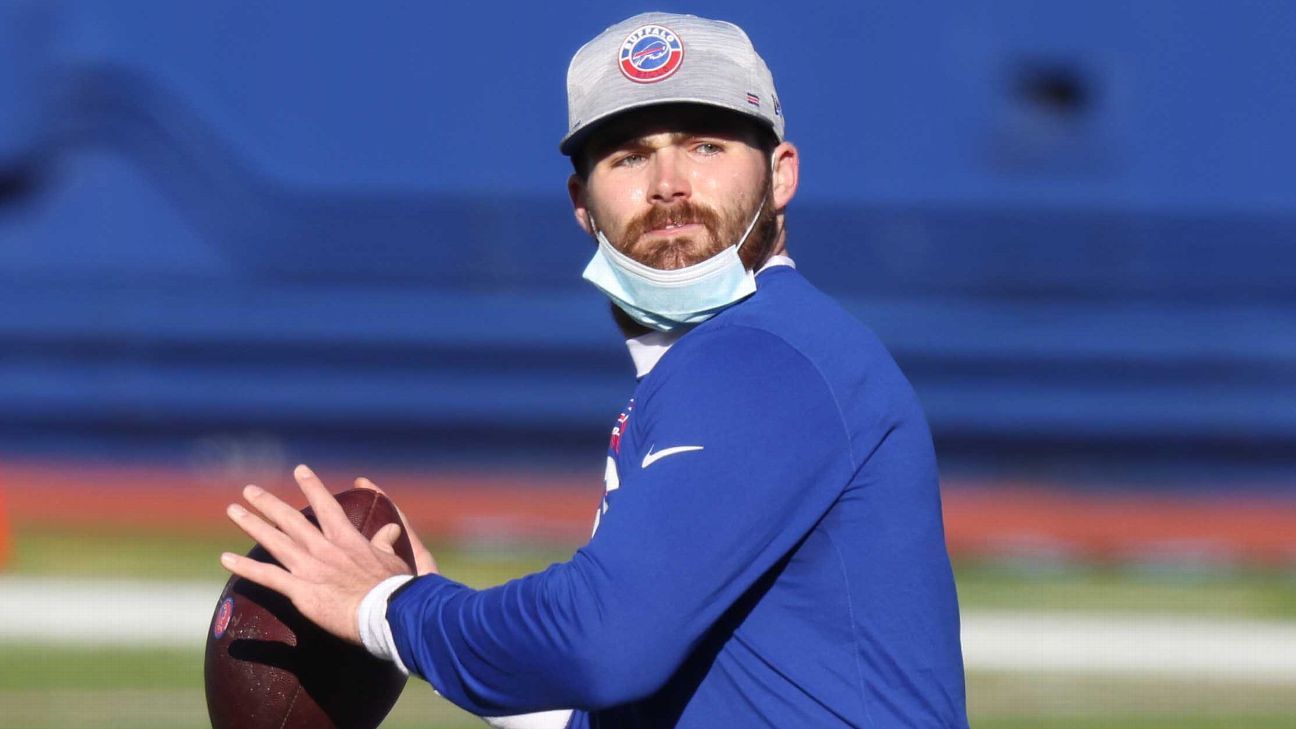 BUFFALO, N.Y. — Among myriad difficult decisions the Buffalo Bills must make this offseason, their situation at quarterback flies under the radar.
Backup quarterback, that is.
Since arriving in Buffalo as a free agent in October 2018, veteran Matt Barkley has served as Josh Allen's backup. In those three seasons, Barkley has completed 53 of 97 passes for 788 yards, three touchdowns and four interceptions, making one spot start in 2018. He is a free agent once again in 2021, and the decision to bring him back is complicated, thanks to the presence of 2020 fifth-round pick Jake Fromm.
The Georgia product, like every other rookie in last year's class, did not have a normal offseason because of the coronavirus pandemic. Fromm's year was even more unique, considering he dealt with an offseason controversy and the Bills made him the team's emergency quarterback, which involved him practicing separately from the rest of the team throughout the week and remaining socially distant inside the Bills' facility.
"Jake Fromm had the most un-normal year a player could ever have, to have to come in here and be the COVID quarantine quarterback," Bills general manager Brandon Beane said. "I thought he handled it greatly. In his exit meeting we just praised him for staying true. He would literally be back there hearing the call in his helmet, and while Josh [Allen] or Barkley are going back [in the pocket], he's going back just like he's making the throw from 20 yards back. He stays after and throws with the practice squad.
"Really tough year for him, but … it will help him going into next offseason. He'll be excited to be able to sit in the quarterback room within six or seven feet of the other guys."
Based on Beane's explanation, Fromm will return to the team in 2021, which is obvious for a player at a prime position in the second year of a rookie contract. The real question is whether Buffalo believes Fromm is ready to be Allen's primary backup, or if he needs another year learning alongside Barkley.
Without any game action — even in the preseason — to evaluate, it's difficult to gauge Fromm's progress. His coaches and teammates have praised his work ethic in practice, particularly Allen, who was asked about the rookie late in the 2020 season.
"It's not an easy ask, to put a guy who's played his entire career and just kind of say, 'Go over there and stay away from everybody,'" Allen said. "He's handled it with a lot of pride. He takes pride in his work, and it's good to see a guy like that go in there and do his job. He's been a pleasure to be around, he's grown a lot since he first got here, and he's been awesome in the quarterback room."
• Ranking top 50 free agents »
• Biggest looming free-agent decisions »
• Top offseason needs for all 32 teams »
• See more on free agency »
Buffalo kept only two quarterbacks on its roster in 2019, Allen and Barkley, before drafting Fromm. The Bills will have to clear some salary-cap space to improve their roster this offseason, but will need a stabilizing presence behind Allen.
On Jan. 26, the Bills signed journeyman Davis Webb, who has spent time on their practice squad, to a futures contract, but it might be worth it to bring Barkley back on a one-year deal. It would provide insurance as they evaluate Fromm throughout training camp. Assuming there's a normal preseason, if Fromm plays well enough to instill confidence in him, the Bills could cut Barkley before the season.
If not, Barkley would spend his fourth straight season with the Bills; or, Buffalo can go in a different direction.
Fromm will obviously return, but Beane can opt for a "high-end two," as ESPN analyst Matt Bowen puts it — a player like A.J. McCarron, C.J. Beathard or Nick Mullens.
"Knowing where they are right now, as one of the top Super Bowl contenders … do you need to bring in a veteran quarterback to be a high-end two until you believe Jake Fromm is ready?" Bowen said. "If you don't think he is right now, then you're going to have to go out and get someone, in my opinion."
Either way, any decision that involves not bringing Barkley back will weigh heavily on Beane; Barkley and his wife are beloved within the organization.
"What a selfless guy. Some guys are the backup and they're itching to play," Beane said. "Matt's a competitor, he wants to play, but his first thing every day he walks in this door is to help Josh Allen be the best version of himself. And that's why it's been so great to have him.
"Without getting into contracts, we'll see, but very appreciative of Matt, even his wife, Brittany, does a great job of helping wives connect. It's big for our team culture. So the Barkleys have been a big blessing to the Buffalo Bills. We'll see [on] the business side where that ends up."