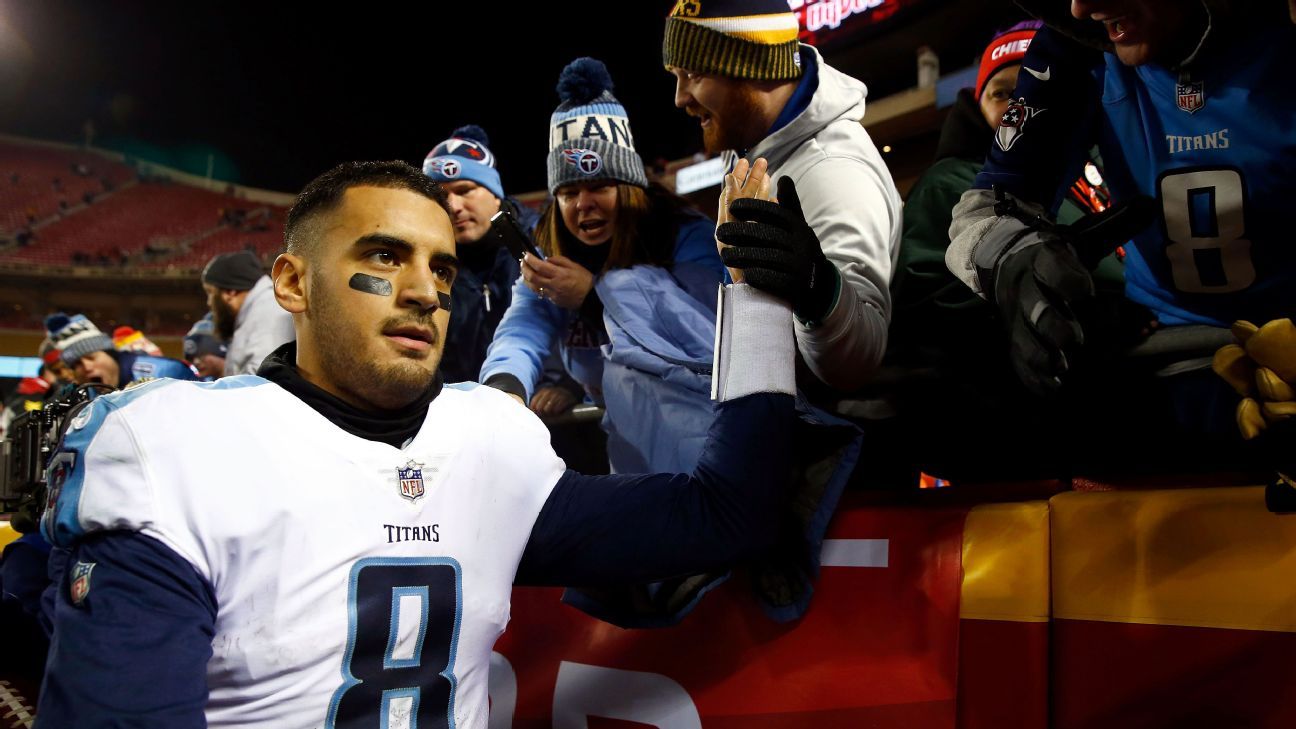 NASHVILLE, Tenn. — Even with new coaches and heightened expectations, the Tennessee Titans still revolve around quarterback Marcus Mariota.
Maximizing Mariota has been the Titans' top goal this offseason, and an inability to do so in 2017 played a role in the firing of former head coach Mike Mularkey last month.
"Marcus is a very football-smart player, tough guy, team is very important to him. I think he has a very high ceiling," Titans general manager Jon Robinson said. "He's done a lot of good things for us. We can put him in a position to be even better."
Multiple league sources believe that the Titans' offensive coaching staff was a bigger issue in Mariota's Year 3 struggles than the QB himself. Tennessee's move to dump Mularkey and hire first-time head coach Mike Vrabel would indicate that it feels the same. But a coaching change doesn't solve all of the problems involving Mariota and the Titans' offense.
Inside the Titans organization, there isn't much doubt that Mariota, 24, can still be an elite QB and the right man to lead the Titans to a Super Bowl. But entering Year 4, it's up to Mariota to prove them right.
'He's going to be a beast'
Mariota's trajectory was headed toward top-10 NFL QB to kick off the 2017 season before the No. 2 overall pick in the 2015 draft hit his biggest wall yet. The Titans achieved their most success as a team since 2003, but Mariota rarely appeared comfortable. He was visibly frustrated toward the end of the season, and he often struggled on the field.
He threw for a career-low 13 touchdowns and a career-high 15 interceptions. Mariota's 79.3 passer rating was 27th in the NFL, below that of Jacoby Brissett and Blake Bortles.
"Marcus is a really good football player. I think if you just look at the statistics, it doesn't quite say that," Robinson said. "I think Marcus made a lot of really good plays for us this year."
Mariota did make a ton of eye-popping plays, such as the TD throw to himself that launched an 18-point comeback victory in the playoffs against the Chiefs or the stiff-arm delivered to Jaguars safety Barry Church in Week 17 to essentially clinch a playoff berth or the beautiful, 37-yard, drop-in-the-bucket pass to Delanie Walker in Week 12 despite triple coverage from the Indianapolis Colts.
"I don't give two f—s what people think about Marcus," left tackle Taylor Lewan said. "I've seen what he can do. I've seen how hard he works. I'm with that guy 110 percent."
Late in the season, the typically understated Mariota began to express more emotion and body language after big plays. It was another example of Mariota's unspoken leadership that gave his team a jolt.
"When you got a quarterback that got swag like that, it's everything. He's going to bounce back and wake up. And when he wakes up, he's going to be a beast," Pro Bowl defensive lineman Jurrell Casey said. "Just waiting for him to let that explode constantly."
Inconsistency was the story of the season, capped off by a comeback road playoff victory over the Chiefs followed by what Mariota called an "embarrassing" loss to the New England Patriots in the divisional round.
It has been well-documented that the previous staff could have done more to cater the scheme to Mariota. Casey said he wants to see Mariota run more of the scheme he ran in college at Oregon. Multiple player sources say the 2017 offense was too predictable and limited Mariota's playmaking ability.
All of this could be true. But how the Titans address the other issues that held back the offense will determine whether this team continues to ascend. Mularkey and former offensive coordinator Terry Robiskie aren't around to be anybody's punching bag anymore.
Receiver routes didn't help
Walker still gets mesmerized by Mariota's serene demeanor on and off the field. But it was some of the late-season fire he saw from his QB that took his respect for Mariota to another level.
Walker couldn't stop smiling when he saw Mariota selflessly make a great lead block for Derrick Henry on a third-and-10 rushing conversion to clinch the Titans' playoff win over the Chiefs. It was a play that quarterbacks don't usually make. It was just another example of why Walker and the rest of the Titans are unwavering in their confidence of how good Mariota can be.
Several Titans players have said that passion lifts everyone's game to another level, and they hope they'll see more of it to start the 2018 season.
One NFL defensive assistant who is familiar with Mariota said he is still sometimes too nice to mistake-prone players. That source thought it wasn't natural for Mariota to acknowledge and attempt to correct his teammates' mistakes.
Multiple sources told ESPN that they felt poor route design, precision and splits made windows far more difficult for Mariota to throw into throughout the season. A lack of overall speed on offense didn't help either.
Former NFL QB and ESPN NFL analyst Matt Hasselback agreed with the receiver issues, citing multiple instances of poor route running and drops by rookie receivers Corey Davis and Taywan Taylor, along with veteran Rishard Matthews.
"You're not running those routes for Tom Brady. No way. He'll get in your face, or he'll make sure your coach gets in your face," Hasselback said. "To play QB with the level of anticipation you play with, you need the guys around you to help you out."
But it's not all on Mariota's supporting cast. On film, it's common to see Mariota become impatient in the pocket even when pressure is not near. His footwork regressed throughout the season, and he often threw primarily with his arm, not bringing his lower body with him.
Mariota has an admitted habit of not pushing off his back foot on some throws. He also has a tendency to be inconsistent with his dropbacks, often drifting left or right of the center without rhyme or reason. He has worked to break it over his three NFL seasons, but there were at least five interceptions this season that could be directly attributed to his falling back into those habits and delivering inaccurate throws.
"He's going to bounce back and wake up. And when he wakes up, he's going to be a beast. … Just waiting for him to let that explode constantly."

Jurrell Casey on Mariota
On a macro level, there might not be five other NFL quarterbacks who can match Mariota's athleticism and overall talent. He became the fifth quarterback in NFL history with at least 9,000 passing yards (9,476) and 900 rushing yards (913) in his first three seasons.
There is optimism within the Titans organization that Mariota's throwing and pocket-feel issues are fixable.
New Titans offensive coordinator Matt LaFleur and quarterbacks coach Pat O'Hara are expected to spend significant time with Mariota this offseason, reworking some of his throwing mechanics and instilling the consistent discipline that can elevate his game as a passer.
"We're going to be extremely detailed with his fundamentals and his footwork because that leads to more consistent quarterback play," LaFleur said. "There are going to be some different techniques that we are going to implement with him."
Balance between unleashing, keeping him healthy
This will be Mariota's third NFL head coach as he enters his all-important fourth season. Robinson said he has no concerns about the instability. A procedural move to exercise Mariota's fifth-year option is coming this spring, but the more important decision on a long-term contract might take more time to figure out.
The Titans haven't had a QB as good as Mariota since Steve McNair, so it's unlikely they'll let him leave. But how Mariota performs in 2018, under the highly touted LaFleur, will give the Titans a grasp on whether he'll ever reach his tantalizing potential.
One key question remains, even with a new coaching staff: How do you balance unleashing Mariota with keeping him healthy?
One coach who was on the Titans' 2017 staff told ESPN that there was an edict to dial back some of Mariota's running last season in order to protect him from himself. That coach also felt that Mariota's running restrictions, particularly in the first three months of the season, significantly limited the offense.
Mariota missed just one game in 2017, but he battled an assortment of hamstring, shoulder, knee and ankle injuries that limited him for much of the season. There were several games last season in which the coaching staff didn't know until Friday if he'd be able to play. He also suffered multiple MCL sprains and a fractured fibula in his first two NFL seasons.
"The first thing we're going to be is very concise [with] how we can protect the QB. That is the foundation," LaFleur said. "He's such a competitor. You can see it on the tape where he's fighting for extra yards, where I'd rather him preserve himself and get down."
Most of Mariota's major injuries occurred while he was in the pocket, but his 2017 injuries typically happened while he was attempting to run. It's also noteworthy that this was the first NFL season Mariota has finished, and he'll have an entire offseason to focus on improving his game rather than rehabbing.
"It's hard for guys that are good runners. If you want to be consistent over the long haul, it's easier to win from the pocket. He has shown the ability to be a difference-maker," said Hasselback, who noted that he could tell Mariota was hurting late last season. "I would say what is the defensive coordinator on the other team afraid of? He's afraid of you throwing on time and getting the ball out quickly.
"But then, when they have that perfect coverage, I don't want my defender in space with Mariota. And this is sort of a [Brett] Favre thing, but I don't want you to inspire the entire sideline and stadium by your body language. Mariota's teammates love him. That's more than half the battle."
LaFleur's plan is to tailor his scheme around Mariota and what makes the young quarterback comfortable. Mariota has succeeded when throwing off play-action, running an up-tempo offense and having run-pass option plays. Mariota is a better passer than many realize, but consistency is the key.
It's likely not a coincidence that those were some of the areas in which LaFleur and the Los Angeles Rams excelled during the 2017 season. Vrabel said there will be more spread scheme, easy throws and pocket movement in the Titans' offense next season. They want to make it more about the team, rather than put it all on Mariota.
"If there's something we stumble upon from a college system drawing back on Marcus' background and some of these other guys' background, then we'll implement that stuff," said LaFleur, who has gotten the most out of Jared Goff and Matt Ryan.
"If you can develop some confidence with these guys, the sky is the limit."
Miami Dolphins tight ends Mike Gesicki, Cethan Carter, Adam Shaheen go on COVID-19 reserve list
MIAMI — Mike Gesicki and two other Miami Dolphins tight ends have been placed on the NFL's COVID-19 reserve list.
Also sidelined were Cethan Carter and Adam Shaheen.
They were put on the list as close contacts, sources told ESPN's Adam Schefter on Sunday, after Dolphins co-offensive coordinator and tight ends coach George Godsey, who has been vaccinated, tested positive for COVID-19 and was sent home.
Co-offensive coordinator Eric Studesville will run the Dolphins' offense in Godsey's absence.
The Dolphins have had four training camp practices and were off Sunday.
Miami has four other tight ends in camp.
Gesicki's 703 yards receiving in 2020 ranked fourth among NFL tight ends and were the second most in a season by a Dolphins tight end.
The Associated Press contributed to this report.
Tampa Bay Buccaneers to hold Olympics watch party in support of hurdler Anna Cockrell, sister of CB Ross Cockrell
TAMPA, Fla. — The Detroit Lions aren't the only team holding Olympic track and field watch parties this training camp. The Tampa Bay Buccaneers will also hold one at 7:55 a.m. Monday morning — just moments before taking the practice field — to watch Anna Cockrell, sister of cornerback Ross Cockrell, compete in Semifinal 3 of the women's 400-meter hurdles.
Cockrell, who was a key reserve on the Bucs' Super Bowl winning team last year, is elated his younger sibling gets a chance to live out her dream, even if he can't be there to witness it.
"She's worked hard her entire life for this, and I'm just super excited for her," Cockrell said. "She's an absolute animal on the track. I have a ton of respect for what she does."
The four-time All-American at Southern Cal won NCAA track titles in June in the 100- and 400-meter hurdles. She then turned in the performance of her life at the Olympic Trials, catapulting herself from fifth place in the final turn to reach third place — the final spot on the Olympic team — and finished with a personal best time of 53.70 seconds.
Then on Friday, she put up a 55.37 in Heat 1 behind Colombia's Melissa Gonzalez (55.32), the wife of Lions backup quarterback David Blough, and Ukraine's Viktoriya Tkachuk, (54.80).
"One of the things I say to Anna is – she's a five-star, she was a five-star recruit coming out of high school," Cockrell said. "So I just tell her, 'Be a five-star. Just breathe and do it. … Just breath, do it and let your light shine.'"
The Cockrell siblings have been able to talk on the phone and trade text messages since she's been in Tokyo. On Saturday night, they exchanged grumblings over the weather. Japan's sweltering heat wave and stifling humidity caught the young sibling off-guard, while the older Cockrell had just donned pads for the first time in a Tampa Bay training camp.
"We have good conversations about it, how to deal with performing at a high level," Cockrell, who joined the Bucs as a free agent midway through last season, said. "Being the older brother, I just love giving her as much advice as I can. I'm learning to listen more. It's one of the things I know I gotta work on with her. We just have good conversations. At the same time, we respect what each other [does] and when we need to give each other that space, we give each other that space."
The postponement of the Olympic Games due to the pandemic meant Anna would miss her senior year of competition at Southern Cal. Cockrell called it the "longest year of his sister's life" but said it helped her rejuvenate physically and mentally.
In a tearful post-race interview at trials, she opened up about battling depression in 2019 and wanting to quit the sport, which she has since gone into greater detail about due to an increased focus on athlete mental health at the Olympics.
"She's very talented," Cockrell said. "She's a very beautiful person, inside and out."
"We're just tremendously thankful. I think the whole family – all of us," Cockrell said. 'We thank God every day, every time we talk to each other. We just have – it's hard to explain it – all these things happening at once."
How the Falcons use Bill Walsh fellowship to emphasize coaching diversity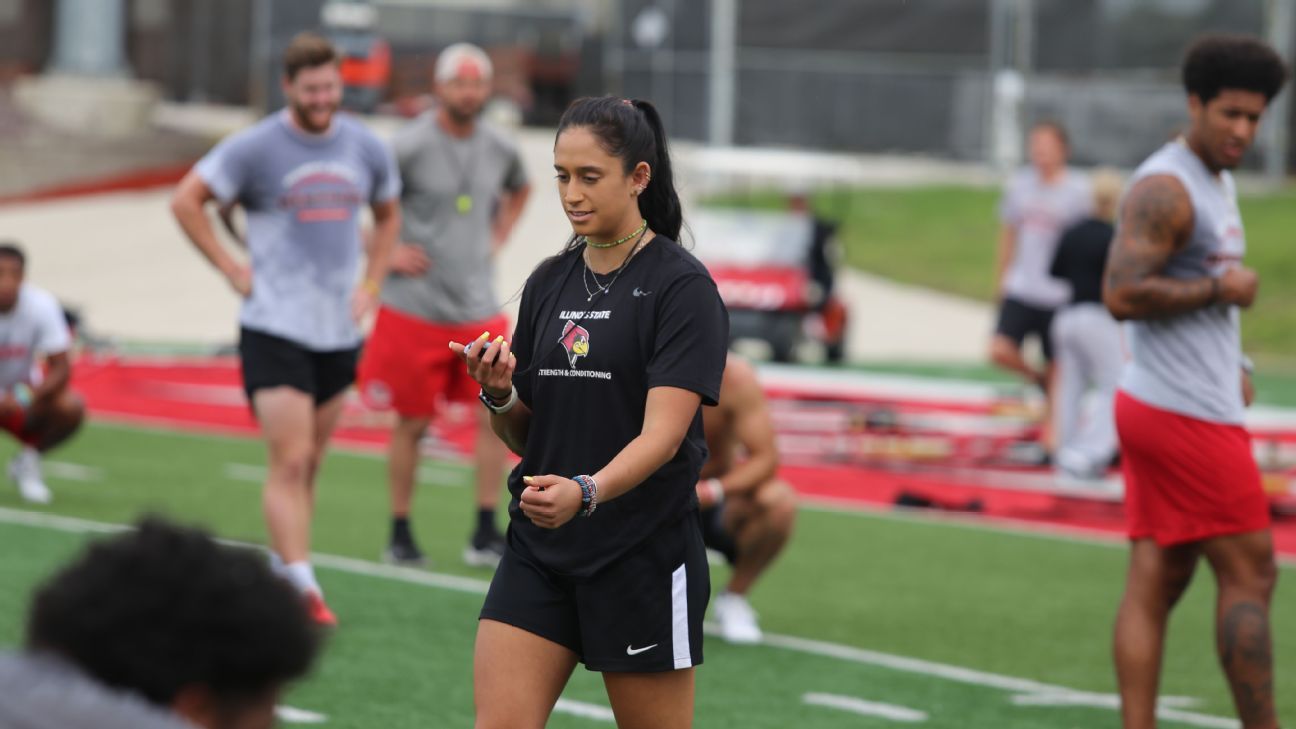 Tessa Grossman was about to get into her mother's white Mazda on May 3 when a notification popped up on her cell phone. Home in California for a couple of weeks after the spring semester of grad school at Illinois State, she saw whom the email was from and started getting nervous before she even opened it.
Five days earlier, she completed a first interview with the Atlanta Falcons for a Bill Walsh Diversity Coaching Fellowship during training camp. Her interviewers said they'd be in touch. This email from Sarah Hogan, Atlanta's assistant director of coaching operations, could be good news. Or bad.
It was good. Atlanta wanted a second interview.
"I remember sitting down in the car and going, 'Oh my god, the Falcons just emailed me for a second interview,'" Grossman said. "Basically, like, holy s—, this is crazy."
She took a deep breath. She had to plan to impress one more time. The email said to pick an interview time and Marquice Williams, Atlanta's special teams coordinator, would reach out with details.
What started as a cold email to Hogan on April 10 introducing herself and informing Hogan she had applied for the fellowship led to Grossman's selection as one of eight finalists for four internship spots in a program designed to increase the number of NFL minority coaches.
Processes differ from team to team, but all across the country calls and emails like this occurred for candidates for the introduction to the NFL through participation in training camps or offseason workouts.
It's a competitive gig — often, like Grossman, potential fellows have full-time or graduate assistant jobs in college or high school. Venessa Hutchinson, who helps run the program for the NFL, said approximately 1,000 people applied this year.
Most years, the NFL has full participation. In Atlanta, this meant a comprehensive interview process run by Hogan and Williams, which whittled the Falcons' in-house database of 50 applicants to the four they selected: Grossman (strength and conditioning), Erick Capetillo (tight ends/running backs), Darryl Jackson (special teams) and Cliff Matthews (outside linebackers), a former Falcons player.
"The Falcons have been a team that has always been at the forefront," Hutchinson said. "Even when the old regime was there, they were bringing in female coaches and things like that, a lot earlier than a lot of the other clubs.
"They were always trying to be more progressive."
---
In one of her first conversations after head coach Arthur Smith was hired by the Falcons this offseason, Hogan brought up the Bill Walsh program. She had been instrumental in its implementation under former coach Dan Quinn and wanted to continue.
She'd represented the Falcons at league meetings about the fellowship. She had plans. Smith agreed. The process became hers.
Then she met with special team coordinator Williams, who received his NFL start with Bill Walsh fellowships in Chicago and Detroit. Hogan happened to have her database of potential candidates open. Williams asked about it. They discussed his experiences and how it helped his coaching growth.
"Right after that conversation [I told him] that, 'Hey, I talked to Coach [Smith] and I'm spearheading this thing. I'd love for me and you to do it together,'" Hogan said. "He was all for it. It made it so much better."
In years past, Hogan had worked with a member of the scouting department. Now, she'd be working with an assistant coach. She also implemented changes. Hogan had suggestions from her prior experience running the program. Williams had ideas from his own Bill Walsh experience.
Together they streamlined the process of name collection and took candidate suggestions from their coaching staff. They scoured the NFL database and did their own research. If someone — like Grossman — reached out cold and showed initiative beyond clicking the Falcons box on the NFL application, they received consideration.
Due to the timing of the program with FBS training camps and wanting fellows to receive the full experience, they decided they wanted one high school coach, one small-college coach, an Ivy League coach and a fourth wild-card spot. They wanted a woman to fill at least one role. Each candidate was logged into Hogan's tabbed-out, color-coded database containing information for this year and future seasons.
Williams and Hogan communicated regularly through email, text, phone calls and in-person meetings. Any time an idea came up, they fired off a note, working a handful of hours each week for about a month outside of interviews on the program.
Using their metrics, they narrowed down their database to 16 candidates who would receive 25-minute first interviews by phone. From there, they selected eight candidates to participate in Zoom interviews with Hogan and Williams. If he could, Smith would sit in. Otherwise, he'd watch recordings later.
"We wanted someone who is a total go-getter, who would do anything and everything," Hogan said. "They would wash jerseys. They would pick up equipment. It had to be someone who was really enthusiastic about the whole program and the idea of it and learning.
"Someone who could take what we were teaching them and take it back to their current job. We weren't necessarily looking for someone just to take the internship to put on their résumé to say that they did it."
That was important to Hogan and Williams because of how they came up through the NFL.
---
Hogan grew up around football. Her formative years were spent in Merrick, New York, where her father, Greg Gigantino, was Hofstra's defensive coordinator. The closest she came to playing or coaching was in eighth grade at Merrick Avenue Middle School, where she and her best friend considered trying out for football after their track season was moved to spring. But they decided not to.
In college at James Madison, she had no intention of working in football. Her father told her he helped land her a job in the football office. She didn't think anything of it, just that she'd be going to help people they'd known over the years.
At the time, she didn't know anything about football operations. She thought the only gig for women in sports was athletic training.
"And then I just kind of really liked doing it," Hogan said.
Hogan interned with the Jets — the team held training camp at Hofstra — and changed her major to sports management and kinesiology. She went to grad school at Georgia State for sports administration and became the director of football operations at Northeastern and then Georgia State.
In 2015, she landed with the Falcons as the coordinator of scouting administration. Eight months later, Quinn made her the coordinator of head coach operations and she's now essentially the deputy chief of staff assisting Smith and director of coaching operations Brian Griffin.
She works with various staff members to coordinate logistics and put everything together — from rookie travel to the Bill Walsh program.
"We just carry out the head coach's wishes and make it easy for him to get his agenda and get the team ready to win games," Hogan said. "That's my bottom line."
In working on the fellowship, she was also able to fulfill an objective she adopted from her father: taking interest in younger coaches and trying to match jobs with candidates. It's what she wanted to do: make a difference behind the scenes, ever since she moved from college to the NFL.
---
Williams could relate. Had it not been for the Bill Walsh program, he might not be where he is now.
Williams was a defensive line coach at South Dakota in 2013 when he wrote 32 letters — one to each NFL head coach — and mailed them along with a copy of his résumé and his business card.
A Fresno, California, native and former defensive back at the University of Mary in North Dakota, he had few connections to the league. He'd spent time in small colleges — Winona State, Central Oklahoma before South Dakota — when he decided to apply for the fellowship program.
He figured the personal touch could stand out, perhaps catch the eye of application collectors. The extra effort worked. He landed with the Bears in 2013 and 2014 and then in 2015 with the Lions under Jim Caldwell.
Working with the Bears gave him his first exposure to special teams under coordinator Joe DeCamillis. With Caldwell he gained insight into almost everything.
"I learned more about different ways on teaching the values and different ways to practice on presenting certain topics," Williams said. "Concepts and how to structure a practice, how to structure meetings. And Coach Caldwell did a great job of exposing us to the overall big picture of becoming a servant-leader."
Before Williams' Lions internship, Caldwell brought him for a two-hour interview. One hour was to interview as a linebackers coach and the other as a special teams coordinator. Williams thought it was for the internship, but Caldwell treated it like it was for a full-time job.
Essentially, his internship began during the interview, where Caldwell asked about Williams' approach as a teacher and communicator, quizzed him about his personality, asked how he installed plays and ran practice. He inquired about special teams philosophy and how special teams complements offense and defense.
"That helped me and to this day I still use a lot of the tools that I learned from that interview and then the feedback I got from that interview," Williams said. "When I interviewed with Coach Smith or whatever organization it may be, my base foundation came from that mock interview with Coach Caldwell."
In 2016, Williams became the assistant special teams coach with the Chargers and in 2018 was moved to a defensive assistant role. Then he spent two seasons back in Detroit under Matt Patricia as the assistant special teams coach before Smith hired him as his coordinator this year.
It started with the fellowship.
"It was a platform to show who I am as an individual and show what I could bring to the table, but the bigger thing was it gave me the opportunity to learn the game of football," Williams said. "That's first and foremost."
---
When Williams spoke with Grossman on May 5 to set up final interview parameters, he said half of the 20-minute final interview would be a presentation on anything she wanted. Drawing from a lesson learned from his interview with Caldwell, Williams wanted the candidates to teach him and Hogan something.
"They wanted you to install a play or something that I run in my offense," Capetillo said. "And that was a little bit exciting, but also nerve-racking."
Capetillo explained an inside run play his Las Vegas High team uses frequently with him as the head coach. Matthews, the defensive line coach at Reinhardt College, presented on the concepts of blocks defensive linemen might face and how to counter them.
Jackson, the special teams coordinator and defensive backs coach at Brown, did a brief introduction of himself followed by a replica of a directional punt coverage presentation he'd use at a meeting with his players.
Grossman, an Illinois State strength and conditioning graduate assistant, practiced her presentation six times the morning of her May 6 interview. She talked about the concept of cognitive restructuring and the importance of positive self-talk over negative self-talk.
While Capetillo, Matthews and Jackson had years of playing and coaching experience, Grossman had never held a full-time job. She graduated from Dartmouth a year ago, her senior softball season wiped out by the COVID-19 pandemic. She used material from her final presentation for Motivation and Sports last semester — a presentation she got an A for — in her interview with Hogan and Williams.
The four candidates were Hogan and Williams' first choices, and all four aced their final interviews.
The process worked. Hogan and Williams had their fellows. Williams and Hogan divided the calls to the candidates they chose not to hire — but encouraged them to stay in touch and to apply again next year — and the congratulatory calls.
There were reasons they chose to call the candidates they did: Capetillo was Williams' college teammate. Matthews had been to Flowery Branch before and Hogan was his liaison when he'd come to watch film. Jackson coached with Hogan's father. Only Grossman, who reached out to Hutchinson for preparation tips throughout the process, had been unknown to Hogan or Williams prior to the process.
---
Capetillo, 32, was at his high school's track practice when Williams called. He stepped aside for a minute and had to contain his excitement. He'd applied for the program before, but this was the furthest he'd gotten in the process.
He already had spoken to his wife — they were high school sweethearts — about the possibility of being away from home for three weeks. His goal, his dream, has been to work for an NFL team. This would be the first step on his path.
After he got off the phone, he quickly called his wife and went back to coaching track to unsuspecting kids who had no idea what just happened to their coach.
Jackson, 52, applied only to the Falcons. His connection with Hogan and his brother living in the Atlanta area made the Falcons an attractive possibility. He'd been part of the internship program before — in 2007 with Jacksonville, 2003 with Detroit and 1999 with Philadelphia. He applied again not because he was looking for a way to the NFL, but to increase his knowledge base. He found out he got the job sitting in his office at Brown.
"It was time for me to branch back out," Jackson said. "Re-network and learn at the highest level and have an opportunity to listen and work with coaches and players at that level."
Matthews, 31, was in his suburban Georgia home working on his other passion: cooking. He was in the middle of making collard greens — one of his specialties — when Hogan called. Fancying himself a master chef, he kept cooking. When he hung up, he sat down, told his wife the news and called his head coach at Limestone to tell him.
Grossman, 23, had been told after the interview to expect a call from Thomas Stallworth, Atlanta's head strength and conditioning coach. They spoke for an hour while Grossman, still on Pacific time, was in her bedroom. At the end, Stallworth let it slip the Falcons were offering her the fellowship — followed by a call five minutes later from Williams making it official.
"It was just really shock at first," Grossman said. "The whole experience felt like a bit of a fairy tale to be honest."
She had not expected this in her first attempt at applying, even though she interned with the Rams. Matthews and Capetillo had hoped for this since they entered coaching. For Jackson, it's a way to keep learning. It's an opportunity, a chance. All they need to do is look at Williams to understand where it could lead.