WEST PALM BEACH, Fla. — Hump day had a more tangible meaning for the Washington Nationals.
New manager Dave Martinez had a trio of camels brought to spring training camp Wednesday, four-legged visual aids to help players launch a journey aimed at getting over the franchise's playoff hump.
"I don't know if it's so much as embrace it, but just not worry about it because so much has been made about it," first baseman Ryan Zimmerman said. "It's fair for people to write about it, but making the playoffs every year, winning divisions every year to me is already over the hump. We used to lose 90 games every year. People forget that."
The Nationals have reached the playoffs in four of the past six seasons but have not won a postseason series since relocating to Washington before the 2005 season.
Martinez joined players for the team's daily Circle of Trust meeting on the turf infield outside the clubhouse at 9:30 a.m. Not long into the meeting, first-base coach Tim Bogar and third-base coach Bob Henley rode camels onto the field.
"I thought it was a great idea," said Bogar, whose first foray into camel riding came on a cow named Blondie. "I thought it was something just to make sure they cleared their minds, and they had fun with it. We embraced it. I thought the guys reacted to it real well. From what I could see, everybody was having a good time with it."
Wearing a Nationals floppy hat with a red-and-white-checkered towel flowing underneath, Henley repeatedly yelled "Hump Day!" while atop a camel named Lawrence. Bogar and Henley parked their camels on each side of the walkway that leads from the meeting area to the practice fields, and players walked between.
"It was fun," reliever Ryan Madson said. "It's fun. It's nice to have a camp loose. It's nice to have the courtesy to have a loose camp when you have a good team."
Unlike many of his teammates, Madson has some familiarity with camels. A camel named Hoover lives near his Arizona home, and Madson frequently takes his daughters on bike rides to visit the camel.
"He got a little overweight, so he just lays down a lot now," Madson said. "They've got him on a diet."
There was some concern that the Florida camels might have smelled Hoover on Madson.
"The one was looking at me funny," Madson said, sticking out his lower jaw for emphasis. "It was showing its tooth at me, and he had that kind of crazy look in his eye, so maybe it was his long-lost cousin."
After the players walked the camel gauntlet, Bogar and Henley rode Blondie and Lawrence to the practice field. No one rode the third camel, named Brown. He made the trip, according to Bogar, because Blondie refuses to go anywhere without Brown.
When not motivating a professional baseball team, the camels reside at a petting zoo in nearby Jupiter.
Martinez, who is in his first season as Nationals manager, spent 10 years as Joe Maddon's bench coach with the Chicago Cubs and Tampa Bay Rays. Maddon is well known for his spring training stunts designed to keep players loose.
The camels exited the Ballpark of the Palm Beaches well before the Nationals returned to the clubhouse after the workout. Washington played Miami in Jupiter later Wednesday.
"All I've got to ask you guys is, Can you still smell me?" said Bogar before boarding the bus.
White Sox rookie Seby Zavala first in MLB history to hit his first three career home runs in same game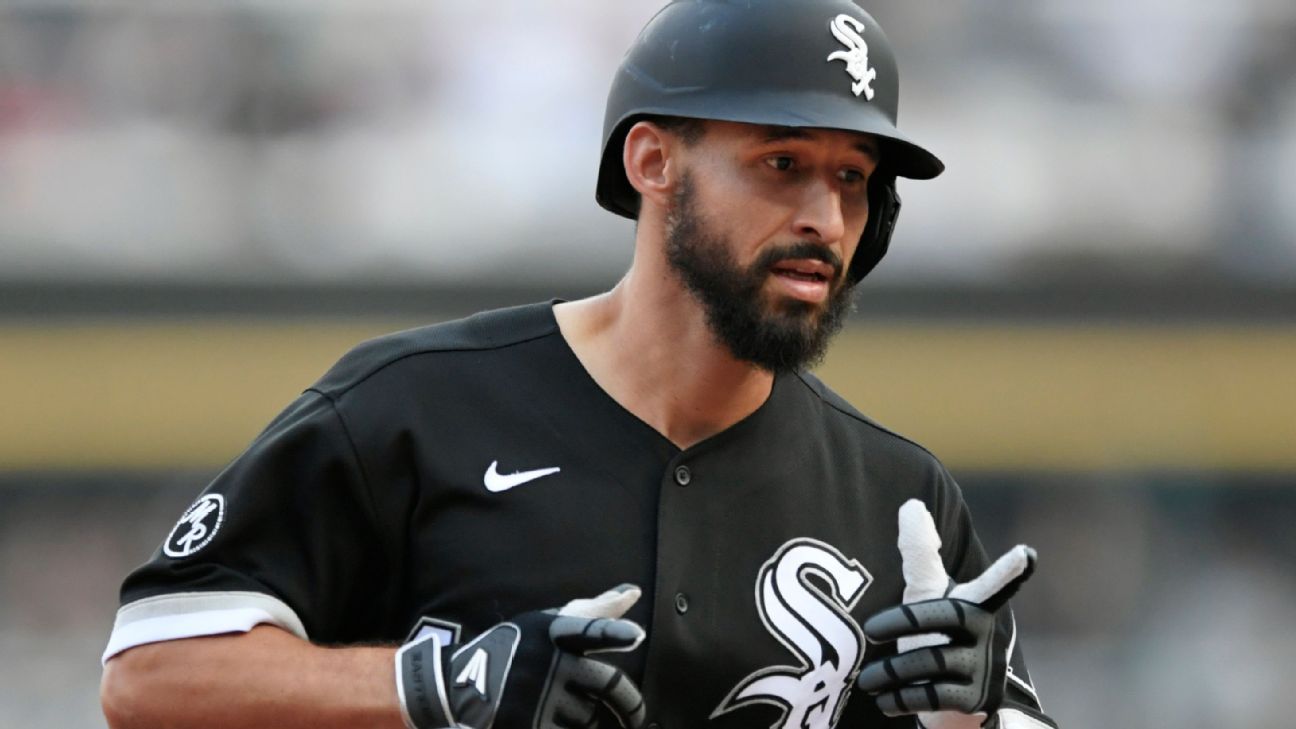 CHICAGO — White Sox rookie Seby Zavala hit the first three home runs of his career, including a grand slam, but the Cleveland Indians rallied to beat Chicago 12-11 on Saturday night.
Zavala became the first player in big league history to hit his first three career home runs in the same game, according to Elias Sports Bureau. The 27-year-old catcher played his 18th game in the majors — he was recalled from Triple-A Charlotte on July 6 to replace the injured Yasmani Grandal.
Batting ninth, Zavala hit a solo homer in the third off Triston McKenzie. Zavala connected for a grand slam off McKenize in the fourth for a 6-1 lead and a solo drive against Bryan Shaw in the seventh.
Seby Zavala is the 1st player in MLB history to hit his first 3 career home runs in the same game (pending inclusion of Negro League stats). pic.twitter.com/o4WxLM4MtQ

— ESPN Stats & Info (@ESPNStatsInfo) August 1, 2021
With a chance to become the 19th player to hit a record-tying four homers in a game, Zavala singled in the eighth and finished with six RBIs.
Zavala — who will turn 28 on Aug. 28 — played at San Diego State, finishing up with the Aztecs in 2015. Later that year, he was a 12th-round selection by Chicago in the June entry draft. He hit 20 home runs at Triple A Charlotte in 2019.
His magic wasn't enough to outpace the Indians on this night, however, as Austin Hedges, Owen Miller and Amed Rosario homered to help Cleveland overcome a five-run deficit.
The Indians totaled nine runs in three straight innings to take the lead. Justin Garza (1-0) threw two scoreless innings. Emmanuel Clase got five outs for his 13th save.
Brian Goodwin and Adam Engel homered for the White Sox, who lead the second-place Indians by eight games in the AL Central despite winning just three times in their last 10 games.
Michael Kopech (3-1) took the loss for the White Sox, allowing five earned runs in just one inning of work.
Perhaps more important to the long-term outlook of the White Sox staff, newly acquired Craig Kimbrel pitched a perfect ninth in his first appearance after they acquired him from the Cubs at the trade deadline Friday.
The Associated Press contributed to this report.
San Diego Padres star Fernando Tatis Jr. on 10-day injured list with shoulder trouble
SAN DIEGO — Star shortstop Fernando Tatis Jr. of the San Diego Padres was placed on the 10-day injured list Saturday, a day after partially dislocating his left shoulder for the third time this season.
The Padres announced the move prior to their game against the Colorado Rockies. They also placed right-hander Chris Paddack on the IL with an oblique injury.
Tatis, the National League's starting shortstop in the All-Star Game, was injured Friday night while sliding awkwardly into third base in the first inning against the Rockies. He was in pain as he was led off the field by manager Jayce Tingler and a trainer.
Tingler said Tatis was "a little bit more sore than maybe some of them we've had in the past."
The Padres, who are in third place in the NL West and in control of the second wild-card spot, are keeping their fingers crossed that the electrifying 22-year-old Tatis will be back in 10 days.
Tatis leads the NL with 31 home runs. He's hitting .292 with 70 RBIs.
Philadelphia Phillies minor leaguer Daniel Brito suffers medical emergency, postponing Triple-A game
Philadelphia Phillies minor leaguer Daniel Brito suffered a medical emergency during Saturday's game between the Rochester Red Wings and Lehigh Valley IronPigs, forcing the Triple-A doubleheader in Rochester, New York, to be postponed.
The IronPigs third baseman began to wobble in the bottom of the first inning of the second game and had to be helped by the Red Wings manager — who was coaching in the third-base box. Brito then lay on the field for approximately 20 minutes and was administered oxygen by a paramedic, according to the Democrat and Chronicle. An ambulance eventually arrived and Brito was taken to a local hospital.
"In the best interest of the players and coaches for both teams, today's Red Wings doubleheader has been suspended due to a medical emergency on the field in the bottom of the 1st inning," the Red Wings said in a statement posted to Twitter.
Brito, a 23-year-old from Venezuela whom the Phillies signed in 2015, had recently made his debut in Triple-A.
Rochester won the opening game 3-0.