The NFL combine begins in earnest Wednesday in Indianapolis, giving Buffalo Bills general manager Brandon Beane an opportunity to meet with top draft prospects as well as agents for his team's pending free agents.
The combine also could provide an opportunity for Beane to get a better feel for the landscape should he decide to trade up in April's draft to acquire a quarterback.
The possibility of Buffalo trading up has been discussed since the Bills — led by coach Sean McDermott and then-general manager Doug Whaley — passed on drafting quarterbacks Deshaun Watson and Patrick Mahomes and instead traded their No. 10 overall pick for the No. 27 pick (used to select cornerback Tre'Davious White) and the Kansas City Chiefs' first-round pick this year.
The Bills now own eight selections in the first five rounds, including two first-round picks and two second-round picks, giving them more assets than most teams to swing a trade up into the top 10 and position the team to select one of the top four quarterbacks in the draft: Sam Darnold, Josh Rosen, Josh Allen or Baker Mayfield.
How far could the Bills move up and what would it take?
At the Senior Bowl in January, Beane said many teams use the draft trade value chart developed by former NFL coach Jimmy Johnson as a baseline. The chart assigns point values to each pick of the draft, starting with 3,000 for the No. 1 pick.
Teams have tweaked the trade chart over the years using their own statistical analysis, and Beane cautioned supply and demand will still drive any trades, but calculating how the Bills could move up in April is still a useful exercise.
With the NFL's announcement last week of compensatory selections finalizing the draft order, the Bills own the following picks: No. 21 (first round), No. 22 (first round, from Chiefs), No. 53 (second round), No. 56 (second round, from Rams), No. 96 (third round, from Philadelphia), No. 121 (fourth round), No. 158 (fifth round) and No. 166 (fifth round, from Jaguars).
Based on the Johnson chart, the value of each of the Bills' picks is 800 points (No. 21), 780 points (No. 22), 370 points (No. 53), 340 points (No. 56), 116 points (No. 96), 52 points (No. 121), 29.2 points (No. 158) and 26 points (No. 166).
That means if the Bills packaged together their Nos. 21 and 22 picks, they would have 1,580 points, theoretically enough to get them as high as No. 6 (1,600) or No. 7 (1,500). Adding one of the second round picks would get the Bills to either 1,920 points or 1,950, which would fall between No. 3 (2,220 points) and No. 4 (1,800 points).
Obviously, executing trades is not that simple. Picks from future years might be involved, in which case the chart does not as easily apply. Players could also be involved, which brings salary-cap implications into play.
Buffalo would need to find a partner willing to do the deal. They might be able to move as high as No. 6, but would the quarterback-needy New York Jets trade out of that slot and pave the road for a division rival to take a potential franchise quarterback? Don't bet on it.
If the Bills feel strongly about a quarterback that is still on the board early in the draft, they might be forced into a bidding war with another team looking to trade up.
At this point, it is hard to predict what will happen in April without knowing how March will unfold. The free agency of Kirk Cousins will likely have a domino effect on the quarterback market that will help determine which teams will be in the hunt for one in the draft.
But for now, the possibility of the Bills trading up can at least be discussed in basic terms.
Eli Manning Q&A: Retired Giants QB on sloppy Joes, Twitter and what's next – New York Giants Blog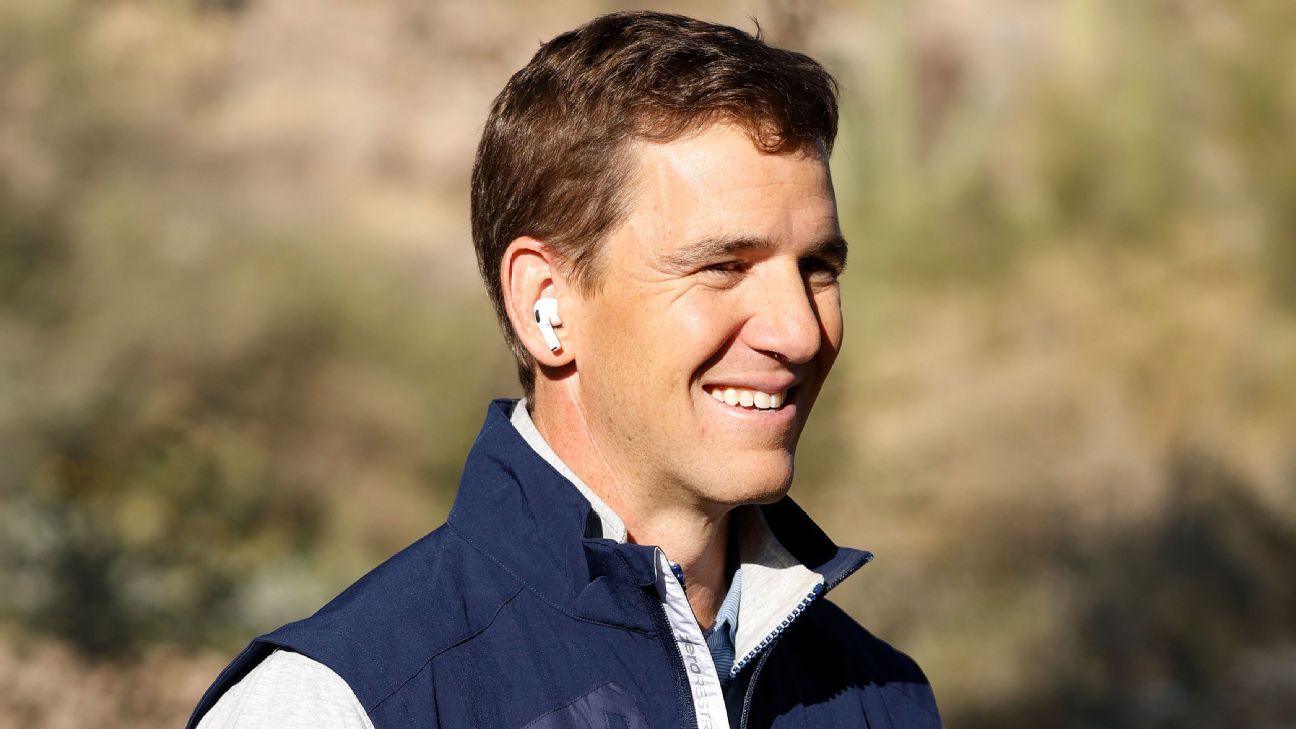 Former New York Giants quarterback Eli Manning has been out of the NFL for a year now, and he hasn't had much choice but to be away from the game because of the coronavirus pandemic.
But one thing the two-time Super Bowl winner did find was Twitter — and a way to show a different side of his personality. As he starts to figure out the next steps of his post-playing life, Manning sat down for a few minutes as part of a media campaign for Stella Artois' "Stella Stadium Bites" from Blue Apron to chat food and football.
Let's ask this first, what's your favorite stadium bite?
I feel like Stella did a great job of the meal kits [for its new line of stadium bites] and I got to prepare some with [former Giants receiver] Victor [Cruz] the other day — we did the flank steak lettuce cups. They are very easy to prepare — Victor and I did it together — and if we can figure it out, I promise you anybody can figure out [how] to prepare these meals.
Hey New Jersey! Now THIS is a Sloppy Joe! pic.twitter.com/7u75JXVLkN

— Eli Manning (@EliManning) October 17, 2020
Thanks to the Millburn Deli for introducing me to the Jersey Sloppy Joe. Carb loading for the Giants Game today. pic.twitter.com/XWpSDsZIkz

— Eli Manning (@EliManning) December 6, 2020
Since we're talking about food, what was going on with the sloppy Joes on Twitter?
You know, [laughs], that was not my intention to kind of bring it up. I was kind of new to Twitter and was looking for something to tweet about and I took one picture of what I thought of a sloppy Joe.
My mom — a meal that she had given my wife, and we had one day. People around New Jersey were like, 'That is not a sloppy Joe. This is a sloppy Joe.' And I had heard about it around north New Jersey, this other thing called a sloppy Joe. I had never had one. So I was kind of getting beaten up on Twitter about not ever having one around my buddies in New Jersey.
So I said, 'All right, I'm on a mission now. I got to try these out, see what's going on here.' So just kind of had some fun with it and people were responding. I was getting a lot of texts about, just kind of laughing about the sloppy Joe stuff, so I ran with it. I'll have to get Stella to put the sloppy Joes on their stadium bites for next year.
Who is this Eli Manning we're seeing on Twitter? For so many years you were protective of your image. Where is this coming from in retirement?
I guess when I was playing [football], and I still have that side where it's not trying to let everybody know exactly what I'm doing and what's going on, and I still — I don't tweet a whole lot about my everyday experiences. But to see a lighter side, to see just some of the goofy things that are going on and a few things about kids' sports and activities and sloppy Joes.
I try not to get too serious. I don't want to say anything negative about anything. Just kind of a neat way to have a little voice and see if you can get some people to smile a little bit.
What do you think will be your next move professionally?
You know, I'm still figuring that out. You're a little bit limited on what you could do and what some options were, obviously, with a pandemic going on, so I just took this time to just reflect and dabble in a few things. I am going to do some things with ESPN. I filmed a couple [episodes] of "Details" the other day on [quarterbacks] Mac Jones [Alabama] and Justin Fields [Ohio State].
I'm going to join Peyton [Manning] in some of his "Peyton's Places" and do the … kind of college version of that, college football. So some of those things will be fun, keep me involved in the game of football.
Hopefully I'll be able to do some more things with the Giants next year as well. This year, it was new, didn't know how much I wanted to be around [the team]. I think we both needed a break from each other, but hopefully I can do some more things related to the Giants.
But also I like being home with my family. I want to be able to coach my kids in their sports and be able to kind of pick and choose when I want to do some of the work and do fun, interesting jobs that will keep me intrigued and keep me entertained — things I want to work hard on, though.
Follow live: Josh Allen, Lamar Jackson face off in AFC Divisional Round showdown
Green Bay Packers to host NFC Championship Game after beating Los Angeles Rams
GREEN BAY, Wis. — For all that Aaron Rodgers has accomplished in his Hall of Fame career, there's one thing he has never done: play in an NFC Championship Game at Lambeau Field.
Come back next Sunday to see him check that off his list. Rodgers and the top-seeded Green Bay Packers (14-3) will play for a berth in the Super Bowl against either the New Orleans Saints or the Tampa Bay Buccaneers.
And the Pack will do so on their own turf thanks to Saturday's 32-18 win over the Los Angeles Rams at Lambeau, where fans — 8,456 of them — were allowed in for the first time all season.
It will be Rodgers' fifth appearance in the conference title game. His previous four all came on the road. He won his first one — during the 2010 season, at Soldier Field — en route to his lone Super Bowl. He has lost three since, including last season at the San Francisco 49ers in blowout fashion.
It was after last season's defeat when Rodgers repeated a familiar refrain, saying, "We've got to get one of these at home."
Rodgers made sure of that early and often against the Rams (11-7), who had the NFL's top-scoring defense in the regular season (18.1 points per game). The Packers bettered that in the first half, with a 19-10 lead at the break. They became the first team this season to score on the Rams this season on each of its first three drives. It also was the fourth straight game the Packers' top-scoring offense has scored on each of its first three drives.
Rodgers threw a 1-yard touchdown pass to Davante Adams, sending Rams cornerback Jalen Ramsey into a heated post-play exchange with safety Nick Scott. Rodgers also ran for a touchdown in the first half, giving him a touchdown pass and a touchdown run in the same playoff game for the third time in his career. But it was his first postseason rushing score since that 2010 NFC title game at Chicago.
That was just the start.
When Aaron Jones ripped off a 60-yard run on the opening play of the third quarter to set up his own 1-yard touchdown run, it meant the Packers scored on each of their first five drives in a game for the first time since Week 3 of the 2016 season.
Saturday marked the 22nd time in NFL playoff history that the No. 1 scoring offense and No. 1 scoring defense faced each other. The Packers' 32 points was the fourth most in those matchups, according to ESPN Stats & Information research.
Rodgers kneeled the game away late to "MVP" chants from the crowd.
He completed 23 of 36 passes for 296 yards and two touchdown passes. His 58-yard touchdown pass to Allen Lazard in the fourth quarter was his longest scoring pass in his postseason career.
Rodgers benefited from the best rushing performance — 189 yards — his team has ever given him in a playoff game. The previous high was 147 yards in the 2011 divisional playoff against the New York Giants. But that was a loss in the only other time the Packers were ever the No. 1 seed under Rodgers.
That game denied him an NFC title game at home.
Ten years later, Rodgers would not be denied.