One hypothesis for baseball's sluggish free-agent market goes that, in the post-Moneyball era, front offices have "narrowing views of player valuation." In addition to their scouts, many — if not all — teams have their own projection systems, and projection systems tend to follow similar logic and view players in similar ways. For example, here's what to expect from Red Sox sophomore Andrew Benintendi this year, according to three public projections:
ZiPS: 18 HR, .282/.354/.456, 84 R, 17 SB, 2.9 WAR

Steamer: 19 HR, .286/.360/.464, 88 R, 15 SB, 2.8 WAR

PECOTA: 18 HR, .272/.345/.446, 86 R, 16 SB, 2.5 WARP
Three systems and three methodologies, but ask them to predict 600 plate appearances, and they disagree on only a half-dozen of them. Most players' projections aren't quite this uniform, but rarely will you find yourself flabbergasted by a projection. Nor, probably, should you be, if you've been paying attention to the player's performance.
But this makes those few instances of system disagreement especially interesting. There are, occasionally, players whose outlooks look significantly different depending on the URL at the top of your browser. In turn, those projections might dramatically affect an entire team's outlook or convince you to push a player six rounds higher in a fantasy draft. These players are windows into the science of projections, and they're helpful reminders of the utter bonkersness of baseball performance. Settle a few of these disagreements for us, will you?
ZiPS: 6.2 WAR, second-best position player in baseball

Steamer: 5.8 WAR, fifth-best position player in baseball

PECOTA: 4.5 WAR, 14th-best position player in baseball
The difference between second- and 14th-best might not seem like much, but it's the difference between Aaron Judge and Anthony Rendon last year, a difference I certainly noticed.
ZiPS' and Steamer's disagreement is over defense and role: Stanton is worth less as a DH, where he'll likely play some games. Both see Stanton as the second-best hitter in baseball, behind only Mike Trout. ZiPS sees him hitting 55 home runs with a 1.033 OPS; Steamer sees 53 homers and a 1.022 OPS. That's the same basic hitter with small disagreements over how much he contributes with his glove.
But PECOTA is much more conservative on Stanton the hitter, projecting 41 homers (still the most of any projected hitter) and a .908 OPS. For this, it's important to remember that in 2016, Stanton hit just .240/.326/.489, and to that point in his career, he had never hit 40 home runs, he had a sub-.900 career OPS, and he had dealt with significant injuries in four of the previous five seasons.
It's also important to remember that baseball is a cruel game that occasionally flummoxes even the very best players. Aware of that potential for disaster, PECOTA often looks conservative: It's folding in the very real possibility of collapse for each player. In fact, it often looks too conservative — every year, Mike Trout is projected to have a career-worst season, and every year he bests it — but collectively, the caution seems to pay off. Over the past three seasons, PECOTA's top 20 projected hitters — 60 hitter seasons in all — have collectively done exactly what PECOTA projected for them, even though more have outhit their projections than come up short.
That gives us three visions of Stanton: The AL's MVP, a candidate for MVP but a little bit down from 2017 and a valuable All-Star who nevertheless comes up well short of preseason hyperbole. Interestingly, the Fan Projections at FanGraphs — which are based on readers' crowd-sourced estimates — lean toward the pessimistic view. That's very rare; fans are almost always more optimistic than soulless projection systems.
For six years in a row, Bautista was an All-Star. Does that seem that long ago to you? Do his top-10 MVP finishes, does his bat flip in the ALCS, seem forever ago? If they do, you're ZiPS. If they don't, you're PECOTA.
ZiPS: -0.1 WAR, .699 OPS, 582nd-best position player in baseball

PECOTA: 3.0 WAR, .812 OPS, 55th-best position player in baseball

(Steamer doesn't have a WAR because it doesn't estimate playing time for players who are still free agents. It splits the difference on his offense, though: a .761 OPS)
Remember when we said projection systems tend to follow similar logic? The basis for just about every projection system is what the player has done, how recently and at what age. Some systems go further back for information; some put greater or lesser emphasis on recency; some have different aging curves; some have different ways of neutralizing performances based on ballparks or quality of competition; some fold in other details, the sorts of details more traditionally associated with scouting; some draw more inference based on previous, similar players. But the basis is simple: What has he done, how recently and at what age?
Over the past three years, Bautista has been a very good hitter: He has hit more home runs than George Springer, has a higher OPS than Wil Myers, has outhit (by weighted on-base average) Marcell Ozuna and Justin Smoak. That's all really good, and it's relevant. Good players have bad years, often followed by more good years. But last year, Bautista was one of the worst hitters in the game, and he's old, and those six consecutive All-Star appearances might not tell us much about what's going on in his cells right now. As a result, one system sees a player who was extremely good not long ago. Another sees a player who was extremely bad very recently.
Turner, the Nationals' 24-year-old shortstop, has never made an All-Star team, never received an MVP vote, never led his league in any stat, never even qualified for the batting title. (He was called up late in 2015 and 2016, and he broke his wrist in the summer of 2017.) But he's already a star — or at least close to it. He has been a top-five pick in fantasy drafts this spring, with 20-HR power and 50-SB speed. ZiPS projects him to the 37th-best position player in baseball, with his top player comp being Hall of Famer Ryne Sandberg. Steamer projects him to be the 22nd-most valuable, just behind Freddie Freeman and just ahead of Judge. Impressive.
But then PECOTA butts in. It projects Turner to be the third-most valuable player in baseball, at 6.1 WAR. Surprisingly, it doesn't forecast much better offensive numbers:
ZiPS: 3.0 WAR, .774 OPS

Steamer: 4.1 WAR, .813 OPS

PECOTA: 6.1 WAR, .805 OPS
The bulk of the gap comes from smaller or harder-to-measure or easier-to-disagree-on things. PECOTA predicts that Turner will be, as a baserunner, eight runs better than the average runner. Steamer and ZiPS say only 3.5 runs and 5.3 runs, respectively. That accounts for about a quarter of the difference between Steamer and PECOTA.
PECOTA also projects Turner to be one of the very best defensive shortstops in baseball, at 11 runs above average. ZiPS and Steamer project him to be just one or two runs above average. Each projection uses different advanced metrics to get to a number, but Turner is especially hard to project as a shortstop because he has played second base, center field and only 103 games at shortstop in his brief major league career. PECOTA is likely drawing from his minor league performance at the position, which (it thinks) was quite impressive.
Honestly, the public might hardly notice the difference between these three projected outcomes. In all three cases, he'd help your fantasy team the same. But the Nationals would notice. Turner's baserunning and defensive value could span the distance from top MVP candidate to being left off most ballots.
According to Baseball Prospectus' advanced pitching metric, Deserved Run Average — which considers a dizzying array of factors in and out of a pitcher's control — Verlander was the eighth-best pitcher in baseball last year. DRA didn't just like him after the trade to Houston, when his ERA was 1.06 in five starts; it thinks he pitched just as well in Detroit, despite a more mediocre ERA. In 2016, DRA says, Verlander was the best pitcher in baseball.
Which makes this one surprising:
ZiPS: 4.0 WAR (16th among all pitchers), 3.43 ERA, 1.12 WHIP

Steamer: 3.8 WAR (19th among all pitchers), 3.86 ERA, 1.20 WHIP

PECOTA: 2.2 WAR (48th among all pitchers), 4.18 ERA, 1.29 WHIP
This probably comes down to how each system treats aging. Darius Austin, at Baseball Prospectus, wrote this month about the pessimistic case for Verlander:
"While we might look at Verlander and see a workhorse who has a significant track record of success — including back-to-back seasons over 200 innings with more than a strikeout per inning and a very recent spectacular playoff performance — PECOTA sees a 35-year-old with a walk rate over 3.0/9, a home run problem, and a fairly recent season in which he was no better than league average. Most sobering are Verlander's top three same-age comps: Adam Wainwright, Jason Schmidt, and the late Roy Halladay, all reminders of how rapid the decline can be."
Of course, nothing about Verlander looks to be in decline. After decreased velocity led to poor 2014 and 2015 seasons — which pollute his projections somewhat — he regained his physical dominance. His average fastball last year was harder than it had been since 2010 and 2.5 mph harder than in 2014. Plus, another of his top same-age comps is Roger Clemens.
The punchline is that Andrew Benintendi will probably do something entirely different from his projections this year. Projection systems might agree, or slightly disagree, on what a player's most likely outcome is. But one assumption baked into all of them is that the range of outcomes is fantastic. Some part of ZiPS knows PECOTA might be right about Bautista; some part of PECOTA knows Steamer might be right about Stanton; and some part of Steamer knows the only thing we can really count on is looking back at what we thought we knew and laughing.
Toronto Blue Jays finalizing trade for New York Mets' Steven Matz
The Toronto Blue Jays are finalizing a trade to acquire starter Steven Matz from the New York Mets for three prospects, sources familiar with the deal tell ESPN's Jeff Passan.
Matz, a 29-year-old left-hander, agreed to a $5.2 million, one-year deal with the Mets in December.
That deal came after he had the poorest of his six seasons, going 0-5 with a 9.68 ERA while earning $1,851,852 in prorated pay from a $5 million salary. He was dropped from the rotation after starting 0-4 with a 9.00 ERA in five starts, then made three relief appearances along with a spot start.
Matz is 31-41 with a 4.35 ERA over 107 career starts and five relief appearances.
Hank Aaron remembered at funeral by Bill Clinton, Bud Selig, others
ATLANTA — The Hammer made one last trip to the spot where he hit No. 715.
After a nearly three-hour funeral service Wednesday that featured two former presidents, a long-time baseball commissioner and a civil rights icon, the hearse carrying Hank Aaron's body detoured off the road bearing his name to swing through the former site of Atlanta-Fulton County Stadium.
That's where Aaron broke an iconic record on April 8, 1974, eclipsing the home run mark established by Babe Ruth.
The stadium was imploded in 1997 after the Braves moved across the street to Turner Field, replaced by a parking lot for the new ballpark. But the outer retaining wall of the old stadium remains, along with a modest display in the midst of the nondescript lot that marks the exact location where the record-breaking homer cleared the left-field fence.
A steady stream of baseball fans have been stopping by the site — comprising a small section of fence, a wall and a baseball-shaped sign that says "Hank Aaron Home Run 715" — since "Hammerin' Hank" died Friday at age 86. The fence is covered with flowers, notes and baseball memorabilia.
Fittingly, Aaron's funeral procession went by the display on the way to his burial at South-View Cemetery, the oldest Black burial ground in Atlanta and resting place for prominent civil rights leaders such as John Lewis and Julian Bond.
The police-escorted line of cars passed near the gold-domed Georgia state capitol, went under the tower that displayed the Olympic torch during the 1996 Atlanta Summer Games, and headed down Hank Aaron Drive.
At the bottom of a hill, the procession took a sharp right turn toward the site of the former stadium. Aaron's flower-covered hearse and all the vehicles that followed did a loop through the circular parking lot, which covers the footprint of the cookie-cutter stadium that became home of the Braves after they moved from Milwaukee in 1966.
It was a touching tribute that capped off several days of remembrances for one of baseball's great players. The Braves held a memorial ceremony Tuesday at their current home, suburban Truist Park.
The funeral service touched as much on Aaron's life beyond the field as it did his unparalleled baseball accomplishments, honoring his business acumen, charitable donations, and steadfast determination to provide educational opportunities for the underprivileged.
"His whole life was a home run,'" former President Bill Clinton said. "Now he has rounded the bases."
Clinton said the two became close friends after Aaron endorsed him during the 1992 presidential campaign, when he pulled out a narrow victory in Georgia. Clinton had been the last Democrat to win the state until Joe Biden edged Donald Trump in November.
"For the rest of his life, he never let me forget who was responsible for winning," Clinton quipped, drawing a few chuckles during the mostly somber ceremony. "Hank Aaron never bragged about anything — except carrying Georgia for me in 1992."
Bud Selig, who was commissioner of Major League Baseball for more than two decades and another close friend of Aaron's, said one of his fondest memories was being at Milwaukee's County Stadium as a fan for the pennant-clinching homer that sent the Braves to the 1957 World Series.
"The only ticket I could get was an obstructed-view seat in the bleachers behind a big, metal post," the 86-year-old Selig said. "The image of the great Aaron, deliriously happy, being hoisted on the shoulders of his teammates and carried off the field is indelibly imprinted in my memory."
Andrew Young, a top lieutenant of Martin Luther King Jr. during the civil right movement and a former Atlanta mayor, said Aaron helped transform his adopted hometown into one of America's most influential cities.
The Braves moved to the Deep South during an era of intense racial strife, Young pointed out, but having one of the game's greatest Black players helped ease some of the tensions.
Atlanta continued its explosive growth, eventually landing such major sporting events as the Olympics, multiple Super Bowls and World Series, as well as numerous college sports championships.
"Just his presence, before he hit a hit, changed this city," Young said. "We've never been the same."
Only about 50 people attended the funeral service because of COVID-19 restrictions. Other sent videotaped messages, including another former president, Jimmy Carter.
Remembering his tenure as governor of Georgia, the 96-year-old Carter joked that after the Atlanta Chamber of Commerce gave Aaron a new Cadillac, he followed up with "a $10 tag" to go on the vehicle. It said "HLA 715," a nod to the initials for Henry Louis Aaron.
The two became close friends and even took vacation trips to Colorado with their wives. In one pursuit, at least, Carter was the better athlete.
"Hank and I both learned how to ski together," Carter said. "He skied fairly well. I was a little bit better than that on skis."
A longtime Braves fan, Carter noted that he was at Atlanta-Fulton County Stadium the night Aaron hit his iconic home run.
On Wednesday, the Hammer went there for the final time.
Reports — New York Yankees agree with reliever Darren O'Day on 1-year, $2.5 million deal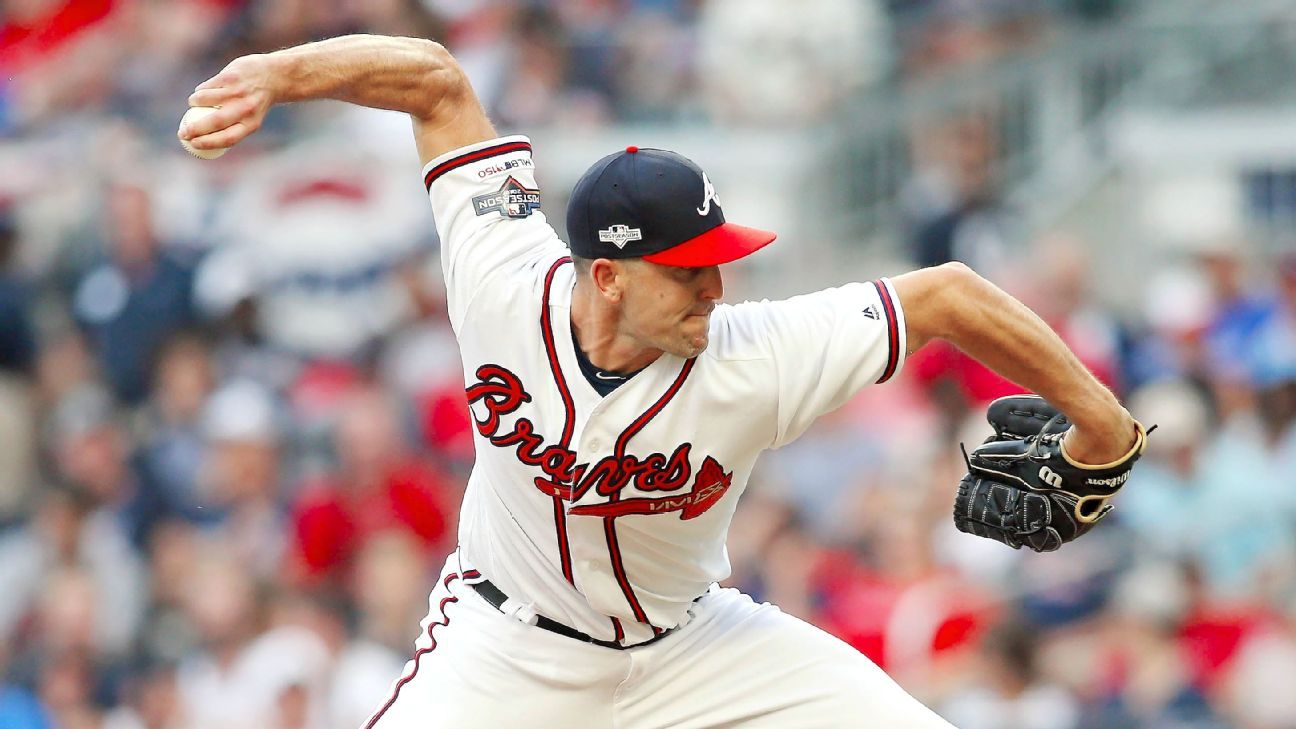 The New York Yankees quickly found a replacement for their bullpen, agreeing to a $2.5 million, one-year contract with submarining right-hander Darren O'Day, according to multiple reports.
The deal includes player and club options for 2022 and is subject to a successful physical, according to reports.
O'Day takes the spot vacated when the Yankees traded right-hander Adam Ottavino to Boston on Monday, a move that cut $7.15 million from New York's payroll. O'Day figures to join left-hander Zack Britton and right-hander Chad Green as the primary setup men for closer Aroldis Chapman.
O'Day, 38, was 4-0 with a 1.10 ERA in 16⅓ innings over 19 games last year with Atlanta, striking out 22 and walking five while allowing eight hits. While his fastball averaged just 86 mph, his low arm angle creates deception; right-handed hitters batted .143 (7-for-49) off him with one home run, by Boston's Xander Bogaerts, the leadoff batter of O'Day's final appearance of the season. Left-handed hitters were 1 for 10.
He became a free agent when Atlanta declined a $3.25 million option, triggering a $250,000 buyout.
O'Day is a 13-year major league veteran, going 40-19 with a 2.51 ERA and 600 strikeouts and 158 walks in 576⅔ innings for the Los Angeles Angels (2008), New York Mets (2009), Texas (2009-11), Baltimore (2012-18) and Braves (2019-20).
He was an All-Star in 2015, when he had a 1.52 ERA and six saves while striking out 82 in 65⅓ innings, but he missed the final two months of the 2018 season with a strained left hamstring and the first five months of 2019 with a strained right forearm sustained during spring training.
O'Day made $833,333 in prorated pay last year from a $2.25 million salary, down from a $31 million, four-year contract he signed with Baltimore ahead of the 2016 season. His wife, Elizabeth Prann, is a correspondent for HLN and CNN, formerly of Fox News.
The Associated Press contributed to this report.