INDIANAPOLIS — The way one NFL team executive sees it, Aaron Rodgers can name his price when it comes to his next contract. Especially with the kind of money the San Francisco 49ers just gave Jimmy Garoppolo and what some team will surely pay Kirk Cousins.
"The quarterbacks who are more established and much better than a Garoppolo, much better than some of these guys, they could literally say, 'Redo it right now,'" Dallas Cowboys executive vice president Stephen Jones said Tuesday at the NFL scouting combine.
There's no doubt Rodgers' next contract will set a new bar, just like his five-year, $110 million extension did when he signed it in 2013. Rodgers' $22 million average per season made him the NFL's highest-paid player, let alone the richest quarterback. Now, he ranks sixth and still has two more seasons left on that deal.
No wonder the Green Bay Packers have already opened the lines of communication with Rodgers and his agent about a new contract, team president Mark Murphy told ESPN.com at the combine.
Rodgers' current deal — negotiated by Russ Ball, the team's executive vice president/director of football operations, and signed off on by then-general manager Ted Thompson — has remained salary cap friendly throughout. The figures ranged from $12 million the first year to $21.1 million in the final season (2019), and won't hit the $20 million mark until this coming season, when it's $20,562,500.
Garoppolo's five-year, $137.5 million deal took advantage of the 49ers' salary-cap situation — they had more than $100 million in space under the projected cap. It contained a $28.8 million roster bonus, all of which will count on the 2018 cap. After a $37 million cap change this season, the figures range between $20 million and $27 million.
"It's whatever your team is comfortable with," said John Elway, the Denver Broncos' president of football operations and general manager. "It's whatever fits into your team. It's got to fit into the puzzle."
For Rodgers, it might be about the cash, especially guaranteed money. But for the Packers, it will be about the structure and the cap to ensure new GM Brian Gutekunst has the ability to rebuild the roster how he sees fit.
"We want to create a win-win [situation]," Murphy said of Rodgers' next contract.
The Packers have remained in good salary-cap shape despite having to pay a top-tier quarterback, and Murphy said their cap should be able to absorb another blockbuster deal for Rodgers without having to cut corners at other positions.
"Oh yeah," he said, "although obviously there's only so much money."
The Packers carried over $3,934,518 in cap space from last season, according to the NFL Players Association. It puts the Packers at $15.9 million under the projected 2018 cap, according to ESPN Stats & Information research.
"At some point the quarterbacks, it's like with [Tom] Brady — you have to decide how much of the cap you want to take," Jones said. "These quarterbacks want to win football games, too, at some point. I know [Tony] Romo was that way. I don't know Aaron, but I'm sure these other quarterbacks are that way, if they feel like they take up too much room. … You want to have a good football team around you."
As long as the cap grows each season, there's not likely to be a ceiling for quarterback contracts.
"That's how our business works," Jones said. "The bigger surprise probably for everybody has just been the guys who haven't really done a lot that are getting paid these types of numbers, and of course that's risky business. But obviously these teams make decisions that they feel is in their best interests.
"Your quarterback is your partner. At some point when we sat down with Tony we told him, 'You just need to decide how much of this you want, what you think is fair.' The rest of it, they know us, we're going to spend it on teammates. So I think that's probably what every team with a top quarterback faces. It's up to them. It's, 'How much of this do you want?'"
Houston Texans coach David Culley tasked with changing culture, but will he have Deshaun Watson?
HOUSTON — Before all of the trade talk, reports about his future and the hiring of coach David Culley, Houston Texans quarterback Deshaun Watson was asked what he was looking for in his next head coach.
"I mean, we just need a whole culture shift," Watson said earlier in the month. "We just need new energy. We need discipline, we need structure, we need a leader so we can follow that leader as players. That's what we need. We've got to have the love of not just the game of football, because that's what we do, but the love for people and the people in this organization."
"… We need someone that stands tall and [says] this is who we're following and this is the way it goes … and we're going to do it this way to win."
Baltimore Ravens coach John Harbaugh, who hired Culley in 2019 as assistant head coach, said he was respected "as a teacher, game-planner and motivator." Culley is the first Black head coach hired by the Texans and the first in the NFL hiring cycle.
Of course, Watson might not be with the Texans to play for Culley, as ESPN's Chris Mortensen reported Sunday the quarterback is expected to want out of Houston regardless of whom the team hires. Watson isn't the only one who feels there needs to be a culture change.
By hiring Culley, the Texans hope they've found that person to build the foundation for which Watson asked.
But, for most Texans fans, Culley's name isn't a familiar one. So who is he and why did Texans CEO Cal McNair and general manager Nick Caserio pick him to be the franchise's next coach?
Who is David Culley?
Culley, 65, has spent the past two seasons in Baltimore as the Ravens' assistant head coach, passing game coordinator and wide receivers coach. He just finished his 27th season as an NFL coach after 16 seasons in various college coaching roles. He'll be the oldest coach in NFL history at the time of his head-coaching debut.
Culley has never been an offensive coordinator at the NFL level, but he has been an assistant head coach before his stint in Baltimore, for the Kansas City Chiefs. The Ravens were a run-first offense in 2020, as they led the NFL in rushing yards and ranked last in passing yards.
What does he bring to Houston?
The Texans are serious about fixing the organization's culture and believe Culley is the person to do it.
After doing a second interview with the Texans — this time in person — the team was impressed by Culley's energy and believes he has the NFL experience to deliver that cultural shift within the building, even if he hasn't been a coordinator.
"The thing I would emphasize about Coach Culley, more than anything, is what an amazing teacher and communicator he is," Ravens coach John Harbaugh said in 2019. "He's probably the best — I would say he's the best straight-up teacher, communicator that I've seen coaching football one-on-one, not just because he coaches it so well, but because he's so relentless and he coaches the important things."
"You can be relentless, but if you're coaching things that don't matter, then that's just a lot of hot air. He's coaching the things that matter, and you see the guys getting better every day within his position group."
McNair knew he wanted his general manager to take the lead on the coaching search. That is Caserio, who said the characteristic he was looking for most in a head coach is an ability to "lead people."
"Because in the end, football is a sport but it's about people, right?" Caserio said. "You have to make an investment in people. You have to be able to lead people. … Those are some of the things that will be important relative to whether or not they're a good playcaller on their respective side of the ball. But whoever it is will have some competency in some area."
"… I would say in our situation, relative to Deshaun, trying to put something in place that's sustainable for him that can allow him and the rest of the team and the organization to go out there and perform to their maximum capacity on a week-to-week basis. That's the goal."
What does this mean for Deshaun Watson?
This is perhaps the most important question and only Watson can answer it. If Watson still wants out regardless of whom the Texans hired, as Mortensen reported, then hiring Chiefs offensive coordinator Eric Bieniemy wouldn't have made a difference.
Now that the Texans have hired their new coach, the question is whether Watson will be here to see the culture shift he asked for in Houston. The quarterback hasn't requested a trade, but he could decide to do so once the hire is officially announced.
While the Texans could agree to trade terms with another team before the start of the new league year on March 17, a trade cannot be executed until then. The key time frame to pay attention to is before the NFL draft in April, because if the Texans were to trade Watson, they would want to make sure they're getting 2021 draft capital, when the pick slots are locked in.
What's next in Houston?
Watson put up the best numbers of his young career in 2020, and the team won only four games. Houston's defense struggled, finishing 30th in Football Outsiders' weighted DVOA. Of course, there are still a lot of holes on a defense that lacked young difference-makers, so whomever Culley hires as defensive coordinator will have a tall task ahead.
Regardless of whether the Texans trade Watson, those holes on the roster will remain. The Texans' first pick in this draft is No. 67, so they won't be able to add impact talent at a team-friendly price, and are currently $18 million over the projected 2021 salary cap (although that matters less than the cash they've already committed, which gives them some flexibility).
If Houston trades Watson, it will be able to plug in pieces on the defense and upgrade that side of the ball significantly, but then questions will remain at quarterback.
Broncos at their best behind a strong running game, but questions linger – Denver Broncos Blog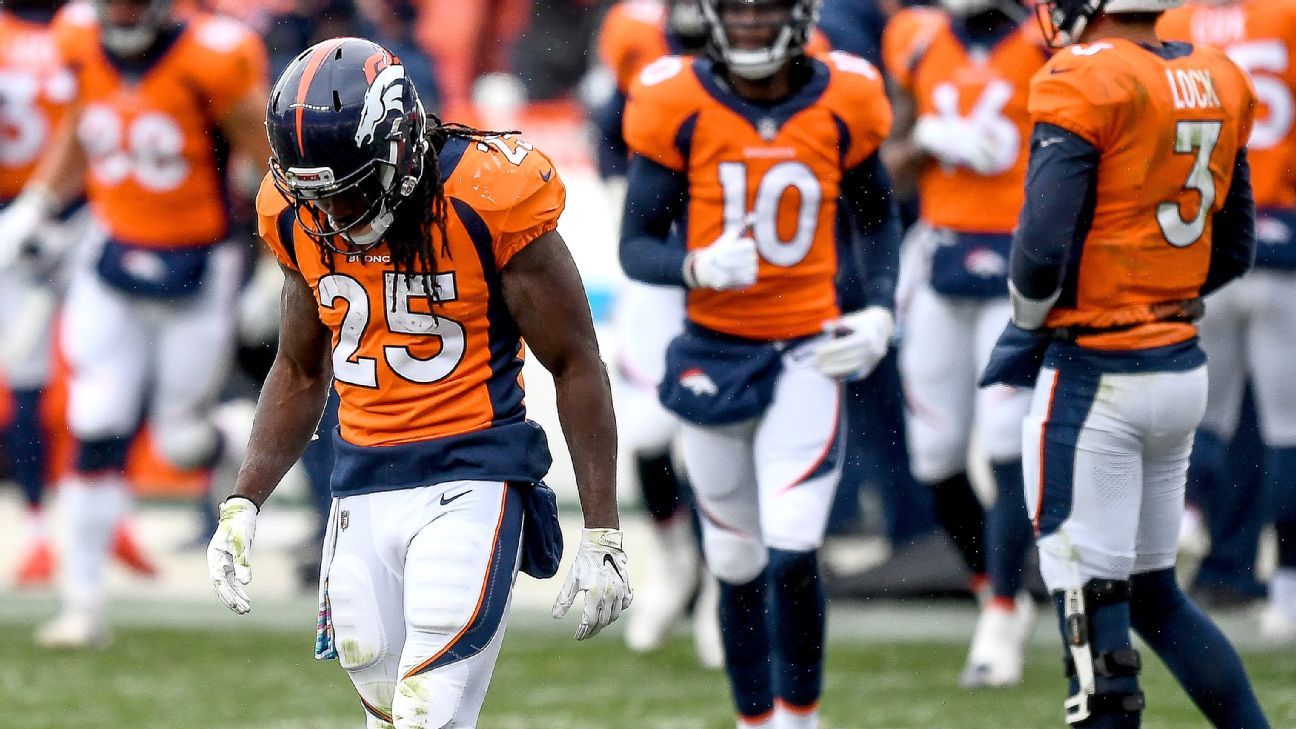 ENGLEWOOD, Colo. — When you evaluate where things stand for the Denver Broncos at running back this offseason, it looks more than a little shaky.
Leading rusher Melvin Gordon is facing a possible suspension to open the 2021 season and talked openly at season's end about hoping the Broncos keep him

Two-time 1,000-yard rusher Phillip Lindsay just finished the season on injured reserve for the second time in the past three years

The Broncos had one touchdown reception from a running back in 2020
Still, there were moments during the Broncos' 5-11 season when the running game had them looking their best, when the offensive line could show its physical side and the Broncos could use play-action.
• Ranking top 50 free agents »
• Biggest looming free-agent decisions »
• Top offseason needs for all 32 teams »
• See more on free agency »
"I think they're just really getting into a rhythm," Gordon said of the line. "… I'm super excited and stoked to see what we can do as a unit with them boys up front next year."
The Broncos know the deal. They reside in the AFC West where the Kansas City Chiefs rule the division and have scored at least 30 points in 58% of their regular-season games during Patrick Mahomes' three full years as the starting quarterback.
Grind it out isn't going to get it done. So, the suggestion, or even the feeling inside the Broncos' Dove Valley complex, isn't to put a ground-and-pound approach on the front burner. After all, five teams in the NFL threw at least 40 touchdown passes this past season and four of them played in this past weekend's conference championship games.
But quarterback Drew Lock and the Broncos were better when the running backs had an active piece of the production. The problem is that Gordon, Lindsay and the rest of the running backs are a rather large question mark.
Newly-hired general manager George Paton has said he believes the best way to succeed over the long haul is to draft and develop players. But he is also remaining open-minded: "Now when you go outside, will you be aggressive and dip into free agency or the trade market? Yeah, every now and then, but it takes that right type of player to do that. I think we all believe in drafting and developing and making them into your own. That's the best way to build a football team."
Gordon, who led the team in carries (215), rushing yards (986) and rushing touchdowns (nine), also had a DUI arrest in October and could face a three-game suspension from the NFL to begin the 2021 season. A suspension could also enable the Broncos, if they wish, to void the salary guarantees in Gordon's deal next season. It would also make it easier to release him if they wished.
His next hearing is scheduled for Feb. 24 with a potential jury trial April 8 if the case is not resolved before then.
"So, we'll see, hopefully it works out, and hopefully they like me enough to kind of put all that stuff to the side," Gordon said of his contract status. "I guess in a couple months or so we'll see what's up."
Lindsay had the Broncos' longest touchdown run of the season — 55 yards during the comeback win over the Chargers in November — and once again was consistently a spark when in the game. But he had surgery on his right wrist after both the 2018 and 2019 seasons, and he finished this year on injured reserve (knee, hip).
Lindsay is a restricted free agent — the Broncos could match any offers he receives from other teams — and after raising the idea of a new deal for Lindsay last offseason, there has been little movement from the Broncos' decision-makers on that front.
Royce Freeman, also a restricted free agent, had just 35 carries this season, and as a whole the running back group had little impact in the passing game. Gordon led the running backs with 32 of the group's 52 catches, but he averaged just 4.9 yards per catch, or just three-tenths of a yard more than he averaged per run.
It's all on the pile now as the Broncos move through the earliest stages of Paton's tenure during a week that includes Senior Bowl practices and the Chiefs preparing for their second consecutive Super Bowl.
"I just think we have to look from within and just build this thing the best we can," Paton said. "You start looking outside — obviously we're aware of how good this division is with Kansas City and some up-and-coming teams with the Raiders and the Chargers, but you need to build within first. We know what's out there."
Chiefs' Patrick Mahomes could join select club of QBs to top Tom Brady in Super Bowl – Kansas City Chiefs Blog
KANSAS CITY, Mo. — Patrick Mahomes was 6 years old when the New England Patriots won Super Bowl XXXVI and he has watched Tom Brady play quarterback on football's biggest stage many times since. So excuse Mahomes if it seems to him like Brady has played in more Super Bowls than have ever been played.
"Being able to go up against one of the greatest if not the greatest quarterback of all time in his 150th Super Bowl, it's going to be a great experience for me," Mahomes said after the Kansas City Chiefs won the AFC Championship Game to advance to Super Bowl LV against Brady and the Tampa Bay Buccaneers at Raymond James Stadium (6:30 p.m. ET, CBS).
"To go out there and get to have a chance to repeat and get to do it against the best, I mean it's something special and I'm excited for the opportunity."
In just his third season as a starter, Mahomes already has a Super Bowl victory. The Chiefs beat the San Francisco 49ers in Super Bowl LIV last year.
But he doesn't have one against Brady. Few quarterbacks do. The list includes just two names: Eli Manning, who beat Brady in a Super Bowl twice with the New York Giants, and Nick Foles, who did it with the Philadelphia Eagles.
The list of quarterbacks who have lost a Super Bowl to Brady is longer. Six have done it: Kurt Warner of the St. Louis Rams, Jake Delhomme of the Carolina Panthers, Donovan McNabb of the Eagles, Russell Wilson of the Seattle Seahawks, Matt Ryan of the Atlanta Falcons and Jared Goff of the Los Angeles Rams.
Mahomes' name will be on one of these lists and his legacy could eventually depend on which one. Brady with a victory would have a 3-2 record against Mahomes, including wins in an AFC Championship Game and a Super Bowl. He also would have seven Super Bowl victories, making it difficult for Mahomes to ever catch him.
Mahomes with a Chiefs victory would have that rare prize, a Super Bowl win over Brady, and would narrow the gap between them in championships to four.
He also might have some space in Brady's head, if this tweet Brady sent upon Manning's retirement last year is any indication.
Congratulations on your retirement, and a great career Eli! Not going to lie though, I wish you hadn't won any Super Bowls.

— Tom Brady (@TomBrady) January 24, 2020
Manning in a recent interview with Forbes magazine called the formula for beating Brady in a Super Bowl an easy one.
"You just have to have Michael Strahan, Justin Tuck, Osi Umenyiora and Jason Pierre-Paul on the defensive line — guys like that — making a bunch of sacks, and it shouldn't be a problem at all," Manning said.
The Chiefs won't have any of those players on defense in this year's Super Bowl. But Manning's point is well-taken. The Giants won twice against Brady because they held the Patriots to 14 points one time and 17 points the other.
But holding down the points isn't a foolproof way to get the job done. Brady and the Patriots scored 13 points against the Rams in Super Bowl LIII but won by 10. The Patriots scored 33 points in Super Bowl LII against Foles and the Eagles, but lost by eight.
Chiefs coach Andy Reid knows about losing to Brady in the Super Bowl. The Patriots beat Reid and the Eagles 24-21 in Super Bowl XXXIX. The Eagles trailed by 10 points in the fourth quarter but ate up too much of the game clock on a touchdown drive and left themselves little time to finish the comeback.
Reid may be Mahomes' greatest ally this time around. His offensive playcalling helped the Chiefs hold off Brady and the Bucs in Week 12 this season.
The Chiefs, after leading by 17 points earlier in the fourth quarter, were clinging to a 27-24 lead in the final minutes. Facing a third-and-7 the Chiefs needed to convert in order to keep the ball away from Brady, Reid called for a pass, which Mahomes completed for 8 yards to Tyreek Hill.
With a fresh set of downs the Chiefs ran out the clock. Asked why he risked an incomplete pass or an interception on third down rather than a running play that would have kept the clock moving, Reid said, "I learned a long time ago you don't give the ball back to Tom Brady."
Mahomes has played well in his four career matchups against Brady. He has 1,392 yards, or almost 350 yards per game, with 12 touchdown passes and three interceptions while completing more than 65% of his throws. His passer rating is 111.
Brady against Mahomes has 1,202 yards with six touchdowns and five interceptions while completing 63% of his passes. His passer rating is 82.
The series between the two is 2-2.
Reid will be worrying about bigger things once the game starts, but for now he's savoring the matchup.
"We look forward to the opportunity to play them and I know Pat does with Tom and I'm sure likewise Tom does with Pat," Reid said. "So it should be a heck of a football game."