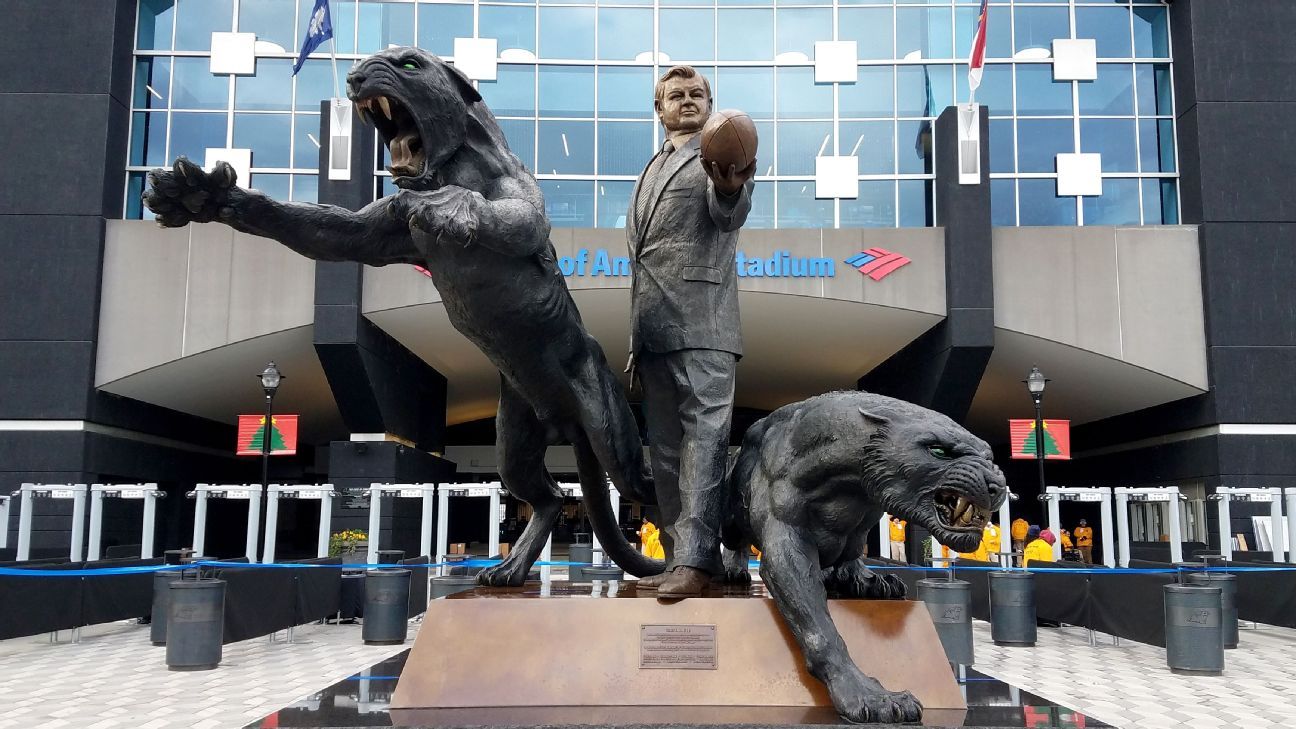 CHARLOTTE, N.C. — The next owner of the Carolina Panthers will set the market for other NFL teams that might go up for sale in the next five years. The next owner likely will not live in Charlotte, even though the team probably will remain here for years because this is where the league wants it. The next owner might even not be among the half-dozen reported potential bidders.
These are things we know.
What we don't know is who will be the next owner of the organization that founder Jerry Richardson put up for sale after the 2017 season amidst an NFL investigation into allegations of workplace misconduct ranging from sexual harassment to the use of a racial slur toward a former team scout.
We don't know when the purchase will be completed, though nothing appears imminent. The bidding process, which league sources say hasn't officially begun, could take months. Sources tell ESPN that the bidding likely will begin in March and could conclude by the May 21-23 spring meeting in Atlanta.
Richardson can accept or reject any bid, and the process could take several rounds of counter-bids before both sides reach an agreeable price.
Then three-quarters of the 32 owners must approve the sale, and that occurs after approval by the league's finance committee.
The spring meetings might be an optimistic timeline for approval.
The Buffalo Bills, the last NFL team sold, went on the market following the March 25, 2014, death of owner Ralph Wilson. The sale, for an NFL-record $1.4 billion, didn't get approval from the finance committee until September and wasn't finalized by owners until Oct. 8.
In other words, this is a lengthy process just like the sale of any corporation.
The Panthers have been valued at $2.3 billion, according to Forbes. They could be sold for that or more. They also could be sold for less — maybe considerably less.
It all depends on how many legitimate bidders there are to drive up the price. As it is now, there are only two real bidders: David Tepper and Ben Navarro.
Among the potential bidders reported so far, Tepper, the Pittsburgh Steelers' minority owner, appears to be the most solid in terms of having the capital to put up the required 30 percent of the selling price. If the team were to sell for $2.3 billion, that means $690 million up front.
Tepper, the founder of the global hedge fund firm Appaloosa Management, has a net worth of $11 billion, according to Forbes. He currently owns 5 percent of the Steelers. He caused an estimated $120 million tax loss for the state of New Jersey when he moved from there to Florida in 2016.
NFL executives have wondered if Tepper will open the floodgates or be a disciplined investor if he wins. The Panthers spent $198 million on the team in 2017, the second-most (the Lions spent $204 million) in the league, according to numbers released Monday by the NFLPA.
Because there appears to be a lack of other solid bidders, Tepper is the front-runner — at least for now.
Navarro, the founder of Charleston, South Carolina-based Sherman Financial Group LLC, was reported first by the Charlotte Observer as a potential Panthers bidder. He has a net worth of $3 billion, but sources tell ESPN that his assets are liquid enough to satisfy the 30 percent outlay.
Navarro could be a solid candidate from a financial standpoint, but he is not ideal from a sector standpoint. Sherman Financial Group and its affiliated companies buy delinquent consumer debt, mostly from credit card bills, in hopes of collecting what is owed and taking a cut.
While it's a tremendous business that Navarro has built to more than $2 billion in annual revenue, sources tell ESPN that the litigious nature of the debt collection industry has NFL owners concerned about having an NFL owner's name affiliated with such a business.
In 2014, Sherman had to pay $175,000 after New York Attorney General Eric Schneiderman charged the company with unlawful debt collection.
Given all the negative public relations the league has suffered — from safety and health issues to ownership battles and much more — it becomes harder to see Navarro winning. But he and Tepper are the major players known now.
Insiders are aware that multiple NFL teams likely will hit the market in the next five years, which could keep the Panthers' price below $2.3 billion.
The Tennessee Titans were asking for $500 million for a third of the team last year, according to league sources. They pulled back when they received an offer for only $300 million. That means the market, at least privately, valued the Titans at $900 million instead of the $1.5 billion they hoped. Nonetheless, expect the Titans to be back on the market soon.
The declining health of owners in New Orleans and Denver could lead those teams to be put for sale in the next five years, which means the marketplace could see the Panthers go for lower than expected because there's an expectation that other opportunities will be out there, including a gem in the Broncos.
While many have fixated on the Forbes number of $2.3 billion, no team in the past five transactions has traded for more than five times revenue. With Forbes putting the Panthers team revenue at $380 million, a five-times revenue evaluation has the team selling for $1.9 billion.
Some of the potential bidders for the Panthers have already taken themselves out of the equation. That is the case for Lorenzo and Frank Fertitta, the brothers who owned 80 percent of the Ultimate Fighting Championship before it was sold for $4 billion a year and a half ago.
They expressed initial interest in buying the Panthers, but sources told ESPN they now are out. The brothers engaged Rain Capital to explore the financials of the deal but knew that with their ownership of Red Rock Resorts Inc. — Frank is the chairman and CEO of the casino and entertainment company; Lorenzo is a board member — approval would be tough.
Although the league one day might accept owners who own gambling interests, that time does not appear to be now.
It doesn't make sense for the Fertittas to liquidate their investment. That said, expect the Fertittas to be bidders for NFL teams in the next five years and, one day, owners.
There also are bit players who are interested in the Panthers but don't have the financial wherewithal without a majority owner.
Several high-profile NASCAR drivers, including seven-time champion Jimmie Johnson, Kyle Busch, Dale Earnhardt Jr. and Jeff Gordon, reportedly have expressed interest in being minority owners with a group headed by Felix Sabates, who does not have the capital to be the primary investor.
The same goes for two-time NBA MVP Stephen Curry, a Charlotte native, who has expressed interest along with rap star Sean "P. Diddy" Combs in becoming a minority owner.
Speedway Motorsports founder Bruton Smith and his son, SMI president and COO Marcus Smith, have said in the past that they were interested in purchasing the team and have done initial research into what it would take. They don't appear to have the capital to be the majority owner.
The NFL allows up to 25 owners as long as one person puts down 30 percent. Richardson owns 48 percent of the Panthers.
Often in the sale of an NFL franchise, the names of potential owners don't become known until the bids are in or the sale is close to complete. That means there could be other potential bidders out there.
The Panthers have hired Steve Greenberg of New York investment bank Allen & Co. to help with the process. The banking and legal team have worked to sell the Los Angeles Clippers, Washington Wizards, St. Louis Cardinals, Brooklyn Nets and other big-name sports franchises in recent years.
That we also know. But there's still a lot more unknown than known.
'I don't feel valued, or respected'
Making the case he has outperformed his contract, Miami Dolphins Pro Bowl cornerback Xavien Howard said in a statement Tuesday night that he has requested a trade.
"I don't feel valued, or respected, by the Dolphins," Howard said. "Just like they can take a business-first approach, so can I."
Howard reported to training camp Tuesday but was frustrated all summer that Miami would not adjust his contract.
In 2019, Howard signed a five-year, $75 million deal that, at the time, made him the highest-paid cornerback in the NFL. But he is due $12 million in non-guaranteed money this year while coming off a 10-interception season (the most in the NFL since 2007) that earned him an All-Pro nod.
Howard's contract now ranks sixth in per-year average, and he switched agents recently to navigate his push for a stronger deal.
"I'm one of the best cornerbacks in the NFL, and the tape backs up that claim," Howard said. "Yet, I'm the second highest paid cornerback on my own team, and it's not even close."
Byron Jones, the corner opposite Howard, earned a five-year, $82.5 million deal in free agency last year.
Howard and his new agent, David Canter, never requested a new deal but instead offered solutions such as more guaranteed money on a reworked contract, Howard said. The organization refused those pitches, and "I don't feel the organization has dealt with me in good faith," the cornerback said.
"That's why I want to make it clear I'm not happy, and have requested a trade," Howard said. "Until that trade happens I am just here so I don't get fined, and will handle myself like professionals do."
Howard has what teams covet: the ability to play press-man coverage and get the ball. He has 22 interceptions and 55 pass deflections since entering the league out of Baylor in 2016. Only the Baltimore Ravens' Marcus Peters (23) has more picks during that span.
The last time Miami traded an elite player, it acquired two first-round picks in exchange for left tackle Laremy Tunsil in 2019.
'Ball's in his court': Larry Fitzgerald missed on first day of Cardinals' camp – Arizona Cardinals Blog
GLENDALE, Ariz. — When Arizona Cardinals running back Chase Edmonds walked to his room at the Renaissance Hotel in Glendale on Tuesday to prepare for the first day of training camp, he noticed he had the same accommodations as the last couple seasons.
But something was missing this year.
In the past, Larry Fitzgerald's room was near Edmonds' — but not this camp. Someone else is occupying that room.
For the first time since 2004, when he was negotiating his rookie contract, Fitzgerald wasn't at the first day of Cardinals' training camp. The 37-year-old is a free agent and hasn't publicly announced his plans for the near future: Come back and play an 18th season — with the Cardinals or someone else — or retire.
"Ball's in his court," coach Kliff Kingsbury said. "We've left it in his court. He's earned that. That's how we felt as an organization. And so that's where it's at."
The NFL season is almost here. Check out one last offseason move for all 32 teams: Read more »
• Full 2021 schedule | Depth charts »
• Transactions | Injuries | More NFL »
His absence was felt Tuesday by those Cardinals who played alongside Fitzgerald in the past.
Fellow wide receiver Christian Kirk sat down at his locker inside State Farm Stadium on Tuesday morning to prepare for the annual conditioning test that kicks off camp, and for the first time in his young career Fitzgerald wasn't next to him.
"It definitely feels weird without him," said Kirk, who was Fitzgerald's teammate from 2018 to 2020. "There's definitely going to be a little bit of an adjustment period for me.
"He's been around here, a part of this organization for so long, not having him here on the first day is a little weird."
The reality of that hasn't sunk in for Kirk.
"I'm not sure I really had time to you know really process that," Kirk said. "The immediate reaction to it, it's just a missing face, something that is so constant."
Kirk has missed Fitzgerald's attitude and personality this offseason from his humor to how he flips the proverbial switch to being serious on the field.
Edmonds was going to send a text message to the group chat he's in with former teammate Trent Sherfield, Fitzgerald and Kirk with a simple message: "We miss you."
Questions about Fitzgerald's playing future have been the hot topic during the past five offseasons. Not knowing which season was going to be Fitzgerald's last led Kirk to being more appreciative of Fitzgerald.
"Because you never knew going into a new year with him if he's gonna retire or if he's not — never to take any moment around him for granted," Kirk said. "And I always made sure to cherish whether it was the last game, last practice, last time sitting down eating dinner, whatever it was, just to make sure I cherish those moments."
However, the Cardinals aren't closing the door just yet on the Larry Fitzgerald Era.
Kingsbury said the organization has a plan ready regardless of what Fitzgerald decides. Either way, there'll be a few major decisions about the makeup of the Cardinals' receiving room, one that currently includes DeAndre Hopkins, A.J. Green, Rondale Moore, KeeSean Johnson and Andy Isabella. Tuesday wasn't the time to discuss that — and, anyway, Kirk said he doesn't get paid to make those decision.
Both Kirk and Edmonds said Tuesday that they haven't asked Fitzgerald what his plans are for 2021. Kirk wasn't surprised that Fitzgerald has handled his playing future like this. Edmonds called Fitzgerald a "grown man" who's "been around the block a few times."
That didn't stop the question from being asked to Kirk: Is Fitzgerald coming back or not?
"That's the million dollar question."
WR Randall Cobb expects trade back to Green Bay Packers, source says
GREEN BAY, Wis. — One day after Aaron Rodgers verbally agreed to the terms of his return to the Green Bay Packers, the team seemingly met one of his requests by bringing back receiver Randall Cobb.
The Packers were on the verge of re-acquiring Cobb late Tuesday afternoon. A source said Cobb expects to be back with his old team once the final details of a trade with the Houston Texans were completed.
Cobb, who will turn 31 on Aug. 22, played his first eight seasons in Green Bay, where he was one of Rodgers' go-to receivers — especially in the slot.
He left in free agency following the 2018 season and spent one year with the Dallas Cowboys. He then signed a three-year, $27 million deal with the Texans, where he played in 10 games last season — one more than he did in his final season in Green Bay, when he battled lingering hamstring problems. He suffered a toe injury in Week 11 last year and missed six games. He finished with 38 catches, 441 yards and three touchdowns.
Rodgers hasn't had a true slot receiver since Cobb's departure. To fill that void in their offense, the Packers drafted Amari Rodgers in the third round of this year's draft.
Apparently, Rodgers-to-Cobb had a better ring to it than Rodgers-to-Rodgers, but it's unclear if bringing back Cobb was a condition of Rodgers' return or merely a suggestion that the Packers decided to honor. When Cobb left the Packers, he did so ranked sixth in franchise history with 470 catches and 11th in both receiving yards (5,524) and touchdown catches (41). His best season came in 2014, when he caught 91 passes for 1,287 yards and 12 touchdowns. That was one of two seasons in his career in which he did not miss a game.
While Cobb's role is yet to be determined and could hinge largely on his ability to stay healthy, Cobb also could help mentor Amari Rodgers. There's already a connection between the two; Rodgers' father, Tee Martin, coached Cobb in college at Kentucky.
The trade no doubt will include a contract restructuring for Cobb, who was scheduled to make $8.25 million this season.
In an unrelated move, the Packers released two quarterbacks: veteran Blake Bortles and Jake Dolegala. Bortles signed a one-year, minimum-salary contract with no guarantees on May 24 in the midst of Rodgers' absence from the offseason program. Dolegala signed with the Packers following a tryout during the June minicamp.
It leaves three quarterbacks on the roster — Rodgers, Jordan Love and Kurt Benkert — on the eve of the first training camp practice on Wednesday.