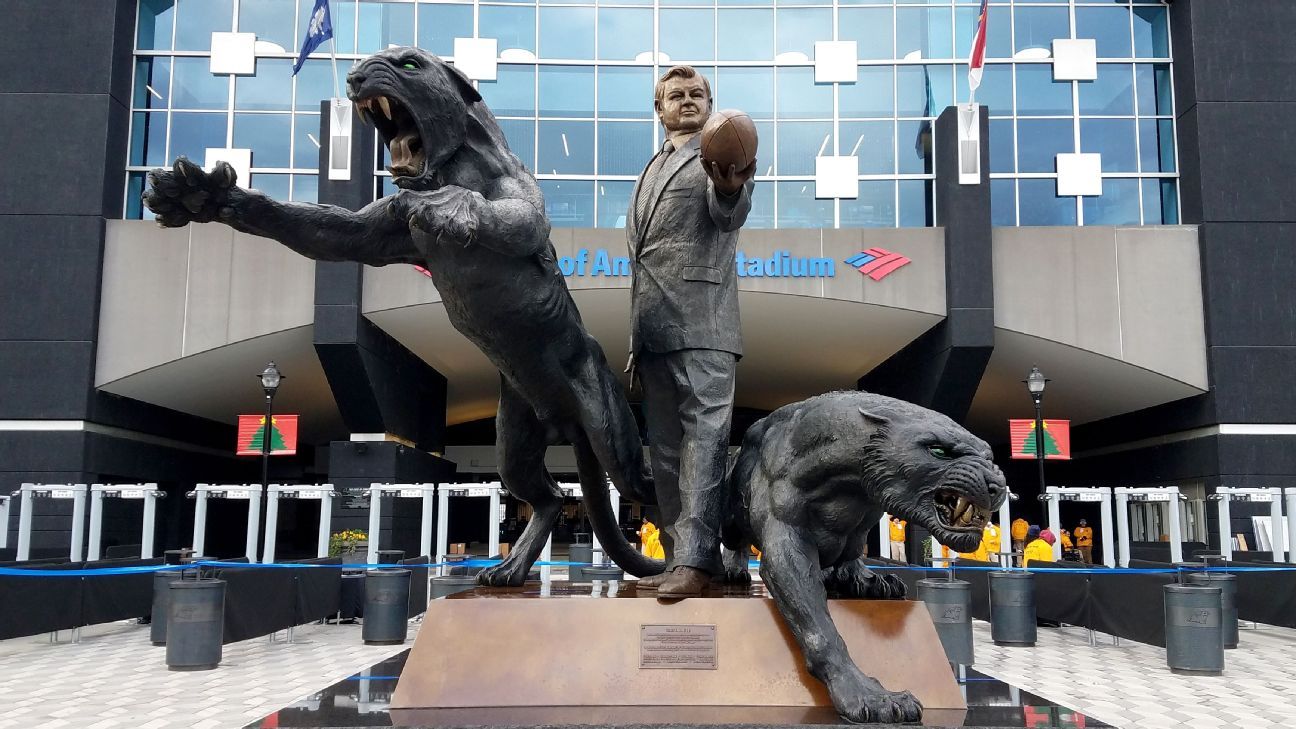 CHARLOTTE, N.C. — The next owner of the Carolina Panthers will set the market for other NFL teams that might go up for sale in the next five years. The next owner likely will not live in Charlotte, even though the team probably will remain here for years because this is where the league wants it. The next owner might even not be among the half-dozen reported potential bidders.
These are things we know.
What we don't know is who will be the next owner of the organization that founder Jerry Richardson put up for sale after the 2017 season amidst an NFL investigation into allegations of workplace misconduct ranging from sexual harassment to the use of a racial slur toward a former team scout.
We don't know when the purchase will be completed, though nothing appears imminent. The bidding process, which league sources say hasn't officially begun, could take months. Sources tell ESPN that the bidding likely will begin in March and could conclude by the May 21-23 spring meeting in Atlanta.
Richardson can accept or reject any bid, and the process could take several rounds of counter-bids before both sides reach an agreeable price.
Then three-quarters of the 32 owners must approve the sale, and that occurs after approval by the league's finance committee.
The spring meetings might be an optimistic timeline for approval.
The Buffalo Bills, the last NFL team sold, went on the market following the March 25, 2014, death of owner Ralph Wilson. The sale, for an NFL-record $1.4 billion, didn't get approval from the finance committee until September and wasn't finalized by owners until Oct. 8.
In other words, this is a lengthy process just like the sale of any corporation.
The Panthers have been valued at $2.3 billion, according to Forbes. They could be sold for that or more. They also could be sold for less — maybe considerably less.
It all depends on how many legitimate bidders there are to drive up the price. As it is now, there are only two real bidders: David Tepper and Ben Navarro.
Among the potential bidders reported so far, Tepper, the Pittsburgh Steelers' minority owner, appears to be the most solid in terms of having the capital to put up the required 30 percent of the selling price. If the team were to sell for $2.3 billion, that means $690 million up front.
Tepper, the founder of the global hedge fund firm Appaloosa Management, has a net worth of $11 billion, according to Forbes. He currently owns 5 percent of the Steelers. He caused an estimated $120 million tax loss for the state of New Jersey when he moved from there to Florida in 2016.
NFL executives have wondered if Tepper will open the floodgates or be a disciplined investor if he wins. The Panthers spent $198 million on the team in 2017, the second-most (the Lions spent $204 million) in the league, according to numbers released Monday by the NFLPA.
Because there appears to be a lack of other solid bidders, Tepper is the front-runner — at least for now.
Navarro, the founder of Charleston, South Carolina-based Sherman Financial Group LLC, was reported first by the Charlotte Observer as a potential Panthers bidder. He has a net worth of $3 billion, but sources tell ESPN that his assets are liquid enough to satisfy the 30 percent outlay.
Navarro could be a solid candidate from a financial standpoint, but he is not ideal from a sector standpoint. Sherman Financial Group and its affiliated companies buy delinquent consumer debt, mostly from credit card bills, in hopes of collecting what is owed and taking a cut.
While it's a tremendous business that Navarro has built to more than $2 billion in annual revenue, sources tell ESPN that the litigious nature of the debt collection industry has NFL owners concerned about having an NFL owner's name affiliated with such a business.
In 2014, Sherman had to pay $175,000 after New York Attorney General Eric Schneiderman charged the company with unlawful debt collection.
Given all the negative public relations the league has suffered — from safety and health issues to ownership battles and much more — it becomes harder to see Navarro winning. But he and Tepper are the major players known now.
Insiders are aware that multiple NFL teams likely will hit the market in the next five years, which could keep the Panthers' price below $2.3 billion.
The Tennessee Titans were asking for $500 million for a third of the team last year, according to league sources. They pulled back when they received an offer for only $300 million. That means the market, at least privately, valued the Titans at $900 million instead of the $1.5 billion they hoped. Nonetheless, expect the Titans to be back on the market soon.
The declining health of owners in New Orleans and Denver could lead those teams to be put for sale in the next five years, which means the marketplace could see the Panthers go for lower than expected because there's an expectation that other opportunities will be out there, including a gem in the Broncos.
While many have fixated on the Forbes number of $2.3 billion, no team in the past five transactions has traded for more than five times revenue. With Forbes putting the Panthers team revenue at $380 million, a five-times revenue evaluation has the team selling for $1.9 billion.
Some of the potential bidders for the Panthers have already taken themselves out of the equation. That is the case for Lorenzo and Frank Fertitta, the brothers who owned 80 percent of the Ultimate Fighting Championship before it was sold for $4 billion a year and a half ago.
They expressed initial interest in buying the Panthers, but sources told ESPN they now are out. The brothers engaged Rain Capital to explore the financials of the deal but knew that with their ownership of Red Rock Resorts Inc. — Frank is the chairman and CEO of the casino and entertainment company; Lorenzo is a board member — approval would be tough.
Although the league one day might accept owners who own gambling interests, that time does not appear to be now.
It doesn't make sense for the Fertittas to liquidate their investment. That said, expect the Fertittas to be bidders for NFL teams in the next five years and, one day, owners.
There also are bit players who are interested in the Panthers but don't have the financial wherewithal without a majority owner.
Several high-profile NASCAR drivers, including seven-time champion Jimmie Johnson, Kyle Busch, Dale Earnhardt Jr. and Jeff Gordon, reportedly have expressed interest in being minority owners with a group headed by Felix Sabates, who does not have the capital to be the primary investor.
The same goes for two-time NBA MVP Stephen Curry, a Charlotte native, who has expressed interest along with rap star Sean "P. Diddy" Combs in becoming a minority owner.
Speedway Motorsports founder Bruton Smith and his son, SMI president and COO Marcus Smith, have said in the past that they were interested in purchasing the team and have done initial research into what it would take. They don't appear to have the capital to be the majority owner.
The NFL allows up to 25 owners as long as one person puts down 30 percent. Richardson owns 48 percent of the Panthers.
Often in the sale of an NFL franchise, the names of potential owners don't become known until the bids are in or the sale is close to complete. That means there could be other potential bidders out there.
The Panthers have hired Steve Greenberg of New York investment bank Allen & Co. to help with the process. The banking and legal team have worked to sell the Los Angeles Clippers, Washington Wizards, St. Louis Cardinals, Brooklyn Nets and other big-name sports franchises in recent years.
That we also know. But there's still a lot more unknown than known.
Houston Texans coach David Culley tasked with changing culture, but will he have Deshaun Watson?
HOUSTON — Before all of the trade talk, reports about his future and the hiring of coach David Culley, Houston Texans quarterback Deshaun Watson was asked what he was looking for in his next head coach.
"I mean, we just need a whole culture shift," Watson said earlier in the month. "We just need new energy. We need discipline, we need structure, we need a leader so we can follow that leader as players. That's what we need. We've got to have the love of not just the game of football, because that's what we do, but the love for people and the people in this organization."
"… We need someone that stands tall and [says] this is who we're following and this is the way it goes … and we're going to do it this way to win."
Baltimore Ravens coach John Harbaugh, who hired Culley in 2019 as assistant head coach, said he was respected "as a teacher, game-planner and motivator." Culley is the first Black head coach hired by the Texans and the first in the NFL hiring cycle.
Of course, Watson might not be with the Texans to play for Culley, as ESPN's Chris Mortensen reported Sunday the quarterback is expected to want out of Houston regardless of whom the team hires. Watson isn't the only one who feels there needs to be a culture change.
By hiring Culley, the Texans hope they've found that person to build the foundation for which Watson asked.
But, for most Texans fans, Culley's name isn't a familiar one. So who is he and why did Texans CEO Cal McNair and general manager Nick Caserio pick him to be the franchise's next coach?
Who is David Culley?
Culley, 65, has spent the past two seasons in Baltimore as the Ravens' assistant head coach, passing game coordinator and wide receivers coach. He just finished his 27th season as an NFL coach after 16 seasons in various college coaching roles. He'll be the oldest coach in NFL history at the time of his head-coaching debut.
Culley has never been an offensive coordinator at the NFL level, but he has been an assistant head coach before his stint in Baltimore, for the Kansas City Chiefs. The Ravens were a run-first offense in 2020, as they led the NFL in rushing yards and ranked last in passing yards.
What does he bring to Houston?
The Texans are serious about fixing the organization's culture and believe Culley is the person to do it.
After doing a second interview with the Texans — this time in person — the team was impressed by Culley's energy and believes he has the NFL experience to deliver that cultural shift within the building, even if he hasn't been a coordinator.
"The thing I would emphasize about Coach Culley, more than anything, is what an amazing teacher and communicator he is," Ravens coach John Harbaugh said in 2019. "He's probably the best — I would say he's the best straight-up teacher, communicator that I've seen coaching football one-on-one, not just because he coaches it so well, but because he's so relentless and he coaches the important things."
"You can be relentless, but if you're coaching things that don't matter, then that's just a lot of hot air. He's coaching the things that matter, and you see the guys getting better every day within his position group."
McNair knew he wanted his general manager to take the lead on the coaching search. That is Caserio, who said the characteristic he was looking for most in a head coach is an ability to "lead people."
"Because in the end, football is a sport but it's about people, right?" Caserio said. "You have to make an investment in people. You have to be able to lead people. … Those are some of the things that will be important relative to whether or not they're a good playcaller on their respective side of the ball. But whoever it is will have some competency in some area."
"… I would say in our situation, relative to Deshaun, trying to put something in place that's sustainable for him that can allow him and the rest of the team and the organization to go out there and perform to their maximum capacity on a week-to-week basis. That's the goal."
What does this mean for Deshaun Watson?
This is perhaps the most important question and only Watson can answer it. If Watson still wants out regardless of whom the Texans hired, as Mortensen reported, then hiring Chiefs offensive coordinator Eric Bieniemy wouldn't have made a difference.
Now that the Texans have hired their new coach, the question is whether Watson will be here to see the culture shift he asked for in Houston. The quarterback hasn't requested a trade, but he could decide to do so once the hire is officially announced.
While the Texans could agree to trade terms with another team before the start of the new league year on March 17, a trade cannot be executed until then. The key time frame to pay attention to is before the NFL draft in April, because if the Texans were to trade Watson, they would want to make sure they're getting 2021 draft capital, when the pick slots are locked in.
What's next in Houston?
Watson put up the best numbers of his young career in 2020, and the team won only four games. Houston's defense struggled, finishing 30th in Football Outsiders' weighted DVOA. Of course, there are still a lot of holes on a defense that lacked young difference-makers, so whomever Culley hires as defensive coordinator will have a tall task ahead.
Regardless of whether the Texans trade Watson, those holes on the roster will remain. The Texans' first pick in this draft is No. 67, so they won't be able to add impact talent at a team-friendly price, and are currently $18 million over the projected 2021 salary cap (although that matters less than the cash they've already committed, which gives them some flexibility).
If Houston trades Watson, it will be able to plug in pieces on the defense and upgrade that side of the ball significantly, but then questions will remain at quarterback.
Broncos at their best behind a strong running game, but questions linger – Denver Broncos Blog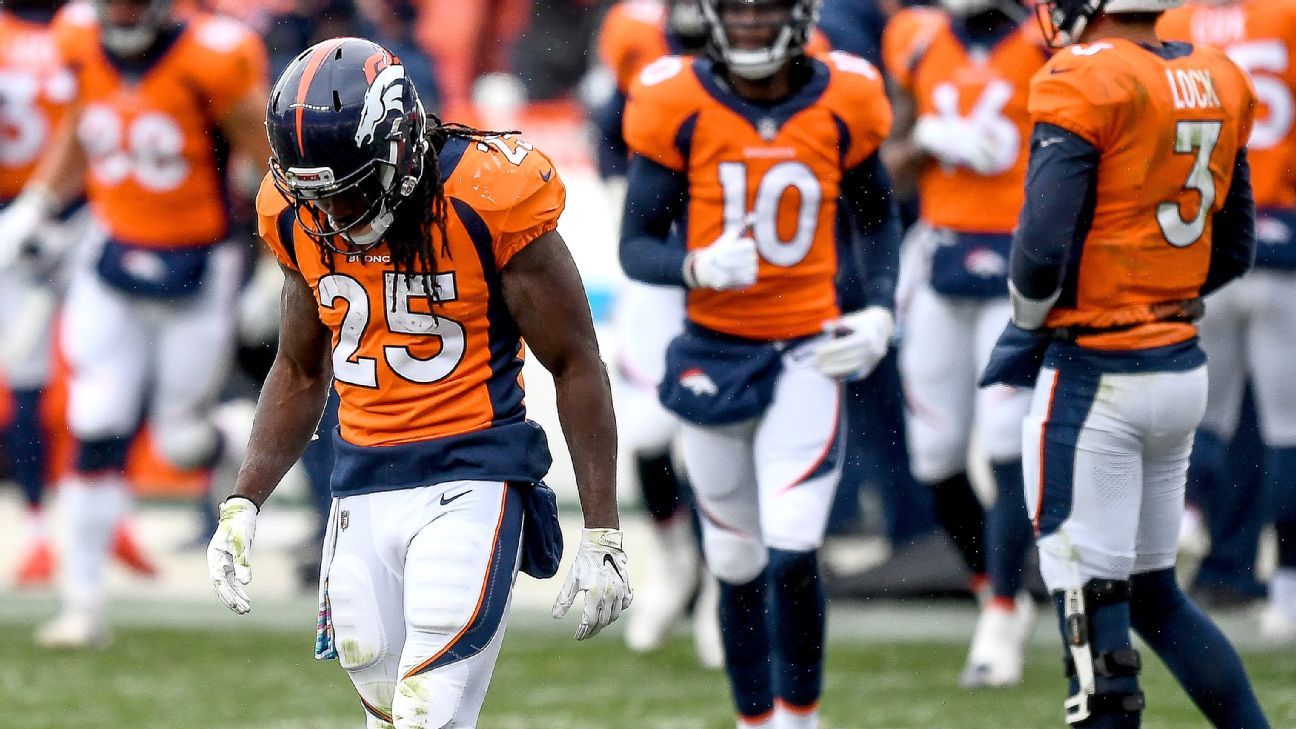 ENGLEWOOD, Colo. — When you evaluate where things stand for the Denver Broncos at running back this offseason, it looks more than a little shaky.
Leading rusher Melvin Gordon is facing a possible suspension to open the 2021 season and talked openly at season's end about hoping the Broncos keep him

Two-time 1,000-yard rusher Phillip Lindsay just finished the season on injured reserve for the second time in the past three years

The Broncos had one touchdown reception from a running back in 2020
Still, there were moments during the Broncos' 5-11 season when the running game had them looking their best, when the offensive line could show its physical side and the Broncos could use play-action.
• Ranking top 50 free agents »
• Biggest looming free-agent decisions »
• Top offseason needs for all 32 teams »
• See more on free agency »
"I think they're just really getting into a rhythm," Gordon said of the line. "… I'm super excited and stoked to see what we can do as a unit with them boys up front next year."
The Broncos know the deal. They reside in the AFC West where the Kansas City Chiefs rule the division and have scored at least 30 points in 58% of their regular-season games during Patrick Mahomes' three full years as the starting quarterback.
Grind it out isn't going to get it done. So, the suggestion, or even the feeling inside the Broncos' Dove Valley complex, isn't to put a ground-and-pound approach on the front burner. After all, five teams in the NFL threw at least 40 touchdown passes this past season and four of them played in this past weekend's conference championship games.
But quarterback Drew Lock and the Broncos were better when the running backs had an active piece of the production. The problem is that Gordon, Lindsay and the rest of the running backs are a rather large question mark.
Newly-hired general manager George Paton has said he believes the best way to succeed over the long haul is to draft and develop players. But he is also remaining open-minded: "Now when you go outside, will you be aggressive and dip into free agency or the trade market? Yeah, every now and then, but it takes that right type of player to do that. I think we all believe in drafting and developing and making them into your own. That's the best way to build a football team."
Gordon, who led the team in carries (215), rushing yards (986) and rushing touchdowns (nine), also had a DUI arrest in October and could face a three-game suspension from the NFL to begin the 2021 season. A suspension could also enable the Broncos, if they wish, to void the salary guarantees in Gordon's deal next season. It would also make it easier to release him if they wished.
His next hearing is scheduled for Feb. 24 with a potential jury trial April 8 if the case is not resolved before then.
"So, we'll see, hopefully it works out, and hopefully they like me enough to kind of put all that stuff to the side," Gordon said of his contract status. "I guess in a couple months or so we'll see what's up."
Lindsay had the Broncos' longest touchdown run of the season — 55 yards during the comeback win over the Chargers in November — and once again was consistently a spark when in the game. But he had surgery on his right wrist after both the 2018 and 2019 seasons, and he finished this year on injured reserve (knee, hip).
Lindsay is a restricted free agent — the Broncos could match any offers he receives from other teams — and after raising the idea of a new deal for Lindsay last offseason, there has been little movement from the Broncos' decision-makers on that front.
Royce Freeman, also a restricted free agent, had just 35 carries this season, and as a whole the running back group had little impact in the passing game. Gordon led the running backs with 32 of the group's 52 catches, but he averaged just 4.9 yards per catch, or just three-tenths of a yard more than he averaged per run.
It's all on the pile now as the Broncos move through the earliest stages of Paton's tenure during a week that includes Senior Bowl practices and the Chiefs preparing for their second consecutive Super Bowl.
"I just think we have to look from within and just build this thing the best we can," Paton said. "You start looking outside — obviously we're aware of how good this division is with Kansas City and some up-and-coming teams with the Raiders and the Chargers, but you need to build within first. We know what's out there."
Chiefs' Patrick Mahomes could join select club of QBs to top Tom Brady in Super Bowl – Kansas City Chiefs Blog
KANSAS CITY, Mo. — Patrick Mahomes was 6 years old when the New England Patriots won Super Bowl XXXVI and he has watched Tom Brady play quarterback on football's biggest stage many times since. So excuse Mahomes if it seems to him like Brady has played in more Super Bowls than have ever been played.
"Being able to go up against one of the greatest if not the greatest quarterback of all time in his 150th Super Bowl, it's going to be a great experience for me," Mahomes said after the Kansas City Chiefs won the AFC Championship Game to advance to Super Bowl LV against Brady and the Tampa Bay Buccaneers at Raymond James Stadium (6:30 p.m. ET, CBS).
"To go out there and get to have a chance to repeat and get to do it against the best, I mean it's something special and I'm excited for the opportunity."
In just his third season as a starter, Mahomes already has a Super Bowl victory. The Chiefs beat the San Francisco 49ers in Super Bowl LIV last year.
But he doesn't have one against Brady. Few quarterbacks do. The list includes just two names: Eli Manning, who beat Brady in a Super Bowl twice with the New York Giants, and Nick Foles, who did it with the Philadelphia Eagles.
The list of quarterbacks who have lost a Super Bowl to Brady is longer. Six have done it: Kurt Warner of the St. Louis Rams, Jake Delhomme of the Carolina Panthers, Donovan McNabb of the Eagles, Russell Wilson of the Seattle Seahawks, Matt Ryan of the Atlanta Falcons and Jared Goff of the Los Angeles Rams.
Mahomes' name will be on one of these lists and his legacy could eventually depend on which one. Brady with a victory would have a 3-2 record against Mahomes, including wins in an AFC Championship Game and a Super Bowl. He also would have seven Super Bowl victories, making it difficult for Mahomes to ever catch him.
Mahomes with a Chiefs victory would have that rare prize, a Super Bowl win over Brady, and would narrow the gap between them in championships to four.
He also might have some space in Brady's head, if this tweet Brady sent upon Manning's retirement last year is any indication.
Congratulations on your retirement, and a great career Eli! Not going to lie though, I wish you hadn't won any Super Bowls.

— Tom Brady (@TomBrady) January 24, 2020
Manning in a recent interview with Forbes magazine called the formula for beating Brady in a Super Bowl an easy one.
"You just have to have Michael Strahan, Justin Tuck, Osi Umenyiora and Jason Pierre-Paul on the defensive line — guys like that — making a bunch of sacks, and it shouldn't be a problem at all," Manning said.
The Chiefs won't have any of those players on defense in this year's Super Bowl. But Manning's point is well-taken. The Giants won twice against Brady because they held the Patriots to 14 points one time and 17 points the other.
But holding down the points isn't a foolproof way to get the job done. Brady and the Patriots scored 13 points against the Rams in Super Bowl LIII but won by 10. The Patriots scored 33 points in Super Bowl LII against Foles and the Eagles, but lost by eight.
Chiefs coach Andy Reid knows about losing to Brady in the Super Bowl. The Patriots beat Reid and the Eagles 24-21 in Super Bowl XXXIX. The Eagles trailed by 10 points in the fourth quarter but ate up too much of the game clock on a touchdown drive and left themselves little time to finish the comeback.
Reid may be Mahomes' greatest ally this time around. His offensive playcalling helped the Chiefs hold off Brady and the Bucs in Week 12 this season.
The Chiefs, after leading by 17 points earlier in the fourth quarter, were clinging to a 27-24 lead in the final minutes. Facing a third-and-7 the Chiefs needed to convert in order to keep the ball away from Brady, Reid called for a pass, which Mahomes completed for 8 yards to Tyreek Hill.
With a fresh set of downs the Chiefs ran out the clock. Asked why he risked an incomplete pass or an interception on third down rather than a running play that would have kept the clock moving, Reid said, "I learned a long time ago you don't give the ball back to Tom Brady."
Mahomes has played well in his four career matchups against Brady. He has 1,392 yards, or almost 350 yards per game, with 12 touchdown passes and three interceptions while completing more than 65% of his throws. His passer rating is 111.
Brady against Mahomes has 1,202 yards with six touchdowns and five interceptions while completing 63% of his passes. His passer rating is 82.
The series between the two is 2-2.
Reid will be worrying about bigger things once the game starts, but for now he's savoring the matchup.
"We look forward to the opportunity to play them and I know Pat does with Tom and I'm sure likewise Tom does with Pat," Reid said. "So it should be a heck of a football game."