The decision to extend Blake Bortles' contract doesn't stem from the quarterback's ability. It isn't a product of what he showed in the postseason during two impressive games against the Steelers and Patriots or, alternately, in a dismal effort at home against the Bills.
Jacksonville's decision to re-sign Bortles is a product of a questionable decision the Jaguars made last year — it seemed questionable at the time and has grown worse with some perspective. It's also a reflection on where this team is going and whether the Jags can build upon an impressive 2017 season to take that final leap past the Patriots and into the Super Bowl.
Last May, the Jaguars decided to exercise Bortles' fifth-year option, which gave the team another year of cost control on their enigmatic quarterback through the 2018 season. The fifth-year option for players taken in the top 10 of the draft is rather expensive for quarterbacks, given that it represents the average salary of the top 10 players at the position. For Bortles, that fifth-year option was more than $19 million.
The salary is guaranteed only for injury, so in most cases, teams that regret the move can just cut the player and move on without any penalty. Players who can't pass a physical by the beginning of the new league year (in March) remain on the cap and get paid, even if they can't play, as will likely be the case for Ryan Shazier in Pittsburgh. The Steelers naturally couldn't have anticipated in May that their star inside linebacker would suffer a career-threatening spinal injury six months later, but for Pittsburgh, the reward of having another year of cost control over Shazier was worth the risk that he would suffer a serious injury.
Likewise, the Jaguars were about to be stuck paying Bortles $19 million for an injury he had when Jacksonville signed him to the extension. The UCF product suffered a wrist injury during the final month of the 2016 season, which the Jaguars elected to treat with shots in the hopes of avoiding surgery. The Jags then picked up Bortles' option last May all while knowing he had a wrist injury that might require surgery after the 2017 campaign. The wrist got worse as the 2017 season went on, requiring Bortles to undergo surgery after the season ended in late January.
A move that seemed iffy at the time without public knowledge of the injury and looked downright foolish once the Jags briefly benched Bortles during the preseason for Chad Henne only looks worse now. Given the likelihood that Bortles would be unable to pass a physical and subsequently be guaranteed $19 million before hitting free agency next season, the Jaguars made the decision to tender him a three-year, $54 million deal with $26.5 million guaranteed at signing. The fifth-year option was a sunk cost, and the Jaguars didn't make a terrible move by handing Bortles this deal, but it raises questions about their thought process heading into 2018 and beyond.
The details of the deal
There's a slim chance Bortles will actually end up playing out this extension for all three years, as teams almost never let a veteran quarterback play into the final year of his contract. This is more realistically a two-year deal for somewhere between $30 million and $36 million, plus incentives, with the ability to renegotiate after 2019 without having to resort to the franchise tag.
To gain that concession, the Jags had to drastically increase the chances Bortles remains the starting quarterback for Jacksonville in 2019. The structure of this deal — namely, the $15 million signing bonus, which is spread over three seasons for cap purposes — means the Jaguars would pay a steep cost to dump Bortles after one season. Cutting the soon-to-be 26-year-old would leave a minimum of $10 million in dead money on their cap next year.
That number could rise as high as $16.5 million if Bortles can't play; the Jags guaranteed $6.5 million of his $16 million base salary in 2019 with offsets, which another team would inherit as part of a new deal. If Jacksonville cut Bortles after 2018 and he signed a one-year, $3 million contract with, for instance, the Browns, the Jags would owe Bortles $3.5 million in cash and have $13 million in dead money on their cap for 2019.
It's surprising that the Jags would structure Bortles' deal in such a way. Under general manager Dave Caldwell, they have typically gone year-to-year with their contracts, guaranteeing money up front over the first two years of contracts with base salaries and roster bonuses while retaining flexibility afterward. That has come in handy when free agents such as Chris Ivory and Julius Thomas haven't worked out, but it's also how the Jags have operated in re-signing homegrown talent.
In the case of star linebacker Telvin Smith and the four-year, $45 million deal he signed in October, for example, the Jags guaranteed a $3 million base salary in 2018 and an $8 million roster bonus, all of which hits the cap next year. Smith's $4.1 million signing bonus costs only about $810,000 in cap room per year, so the Jags could theoretically get out of Smith's extension after next season and have only $2.4 million in dead money remaining on their cap.
The Jaguars didn't give veteran stars such as Calais Campbell ($6 million) and A.J. Bouye ($10 million) huge signing bonuses as part of far larger and longer contracts when importing them in free agency last year. Either they've suddenly changed the way they do business and are going to approach the salary cap differently, or Bortles' camp insisted they structure this extension in such a way as to make it more likely the former third-overall pick is around for another season.
It's not about the money in Bortles' pocket. The Jaguars could have offered Bortles the same three-year, $54 million deal but replaced the $15 million signing bonus with a $6 million signing bonus and a $9 million roster bonus payable on the first day of the new league year. In that scenario, Bortles sees the money hit his bank account at exactly the same time, but the Jags would owe a minimum of $4 million and a maximum of $10.5 million by getting rid of Bortles after one season.
The other prescribed reason the Jaguars structured the deal this way might be to create cap space in 2018, but that doesn't make much sense. Jacksonville already had about $30 million in cap space with Bortles under contract at the $19 million mark. Their free-agent class includes star wideout Allen Robinson, fellow starting wideout Marqise Lee, nickel cornerback Aaron Colvin, veteran linebacker Paul Posluszny, and Henne. The Jags are unlikely to pay serious money to Colvin given their investment in Bouye. Henne and Posluszny will likely get modest one-year deals. Lee has pieced together one healthy, productive season as a pro. The Jags rightly want to keep around Robinson, but they could have franchised him for one year at $16.3 million or extended him with whatever structure they wanted without having to free up 2018 cap room.
If the Jaguars wanted to free up cap space in the short term for whatever reason, they could have cut struggling wideout Allen Hurns and saved $7 million. Alternately, Caldwell could have turned $12 million of Bouye's upcoming base salary into an option bonus and freed up $9 million, a move the Jags don't often do but one that would have entailed less risk than redoing Bortles' deal.
Borrowing from the future to create cap savings now also ignores the reality that the Jaguars are going to need cap room in the very near future. The Jags have just $17.1 million in free space next year before accounting for rollover or re-signing Robinson. Jacksonville also will be looking at extending Myles Jack and star edge rusher Yannick Ngakoue in 2019, given that they're both free agents after the 2019 campaign and due for hefty raises on the combined $3.1 million they'll account for on that year's cap. Caldwell can create cap room by cutting one of his expensive defensive linemen at that time, but the argument for the Jags clearing out space immediately at the cost of a totally different deal structure with Bortles doesn't really add up.
So, with the cap-space argument aside, the Jags made this move because they're comfortable betting that Bortles will be worth running out as their starter into the 2019 season, but not so comfortable that they were willing to give him the sort of five-year extension players such as Andrew Luck and Cam Newton signed before their fifth-year options actually played out. Is that wise?
Is Bortles worth it?
Depends on which guy shows up. Bortles had his best season in 2017, but it was topsy-turvy. Among the league's regular quarterbacks last season, only Cam Newton had a higher standard deviation in terms of game-to-game Total QBR than Bortles. Those numbers don't include the postseason, when Bortles was borderline unplayable as a passer against the Bills but used his legs to pick up first downs in the second half. He followed that with great games against the Steelers and Patriots, which clearly left a lasting memory in the minds of the Jacksonville front office.
When I evaluated Bortles after the 2015 season, I noted that what looked like impressive numbers were mostly hot air. A disproportionate amount of his success came in garbage time as the Jags faced defenses that were mostly concerned with holding on to leads. His biggest plays were a product of throwing up 50-50 balls to Robinson, who was developing into a top-tier wideout.
I can't make those arguments about Bortles this time around. Robinson went down with a torn ACL in Week 1, and the team's other nominal starters — Hurns and Lee — were each battling injuries for stretches of 2017. Bortles' best run came when he threw for 901 yards and seven touchdowns without a pick over a three-week stretch in December, with much of that damage coming on throws to fourth-round pick Dede Westbrook and undrafted free agents Keelan Cole and Jaydon Mickens.
Indeed, Bortles also wasn't padding his stats. In 2015, he dropped back 163 times on drives that started with his team possessing a win expectancy at or below 10 percent, which was the third-highest total in football. He posted a 98.6 passer rating on those drives. Last season, Bortles had 68 such dropbacks, which was 25th in the league. He also didn't derive much benefit from those situations, posting a passer rating of 75.0.
Instead, Bortles dominated teams when he got to throw without having to worry about dragging his Jags back into the game. On drives that began with the Jags enjoying a win expectancy of 75 percent or higher, Bortles was a monster. He completed nearly 67 percent of his throws, averaged 8.8 yards per attempt and threw eight touchdowns without a pick. His passer rating was 115.9 and his Total QBR was 82.0, which was second in the league in those situations behind Russell Wilson (91.2).
I don't bring this up to criticize Bortles — there's nothing wrong with throwing the ball effectively when your team is ahead, of course — but it's also fair to wonder how much of his perceived improvement from a team that benched him during the preseason is the context in which he played. After years of investing in running backs, the Jags had their best running game with Leonard Fournette in tow. The Jacksonville defense posted the best DVOA in the league, forced the opposing team to punt on a league-high 50.7 percent of possessions and allowed the Jags to run 191 meaningful possessions on offense, second behind the Cardinals. Bortles was facing plenty of tired defenses in 2017.
The Jags' defense is unlikely to be quite as effective next season, if only because of health; including their 11 starters and key reserves such as Colvin, Posluszny and Marcell Dareus, their defensive core missed all of three games during the regular season. Jacksonville also was dominant on offense in the red zone, scoring an average of 5.5 points per trip. That, too, is difficult to pull off on a recurring basis. Bortles is likely to shoulder a more meaningful part of the load and won't be in such passing-friendly situations.
On the other hand, he's likely to have Robinson back in the fold. If Robinson comes back with Cole and Westbrook, Jacksonville's top receivers will each be entering their age-25 campaigns and should improve. Fournette should be healthier after a midseason ankle injury kept him out and slowed him for much of the subsequent campaign. Cam Robinson was projected to end up as a right tackle, but he over-delivered as a rookie left tackle and allowed just two sacks in 15 games. He should continue to grow into his role.
The problem with judging Bortles gets back to that variance issue. The Jaguars didn't have any idea which quarterback they were going to get from week to week. After that incredible three-game stretch, Bortles threw five interceptions over the final two games of the year, although one was in a desperate, game-ending situation. He followed that with an awful game against the Bills in the wild-card round before looking impressive against two of the best teams in football.
If the Bills had mustered up anything on offense — or stopped the Jags on the fourth-and-goal, play-action touchdown pass that ended up winning the game for Jacksonville — Bortles' season would have ended with three straight ugly games and there's virtually no chance the Jaguars are picking up this option. Then again, if the ball doesn't bounce off a defender's hands before a field goal try at the end of the first half or his defense doesn't come up with a fourth-and-goal stop to win the game, Nick Foles never has the opportunity to have those two incredible games against the Vikings and Patriots, either.
The best way to evaluate Bortles is by looking at the entirety of his season and the way he has played over his entire career as a starter as opposed to looking at those two most recent games or the three beforehand. In that vein, it's hard to make a case that the Jags should be committing to playing Bortles past 2018. This is a guy who might not even have started in Week 1 if Henne had been more impressive during the preseason. Bortles' mechanics, which were a problem heading into the draft, fell apart in virtually unprecedented fashion under heavy pressure in 2016 before staying solid last season. With the Jags investing in weapon after weapon for their quarterback, Bortles ranks 29th in Total QBR and 30th in passer rating over the past four seasons among the 30 quarterbacks with at least 1,000 pass attempts.
The Jags proved that they can win with Bortles, and if not for a questionable call or two, they might have advanced to the Super Bowl with their much-maligned passer calling signals. It's also true that there might not be a guaranteed upgrade to Bortles waiting in the marketplace. Kirk Cousins could go elsewhere, and as ESPN NFL Insider Mike Sando noted on my podcast Monday, Cousins' Total QBR in 2017 (52.3) was below that of Bortles (55.6). The Washington star was also the third-most inconsistent quarterback of the season. Eli Manning appears to be staying in New York and hasn't been very good over the past two years. Sam Bradford hasn't been able to stay healthy. Case Keenum has one year of success on his track record, and, like Bortles, it came during a 2017 season in which a good running game and a dominant defense did a lot of the work.
At the same time, though, it's not difficult to imagine that a Jaguars offense whose job is first and foremost to avoid turnovers might very well be better with Alex Smith at the helm, and Jacksonville could have topped Washington's offer if so inclined. Cousins has a far longer track record of success than Bortles and likely has a higher long-term floor. The Jags were reportedly actively exploring the quarterback market days before extending Bortles.
I think Bortles deserved to come back into 2018 as the team's starter on that fifth-year option. Simultaneously, it's difficult to understand how a team that didn't believe enough in Bortles to hand him a meaningful long-term deal also thought it was worth the risk of being stuck with a $10 million-plus dead-money hit in 2019. It's also extremely unlikely any team would have given Bortles two years and $36 million fully guaranteed on the free-agent market given the other options available.
This is a Jaguars organization that, rightfully buoyed by the success of 2017, is doubling down on the guys who took it to the AFC Championship Game. Caldwell, Tom Coughlin and Doug Marrone were under contract through the end of 2019, but ownership just gave each new deals running through the 2021 campaign. Bortles was part of that success, and while he wasn't the most important contributor, he also held his own for stretches of time. The Jaguars don't advance past the Bills without their defense making up for a terrible game from the quarterback, but they also wouldn't have made it past the Steelers without several big throws from him, too.
It's also fair to look back 12 months ago, when the two most promising up-and-comers in the AFC were the Raiders and Titans. One year later, both Jack Del Rio and Mike Mularkey are gone and the teams they left look to have major holes.
The Jaguars should be good again in 2018 — they actually underperformed their Pythagorean expectation of 11.8 wins with a 10-6 mark — but there's also a chance that everything goes south against a harder schedule if the defense's injury rate regresses toward the mean. If that happens, the Jags might very well be looking at the decisions they made this offseason and wonder why they were so adamant about bringing everyone from 2017 along for the ride.
Lions releasing running back Kerryon Johnson, per reports
The Detroit Lions are releasing running back Kerryon Johnson, according to multiple reports.
Detroit drafted the former Auburn standout in the second round in 2018. Johnson became expendable after the team drafted D'Andre Swift No. 35 overall in 2020, signed free agent running back Jamaal Williams in March and drafted Oregon State's Jermar Jefferson last week.
Johnson ran for 1,225 yards and eight touchdowns over three seasons. He also has 61 career receptions for 527 yards and three scores.
Last year, he had 181 yards rushing and two scores on 52 carries. and had 19 receptions for 187 yards receiving and a touchdown.
NFL Network first reported that Johnson would be waived.
The Lions also added a player in free agency, signing tight end Darren Fells on Wednesday. The move gives the team a veteran at the position it can put on the field with Pro Bowl tight end T.J. Hockenson.
The 35-year-old Fells has 123 career catches with 1,483 yards receiving and 21 touchdowns. The previous two years in Houston, he had a combined 55 catches for 653 yards and 11 touchdowns.
Fells has started 76 games — including 13 with the Lions in 2017 — and played in 102 games with Arizona, Detroit, Cleveland and the Texans. He was a rebounding standout at UC Irvine and played basketball in Argentina, Mexico, Belgium, Finland and France before playing in the NFL.
The Associated Press contributed to this report.
QB Blaine Gabbert re-signing with Tampa Bay Buccaneers on 1-year, $2.5 million deal, source says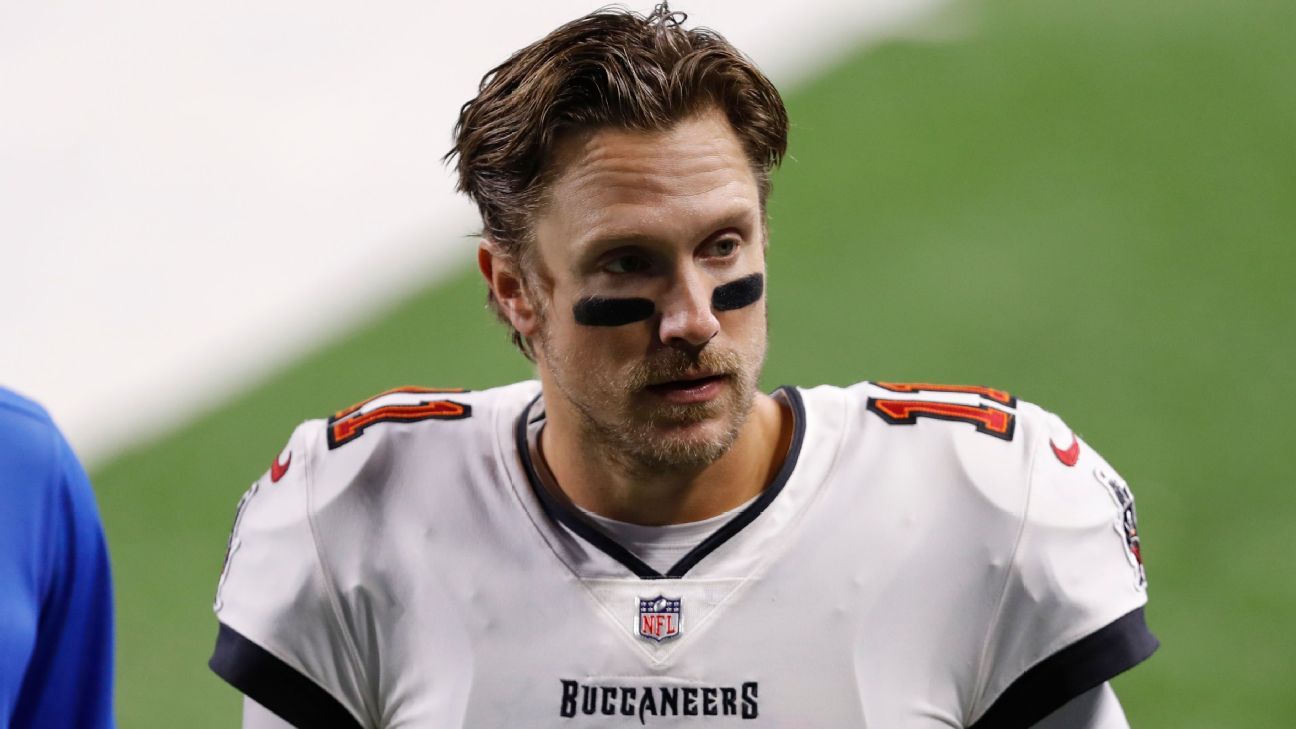 TAMPA, Fla. — Once again, Tampa Bay Buccaneers coach Bruce Arians has kept his word.
Days after saying the Bucs would work to re-sign Tom Brady's top backup, quarterback Blaine Gabbert, the team is indeed re-signing Gabbert to a one-year deal worth $2.5 million, a source told ESPN's Jeremy Fowler.
Gabbert, who has played in 60 career games with 48 starts, previously earned $1.187 million in 2020 and $1.6 million in 2019.
Last season, Gabbert, 31, completed 9 of 16 passes for 143 yards and two touchdowns with no interceptions, with all but one of those pass attempts coming in the second half against the Detroit Lions in Week 16, when Arians opted to rest Brady.
The Bucs selected quarterback Kyle Trask in the second round of the NFL draft last week, but Arians said that would not preclude them from re-signing Gabbert. The team also re-signed Ryan Griffin, who was last year's third-string backup, earlier this offseason.
Gabbert enters his third season with the Bucs, after spending 2018 with the Tennessee Titans, 2017 with Arians and the Arizona Cardinals, 2014-16 with the San Francisco 49ers and 2011-13 with the Jacksonville Jaguars.
Gabbert has had an eventful offseason. In addition to attending the Kentucky Derby with Brady and Griffin on Saturday, he married longtime sweetheart Bekah Mills in Paradise Valley, Arizona, in March.
NFL sends memo reminding clubs the league will not pay players who suffer injuries away from facilities
The NFL reminded teams Wednesday that they are not obligated to pay players who suffer an injury away from the team facility, an issue that moved this week to the center of an ongoing dispute between the NFL and NFL Players Association over in-person participation in offseason workouts.
The memo, obtained by ESPN, was prompted by several prominent players who were surprised by media reports about Denver Broncos offensive lineman Ja'Wuan James, who tore an Achilles tendon this week while working out on his own and could miss the 2021 season. NFL contracts have long classified such injuries as "non-football," because they happen away from the team environment, and they are not covered by typical injury guarantees. As a result, the Broncos could withhold James' salary for as long as he is sidelined. More than $10 million would have been guaranteed if the injury had occurred at the Broncos' facility.
The NFL has noted this contractual leverage multiple times during negotiations with the NFLPA, which has advised players to skip the voluntary portion of in-person offseason training unless they stand to lose workout bonuses.
Kansas City Chiefs quarterback Patrick Mahomes was among those who seemed unaware of the full implications of "non-football' injuries in comments this week on social media.
"According to the media coverage," the NFL wrote in its memo, "several players have expressed surprise that Mr. James' injury was not covered by his Injury Guarantee, although this point has been made frequently in our discussions with the NFLPA about the offseason program. Clubs are encouraged to remind players of the significant injury-related protection provided if they choose to work out at the club facility and the risks they undertake in choosing to train in non-NFL locations."