TAMPA, Fla. — After three years as an NFL starter, Tampa Bay Buccaneers quarterback Jameis Winston is still hard to figure out. He has produced dazzling highlights coupled with maddening turnovers, finding open receivers long after plays have broken down, yet coughing up the ball when he should have taken sacks.
What does that mean for the development of the Bucs' 24-year-old franchise quarterback?
'He needs to stop forcing things'
Winston broke Dan Marino's NFL record for most touchdown passes thrown before a player's 24th birthday with his 69th this past season. But he's thrown the second-most interceptions (44) since 2015, when he entered the league, and has turned the ball over 59 times in 45 games. His 15 lost fumbles are also the most of any player during that span. While his turnovers dropped from 24 in 2016 to 18 in 2017, the rate of those turnovers per snap actually went up, from 2.28 percent to 2.38.
"Turnovers are the No. 1 thing that gets you beat, so [I am] very concerned," said the Bucs' Dirk Koetter, who's been with Winston all three seasons, the past two as head coach. "Jameis knows that. He knows. Jameis is streaky with his turnovers. He can go three or four games and not turn the ball over and then we had a game [against the Saints] where he turned it over three times."
An NFC defensive assistant whose team faced Winston this season echoed those sentiments. The scouting report on him said Winston was "inconsistent" when it came to "decision-making and poise."
Turnovers also were an issue for Winston — the No. 1 pick in the 2015 draft — at Florida State, where he threw 28 interceptions and lost two fumbles in 27 games. But the difference was that the Noles had nearly a plus-24-point margin in those games, with a turnover edge of plus-11. It's a different story in the NFL.
"It's rare that you can overturn a negative turnover ratio," Koetter said. "It's definitely something that has to be corrected, and that is one of the top things that would help us not be 3-7 in one-score games because they are hard to overcome when you don't win the turnover [battle]."
The Bucs' points margin since Winston entered the league is minus-137, with a turnover margin of minus-4. Even one fumble can lose games, as was the case in Week 13, when Packers defensive end Dean Lowry returned a Winston fumble 62 yards for a touchdown.
"I like him and his skill set. I just think he needs to settle down and stop trying to force things and do so much," said one scout whose team faced the Bucs in 2017. "I know it's his competitive nature, but he just needs to stop forcing throws and taking bad throws. … He'll present the defense with multiple opportunities to create turnovers."
Shoulder injury played role in 2017 struggles
Some of Winston's mistakes can be attributed to the shoulder injury that plagued him most of the season and forced him to miss three games. He struggled particularly with the deep ball, completing just 16 of 53 (30.2 percent) passes of 20 or more air yards, which was 23rd in the NFL.
"It's definitely something that can affect your velocity, accuracy, your mechanics, your ability to push it down the field," New Orleans Saints quarterback Drew Brees said. "I don't know Jameis' exact injury from this season, I just know what I've experienced in the past with different things. It depends what the injury is, but certainly those things can be affected."
Lack of deep-ball accuracy can hurt an offense predicated on making explosive plays downfield, particularly a roster with no true possession receivers. It also nullified any sort of competitive edge the Bucs had in signing speedster DeSean Jackson to a $35 million contract in the offseason. Jackson, who was getting separation on his routes but not catching many passes, had just 668 yards, the lowest total in his 10-year career for a season in which he played at least 11 games.
Then there were reports of a growing rift between Winston and Koetter, stemming from Winston feeling that his coach didn't have his back during the injury and frustration over Koetter's lack of creativity in his playcalling. Publicly, Winston denied that a rift existed, and Koetter called their relationship "extremely consistent." Sources close to the situation suggest the two need to work on their communication.
The 2017 season was the first time Winston had missed a game, at any level, due to injury. Sources say he hurt his throwing shoulder in a Week 3 loss to the Vikings, but he didn't show up on the injury report until Week 7. It was a new experience for him, but Winston needed to communicate to the coaching staff how he was feeling. If he didn't feel that his deep ball was there, he needed to let them know. As a third-year quarterback, he had more of a say in the game plan. Yet young, highly competitive players don't usually advocate for themselves, and it's up to the coaching staff to recognize when they're limited by injuries.
Koetter did Winston no favors by having him attempt 82 passes — second most in the league — in the two weeks following the hit by Chandler Jones in a Week 6 loss to the Cardinals that worsened his shoulder issues. And 22 of those attempts were for 15 or more air yards. Plenty of games have been won by throwing underneath and moving the ball incrementally down the field. If Winston is to improve, he and Koetter have to develop a more open dialogue.
Good and bad of being a fiery player
Winston is a passionate player and a fiery leader, which the Bucs lacked with previous young quarterbacks in Josh Freeman and Mike Glennon. He might have unconventional motivational tactics, like his widely mocked pregame speech about "eating W's," but teammates appreciate his passion and feed off of it. Backup safety Keith Tandy likened Winston to an uncle, saying, "When he looks you in the eyes, you feel it in your soul and you want to go out and make a play for him."
Even Saints coach Sean Payton can see it from the outside.
"I think there's a tremendous amount of confidence amongst his teammates," Payton said. "You can see that on film, you can see that when you watch the TV copy. You can see his leadership in the huddle, out of the huddle, at the line of scrimmage, and I think guys feel like at any time, they can get the football and make a play."
But Winston's passion also can be destructive.
He was fined $12,154 in Week 9 for an incident involving Saints cornerback Marshon Lattimore that resulted in a suspension for wide receiver Mike Evans. In the final minutes of the Week 16 loss to the Carolina Panthers, Winston was so irate over a lost fumble that he attempted to charge after an official, knocking over Bucs director of football operations Shelton Quarles, who was trying to restrain Winston. Then there was the 2016 head-butting incident with Justin Durant of the Cowboys.
"We've had conversations with him [about that], but I'll keep [the details of] that in-house," Bucs general manager Jason Licht told ESPN. "But he's the ultimate competitor. He wants to win as much as anybody in this town. He had acknowledged what he's done and what he needs to do moving forward. He gets it. He's a professional. We're moving forward."
"He's the ultimate competitor. He wants to win as much as anybody in this town. He had acknowledged what he's done and what he needs to do moving forward. He gets it. He's a professional. We're moving forward."

Bucs GM Jason Licht
Winston has shown he's not afraid to hold teammates accountable, approaching defensive tackle Chris Baker with multiple teammates who didn't appreciate Baker's smiling demeanor after a penalty cost them a victory over the Panthers on Dec. 24. Winston's outburst at the end of the game likely contributed to the yelling that ensued in the locker room among Baker, Winston and several teammates.
As a 24-year-old entering his fourth season and a soon-to-be father, Winston needs to learn to help defuse those situations, not escalate them, or he'll wind up with more costly penalties, fines and maybe even a suspension. That's an area where veteran backup Ryan Fitzpatrick can assist, if he returns. Winston has praised Fitzpatrick for his calm, steadiness and consistency.
Part of being a leader and the face of a franchise also means making good decisions off the field. There were a lot of question marks surrounding Winston after he was accused of sexual assault and was cited for shoplifting at Florida State. But once he got to Tampa, there were no issues until November 2017, when a female Uber driver publicly accused Winston of grabbing her crotch.
Winston, who was riding with former college teammate Ronald Darby — who was also with him the night the alleged assault took place at Florida State — and another passenger that night in Arizona, said he believes the driver was mistaken. No charges were filed stemming from the March 2016 incident, but the NFL is investigating. Winston's availability could be affected by the outcome.
"There's nothing we can do about the investigation," Licht said. "The league is going to do its due diligence in investigating it and we'll deal with that when they come to a decision. But we'll be prepared. I promise you, we'll be prepared regardless of whatever decision is made."
'We've got the right guy'
Once healthy, Winston produced one of the best performances of his career on Dec. 18 against the Atlanta Falcons, throwing for three touchdowns and no interceptions, completing 77.1 percent of his passes and posting a 130.5 passer rating. Even more impressive was that Jackson, tight end O.J. Howard and right guard J.R. Sweezy all left the game with injuries. It was truly the first time in Winston's NFL career that he carried a team on his back.
That was all part of a strong finish to the 2017 season once Winston returned Dec. 3 from the shoulder injury. From Week 13 to Week 17, Winston led the NFL with 1,584 yards passing, tied for third with nine touchdown passes and was 11th in Total QBR with 57.2 after ranking 25th in Weeks 1-12.
That's something to build on going into 2018.
If Winston can stay healthy, he can rebound playing a last-place schedule that includes the Cincinnati Bengals, Cleveland Browns, New York Giants and Washington Redskins. But he and the Bucs certainly have their work cut out for them in an NFC South featuring three 2017 playoff teams.
"We've got the right guy," Licht said. "He's got the right mindset. The combination of toughness, intelligence, work ethic … all those things never cease to amaze me, to be honest with you."
Lions releasing running back Kerryon Johnson, per reports
The Detroit Lions are releasing running back Kerryon Johnson, according to multiple reports.
Detroit drafted the former Auburn standout in the second round in 2018. Johnson became expendable after the team drafted D'Andre Swift No. 35 overall in 2020, signed free agent running back Jamaal Williams in March and drafted Oregon State's Jermar Jefferson last week.
Johnson ran for 1,225 yards and eight touchdowns over three seasons. He also has 61 career receptions for 527 yards and three scores.
Last year, he had 181 yards rushing and two scores on 52 carries. and had 19 receptions for 187 yards receiving and a touchdown.
NFL Network first reported that Johnson would be waived.
The Lions also added a player in free agency, signing tight end Darren Fells on Wednesday. The move gives the team a veteran at the position it can put on the field with Pro Bowl tight end T.J. Hockenson.
The 35-year-old Fells has 123 career catches with 1,483 yards receiving and 21 touchdowns. The previous two years in Houston, he had a combined 55 catches for 653 yards and 11 touchdowns.
Fells has started 76 games — including 13 with the Lions in 2017 — and played in 102 games with Arizona, Detroit, Cleveland and the Texans. He was a rebounding standout at UC Irvine and played basketball in Argentina, Mexico, Belgium, Finland and France before playing in the NFL.
The Associated Press contributed to this report.
QB Blaine Gabbert re-signing with Tampa Bay Buccaneers on 1-year, $2.5 million deal, source says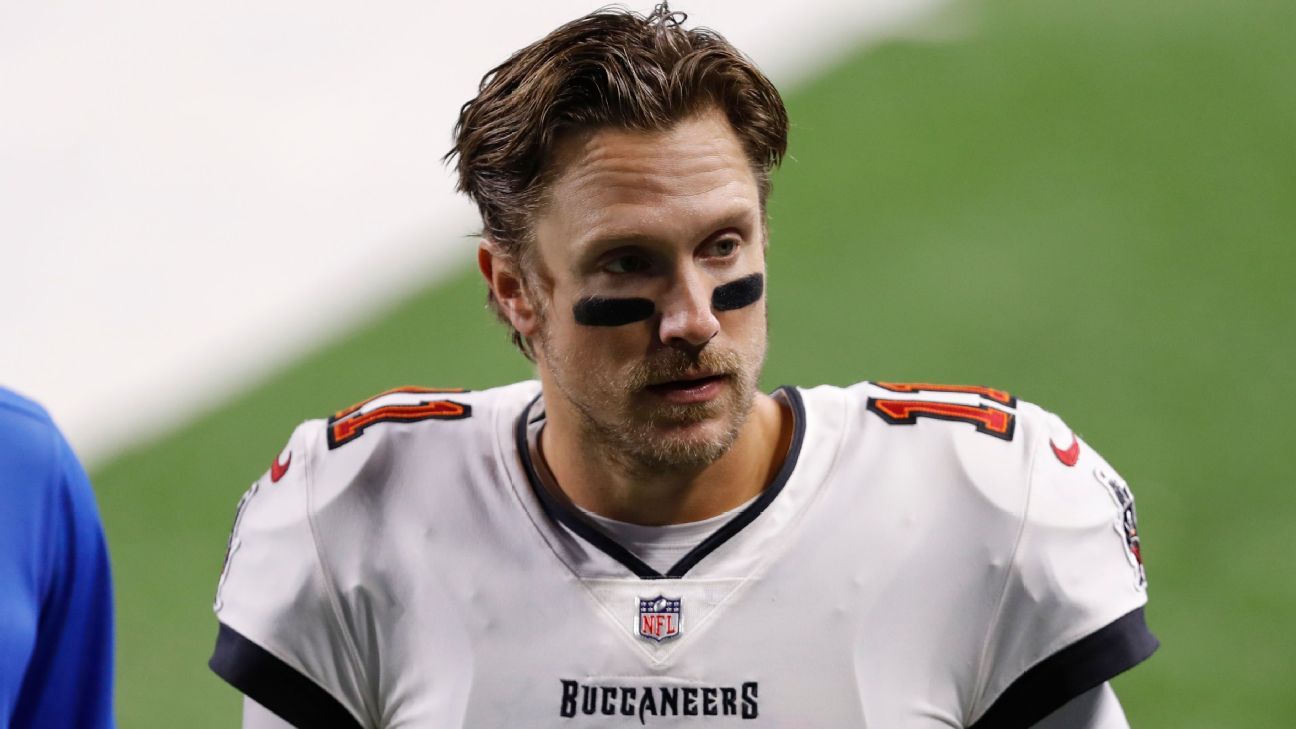 TAMPA, Fla. — Once again, Tampa Bay Buccaneers coach Bruce Arians has kept his word.
Days after saying the Bucs would work to re-sign Tom Brady's top backup, quarterback Blaine Gabbert, the team is indeed re-signing Gabbert to a one-year deal worth $2.5 million, a source told ESPN's Jeremy Fowler.
Gabbert, who has played in 60 career games with 48 starts, previously earned $1.187 million in 2020 and $1.6 million in 2019.
Last season, Gabbert, 31, completed 9 of 16 passes for 143 yards and two touchdowns with no interceptions, with all but one of those pass attempts coming in the second half against the Detroit Lions in Week 16, when Arians opted to rest Brady.
The Bucs selected quarterback Kyle Trask in the second round of the NFL draft last week, but Arians said that would not preclude them from re-signing Gabbert. The team also re-signed Ryan Griffin, who was last year's third-string backup, earlier this offseason.
Gabbert enters his third season with the Bucs, after spending 2018 with the Tennessee Titans, 2017 with Arians and the Arizona Cardinals, 2014-16 with the San Francisco 49ers and 2011-13 with the Jacksonville Jaguars.
Gabbert has had an eventful offseason. In addition to attending the Kentucky Derby with Brady and Griffin on Saturday, he married longtime sweetheart Bekah Mills in Paradise Valley, Arizona, in March.
NFL sends memo reminding clubs the league will not pay players who suffer injuries away from facilities
The NFL reminded teams Wednesday that they are not obligated to pay players who suffer an injury away from the team facility, an issue that moved this week to the center of an ongoing dispute between the NFL and NFL Players Association over in-person participation in offseason workouts.
The memo, obtained by ESPN, was prompted by several prominent players who were surprised by media reports about Denver Broncos offensive lineman Ja'Wuan James, who tore an Achilles tendon this week while working out on his own and could miss the 2021 season. NFL contracts have long classified such injuries as "non-football," because they happen away from the team environment, and they are not covered by typical injury guarantees. As a result, the Broncos could withhold James' salary for as long as he is sidelined. More than $10 million would have been guaranteed if the injury had occurred at the Broncos' facility.
The NFL has noted this contractual leverage multiple times during negotiations with the NFLPA, which has advised players to skip the voluntary portion of in-person offseason training unless they stand to lose workout bonuses.
Kansas City Chiefs quarterback Patrick Mahomes was among those who seemed unaware of the full implications of "non-football' injuries in comments this week on social media.
"According to the media coverage," the NFL wrote in its memo, "several players have expressed surprise that Mr. James' injury was not covered by his Injury Guarantee, although this point has been made frequently in our discussions with the NFLPA about the offseason program. Clubs are encouraged to remind players of the significant injury-related protection provided if they choose to work out at the club facility and the risks they undertake in choosing to train in non-NFL locations."