The joining of Giancarlo Stanton and Aaron Judge places arguably the two biggest, strongest players in major league history on the same team. It is a story so compelling, the New York Yankees will open the gates to spring training games three hours earlier so fans can watch these two, and others, take batting practice, which, on certain days, will be more entertaining than the game. Exit velocity, launch angles and home run distances will be even more celebrated in 2018, especially in the Bronx.
Baseball strength always has been one of the great, hidden components of the game, at least to some. The strength of the players, especially in their hands, wrists and forearms, goes largely unappreciated: I've never met a position player who wasn't really strong in those areas, even dinky, little middle infielders. Indeed, after Michael Jordan's one year in baseball in 1994, one of his many observations about the game was that virtually every player on his Double-A team was stronger than him from the tips of their fingers to their elbow.
"I noticed how really strong baseball players are when I joined the general population after retirement," said John Baker, who caught in the big leagues from 2008 to 2014. "I started practicing jujitsu. From day one, when I grabbed the lapel, I could grab it longer and harder than anyone else. That comes from thousands and thousands of violent swings with a baseball bat. Swinging a bat makes your hands strong. Baseball players are so strong."
The lineage of strength in modern baseball history can be traced to where most in baseball is first traced — to Babe Ruth, who played at 6-foot-2, 225 pounds in his prime in the 1920s, and hit home runs that even today would be considered tape-measure blasts. He soon was followed by Jimmie Foxx, whose nickname was "The Beast." He gave way to others, including Mickey Mantle, who once hit a ball that reportedly traveled 565 feet at Washington's Griffith Stadium. Former Reds first baseman Ted Kluszewski wore cutoff sleeves to show off his muscular arms. Former White Sox outfielder Dave Nicholson's hands were so strong, he turned off all the showers after a loss, and no teammate was strong enough to turn them back on.
"No one hit the ball harder than Jimmie Foxx," Ted Williams once told me. "Until I saw Frank Howard."
Howard was listed at 6-7, 255 pounds but was actually closer to 300 pounds with the Senators in the mid-1960s.
"Frank Howard came to the plate [in a spring training game in 1959], he was the biggest person I had ever seen in my life," Hall of Fame third baseman Ron Santo said years ago. "He hit a one-hopper that hit me in the stomach and knocked me out. When I woke up in the hospital, there he was again, standing over me. I said to myself, 'Am I in heaven? Who is the giant?' "
The stories about Howard sound Ruthian and apocryphal, but this one is also true: Former Senators catcher Jim French loved chiding Howard, who, one night, had had enough, so he dangled his teammate by the ankles off a hotel balcony that was several stories high. And this one is true, too: Ted Uhlaender, a former center fielder for the Indians and Twins, said Howard hit a line drive over his head, he turned to see where the ball would land, and when he turned, the ball hit him in the chest after ricocheting off the center-field fence.
Howard's legend gave way in the mid-1980s to Bo Jackson, who, more than once, snapped a bat over his knee in frustration, and similarly, snapped a bat over the top of his helmet.
"Bo was a big bow hunter," said catcher Mike Macfarlane, a former teammate. "He kept his bows in his locker. He would show us how to shoot, but for him, it was like plucking a harp. He just used two fingers to cock it. I stood on top of the bow and, using both hands, tried to cock it, and I couldn't do it. And neither could anyone else on our team. I'm sure our front office wasn't happy about this, we were all afraid of tearing a rotator cuff trying to cock a bow. Bo needed two fingers. Damnedest thing I've ever seen."
More Bo: "When he signed, they sent him to Memphis [Triple-A] where I was," Macfarlane said. "He hit a ball foul in the game, and broke his bat. It wasn't broken in half, but it was clearly cracked. Typical Bo, he said, 'Ah, Ah, Ah, Ah, screw it.' He didn't get a new bat, and hit the next pitch over the center-field fence. It was right then that we said, 'OK, you are a freak.' "
Many followed Bo Jackson. The Brewers' Rob Deer, who hit 230 major league home runs but had trouble making contact, "once just picked me up, put me under his arm, and carried me around," said former teammate Tom O'Malley, who was 6 feet, 180 pounds. "It was like I was a little kid."
In the 1990 World Series, the Reds' Glenn Braggs, whose physique was that of a body builder, broke a bat without hitting the ball: In the follow-through of a swing-and-miss, his bat snapped in half when it collided with his shoulder blade.
I had never seen that.
"Oh, I did that a dozen times this season," he told me after the game.
I once saw Cal Ripken put a ball on a batting tee at home plate, and, using a fungo, hit a ball over the left-center-field fence, a blast of at least 380 feet. Ripken had incredible hand strength.
"I could lift more weight than him," former teammate Brady Anderson said, "but once he got you in a bear hug, and he wrapped you up, there was no way to get free."
Prince Fielder, 6 feet, 275 pounds, became the game's strongest man, perhaps carrying the mantle from Mantle to Bo Jackson and others. "I really believe he could enter the World's Strongest Man competition — you know, carrying logs on his back — and he would hold his own," former teammate Ryan Braun said.
Phil Coke, a former teammate with the Tigers, said of Fielder, "He showed us a video of him wrestling a professional sumo wrestler. It was unbelievable. Prince just chucked the guy across the room."
The players today are especially big and strong. The Mariners' Nelson Cruz "will hit the longest home run in baseball history one day," Orioles manager Buck Showalter said a decade ago. Cruz hit a ball so hard in spring training many years ago, then-Rockies left fielder Ryan Spilborghs said, "If I'd caught it, the momentum of the ball would have carried me through the left-field fence, leaving only an outline of my body like you see in the cartoons."
And there there's the Dodgers' Yasiel Puig, who once, on a checked swing, missed the ball, and the bat snapped in two in his hands. "That was unbelievable," former pitcher Orel Hershiser said. "I've only see that one other time in my life — by Bo Jackson."
And now we have Judge and Stanton together.
Judge is, according to the Elias Sports Bureau, the biggest position player — 6-foot-7, 282 pounds — ever to play major league baseball. Last year, he routinely hit balls to places no one had ever gone before.
"I took BP for eight years at [the new] Yankee Stadium, and I never hit a ball to center field where he hits them all the time," said Mark Teixeira, who hit 409 career homers. Ken Singleton, who has played or has broadcast major league games since 1969, said Judge "hits the ball harder than any player I've ever seen in my life."
Stanton is 6-foot-6, 245 pounds. When he was with the Marlins, Baker said, "He had this tiny waist. And he had this incredible leg strength. He had a 40-inch vertical jump. That was the highest in the organization. He could hit a ball farther and harder than anyone, and jumped higher than anyone."
When Stanton took batting practice in spring training as a 19-year-old, Hall of Famer Andre Dawson — an incredibly strong man — was watching. After one round of BP, Dawson said, "That's the hardest I have ever seen anyone hit a baseball."
Baker was there that day.
"He hit a home run in an exhibition game that went over the Cardinals' clubhouse in right-center field," Baker said. "It was ridiculous. No one had ever seen a ball hit that far. It was like Harry Potter's wizardly, worldly power. When Stanton got to second base, he stopped running, he looked at the umpire and asked, 'Was that a ground-rule double?' He didn't think he gotten all of it. The umpire looked at him with open palms, as if to say, 'What are you doing?' then told him to keep running. When he got back to the dugout, he had no idea what had happened. I said to him, 'Dude, that ball went 200 feet over the fence!' "
So strong. Get used to that this year with the Yankees.
Chicago White Sox manager Tony La Russa admits he didn't know extra-inning rule
Chicago White Sox manager Tony La Russa is under the microscope again.
La Russa said he didn't fully know the extra-inning rule that would have allowed him to avoid using closer Liam Hendriks as a baserunner in a 0-0 game against the Reds on Wednesday in Cincinnati.
Hendriks had double-switched into the game in the bottom of the ninth inning, taking the No. 5 spot in the batting order, which made the last out in the top of the frame. Per MLB rules, as extra innings begin, the spot in the order to make the last out in the previous inning becomes the baserunner at second base. However, if that spot is occupied by a pitcher, the team has the option to use the preceding player in the batting order as the runner. In this case, it would have been Jose Abreu.
"I didn't know that," La Russa said after the 1-0 loss. "We all thought Liam was going to be the runner. I wasn't aware Abreu could have run. I thought it was the guy that made the last out or the spot in that order."
Besides the obvious injury risk to a player who has run the bases once in his entire career, the choice to run Hendriks impacted the inning. While he was on third base with one out, Reds catcher Tucker Barnhart didn't hesitate to throw to second base to nail Leury Garcia, who was trying to steal — despite the potential winning run at third. Barnhart knew Hendriks likely wasn't going to go home on a double-steal attempt.
"[Garcia] can run," La Russa said. "We wanted to be aggressive. They threw him out."
Even in talking out the White Sox strategy, the team was concerned with Hendriks' safety. La Russa said he was hoping for an easy sacrifice fly or another way for Hendriks to score that wasn't stressful. It didn't matter after Billy Hamilton struck out to end the inning.
"We were going to try and avoid any kind of contact at home plate," La Russa said.
La Russa admitted he wasn't aware of the rule until hearing it read by a reporter in the postgame Zoom session.
"I'm guessing you know the rules better," he said. "Now I know."
The White Sox named La Russa their manager in October.
Joey Votto of Cincinnati Reds suffers broken left thumb after being hit by pitch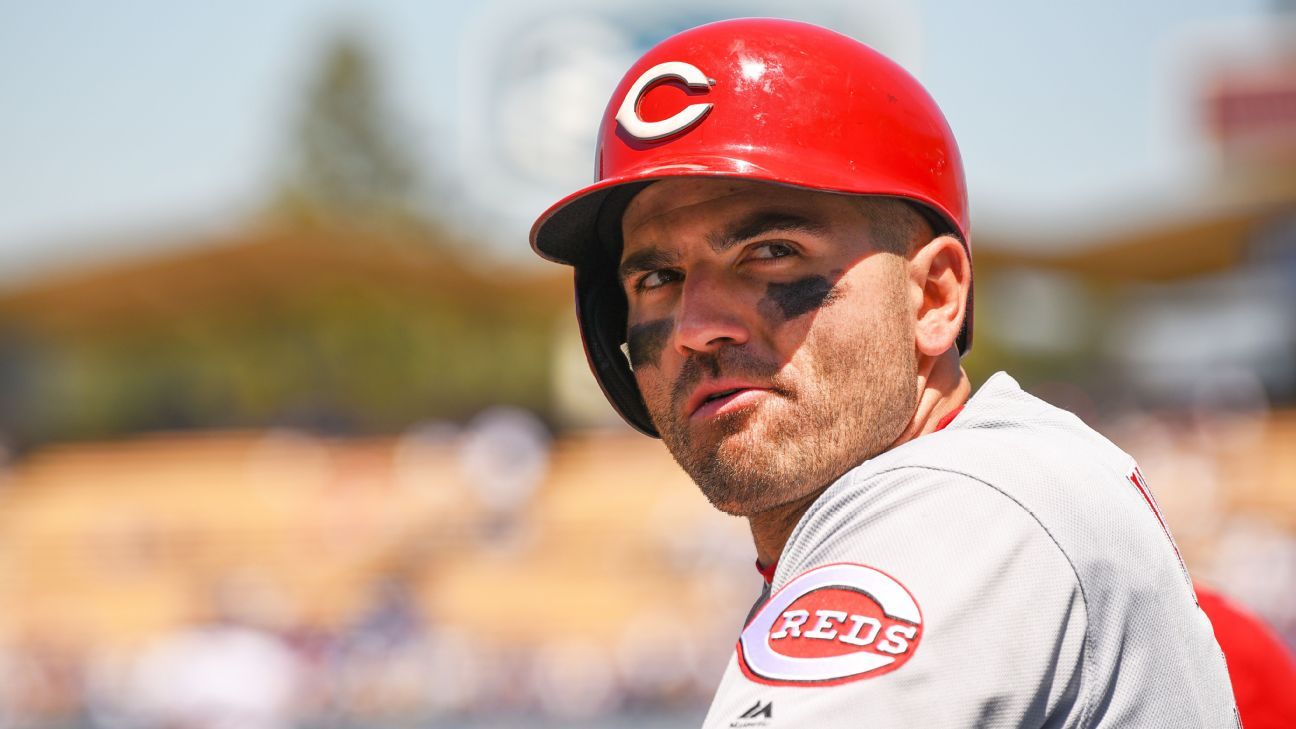 Cincinnati Reds first baseman Joey Votto suffered a broken left thumb in the team's 1-0 victory against the visiting Chicago White Sox on Wednesday.
Votto is not expected to need surgery but could miss up to a month.
Kyle Farmer is among the options at first.
"We'll figure it out," manager David Bell said.
Votto was hit by a Dallas Keuchel pitch in the fourth inning. He remained in the game, but in the sixth was replaced at first base by Farmer.
"I knew I was in pain," Votto said after the game, according to MLB.com. "I thought I was being a baby. I just wanted to stay in the game, but I didn't think I could grip the bat and I was having a hard time putting my glove on. I could run and I was moving well, and I thought, 'Just give it some time, it should shake at some point. Maybe it's just one of those [where] your thumb gets jammed in a door or something like that and it just goes away.' It broke, what are you going to do?"
Keuchel expressed regret.
"It's a joy to pitch against him," Keuchel said. "You never want that to happen. I wish him well."
Votto is hitting .226 with five home runs and 17 RBIs.
Information from The Associated Press was used in this report.
Longtime Baltimore Orioles pitching coach Ray Miller dies at 76
Longtime pitching coach Ray Miller, who served as manager of the Minnesota Twins and Baltimore Orioles during his career, died Tuesday at the age of 76, it was announced Wednesday.
"His legacy will forever be enshrined in our organization's history, having guided some of the greatest Orioles pitchers," the team said in a statement. "… We send our deepest condolences to his beloved family and his many fans throughout our great game."
Miller served three stints as a coach with the Orioles, including two seasons as manager in 1998 and 1999, when he compiled a 157-167 record. He also served as manager of the Twins during parts of the 1985 and '86 seasons, going 109-130.
The Orioles listed Jim Palmer, Mike Flanagan, Scott McGregor, Steve Stone and Mike Boddicker as just some of the pitchers Miller coached during his time with the team, which included the 1983 World Series title and the 1979 American League pennant.
He also served as pitching coach of the Pittsburgh Pirates from 1987 to 1996.
"Ray Miller was a beloved member of the Pirates organization for 10 seasons whose passion and dedicated played an instrumental role in the team's three straight postseason appearances from 1990-92," the Pirates said in a statement. "He was respected not only as a pitching coach by players in the Pirates organization, but also throughout the entire game of baseball."
He was enshrined in the Orioles Hall of Fame in 2010.